Regardless of their size and size, companies have one thing in common: They all rely on words to sell! 
⭐ Tip: No matter what your product or service is (or how good it may be), you'll have to communicate the value of what you're selling effectively if you want to sell!
Ultimately, that's never going to change: Get the message right and you will prosper. If you don't, sooner or later you're going to have a problem 💔.
The funny thing here is that you don't have to be a writer to write well. At least not in my opinion.
So, if you're a busy business owner who has no writing experience or qualifications, you can still create influential content if you know the basics of copywriting 😉.
So, what does it take to create copy that engages, entertains, influences, motivates, and ultimately sells? I'll tell you all about it in detail!  💙
What do we mean by Copywriting?
Copywriting is a content production strategy focused on convincing the reader to perform a specific action.
⭐ Tip: The copywriter must write the "copy" (the content) thinking about its persuasive nature, using triggers to awaken the reader's interest, in order to generate conversions and sales.
But if you think this concept is new, you're wrong! 😉
The rise of copywriting
No, copywriting is not a new term. The word copy was first defined in 1828 by Noah Webster and, unlike its literal transposition – "copy" – the term referred to "something original to be imitated in writing and printing".
This definition fell out of favor in literature but persisted among journalists and printers who, in the mid-1870s, began to define copywriter as the professional who writes advertisements, to differentiate this activity from that of the traditional copywriter.
The copywriters of the 20th century, therefore, were nothing more than advertising copywriters, and the work of these professionals helped several brands gain fame and millions of dollars at the time.
However, with the popularization of the Internet and the rise of Digital Marketing, copywriting was reformulated and began to distance itself more and more from advertising.
The main objective of copywriting
⭐ Tip: Remember this: The CTA is one of the main elements of a copy!😎
This means that throughout the customer's journey copywriting will be necessary that the reader performs some action such as subscribing to a newsletter, downloading in-depth content or simply continuing on the blog and reading another post, depending on the strategy that has been established!
It's through this technique that the copywriter is able to convince and capture the attention of the visitor of a web blog or email, and make him follow the instructions given  😉.
The role of copywriting in content marketing
As you can see, this "art of selling" cannot be summarized only in the act of marketing a final product, as the copywriter does not always aim to make a sale immediately 🧐.
⭐ Tip:The idea is to extend the consumer experience through a process – the sales funnel – and lead your audience, step by step, through strategically prepared content to their final destination, which in this case is conversion.
If Content Marketing seeks to engage and attract the target audience through educational and quality content, copywriting will be the differential for the strategy to be effective, since it incites the reader to take action.
⭐ Tip:The big secret, both for copywriting and Content Marketing, is to deeply understand who will consume the content. Thus, it is possible to bring the reader and his universe into the narrative and solve his doubts in the best possible way.
How to create a strategy in copywriting?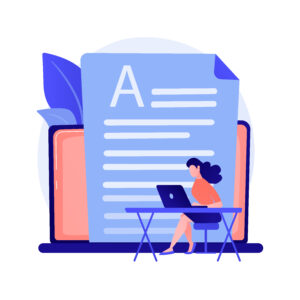 Writing beautifully is essential, but it's not enough if you want to convert your reader into a customer.
There are 3 basic commandments of copywriting that must be respected in the production of any content for digital marketing (whether it is a text, a microtext, a video, a podcast, an email)
Inspire the reader
Create a relationship with the brand
Motivate readers to act on the service or product.
In addition to these principles, when planning a copywriting strategy, there are a few other elements to keep in mind so that your content is beneficial to both you and your reader:
1. Research
A blog or email does not become a reference on a particular topic by accident. It will only achieve success if the content is amazing and really satisfies all the needs of the audience 💙.
⭐ Tip: Therefore, it takes a lot of research and dedication to produce the best possible content, i.e. a piece that is truly relevant to your target.
2. Objective
Don't just go crazy! Try to set goals and a customer journey within the sales funnel. 🙋🏽‍♂️.
⭐ Tip: Para ayudarte en este camino, una práctica ampliamente adoptada es el calendario editorial. Con él, podrás publicar estratégicamente contenidos y lanzar campañas, incluyendo el uso de días festivos y aniversarios.
3. Exclusivity
It's useless to produce more of the same. If your website or blog only offers the same basic content that is easily found in other directions of the segment in which it operates, you will never attract the attention of your audience!
⭐ Tip:To stand out and gain your reader's trust, one of the essential elements of copywriting is exclusivity.
Be creative, invest in research and make sure your content is unique, with new and relevant information for your buyer persona.
4. Optimization
You should ideally already have in mind that SEO is the optimization of copywriting for search engines, very important for your website to have a good position in Google search rankings -or any other search engine- and to be found by users 💙. 
5. Analytics
Just as the relationship with the customer does not end when a sale is closed, your copywriting work does not end when the post is published or an email is sent 😉.
⭐ Tip: Track metrics closely, check if content is performing well, review which tactics should be leveraged and identify those that should be avoided.
By analyzing your results, you will be better informed to make decisions and enable the success of your business.
The best Copywriting techniques
For copywriting to be a successful strategy it is necessary to adopt some techniques. Here are the most important ones!
1. Know who your target audience is and make personalized messages.
⭐ Tip: Again: you must know who you are writing for or you won't get as many visitors or buyers as you would like.
First, define your buyer persona. Remember: This is a semi-fictional character that represents your ideal customer based on real data! 🙋🏽‍♂️
It's important to define the age, gender, occupation, interests, hobbies and any other information that is relevant to understand the profile and behavior of these people. Here is the complete guide 😉.
⭐ Tip: In this way, it will be possible to create content oriented to your potential customers, with the style and approach that is closest to their reality, increasing the possibility of conversions.
Using copywriting in cold email techniques is one of the best strategies to follow. If you want to promote your product or service, or simply a blog post, I'll tell you how to do it with your buyer personas in a personalized way. Stay tuned!
⭐ Tip:A good tip is to use a software to detect your potential customers easily so you have a quality list to start sending cold emails to.
We make it easy for you with Scrab.in!
Although you can use Scrab.in in many ways, for B2B customer prospecting you should follow the directions:
Sign up for scrab.in and log in from the Google Chrome extension. You will get a configuration that is very easy to manage. Here are the steps 😉 :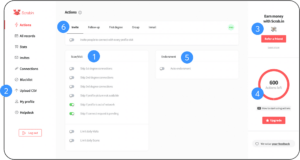 Connect to your Linkedin
Select the profile you are interested in prospecting: For example: marketing director in Spain.
You will need to fill the field in the search box with the profile "marketing director", then click on "people" and then in "locations" select Spain (or the place of interest you have).
⭐ Tip:Be as specific as possible, always thinking about your buyer persona.
Now, just:
Select the "second level contacts" option:
Click on the extension and press the play button inside the "visit profile" tab.
Try letting it run for a few hours (but bear in mind you must have your computer on and not close the Google Chrome window during your working day)
Now it's time to relax and go on with your usual work. The bot takes care of the job in an automated way, besides visiting the profiles, it also collects data from them, such as name, surname, company, location, domain, email, etc. Enjoy!! 🥳
Don't forget the most important thing: Download the CSV file at the end of the tracking! Here you'll find all your leads 😏.
Creating a cold email strategy can provide you with a detailed map of customer behavior, which will help you with the lead nurturing process and save you valuable time.
Our Email Sender tool creates email marketing automations specific to your campaigns in minutes, and most importantly, improve your cold email conversion by 67% with our drip campaigns! 😏.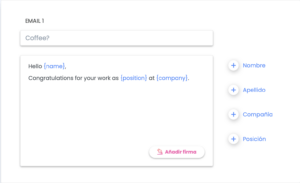 ⭐ Tip: By segmenting your emails based on the shoppers you are targeting, you can organize your email lists by persona and send offers targeted to each group's respective preferences in a personalized way.
2. Setting the right tone and language
Speaking of the copywriting approach, it is essential to establish the tone and language you will adopt in your content!
After defining the persona, you will have made this task much easier 😉.
3. Create impactful titles
The title is the first contact your reader has with your content and is also one of the most relevant elements for search engines. Whether it's a blog post, a cold email or a post on Linkedin, it's of utmost importance to grab attention with the first few words.
There are several formats for titles: you can start with numbers, suggest a question, introduce the topic and then make an appeal, make a provocation, among many other ways.
The important thing is that it is direct – that is, that the topic is very clear about what the content addresses or the solution you are offering.
4. Creating a connection with the reader
To establish a relationship of trust with your potential customer, you must create a connection with them (the same goes for quotes 😉)
⭐ Tip: Therefore, when planning a particular piece of content, list the strategies you should adopt to make the reader feel that it has been written with them in mind. Remember that Email Sender makes it easy for you!
5. Using action verbs
How do you create a sense of urgency in the reader through Copywriting? Or the feeling that if they don't follow your lead, they are likely to miss out on an unparalleled opportunity?
⭐ Tip: Remember that the main objective of copywriting is to make the visitor of your blog, website, social media or email follow the action defined by you.

For the reader to understand the message and know what to do, it is recommended to use imperative verbs, mainly in the title, subtitles and CTA.
6. Make comparisons
Humankind has used analogies and metaphors since ancient times to clarify ideas, and there are a few reasons why this strategy works so well 🥳
First, people are more receptive to known information. After all, the effort required to understand a totally new concept is much greater than the effort required to understand something already known or implicit.
In addition, our brain builds new memories from other memories, establishing connections between them.
Therefore, if you can bring up a concept that is familiar to the reader and associate that information with the idea you are conveying, the chances of solidifying the content in the reader's mind are much greater  💙. 
⭐ Tip: However, it is important to avoid direct comparisons with competitors, especially if your lines reduce the products or services of other companies. In addition to being unethical behavior, this type of attitude arouses suspicion.
Remember that to follow a good copywriting strategy, you must fully know your potential customers. Start to experience real conversion with FindThatLead. Are you ready?