It may seem quite obvious but I'm going to ask you anyway, did you know that before launching any campaign you should know who it's meant for?
I'll explain it to you, surely when you were a kid, you played at having an imaginary friend. Well, in short, so did marketers!  😉
Most industry experts agree that good marketing is about figuring out what to say to your audience and when / how to say it.
So, to craft the perfect message and communicate it effectively, you must understand your audience! Sounds pretty logical, doesn't it? So let's get on with it! 😎
Exactly, this understanding starts with what we call a buyer persona.
The process of creating this will also help you analyze trends, behaviors, similarities and patterns among your target audience, which will, without doubt, help you create a marketing and sales strategy built around your goals, daily challenges and "pain points".
In short, understanding the buyer's profile is essential for a company to grow, so let's dive deeper into the topic.
Ready to dramatically increase your sales after reading this post? 💙
Let's start with some basics: what is a Buyer Persona?
Although it may seem tricky, it's the easiest thing you'll ever see, stay tuned!  👀
A buyer persona is a detailed description of someone who represents your target audience. This persona is a fictional character (just as your imaginary friend 👼🏻), but it's based on thorough research of your current or desired audience.
⭐ Tip: No, unfortunately, you can't know each customer or prospect individually. However, you can create a customer persona that represents your customer base.
That being said, since different types of customers may buy your products for different reasons, more than one buyer persona might be necessary!
Yes, just like your imaginary friend, a name will be necessary, just among other demographic details, interests and behavioral features.
Understanding their objectives, pain points and main behavioral and purchasing traits is key.
You can even give them a face using an illustration or photograph (perhaps this makes it easier to give them a name). Sounds like a lot of fun, doesn't it? 😉
All this isn't only to adapt the needs of your customers to your products, it goes much further!
All this will allow you to create marketing messages specifically targeted to them, and improve your campaigns to sell more and better!
The important question here: why is it important for your Business?
Buyer personas allow you to focus on the customer's priorities and not your own (sometimes it isn't that easy, I know).
Think about your buyer personas every time you make a decision about your marketing strategy.
Does a new campaign meet the needs and objectives of at least one of your buyer persona? If not, you have a good reason to reconsider your plan.😉.
Once your buyer persona is defined, you can create organic publications and ads that are specially targeted to them. You can even find leads that are important to you and start a cold email campaign to attract them in a more personalized way!
⭐ Tip:Build your strategy based on helping your buyer persona achieve their goals, and consequently you' ll create a bond with the real customers who represent your brand.
It's all about building brand loyalty and trust to effectively accelerate the sales process! 😎
Creating a buyer persona: step by step
Your buyer persona shouldn't just be someone you want to hang out with. 💔:
It should be based on real-world data and strategic objectives.
Here's a complete guide on how to create a fictitious customer that perfectly matches your brand in the real world.
1. Do complete and deep research of the audience
It's time to dig deeper. Who are your current customers? Who's your social media audience? Who are your competitors targeting?
⭐ Tip: Gather your audience data from your social media analytics (especially Facebook Audience Insights), your customer database and Google Analytics to nail down details such as:
Age
Location
Language
Purchasing power
Interests
Challenges
Life Stage
For B2B: The companies size and who's in charge of purchase decisions.
It's also a good idea to make sure which channels each of your audience uses so you know where to find them.
2. Make sure you identify your Customers' Objectives and "Pain Points".
Your audience's objectives can be personal or professional, depending on the type of products and services you sell. You should ask yourself questions such as: What motivates your customers? What are their ultimate goals? 🧐
On the other hand, don't forget to think about their pain points. What problems or issues are your potential customers trying to solve? What prevents them from achieving success? What barriers do they face in reaching their goals?
⭐ Tip:Your sales team and customer service department are great ways to find answers to these questions. Another key option is to engage in social listening and behavioral analysis on social networks.
The best way to find this information is by setting up search streams to monitor mentions of your brand, products and competitors, as it gives you a real-time view of what people are saying online.
You can find out why they like your products or what parts of the customer experience don't work.
3. Try to understand how can you help.
Now that you know your customers' goals and pain points, it's time to think about how you can help them. That means thinking beyond features and analyzing the real benefits of your product or service.
⭐ Tip: Remember, a feature is what your product is or does. A benefit is how your product or service makes your customer's life easier or better.
It's as simple as that. Just think about your audience's main barriers to purchase and where are they in your buying journey. And then ask yourself: How can we help?
4. Buyer persona creation
Gather all your research and start looking for common features. By grouping those characteristics together, you'll have a unique customer base.
Assign your buyer persona a name, job title, house and other defining characteristics. Remember, you want your character to look like a real person! 🙋🏽‍♂️
For example, let's say you identify a target group of customers as women in their 40s, with a successful career, living in the city, without children and with a passion for good restaurants.
Your buyer could be "Carla, a successful woman" 💁🏻‍♀️.
– She's 41 years old.
– She attends spinning classes three times a week.
– She lives in Madrid and is the founder of her own PR firm.
– She owns a Tesla.
– She and her couple go on vacation to Japan twice a year and prefer to stay in boutique hotels.
– She's a member of a wine club.
Another example: You're a party promoter in Malaga and want to build your buyer persona. You identify yourself with a group of university clients, between 18 and 25 years old, who clearly like to party and Latin music.
Here, your buyer persona could be "Paula, a nursing student".
– She's 20 years old.
– She's in her third year of nursing.
– She is from Villamartin, a town in Cadiz, but studies and lives in Malaga with two roommates.
– She has 2,321 followers on Instagram and uploads at least one story a day with her iPhone 11.
– She's single.
– She works as a lifeguard every summer in her town.
You must even put a face to her! You can search for a photo of someone, draw and even randomize one on FaceApp (mobile app) or thispersondoesnotexist. Random, right?
This allows you to think about your prospective buyer in a human way, so they're not just a collection of data points.
These things don't have to be true for every buyer in your audience, but they help represent an archetype in a tangible way 😎.
5. Now, an example of a Buyer Persona Profile
We show you a good example of an ideal customer to help you understand what kind of results you need to achieve 😉.
(Remember you can even use this example as a template)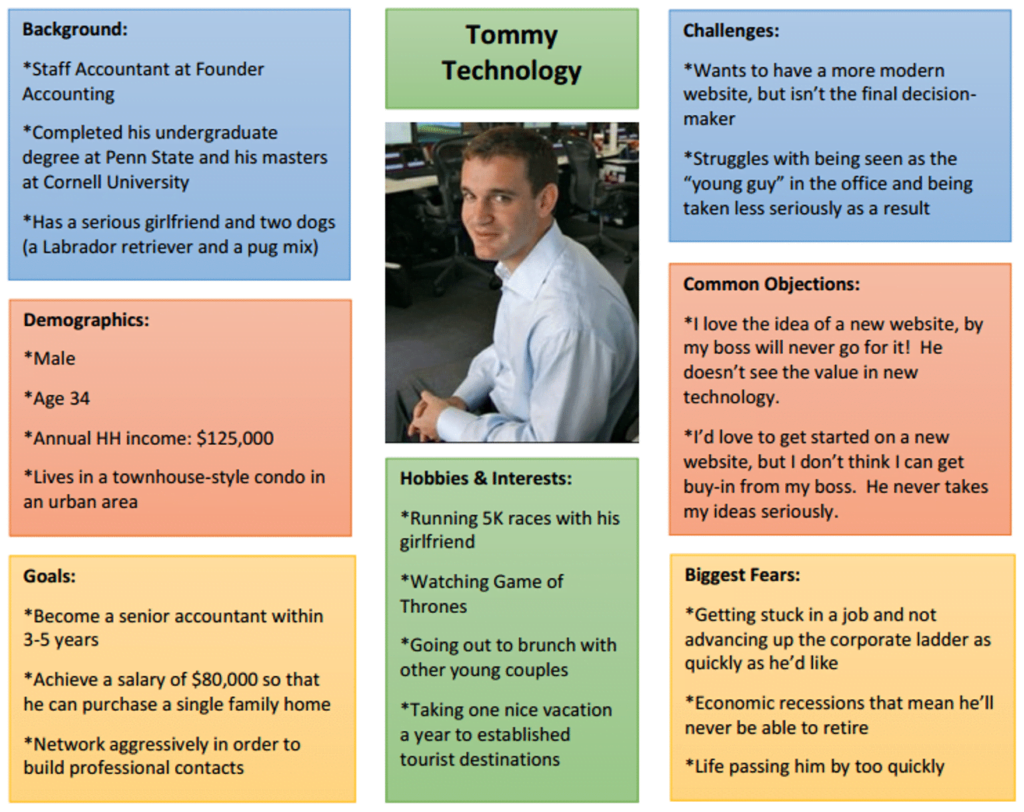 Can you think of a company that could be your ideal buyer persona? Remember that the making of your ideal customer is not entirely the making of your target market. They are two different concepts.
What about small companies?
It's pretty easy to see why ideal customers are important for businesses with multiple employees, but if you're a solo entrepreneur or a very small business, you may wonder why you should even bother.
While it may be tempting to think that you already know who your customers are and that spending time creating a buyer persona seems like a waste of time, think again: Creating and understanding your buyer persona can help you clearly define what you're looking for in the long run 💙.
In my opinion, it's ALWAYS necessary to create a buyer persona when you start a project, and it's not really a bad idea to make this one of your first tasks.
In the early stages of a project, it can help you to build, improve and optimize your product, service, sales stages and communication channels.
4 steps to create a Buyer Persona for your business
A buyer persona can have multiple purposes, but one of its main applications is in marketing. Here, the use of a buyer persona is multifaceted and can be evaluated regularly to ensure its accuracy and effectiveness.
A brand that uses its buyer persona as inspiration to navigate through the "content avalanche" that social media has become has a unique opportunity to stand out! 💫
These are the main ways to use the buyer persona to grow your business step-by-step:
1. Identify the influencers
Yes, as "instagrammy" (or recently "tiktoker") as it may seem, influencer marketing is becoming a very popular and highly reactive aspect of modern marketing strategies. The advantage is that you can tap into the voice of someone who already has the ear of your best buyers.
To start, identify influencers who speak directly to your buyers, then reach out to them to see if you can form a partnership to piggyback on products or share content 😎.
2. Schedule your Marketing Campaigns differently for different types of buyers.
Once you have created your ideal buyer profile, you'll soon realize that everyone works differently. For example, some check their emails first thing in the morning, while others choose to check them at the end of the day.
⭐ Tip: Once you understand the routines and habits of your ideal customer, you can optimize the use of tools like Email Sender to identify peak engagement rates, so you can judge at what time your campaigns will reach the most buyers and make the most out of them
In short, buyer personas make your marketing campaigns more effective when you know when and how to deploy them.
And if after getting to know your different buyer personas and potential customers, you are wondering how to find them and contact them through emails, we make it easy for you with Scrab.in!
Although you can use Scrab.in in many ways, for B2B customer prospecting you should follow the guidelines:
Sign up for scrab.in and login from the Google Chrome extension. You'll get a configuration that's very easy to manage. Here are the steps 😉 :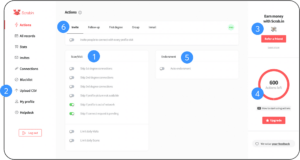 Login to your Linkedin
Select the profile you are interested in prospecting: For example: marketing director in Spain.
You must fill in the field in the search box with the profile "marketing director", click on "people" and then in "locations" select Spain (or the place of interest you have).
Be as specific as possible, always thinking about your buyer persona.
Now, just:
Select the "second level contacts" option:
Click on the extension and press the play button inside the "visit profile" tab.
Let it run for a week or two (remember you should have your computer on and not close the Google Chrome window during your working day)
Now, just relax and continue with your usual work, the bot is responsible for doing the job automatically. In addition to visiting the profiles, also collects data from them, such as name, surname, company, location, domain, email, etc. Enjoy! 🥳
Don't forget the most important thing: Download the CSV file at the end of the tracking! Here you'll find all your leads 😏.
3. Segment your email lists
Creating a cold email strategy can provide you with a detailed customer behavioural map, which will help you with the lead nurturing process and save you valuable time.
Our Email Sender tool creates email marketing automation specific to your campaigns in minutes, and most importantly, improving your cold email conversion by 67% with our drip campaigns is now possible! 😏.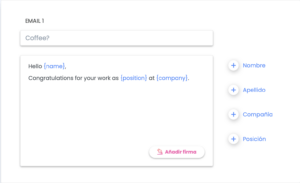 By segmenting your emails based on the shoppers you're targeting, you can organize your email lists individually and send offers targeted to each group's respective preferences in a personalized way.
4. Create specific content
Not only does this help you understand what your customers want to see, but you can also create a roadmap for yourself. For example, once you know the things that appeal to your ideal customers, you can create relevant content that converts into a sure purchase.
Remember that just because you, as an entrepreneur, think the information you present is valuable doesn't necessarily mean your customers do. No matter how relevant you think your information is, if your customers don't find it valuable, the reality is they won't consume it!
You can post in the comments bar if you know any more tips about buyer persona, I read you!
Congratulations! Now you know how to create a buyer persona and define your ideal customer! Knowing how to define it is one of the first steps for any digital and Outbound Marketing strategy.
Remember, every skill requires practice to be mastered, and this is no exception!
The ideal is that you can see this article as a step-by-step guide and you can create your buyer persona while reading this post. Remember it's crucial to know your ideal customer to the maximum at a tactical and strategic level.