If you Google "puns" and your humor is as bad as mine, you can easily waste a good part of your afternoon reading jokes about how a scarecrow kept getting promoted because he excelled in his field .
However, not all puns are time-wasting gags. There are also those that will help you save time and grow your business. Have you heard of smarketing? Smarketing is, simply said, the alignment between your sales and marketing teams created through frequent and direct communication between both💙.
But, what is smarketing? is it relevant to your company and, if so, how can you apply this approach in your day-to-day business?
Let me give you the Smarketing definition
As I mentioned before, smarketing is the process of integrating a company's sales and marketing processes. The goal is to 100% align sales and marketing so that they work together to achieve common goals in order to increase revenue.
Sounds simple enough, but you know the drill, simple definitions often lead to lengthy explanations 😉.
What smarketing means for your business growth:
A structure for setting measurable goals that your sales and marketing teams agree to achieve, preferably defined in a service level agreement (SLA).
A streamlined lead generation process that allows you to measure, qualify, disseminate and track potential leads for your business.
Data alignment across all systems used, such as CRM and marketing automation, in terms of company information, required contact information and its format.
A more effective ideal customer profile framework, when sales and marketing match the same description of the perfect customer.
Better account scoring, thanks to company-wide agreement on what defines your ideal customer profile.
When sales and marketing align within a company, great things can happen. And that, ladies and gentleman, is what smarketing is all about 💫
But, why does Smarketing makes sense?
First of all, remember that the way customers purchase has changed! 🤯 I'm going to give you a little tip to help you understand that Smarketing is not just a sales trend 🤓 (sorry, in advance, but it'll work for you, trust me!).
Salespeople used to have total control over the information customers received. In the past, questions like, "How can I learn more about the features of this product?" or "I want testimonials and reviews, where can I find them?" used to be answered with, "Talk to sales."
Luckily for consumers, that's no longer the case. Now they can research on their own. All customers can easily access a wealth of information on almost every product and service available on the market.
All of this has meant that inbound marketing has grown stronger over the last ten years.💪🏻.
Marketers are now actively working with elements such as how to start a blog, copywriting, SEO, PPC and email nurturing to attract potential customers to their product and website with the goal of turning them into leads that ultimately help sales win customers.
Sales vs Marketing: the eternal struggle
The typical battle goes something like this: sales complains that marketing doesn't generate enough quality leads for them to work.
At the same time, marketing criticizes sales for not working enough of the leads they do get 😮‍💨. Does it ring a bell?
By improving smarketing in your company, you can make these two teams work together towards common organizational goals instead of fighting (just like a healthy romantic relationship works). ❤️‍🩹):
The marketing department will understand better what type of leads are most likely to close, so they will be able to generate higher quality leads.
The sales department will work better with these leads when they see the true purpose of actively processing high quality leads provided to them by the marketing department. This means more time spent on the actual sale and ultimately more revenue! 🎉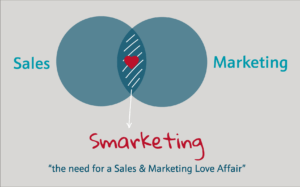 ⭐ Tip: Smarketing helps your sales and marketing team spend less time arguing and more time closing deals.
Companies that bet on smarketing get 20% more revenue per year than those that don't have sales and marketing working in synch. Isn't that reason enough to consider it? 😎
3 main reasons to develop a Smarketing Strategy
1. Increases ROI for both Sales and Marketing Departments
The sales department gains insight into the online behavior of their prospects and can turn what would have been a cold call into a hot call 😉.
⭐ Tip: In addition, with tools such as Scrab.in, you can also get the e-mail addresses of these potential customers in order to send cold e-mails, a strategy that easily converts these customers into leads 😉.
Simply:
Register on Scrab.in
Log in LinkedIn and select your target
Log in to Scrab.in and activate the visits
Turn on Scrab.in and… Relax, yes, he's going to do all the work for you. Magical.
Download a list with thousands of leads to use!
And if you still have some doubts, don't worry, my colleague Gerard has just explained it in more detail! 💙
By being more relevant at every touch point, marketers will improve their success rate at every step of the B2B sales process, leading to higher sales figures.
In this way, marketing will understand in a better way where their best leads are coming from, i.e., which types of leads are most likely to become paying customers. Marketing can then allocate better its time and resources to effectively maximize its ROI 🎉. 
2. To Achieve Business Goals Faster
When your two revenue-generating departments focus their efforts on the same goals, you can increase your profits and achieve other business objectives more quickly: your business as a whole will flourish!🌹
3. To Improve Team Cohesion and Company Environment
When sales and marketing bury the hatchet, the office climate will obviously improve. 💙.
⭐ Tip:Not only do happy employees increase the organization's productivity, but they also make it a magnet for top talent. Your company will perform better in terms of revenue and harmony.
A 6 step Guide to finally start your Smarketing Process
Eager to get started with smarketing? For smarketing to be successful, roles must be clearly defined as part of one overall funnel, rather than two (one for sales and another one for marketing).
We've compiled a six-step guide to level up your sales and marketing strategy and grow your business as one cohesive (smarketing) unit 😉.
1. Create Aligned Terminology
Speaking the same language and maintaining daily communication between sales and marketing is essential for smarketing success.
⭐ Tip: Make sure everyone shares the same vocabulary. Beyond clarifying key terms such as "lead" and "prospect," sales and marketing teams should also work together to identify your ideal customer profile.
A well-defined ideal customer profile will help you discover which prospects the marketing department should target.
It also allows salespeople to be more focused in their sales prospecting, as they have a clearer picture of what characterizes the companies they should be looking for! 🙋🏽‍♂️
In short, the key questions both teams must answer together are "what are we talking about when we talk about our ideal customer profile?" and "when do we consider a lead ready for the sales team to take over?"
2. Create a Service Level Agreement (SLA)
Once you've ensured that everyone in your organization "speaks the same language," the next critical step in aligning sales and marketing efforts is to create an SLA.
A service level agreement between sales and marketing serves to clear up confusion and solidify the roles of each department in the entire lead generation process 💙.
3. Share the same funnel
Do you know what a sales funnel is? Exactly, the process a customer has to go through to make a purchase. Well, when sales and marketing share the same funnel, they can easily ensure that potential customers are treated with a consistent message and tone throughout the funnel 😉.
⭐ Tip: Consistency helps keep leads engaged throughout the funnel process; more leads will turn into paying customers.

In the sales and marketing funnel, marketing is responsible for the top of the funnel, while sales is responsible for the bottom.
The middle part of the funnel is the responsibility of both teams! 😎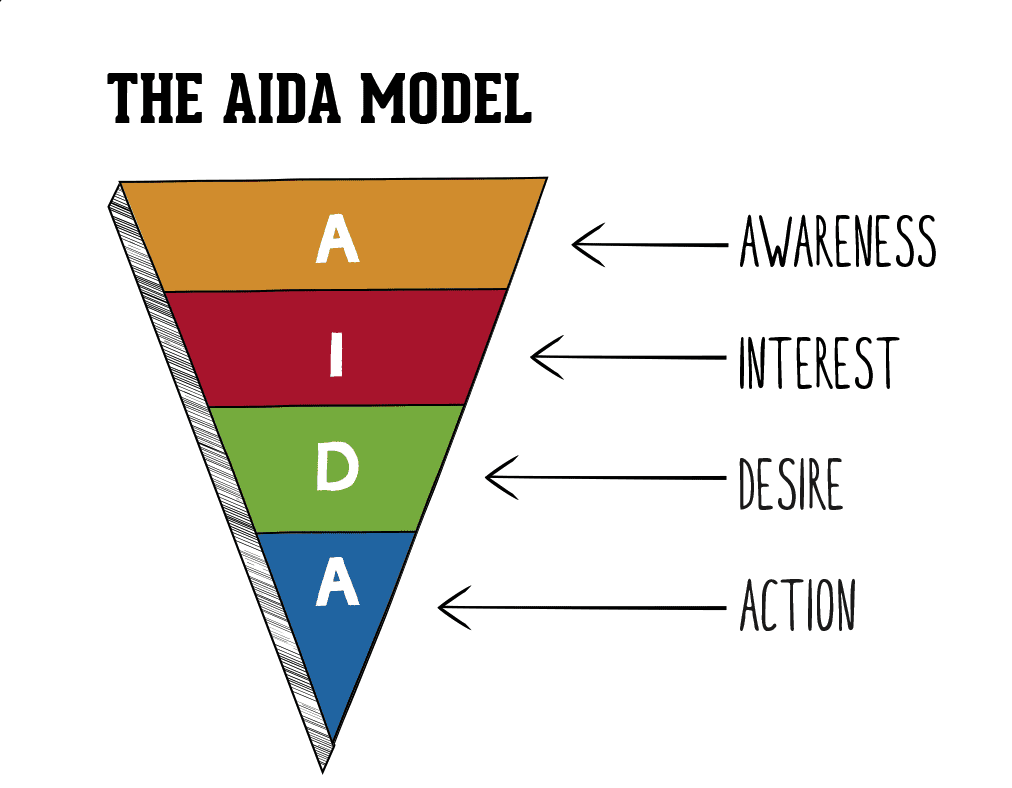 4. Establish closed-loop reporting between sales and marketing
Both sales and marketing must have full insight into each other's actions, objectives and progress.
⭐ Tip: Encourage the sales team to give feedback on the quality of leads each month. "Closing the loop" means that the sales team report back to the marketing team on what has happened with the leads they have received. Feedback is critical here! 😉
5. Synchronize your Sales and Marketing Software to Align Your Data
For perfect integration, sales and marketing software must be fully integrated!
When systems used by sales and marketing can "talk" to each other, data can automatically synchronize with each other!  👀
6. Proceed to all communication based on the Data
Data can be the glue that holds your smarketing efforts together. It keeps both sides honest with each other.
⭐ Tip:If the sales department feels that the flow of leads has been poor in the last month, provide them with the previous months' figures.

And, if the marketing department believes that the sales department is not working its leads, obtain data showing the percentage of leads worked in a given month.
Tools that will help you with your Smarketing
1. Scrab.in
As I already told you, Scrab.in is a very powerful in-house tool especially linked to lead generation directly from LinkedIn.
Simply said, with Scrab.in you'll be able to get in touch with thousands of leads automatically!  😎
⭐ Tip: This way, not only both teams will be following the same sales funnel but also, they'll understand where the leads are coming from.
2. Email Sender
Email Sender is a tool that, after getting those all-important leads, will help you connect with your potential customers in a personalized way!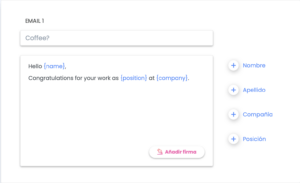 Start now! 😎