Once we start a project, one of the problems we usually face is the search for customers. That's why lead generation strategies are crucial. We can safely say that without customers there isn't much revenue, and without revenue, let's be clear, there is no business.
For two decades ago and until now, with the development of marketing 2.0 and digital media, the concept of lead and therefore the generation of leads has been reconsidered for all companies, especially B2B ones.
Nowadays, lead generation is more a goal than a strategy. During these last years several methods, approaches and strategies for lead generation have been appearing. I'm sure you are familiar with some of them but if not, I will explain them below, don't worry!
Yes, the truth is leads are not something new, they have not arrived with digital marketing, before the invention of the Internet there were already methods and tricks with the objective of lead generation.
Since the existence of the market, all types of companies have been interested in knowing the strategy that is most effective for this "objective" which is to have potential customers and convert them into buyers.
But, let's start from the bottom: What is a Lead?
Before getting into the concept of Lead Generation we have to be clear about what a lead is. In both the marketing and the sales world it's as important to know it as in school we know the multiplication table of 1.
The concept of lead is closely linked to interest, after all, we can define lead as a person who is not only interested in the product or service of your company, but also has shown that interest in some way, either by filling out a form, downloading an ebook, providing an email…
As mentioned above, the concept of lead is not something new, even before the arrival of the Internet, traditional companies were already doing their "tricks" to generate leads and convert them into customers.
Without going any further, I'm sure you still remember those sweepstakes, raffles, offers and discounts at the supermarket or at theme parks where you could win a prize, a product or a discount as an exchange for filling in a piece of paper with data such as your name and your phone number. These companies were already practicing a lead generation strategy. Surprising, isn't it?
It's crucial the importance of a lead in companies, especially those with a high ticket or with very recurrent purchase products, in many cases we are talking about companies with B2B products or services.
A "raw" lead is of little use if it's not properly nurtured and worked on. The mission of our lead generation strategy is not only based on getting these leads, but also to qualify and classifying them to make them go down our sales funnel and end up converting them into customers.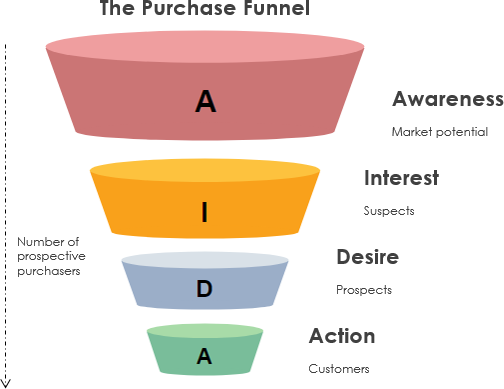 Looking at this image we can place the Prospect in the Awareness (Attention) phase and the Lead in the Interest phase. Remember our mission is to get them out of the funnel!
An amazing initiative that has been seen over the last few years is nothing less than creating a B2B lead generation agency. Find clients for your clients, meanwhile, you are finding your own clients (a bit of a long-winded explanation, but as effective as it gets).
What types of Leads are there?
You should be clear that not all lead qualification and lead generation strategies work universally. Sadly, there is no one strategy that works best for all cases.
This is mainly because just as we can classify companies, we can also do the same with leads.
In marketing, we can talk about leads in three different ways:
Inbound Leads / Outbound Leads
Do you know the difference between Inbound and Outbound Marketing?
Very briefly we can say Inbound Marketing is a strategy where it's the user who, thanks to our content, contacts us; it's the user himself who searches for us.
On the other hand, with Outbound Marketing we are the ones who contact the lead either through Pop-ups, an Outbound CTA, Cold emails, LinkedIn…
It's quite normal (and advisable) that your Outbound leads also go through an Inbound process in order to educate and qualify them.
Being aware that Inbound and Outbound Marketing are both antagonistic and synergistic concepts, this classification comes from the step from conversion to lead.
We can classify them as follows, depending on the origin of the leads:
Outbound Leads: These are the leads that we have acquired thanks to an Outbound Marketing strategy (Content you should read now!). These leads have been contacted directly by us.
Inbound Leads: If they come from our own Inbound Marketing strategy techniques such as Content Marketing or Social Media Marketing.
Cold Leads vs Hot Leads: understanding Lead temperature.
Depending on the preparation of the lead, the information, the qualification process where they are and the interest they have in buying your product, leads can be classified by temperature.
Cold Leads
Within this classification, we can include those users who show a certain interest in our content or in one of our products or services.
But, as a general rule and at that very moment, they don't have much chance of becoming customers. This lead classification is equivalent in most cases to the beginning of the conversion funnel.
The most common way to get them is through email marketing campaigns or free content.
Warm Leads
These leads show greater interest than the previous ones, perhaps they tend to visit our website more frequently and follow our publications and content. This type of lead is probably not ready yet to buy but is ready to learn about our products or services.
These are the leads that we must continue to educate with our content, webinars and Inbound Marketing strategy.
Hot Leads
These are those qualified Leads, who know, want our product and are finally ready to buy.
It's likely that these leads are already contacting our company to ask for more detailed information about a product, service or some aspect of our website that has attracted their interest.
Once our leads are within this classification we can also contact them to close a possible sale through our Outbound Marketing methods🤪.
They are usually classified as quality leads, since their interest has been gradual and they are finally at the end of our conversion funnel.
Effective Online Lead Generation Strategies
So, now that we know what a lead is, let's get to know some of the modern Lead Generation strategies that we can put into practice in our company.
Landing Pages
If you are a marketing professional and I ask you how to create a lead generation strategy, I'm sure that one of the first methods that come to your mind is through a landing page.
A landing page is a part of our website where we give relevant information about our product or service and where we have a section so that customers can register or enter their contact details, usually in exchange for receiving value, a spot in a Webinar, a training, a discount or even a free product…😉
From that time, we send the visitor directly to our list of leads.
However, this is not the beginning of the funnel, we have the previous work of "capturing" visitors, something that we can do organically with content on blogs, social networks or our own website. Don't forget we can also do it in a non-organic way through Ads.
Websites 
If your company is defined as an e-commerce, a marketplace, a blog or any business whose main function depends on the Internet, it's very normal that your main source of lead generation is your own website.
A simple method to transform your website visitors into leads is also through user registration.
For example, encouraging registration on an e-commerce website in exchange for discounts on the first orders is still a very good strategy to pass those leads through a sales funnel via a newsletter.
Another example is a website with content restricted to registered users only, another way to increase your list of leads.
Content Marketing
Producing high-quality, relevant content can be a powerful lead generation tool. Whether it's blog posts, e-books, whitepapers, or videos, content can attract and engage potential leads.
By offering valuable insights and solutions, you can position your brand as an industry expert. Additionally, gated content, where users provide their contact details to access specific content, can be an effective way to gather leads.
Social Media Campaigns
Social media platforms are more than just places to share updates. They can be potent tools for lead generation. Running targeted ad campaigns, hosting live webinars, or even simple polls and contests can engage users and prompt them to share their contact details.
But wait, because without a doubt the best lead generation strategy I bring you in a step-by-step guide in a specific section. Are you ready?
The Complete Guide to B2B Lead Generation with FindThatLead
We already have a pretty solid general idea in our heads of what leads are and how to classify them, but the time has finally come. Are you ready?
Now I'm going to show you my favorite lead generation strategy with, for me, the best B2B sales and lead generation tool, FindThatlead.
This is a strategy in which you can integrate your Outbound Marketing strategy.
Without leaving the tool itself you can perform all the phases of a lead generation strategy: segmentation, prospecting, configuration and sending of cold emailing campaigns, and even add "Drip Emails".
All this using two FindThatLead tools: "Prospector" and "Send Emails".
So let's get down to business:
The first part of any lead generation strategy is to identify and segment our target market.
🔥 Tip: I always like to emphasize the importance of creating a Buyer Persona when identifying our ideal customer.
Once we have defined our target market we are going to use the FindThatLead tool "Prospector" in a very simple way to know the market we have and all the contact information we'll need to finally convert them into customers.
Once we are inside "Prospector", we are going to see these parameters that we will fill in (it's not necessary to fill in all of them) with the data we have about our ideal market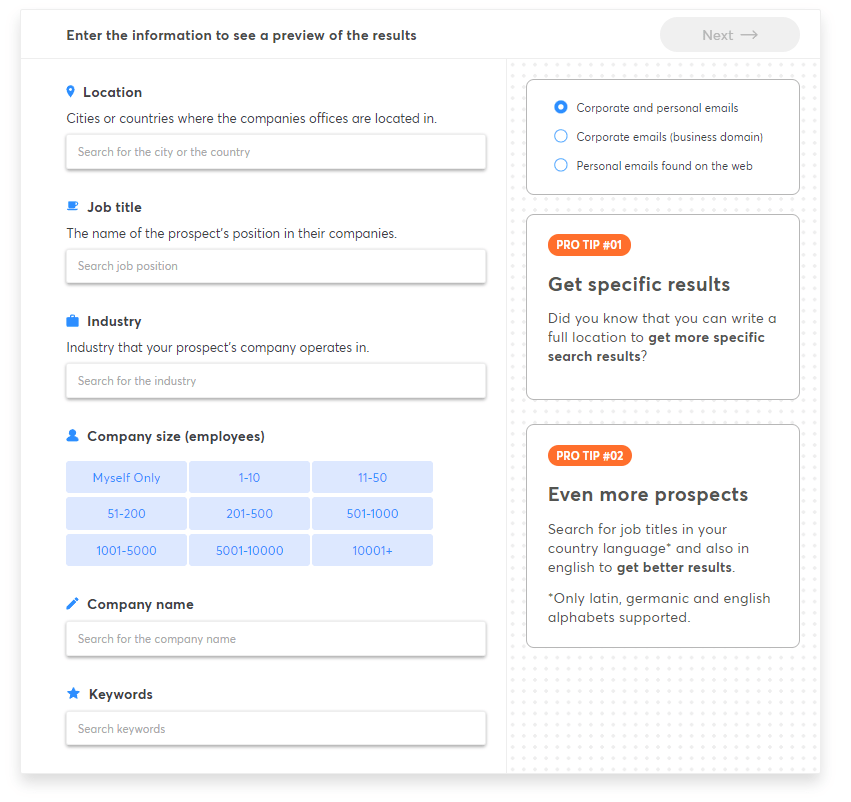 We have parameters to fill in such as: location of the companies of the target customers, the role in the company of the person you are going to contact (CEO, HR Director, CMO…), the sector where the company is working
And some more specific parameters such as the size of the company in terms of employees, the name of the company and even some specific Keywords.
Once all these parameters are filled in, the tool itself will generate a list in .csv with all the emails that have matched.
🔥Tip: I recommend choosing only corporate emails so our cold emailing campaign in "Send Emails" is performed without any problem.
Now we can choose whether to process and download the .csv from our PC or from the FindThatLead server (I recommend choosing the second option 😉).
Already having the .csv in our possession we have a list of Prospects generated (Please, make sure you don't confuse it with leads. The prospect is probably not yet interested in your product or service, a prospect is a person who will most likely become a lead).
The next step is to send this .csv list of prospects to "Send Emails" (just the tab next to Prospector), without leaving FindThatLead.
Even if you have never used FindThatLead, I guarantee you, this will not be an issue for you as it's an incredibly intuitive tool… Trust me!
Once we are inside "Send Emails", we will load our .csv and start configuring our cold emailing campaign 🤩.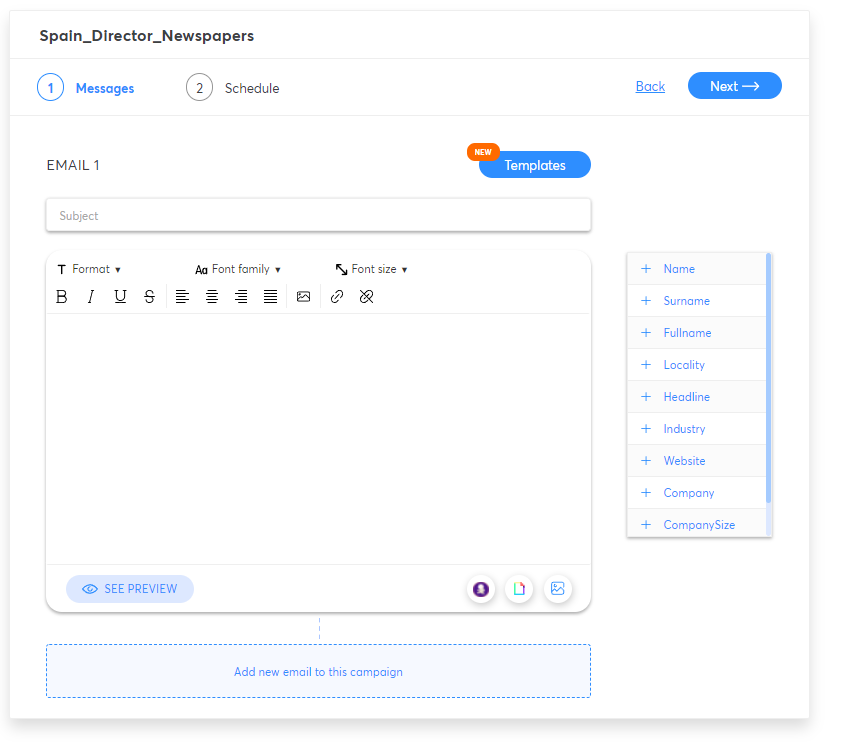 In this step we bring out our creativity and communication skills to create an outstanding cold email drip that will be sent to each Prospect in the list we have uploaded (don't worry: we have some templates you can use 😏).
In this article I explain how to write a good cold email campaign and give you some examples.
If you already know how to create a good cold emailing campaign focused on B2B lead generation I remind you here some important key points.
1- Creativity
2- Personalization (You can use customizable attributes such as [Name], [Company], [Role]…).
3- Briefness
4- Follow up
5- Write with the intention of establishing a conversation, not to sell.
If you know how to address these points and create a good Subject Line, CTA and Body text you will be successful in all your B2B lead generation campaigns. Differentiate yourself from the rest with your emails.
Remember, before sending any cold email, read this article where we explain what the GDPR says about it.
You can sign up to FindThatLead with 50 free credits here!
Generating Leads in LinkedIn with Scrab.in
Scrab.in is another powerful in-house tool especially linked to lead generation directly from LinkedIn.
It works as a Chrome extension that allows you to automate LinkedIn actions.
I have an amazing strategy to automate lead generation. Gerard explains it in this video.
Gerard tells us in this video how to create a lead generation and prospecting strategy as FindThatLead does, but directly from LinkedIn.
1- We automate visiting profiles with the parameters we choose, parameters of the LinkedIn search engine, very similar to Prospector.
2- We can choose to use Scrab.in to send an invitation to each profile we visit automatically.
3- Also from Scrab.in we can write a message linked to each invitation.
4- We can also automate follow-ups! The key to optimize the process is that your messages are intended to create a relationship with the Prospect before transforming him into a lead.
Now you know everything about B2B lead generation strategies and two innovative tools that will make your project take off with incredible results. Are you up for it?