In this post I want to reveal how to strategically create a cold email to generate more sales and improve business relationships.
To the question: Can you achieve that much with emails alone? The answer is…. Yes!
The email strategy I'm talking about is to write cold emails.
Yes, I know that cold emails have always been considered a technique that takes a lot of effort and then doesn't give the results you expected, but that's all because it's no longer worth doing cold emails without rhyme or reason.
Dozens and dozens of emails can daily reach the inbox of our target. So, if your cold email doesn't say anything no one will bother to read it.
Stay tuned to the tricks I'm going to show you today as I' m going to teach you how to make an effective cold email.
In addition, I'm going to introduce you to a tool with which you can reach your potential customers and create a bond with them.
First, I want to explain to you what cold emails are all about.
Cold emails allow you to reach your potential customers by sending them an one in which you present how you can help them. It's a letter of introduction that will be followed by other emails that are part of a funnel and well, you know what happens at the end of the funnel: the sale itself!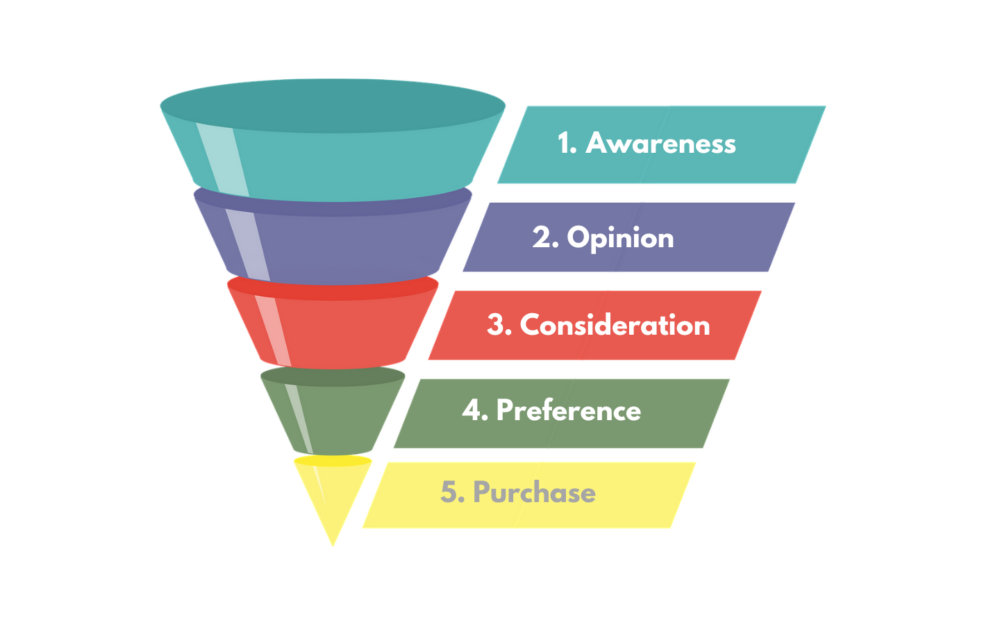 Of course, the first thing you should do is to get the emails of those potential customers.
To do this, especially if you are a B2B company, I recommend you make a list of companies that might be interested in what you offer, basically, the people that you think are potential customers.
One tool you can use to find these contacts is FindThatLead itself, although there are several that can help you. (Here, you will learn how to get anyone's email address, check it out!)
I also recommend you use an email verifier to check that the email addresses you are using in your cold email campaigns exist.
Reducing the bounce rate will warm up your email account and prevent you from falling into SPAM.
Ok, got it… Now what do I do with this?
KEY techniques to create an effective cold email strategy
Like any other marketing or sales technique, the art of sending cold emails has to go hand to hand with a well-defined strategy… Remember we must know as much as possible about our target audience.
Don't forget you must always have your ideal customer as a target.
🤔 What are their concerns?
🤔 What is their pain point?
🤔 What would they like to have?
🤔 What will they gain by reading your mail?
🤔 Do you meet their needs or will you arouse their curiosity?
You must always think about them, not about you.
I'm going to show you here the key techniques and tips for you to create EFFECTIVE cold emails:
Good things come in short.
The shorter your cold email, the better the chances that the person you are targeting will reply to you.
There are studies that tell us that a cold email that gets responses should not be much longer than 5 lines.
Put yourself in a situation, imagine receiving a 2000 word long email about a product you are not familiar with.
Do you bother to read it? Few times
Don't waste time building a story, get to the point.
You know their pain points and you know how to fix them, tell them.
The time you spend constructing a big fat cold email is time you're wasting and time you're wasting your potential customer, think of it this way.
Commercial empathy is essential not only when writing a cold email, but in the whole field of Marketing and Sales.
Write with confidence.
But don't act stupidly either 😕.
Just be straightforward, to the point, and keep in mind that the potential customer who receives the cold email cannot physically see you or hear you, the only weapons you have are the written words.
Make them count.
Personalize what you can.
Yes, yes yes yes… Templates are fine, but nothing feels better than a few nice personalized touches, and this is no less true in a cold email.
Think that when you send a cold email it's the first time you're knocking on someone's door, you have to give a reason to open the can.
You have to show how different you are from others.
Personalize your cold email with small details instead of using templates that everyone else picks up on the internet.
Of course, you can be totally inspired by templates, I'm not saying you can' t, just… Give it your touch 😉.
For a good personalized cold email, you must include the following information:
➡️ Their name
➡️Pain points
➡️If someone has referred you to him or has provided you with his contact information
➡️If you have ever seen them
➡️Some of their previous work
That way it will seem like you aren't selling, but, instead, you want to help and that you can certainly do it.
As you already know your customers so well, surely you also know how to intrigue them or you can imagine it.
Humans are naturally curious beings, I'm sure you've heard it more than once, so if you make them think or get them to awaken their curiosity with a question in a natural way, without seeming like you want to sell them something, they will surely open your email.
Without going any further, take a look at this proposal for a backlink that I received a few days ago: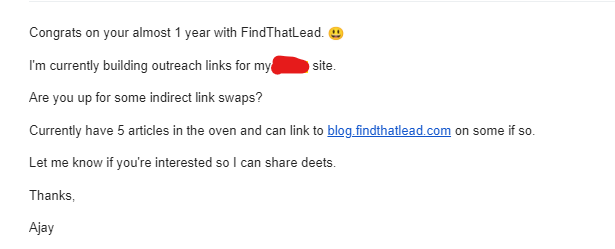 ✅Short
✅Easy to read
✅To the point
✅Personalized
Follow up, even if you don't hear back.
No, I don't mean acts of desperation and harassment 🤨.
Your follow-up emails won't look desperate if you do it the right way, and here's how.
As a recommendation, space out your follow-up emails so you don't bombard them. I use the 3-day window between one cold email and another.
Without going any further, I automate this task with FindThatLead's "Send Emails".
How to write the Cold Email subject line
The subject line of a cold email is key.
It's the difference between an email being opened or not, and they can even send the cold email to spam directly, which will hurt the email account because it will chill it.
The email subject line is also the first impression that your prospects get of you, that's why
✅ You must write it in a way that catches their attention and they can't resist opening it.
Don't push the sale in cold email
Although cold email has the ultimate goal of the sale, at the beginning you should focus on creating lasting relationships.
To achieve this, the text of your email will have a great influence, since it will be the first contact with your prospect.
That's why you should write your cold email in a natural way, try not to be too intrusive and try to use copywriting techniques for cold emails.
It's essential that you take care of the writing and make an effort to write the cold email.
You have to make them notice what you are saying so much that they think it is a personalized message for them, to the point that they respond to your cold email.
My recommendation is that the CTA of the first cold email you send to a person should always have the mission of getting them to reply or call you back.
Sell without selling.
This may seem a bit… Clever?
But think about it, how many times have you received a message or email in which they tried to sell you something? What happened then?
You probably even got pissed off.
And you should not push the sale in a cold email, because you will overwhelm your prospect. We all hate to be sold, but we love to buy.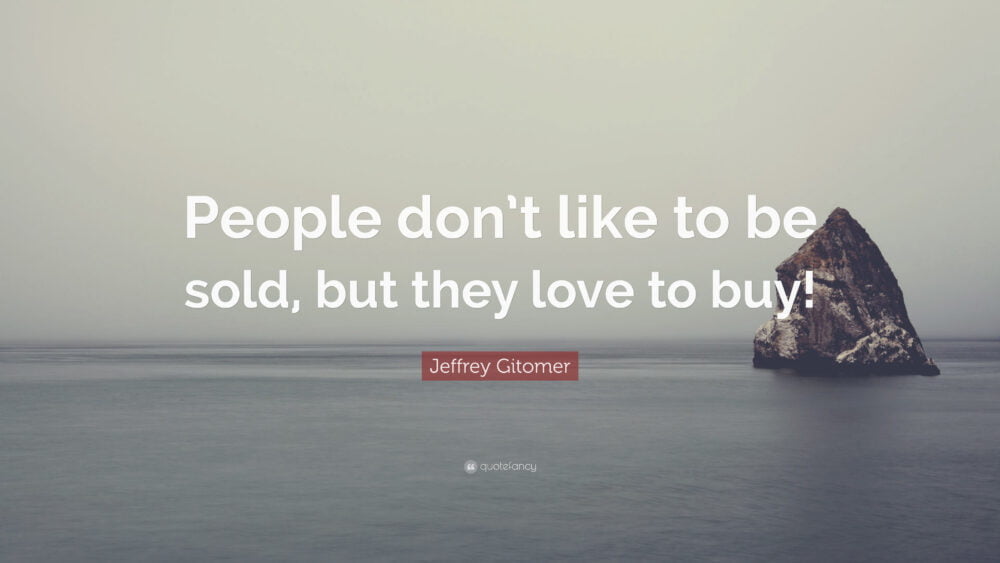 Let them get to know you, use cold emailing.
Make sure you have a list of real potential customers, not the ones that you think they are not but maybe they could be if they read you or something like that, no, no, no.
You have to know that they NEED what you offer, this will be the way you'll get online sales and create a bond with them.
You can't expect to close a sale with a single cold email, you must have a well thought out strategy in mind.
Repeat with me: sell without selling
What gives more confidence than seeing the face of the person who is talking to you? Well, right now I can't think of anything.
A robot, a spammer or a thief would not let you see their face, that's why you have to show it.
Let them get to know you, in the end email communication is like having a face-to-face conversation.
The best way to do this is to arrange a phone call or an online meeting with your profile picture, I give you an example with gmail.

This is how I look like in a cold email!
Choose an image that shows your face and use it as your profile picture.
Choose one that shows your professional side but also your personality, for example, Gerard uses a blue background, which is in line with FindThatLead's brand image and also makes the photo more fun.
How to create a signature for your cold emails
Over the last few years, the way to create a cold email has changed a lot, especially when it comes to signatures.
And your signature can also make your cold email go straight to the SPAM folder if you don't follow a series of guidelines.
What guidelines? These are mine:
❌Avoid links in cold emails. At least, not in the first one. Avoid it!
This is a behavior that can lead your email directly to the SPAM folder without passing through the recipient's inbox.
Do it when you get a reply, have a conversation with the potential customer and close the proposal in a reply or a call.
In your signature you can include a link, such as a link to your website or a connection on LinkedIn, but only in cases where it's relevant.
If you are active on LinkedIn you can link it to your profile and let them see what you do.
By having this information your potential client will get to know you better and as it also happens when you share your contact details, you will create more trust.
Great, isn't it? It all seems pretty simple, share my details, a little phrase here, a post there.
I opt for a simple signature, something like this:
—

Rafa Gandía.

Impulsando estrategias de Outbound Marketing desde FindThatLead 
Oh, by the way… Don't use a generic slogan!
Surely your company or brand will have a slogan, but the best thing to do is to use another one so that they discover your company's slogan when they enter the website, and thus get two great phrases and impacts of your brand (your personalized slogan and your company's slogan).
Use a personal slogan or don't use one at all.
In your strategy you will send cold emails to the same sector, so write a specific slogan for that sector you are going to contact.
Surely your company or brand will have a slogan, but the best thing to do is to use another one so that they discover your company's slogan when they enter the web, and so they get two great phrases and impacts of your brand (your personalized slogan and your company's slogan).
If you are going to be in charge of one industry and another colleague of yours in a different one, use a slogan adapted to your potential clients.
For example, let's say we are working with a list of Online Marketing Managers and we are specifically targeting those from Barcelona.
We could use the slogan:
"Helping CMOs in Barcelona find the contact of their best future clients".
Target a specific audience, and offer specific services.
When reading this slogan, clients will feel identified and will surely want to know how you can help them in depth.
This is the best time to say what you do, not your job title.
Whoever reads it doesn't care if you are the CEO or the VP of Marketing of I don't know what company, it doesn't matter how big your title is, what really matters is what you achieve with your work, or what is the area you are most passionate about.
For example, this is Gerard signature:
Gerard Compte.

"Outbound & Growth Hack Lover"
He is passionate about both Outbound and Growth Hacking, and obviously because it also has to do with his work.
As much as you love to go for a walk in the mountains, if you sell computers to companies, it may not have much to do with your hobby.
Choose those areas of your job that you like the most, or even create a sentence with them.
Following the same example, Gerard could also use:
"Increased sales through Growth Hacking."
Or some other phrase showing the concrete results he achieves with that discipline he likes so much.
Either of the two ways we have seen attracts much more attention than putting CEO of FindThatLead, right?
Following these guidelines in your cold emails was what made me increase sales, improve business relationships with your leads and get more responses on my campaigns.
Yes, something we usually overlook and overlook, is really what totally makes the difference between trusting and replying to an email and not doing so.
Creating your email signature doesn't require you to be an experienced growth hacker or copywriter.
Shall we continue with the tricks? Come on.
You can use alternative forms of contact in your signature.
If you show them your REAL contact details, you will increase the credibility and trust of whoever reads you, a spammer or scammer would rarely leave their contact details for anyone to see.
The best thing would be to use your phone number and address, and even better if these data are from the same city or the same country as the person you are contacting.
If you don't have a professional phone number or you don't want to put it because you prefer to communicate by mail, you can use your address and some other form of contact such as a more personal email.
Although I have to tell you that everything adds up, and if you give them the possibility of making a phone call better, especially if your cold email is intended to sell.
You can even take the opportunity to make cold calls and use your sales pitch instead of a cold sales email.
About images in your signature.
It's very common to use a picture of yourself or your company logo in your cold email (or both).
Take a look: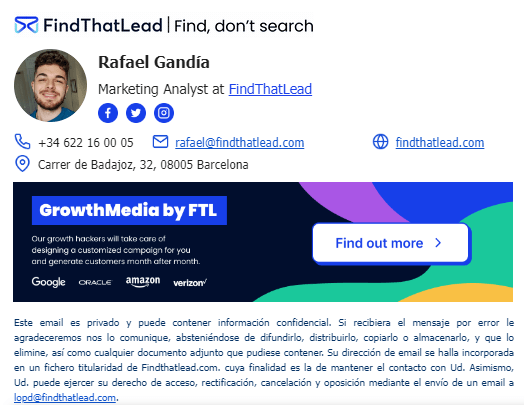 But be very careful with this, I use that signature you see there, but not to send a cold email.
If you use an image in the first cold email you send to a potential customer you also run the risk of getting into their SPAM folder, and the bigger the image is…. The worse!
Keep in mind that it should also match your company's brand image and the tone of the cold email you are sending, of course, if it is more serious or has a more formal touch.
If you choose to add your logo image instead, follow the same pattern as the profile image, make sure it is not too big and totally visual.
Final Words on How to Make Cold Email Campaigns Effective
Remember to modify the cold email strategy for each audience you target, you can create the perfect cold email but if it goes to the wrong recipient it will end up forgotten, unopened and dead forever.
If you consider yourself a commercially empathetic and creative person, I assure you that a good cold email strategy is the best way to generate leads in 2022. 
What you want are relationships that last over time.
You will sell later, or with the information you put in your email signature.
You have to rely on making the sale after a few interactions.
Your cold email is the top of the funnel.
If they are interested in you, they will enter the hole and then you will have to make them take steps and get closer and closer to your brand (with more emails, for example) and once you have them all trapped, that's when you sell to them.
Although with all these tricks they will surely buy from you before you try to sell anything.
So much for the hacks that will make a difference in your cold emails and make you get more conversions.
You can use what you have learned here for any way to cold contact online.
Without going any further, Scrab.in is an amazing tool that allows you to cold contact from LinkedIn.
What did you think? If you use these strategies in your cold emails I assure you that you will see results almost immediately.
Don't forget! You can automate this whole process of Outbound Marketing and cold emailing with FindThatLead.
See you in another post!
What is Growth Hacking? Strategies to boost your business