With how accessible the Internet is today, would you believe me if I told you that the number of people going online every day continues to increase? Yes, yes, you're getting it right.
Marketing has always been about connecting with your audience in the right place at the right time, right? So, would you also believe me if I told you that digital marketing is the most important to growing a business?
That's right, the importance of sales is meeting your audience where they spend most time and one of those places is the Internet, without a doubt.
So why invest in digital marketing? Who should I focus on? How to do digital marketing in my company? These are the three crucial questions that every company must ask itself to achieve success in the digital world.
That's why, in this post, we're going to see how to use digital marketing correctly in your business in order to increase your sales, are you ready? 😎
So, what do we mean when we talk about Digital Marketing
Digital marketing, also called online marketing, refers to all marketing efforts that occur over the Internet. Pretty obvious, huh? 🤔
Yes, that's right, businesses take advantage of existing digital channels such as social media, search engines, email and other websites in order to reach and connect with their potential and current customers.
So we repeat, digital marketing is crucial to your business growth and brand awareness!
Content and digital marketing are so common that consumers totally rely on them as a way to learn about brands. Because digital marketing has so many options and strategies associated with it, you can be creative and experiment with a variety of marketing tactics with a small budget 😎.
Digital marketing is characterized by the use of multiple tactics and digital channels to connect with customers where they spend most of their time: online.
Why is Digital Marketing so important?
I'll try to sum it up in one sentence: thanks to digital marketing you can easily reach your potential customers and reach a much wider audience than with traditional methods. Sounds good, doesn't it?😏
And that's not all: with digital marketing you can measure success on a daily basis and change your strategy when needed.
1. It's possible to focus your efforts only on the potential customers most likely to buy your product or service.
If you place an ad on TV, in a magazine or on a billboard, you have limited control over who sees the ad. Sure, you can measure certain demographics-including the typical readership of the magazine or the demographics of a given neighborhood-but it's still largely a shot in the dark 😭.
Digital marketing, on the other hand, allows you to identify and target a very specific audience and send them personalized, high-converting marketing messages.
⭐ Tip: Cold Emails are a great way to easily connect with your prospects and take them to the end point of your sales funnel in a personalized way.
In short, digital marketing allows you to carry out the research necessary to identify your buyer persona and allows you to refine your marketing strategy over time to ensure you're reaching the prospects who are most likely to buy.
Best of all, digital marketing helps you target subgroups within your broader target audience as well. If you sell multiple products or services to different buyer personas, this is especially helpful!
2. Let's be clear here: it's more profitable than outbound marketing methods
Digital marketing allows you to constantly track campaigns and reduce the amount of cost on a given channel if it's not demonstrating a high return on investment.
The same cannot be said for traditional forms of advertising: no matter how a billboard performs, it still costs the same!
Plus, with digital marketing, you have total control over where you want to spend your money. Perhaps, instead of paying for PPC campaigns, you choose to spend the money on lead software to grow your lead list.
⭐ Tip:A digital marketing strategy allows you to continually pivot to make sure you're not wasting money on channels that doesn't work! 😉
3. Digital marketing levels the playing field within your industry and allows you to compete with bigger brands
If you work for a small business, you probably find it hard to compete with the big brands in your industry, am I wrong?💔
Fortunately, and although it may seem impossible, I can assure you that there are many opportunities to overcome the big players through strategic digital marketing initiatives.
⭐ Tip: For example, you can identify certain long-tail keywords related to your product or service and create high-quality content that helps you rank in search engines for those keywords. Search engines don't care which brand is the most famous or the biggest… Instead, search engines prioritize content that relates best to the target audience.
4. It's measurable!
I know I harp on it a lot, but digital marketing can give you a complete, end-to-end view of all the metrics that may be important to your business, including actions, impressions, clicks and time on page, and views.
Unlike most offline marketing efforts, digital marketing enables marketers to see accurate results in real time 😏. If we told this to the marketing professionals of a few years ago, they surely would freak out and jump for joy. 😎.
Well, if you've ever placed an ad in a newspaper, you'll know how difficult it is to estimate how many people actually went through that page and paid attention to your ad – there's no absolutely sure way to know if that ad was responsible for any sales!
With digital marketing, on the other hand, you can measure the ROI of just about any aspect of your marketing efforts 💙.
5. It's easier to adapt and change a digital marketing strategy
I'm sure you know the work that is involved in developing a marketing strategy. Usually, you follow that strategy to completion, let it take effect, and then judge its results.
However, things don't always go according to the plan. You may realize halfway through that an estimation wasn't correct, an assumption was incorrect, or an audience didn't react as expected. Being able to pivot or adjust the strategy along the way is very beneficial as it saves you from having to start all over again!
⭐ Tip: Being able to change your strategy easily is one of the greatest advantages of digital marketing. For example, if an Instagram ad is not delivering the expected results, you can quickly adjust it or pause it to get better results.
6. Digital marketing can improve your conversion rate and even the quality of your leads
As digital marketing simplifies the measurement of marketing efforts, it also simplifies conversion rate improvement.
⭐ Tip:Being able to measure the effectiveness of each tactic helps you develop better strategies. Continually refining your methods improves your conversion rate.
In addition, not all leads offer the same value to your business. Digital marketing offers you the opportunity to target a specific audience that will produce higher quality leads which are more likely to convert into customers.
Connecting your business with the most valuable leads will directly improve your conversion rate. And if you're wondering how to connect with these potential customers, here are the best tips on how to get leads rapidly!  😉
7. With digital marketing you can engage your audience at every stage
It's crucial to start engaging your audience as early as possible. Establishing a connection at the first stage of the buyer's journey helps drive the lead through the customer funnel. Using digital marketing allows you to achieve this from start to end and at all points in between.
⭐ Tip:Digital channels allow you to follow the whole purchasing journey of your customers. Understanding and analyzing how customers move and operate is important to transform potential customers.
As we've already discussed, digital marketing allows you to follow them through that process. And, even if they don't convert in the early stages, at least it helps you ensure a connection with your company!
6 steps to build your Digital Marketing Strategy
1- Set your objectives
When you start in digital marketing, it's key that you start by identifying and defining your objectives, because depending on them you'll elaborate your strategy in a different way.
For example, if your goal is to increase brand awareness, you may want to pay more attention to reaching new audiences through social media or cold emails.
⭐ Tip:In any case, the easiest thing to do is to shape a digital marketing strategy after having determined the main objectives of your company 😉. 
2- Identify your target audience
We've mentioned it before, but one of the biggest advantages of digital marketing is the opportunity to target specific audiences; however, you can't take power of this if you haven't first identified your target audience and potential customers.
⭐ Tip: Of course, it's important to keep in mind that your target audience may vary depending on the channel or the objective you have for a specific product or campaign.
If you're starting from scratch and don't know how to reach your target market and convert leads, let me help you!
The first part of any lead generation strategy is to identify and segment your target market. To do so, I recommend you start by defining your buyer persona (don't forget to take a look to our post so you can have a better idea 🤩)
Once we have defined our target audience we are now going to use FindThatLead's tool "Prospector" in a very simple way to know the market we have and all the contact data we'll need to convert them into customers.
Once we are inside "Prospector", we're going to see these parameters to fill in (it's not necessary to fill them all) with the data we have about our ideal audience.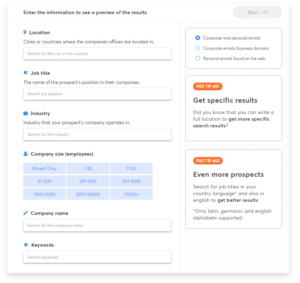 Once all these parameters have been filled in, the tool itself will generate a list in .csv with all the emails that have been matched.
⭐ Tip:  I recommend choosing only corporate emails to perform our subsequent cold emailing campaign in "Send Emails" without any problem.
Already having the .csv in our possession, we have a generated list of Prospects.
⭐ Tip: IMPORTANT: Don't confuse prospects with leads, the first one is probably not interested yet in your product or service. A prospect is a person who will most likely become a lead 😉).
Next step is to send this .csv list of prospects to "Send Emails" (just the tab next to Prospector), without leaving FindThatLead. Even if you have never used FindThatLead, I assure you that there will be absolutely no problem because, trust me, it's an incredibly intuitive tool.
Once we are inside "Send Emails", we'll load our .csv and start configuring our cold emailing campaign 🤩.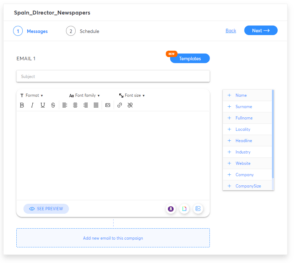 If you know how to address these points and create a good subject line, CTA and body text, you'll be, for sure, successful in all your lead generation campaigns.
You can also generate leads through our Scrab.in tool! It works as a Chrome extension that allows you to automate LinkedIn actions. I have an amazing strategy for automating lead generation. Gerard explains it in the video below.
3- Set a budget for each digital channel
As happens with everything, the budget you determine really depends on the digital marketing elements you want to add to your strategy.
4- Striking the right balance between paid and free digital strategies
For a digital marketing strategy to be truly effective, it needs both paid and free aspects.
For example, if you spend time creating entire buyer personas to identify the needs of your audience and focus on creating quality online content to attract and convert them, you're likely to see significant results in the first six months even if your advertising spend is minimal.
However, if paid advertising is part of your digital strategy, results can come even faster.
⭐ Tip:It's recommendable to focus on increasing organic (or "free") outreach through content, search engine optimization and social media in order to achieve long-term, sustainable success.
5 – Create attractive content
Once you know your audience and you have a stablished budget, it's time to start creating content for the different channels you're going to use. This content can be social media posts, blog posts, PPC ads, sponsored content, email marketing newsletters and much more! Just be creative here!
⭐ Tip: Any content you create should be interesting and attractive to your audience, as the goal of content marketing is to increase brand awareness and improve lead generation.
6 – Don't forget to measure your analyses
Finally, in order to create an effective long-term digital marketing strategy, it's vital that your team learns to pivot based on analytics.
For example, perhaps after a couple of months you discover that your audience is no longer as interested in your content on Instagram, but they love what you're creating on Twitter. Sure, this could be an opportunity to reconsider your Instagram strategy as a whole, but it could also be a sign that your audience prefers a different channel for consuming branded content.
On the other hand, you might find that an old website isn't getting the traffic it used to. You might consider updating the page or getting rid of it altogether to make sure visitors find the freshest content relevant to their needs.
Digital marketing offers businesses incredibly flexible opportunities for continued growth, but it's up to you to take advantage of them! 😎