😎 Creative yet compelling, complex yet complicit, growth hacking is an intriguing concept!
Simply put, growth hacking is a marketing concept that applies to small businesses that want to grow quickly in a short time.
And growth hacking books are a good way to learn about this type of marketing, but first let's review what it is and what is its main purpose 😎.
There are two main principles of growth hacking: creativity and budget.
A growth hacker has to be a curious individual who can break boundaries and create growth strategies for small businesses and who is not afraid to take calculated risks.
So if you've been wanting to learn all about this strategy in the best growth hacking books, this post is for you.
⭐ Tip: Reading can open up the layers of your brain and push you into new wavelengths. As a growth hacker you can also learn a lot if you know where to look through the pages 😉.
Now, looking for the right books to read can be overwhelming.
There are too many, some good, some just good, and some that have nothing to do with growth hacking other than their title 😒.
So we've decided to put together a list of the best growth hacking books for you – coming straight from the book club we have on the team.
These are the growth hacking books we encourage you to read  🤓.
P.S. If you are new to growth hacking and want to learn from the experts, join our webinars to learn faster!
The Best Growth Hacking Books
1. Growth Hacking
How today's fastest growing companies are driving your company's success.
If you know anything about growth hacking, you've probably heard of Sean Ellis (we've interviewed him on this blog!).
Sean is responsible for the term "growth hacking" having coined it a decade ago.
If you don't know anything about growth hacking, that's okay: this book is for you!
The "godfather of growth hacking" co-wrote the book with Morgan Brown.
Among other things, Morgan is a growth and product executive. He is currently the chief product officer at Facebook.
Indeed, together they have written one of the best books on growth hacking 😎.
The book is divided into two parts. In the first part, you will learn what growth hacking is, what methods it uses and what its processes are.
The second part is basically a playbook.
In it you will discover how to apply the methods and processes of the first part to your business – regardless of your industry – and get the most out of the 4 stages of growth (Acquisition, Activation, Retention, Monetization).
As one of the best growth hacking books, it will give you plenty of ideas for your own business that you'll want to put into practice immediately.
Note: Hacking Growth is a must read for any marketer and entrepreneur, and especially for those working in product and SaaS companies. It's easy to read, content-rich, and with tons of practical advice for the reader.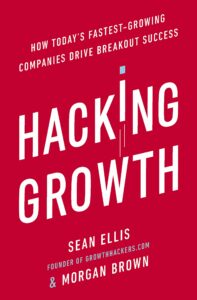 The Growth Handbook
Andrew Chen is one of the early thought leaders in the growth hacking scene.
In 2012, he explained why a "Growth Hacker is the new VP of Marketing." He led Uber's Rider Growth product team.
Today, he is a general partner at a venture capital firm in Silicon Valley.
Together with the Intercom team, and some industry veterans who have grown businesses like AtlassianAlassian, Slack and Pinterest, they provide proven frameworks, valuable advice and invaluable observations throughout this book.
The authors and contributors share their insights on why retention is more important than acquisition.
Spoiler alert 🙄: it has to do with today's subscription-based economy. In addition, you will learn how to run valid growth experiments and what are the common mistakes to avoid.
You'll be able to answer questions like: How do I calculate my gross and net churn? Why does every company need a free acquisition mechanism? How do I acquire my best buyer persona? How do I find the magic moment for my product? And – you won't see this one coming – what is the law of clickthroughs?  😎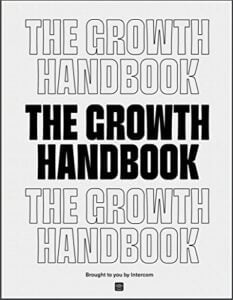 3. Traction
How any startup can achieve explosive customer growth 📈.
Traction is written by two highly successful entrepreneurs, Gabriel Weinberg and Justin Mares.
The former is the CEO and founder of DuckDuckGo, one of the most popular alternative search engines.
The latter is the founder of several successful startups.
Traction is written with all startups in mind.
Why do some startups fail and others succeed? According to the book, most startups don't fail because they can't create a product.
Rather, they fail because they don't get traction. In other words, new customers and users. As the authors say, "traction trumps everything."
The book not only broadens the reader's horizons in business, but also offers practical insights and guidance.
In addition, the authors draw on interviews with founders of successful companies, such as Reddit, Hubspot and Wikipedia.
They also explain to the reader the 19 traction channels – which one should you choose for your company and how can you get the most out of them?
To answer this, the reader will find a three-step framework called Bullseye.
Overall, Traction offers a wealth of insights, tactics, facts and opinions that can benefit your startup.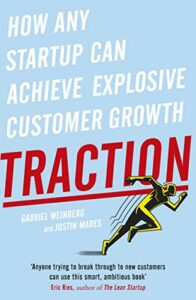 4. Product-Led Growth
Wes Bus may be relatively new to the growth hacking marketing scene but he has already established a strong presence.
He's the co-host of the "Product-led" podcast, creator of the "Product-led 6-week course" and author of Product-Led Growth: How to Build a Product That Sells Itself.
That's all well and good and all, but I imagine you're wondering what this "product-led" stuff is.
The term "product-led growth" was coined by Open View Partners, a Boston venture capital firm, a few years ago.
According to the firm, "product-led growth (PLG) is an end-user-centric growth model that relies on the product itself as the primary driver of customer acquisition, conversion and expansion."
In other words, product-driven growth puts the product at the center of the customer journey.
Thus, the product itself, rather than sales or marketing, becomes the mechanism through which the company will acquire, activate and retain customers.
In his book, Wes will explain to the reader the concept of product-based growth strategy.
In addition, he will answer questions such as Which of the SaaS pricing strategies is the only one with long-term viability? What are the 7 functions a product-driven growth hacking team should have? How can you stop customer churn? How can you transform free trial and freemium users into paying customers?
You'll also learn what you need to change to maximize the lifetime value of your customers. If you have a SaaS business or work for one in functions such as marketing, sales, and product, this book is considered a must-read from the day it came out.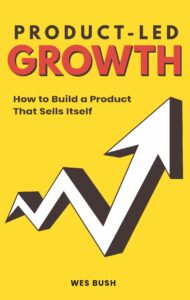 5. Growth Hacking
Growth Hacking – Silicon Valley's Best Kept Secret is another excellent choice of growth hacking books for anyone who wants to get into it. It is written by Raymond Fong and Chad Riddersen.
Raymond is a former engineer who later in life discovered his passion for marketing and became a growth marketer and consultant.
Chad started his career in investment banking, but ended up being a growth consultant for companies like Boeing and Dollar Shave Club.
Unlike traditional growth marketers, Chad and Raymond don't think in growth funnels.
Instead, they built their own framework and called it the Automated Sales Process (ASP). So what is it? Basically, ASP is their vision for deconstructing and analyzing the elements of a sales and value delivery cycle.
The book offers real-life examples from some of the now well-established companies.
By understanding what worked for them-and why-you'll be able to apply many of these practices in your own business. First, however, you will need to know about the growth hacking process and the growth mindset, which are explained in the book 😉.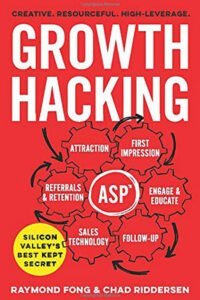 6. Startup Evolution Curve
It's called "the IKEA guide to build your next startup".
It's written by Dr. Donatas Jonikas, a scientist, marketer and lieutenant of the reserve.
To write his book, Donatas surveyed 1,447 startup founders and startup marketing agencies around the world.
But he didn't stop there. He also conducted several hundred interviews with founders who managed to get their startup off the ground, and even some who didn't; failures can teach us lessons just as valuable as successes (so with everything in life, right? 🤩).
The content of the book puts enormous weight on the business aspect of the startup. Thus, it begins by analyzing the value proposition, the business environment and competitive analysis. It then moves on to how to create a minimum viable product and how to assess profit and growth potential.
Chapter 3 is devoted to fundraising, while Chapter 4 deals with product launch.
In Chapter 5, Growth Hacking, you'll learn about profit hacking, how to create viral loops, and some marketing automation strategies, among other things.
In addition, Startup Evolution Curve offers additional free resources for the reader  😏.
So, in addition to its 338 pages of concrete knowledge, you'll also get templates and some downloadable sharing files, an online video course on how to create an irresistible offer, and an invitation to join the group of like-minded startup entrepreneurs! 💙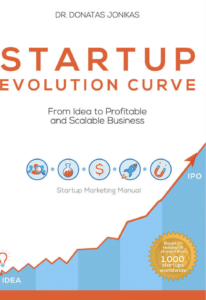 7. Hooked
In growth hacking marketing, retention has become the most important stage of the funnel.
And one of the first thinkers to put retention in the spotlight so successfully was Nir Eyal.
Nir is an expert in behavioral engineering, which is a fusion of psychology and technology.
He is also a professor at Stanford University, a founder of technology companies and an investor.
In his book, Hooked, Nier introduces the Hooked model.
As the name implies, the model explains how he hooks users into using the product over and over again without thinking too much about it.
As the author explains, the Hooked model has 4 phases.
The first phase is the Trigger, which is everything that sets the behavior in motion.
The second phase, the Action, is what is done in anticipation of the next phase, the Reward. And, according to Eyal, there are three types of rewards: tribal, hunting and self rewards.
The fourth and final phase is the Investment, the part where the user is asked to give back some of their time and make a commitment.
Hooked is a must read for product managers, marketing designers, marketers and start-up founders.
It is also a great book for anyone who is interested in learning more about themselves by learning more about the products they use, and how products use them  🙋🏽‍♀️.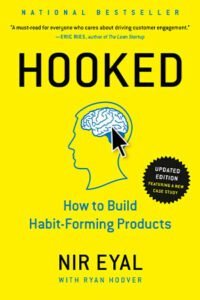 Fuente: Amazon
If you have already read all the books about growth hacking
Or you just don't read growth hacking books, but you still think you need to learn a little more, I invite you to read the 15 Best Growth Hacking Techniques of 2022.
In addition, there are many tools that will help you during this learning.
With these, you will be able to put everything you learn into practice. You can find the best growth hacking tools on our FindThatLead website.
One of the most interesting is the one that will help you in one of the best growth hacking techniques: backlink prospecting or linkbuilding!
You can automate the prospecting process using the FindThatLead tool, which does the hard work for you and is very affordable.
Step 1: Get a list of websites where you can ask for a review or link, there are several ways to do this.
For example: Explore the external linking of your competitors to get a list of websites that have linked to them, or make a list with the website of different similar industries (Obviously, not your direct competitors 🙄).
Step 2: Import the list into FindThatLead and use the Lead Search tool to find the email address of each of the websites in the list.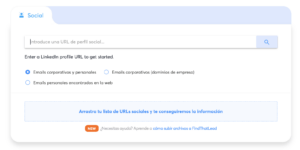 Step 3: Write a concise and powerful message, a message written with love, this is the philosophy we promote at FindThatLead and the one that has always worked for us. 💙.
Step 4: Automate the sending of emails with FindThatLead's Email Sender module and manage responses.