If you're a startup or have been running a company for a while, you probably know that you'll approach a crossroads that will make or break your business. 
The crossroads can be summed up in one question: how can you scale your business to generate more leads? 
You had a great SEO startup plan and maybe now you even have some loyal customers thanks to your newsletter.
But to establish a sustainable pipeline of potential clients, you need more. There are two options: build an in-house sales team to attract new customers or outsource to B2B lead generation agencies. 
Doing things yourself is great. Sometimes. We think finding the right lead generation company to help your business is one of the most effective, efficient, and affordable routes to take. 
If you want to find a reliable lead generation agency that has a proven history of bringing new business to a company, you're in the right spot. We've compiled a list of the best lead generation companies with proven results. 
In this article, we'll cover what B2B lead generation services are and what they do, what you should look for in these agencies before you hire, and, finally, our list of the top 9 B2B lead generation services.
What Are B2B Lead Generation Services?
Often, the most difficult struggle for a business is breaking through the market. In simple terms, that means it's hard to find new customers. 
That's where a B2B lead generation agency comes in. B2B (aka "business-to-business") lead generation services help B2B companies find new sales leads. The primary objective is to bring new clients into their sales funnel to create new business opportunities.
What Do B2B Lead Generation Companies Do?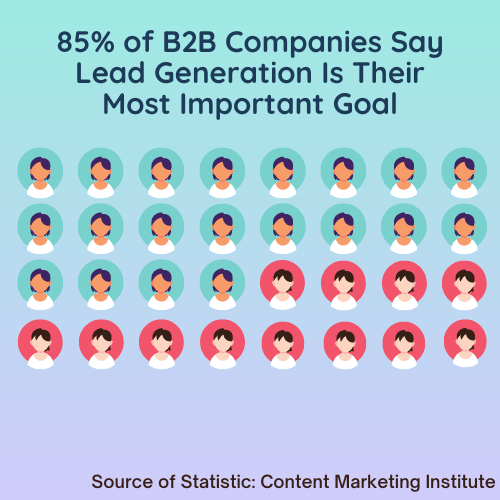 How do B2B lead generation services help companies find new leads? They analyze your sales and marketing data, create buyer personas, and research and advise the best channels to conduct outreach. 
These agencies also collect consumer data and sell it to businesses that want to buy new leads. Each agency is unique in what it offers. Here's a sampling of what may be offered:
Compile and analyze data

Build contact lists

Manage databases

Manage accounts

CRM integration

Create marketing campaigns

Lead nurturing

Scheduling appointments
Things You Should Look for In a B2B Lead Generation Agency
When you evaluate B2B lead generation agencies to make a decision on which one to work with, here are the things you must consider. 
What is their target market?

The agency should know that certain lead generation tactics work for certain industries and not others. What is this agency's wheelhouse and is it what you need?

How much do they cost?

Budgets matter.

Your

budget matters. Be sure you know what the agency costs before you get too far into the conversation.

What's their experience?

How long have they been in the industry? What client success stories can they share? A quality agency will have an abundance of stories ready to go.

How do they source leads?

Are they using social media? Cold calls or emails? Referrals This will tell you about the type and quality of leads you'll get. 

How do they qualify leads?

Finally, you'll want to find out how they qualify leads. Is someone a marketing-qualified lead or a sales-qualified lead? A good agency will be able to delineate leads so your sales team knows how to handle each case.
Top 9 B2B Lead Generation Services and What They Offer
Let's start with our own lead gen agency here at FindThatLead. Our tools are trusted by companies like Google, Amazon, Zappos, and Verizon. We already have the experience and software to get any successful lead generation campaign started.
So far, we have focused our efforts on creating some of the best sales prospecting tools in the industry. As our customer base has grown we have been approached by companies that don't just want tools to find prospecting data but also want to hire an agency to manage the prospecting for them.
Here is the lead generation process we use when we begin a new campaign for any client:
Breaking down their goals
Before we get started, we want to make sure we understand what your goals are and what we can do to help you achieve them. Once we have had an onboarding call where we discuss goals and strategies to achieve those goals, we move on to the next step.
Setting up the campaign
Once we know who the ideal customer is, we get cracking on creating buyer personas, email scripts, and finding information for each prospect. 
Project Execution
Once we have all the information and have set up your campaign, your dedicated account manager makes sure to keep you updated on each step of the process- what conversations have led to new leads, new connections we have made for you within the industry, and what is working for your campaign.
We also make sure we follow up with any leads that have replied and shown interest in the service.
We use our own tools for every step of the process- Scrab.in is our go-to for LinkedIn lead generation which is used hand-in-hand with our Sales Navigator.
➡️Linkedin is one of our B2B Lead Generation firms, contact us!
We also make sure you have a dedicated account manager that follows up with your campaigns' progress on a day-to-day basis.
Want to learn more about the tools we use to handle campaigns for ourselves and clients? Here are the ones we are proud to call ours:
Prospector.

This tool enriches your database with qualified contacts, improves your Facebook Ads audience, and gets more conversions. Once you define your audience parameters, we'll take care of the rest.
Chrome Extension.

With our Chrome extension, in less than three clicks you'll find the contact details of any person or company you're searching for. Turn your LinkedIn connections into verified email addresses for your prospecting campaigns.
Email Search.

Stop wasting time searching your contacts or database for an email. Enter the name of your prospect, their company name, or domain and we'll get you their email in a snap.
Verifier.

Remove the possibility of bounced emails with our advanced algorithm that verifies prospect email addresses. 
Email Sender.

Build ultra-personalized and automated email campaigns for prospecting, sales, marketing, and more in no time. The best part? They won't sound like robots. Already have an email service like Mailchimp or one of these

Mailchimp alternatives

? No problem. You can still use our tools to help craft your messaging.
Social.

Our social tool enables you to copy-paste any URL profile from Twitter, LinkedIn, or Instagram and get their email. 

Local Businesses.

Enter your location and search for prospects based on keywords. We'll help you find and reach your prospects faster via email, phone, or both.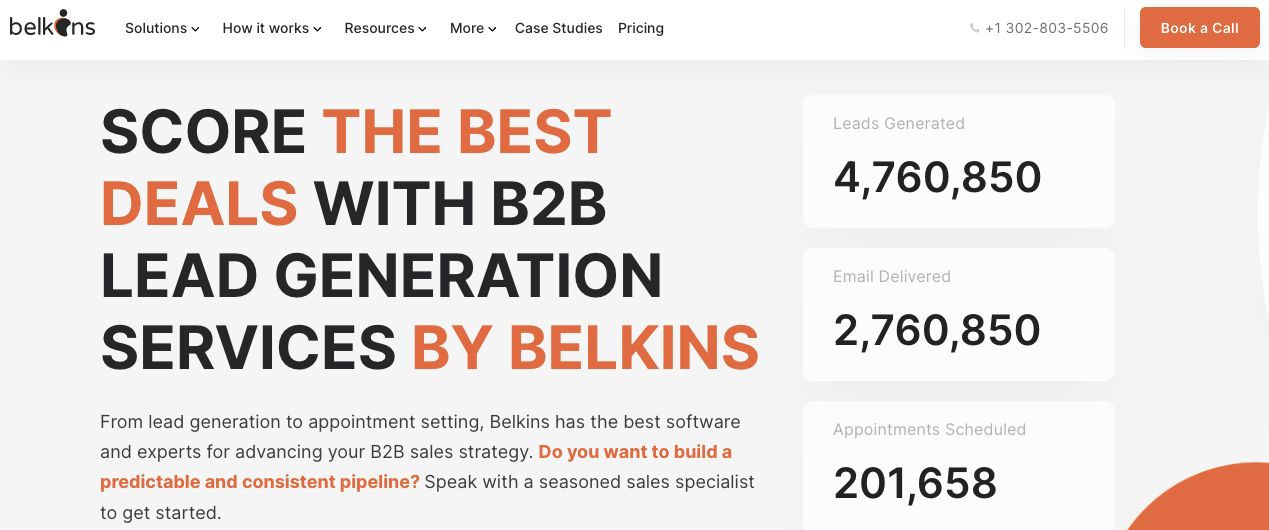 Belkins is a lead generation agency that takes care of every aspect of your sales funnel. Here are the main services they provide:
Setting appointments with prospects who are ready to purchase.

Manual lead research, based on your ideal customer.

Help you establish your brand and influence on Linkedin with their Linkedin Influencer Program.

Handle inbound inquiries and convert them into qualified opportunities.
Belkins works with over 790 brands globally, operating on four continents. They pride themselves on rejecting a cookie-cutter approach and personalizing a sales strategy for each client. Belkins is so confident in their approach that they guarantee a minimum number of meetings booked when you work with them. 
Belkins researches and validates your prospects' data and generates appointments, for much less than what it would cost an in-house team. 
Their account managers, sales development reps, and copywriters deliver research, messaging, prospecting, and sales tactics so you can focus on the most important thing: closing deals.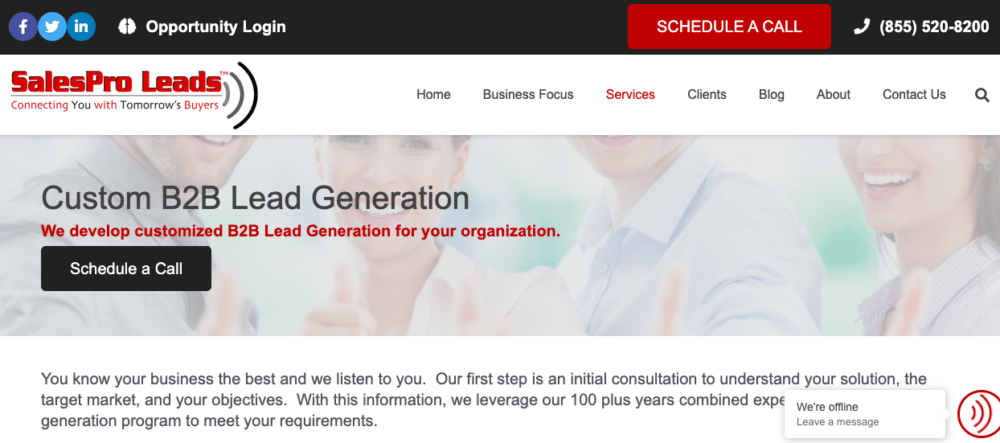 SalesPro Leads focuses on lead generation for technology and software companies. This market is insanely competitive and SalesPro Leads has a proven track record to get results for some of the largest tech companies in the world, including Samsung, Cisco, and Toshiba. They have a combined 100 years of lead generation experience on their staff.
SalesPro provides qualified, detailed intelligence for potential customers actively looking for your product or service. They help you analyze your target market, create a strategy to engage decision-makers of potential clients, and work to get them to book a call with you.
Finally, SalesPro Leads handles inbound calls, and nurtures leads, before handing them off to you when a customer nears the purchasing phase. They can also develop and manage your CRM.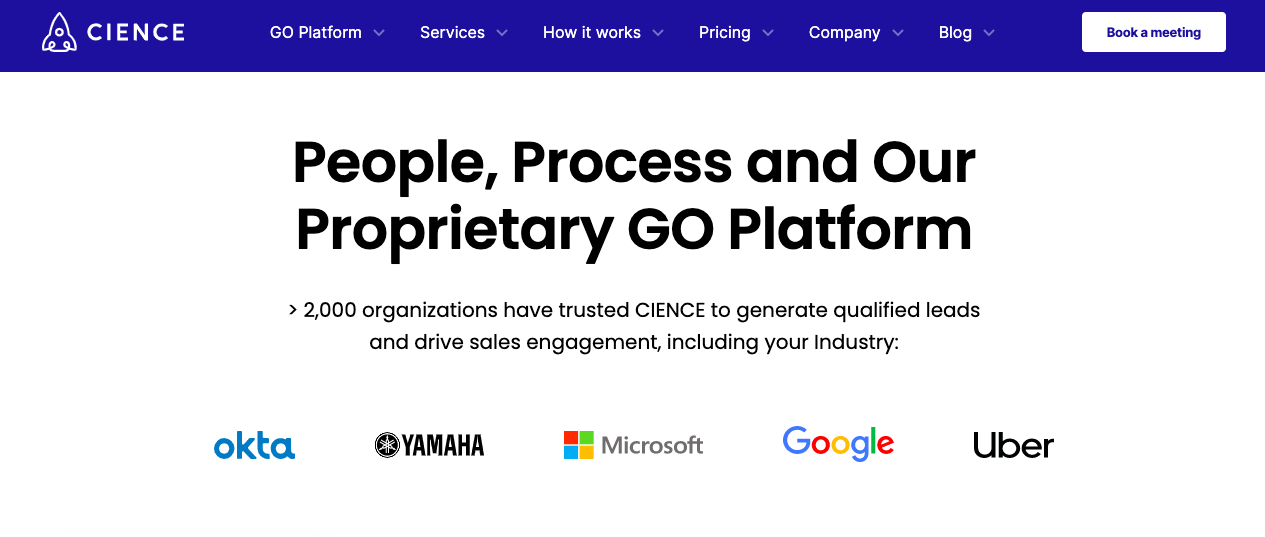 CIENCE offers lead generation software and orchestrated outbound services that include their premium sales data, multi-channel prospecting, lead response, and digital ad platform to help you grow your business. 
By leveraging AI technology and the use of proprietary tools, CIENCE helps you find qualified leads without headaches. Alongside their multi-channel outbound campaigns, you'll be positioned well to outpace the competition for future success.
Having worked with companies like Google, Uber, Yamaha, and Microsoft, CIENCE has established itself as a prominent lead generation agency. With 10 locations worldwide, CIENCE is also sure to understand your specific needs in your market.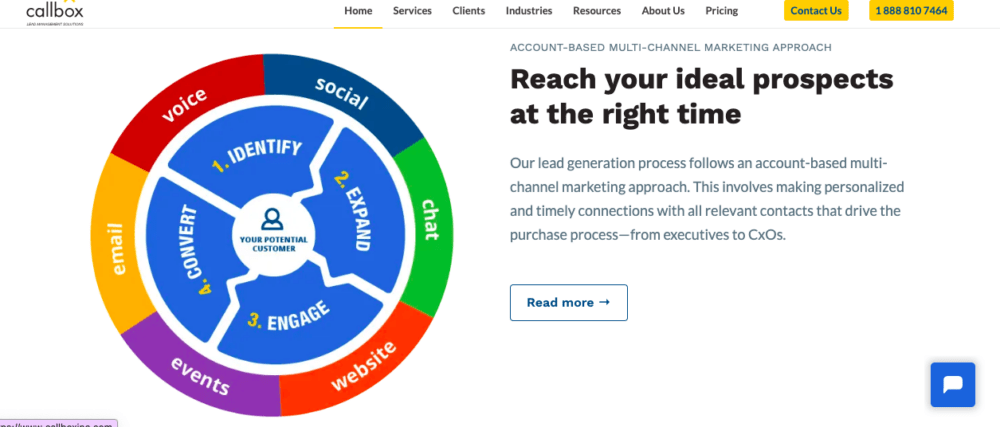 Based in the United States and with offices in three other countries, Callbox is the largest provider of outbound B2B lead generation services in the world. 
They use an account-based marketing approach to reach their global database of contacts in more than 35 million businesses. Callbox helps its clients expand its reach through six lead generation avenues: voice, social media, email, chat, website, and webinars. They also offer appointment setting services. 
Because they offer a full stack of sales and marketing tools, all of the hard work is done for you upfront. If you're a busy business owner, you may love that you won't need to be directly involved with a client until a deal is made and closed. 
Callbox has the experts, the strategies, and the technology to help you meet your goals. Of course, that comes with a price. For small to medium-sized companies, Callbox will be one of the more expensive lead generation options in the market. 

By taking a relational approach to the problem of lead generation, Striventa occupies a unique space in the industry. Striventa believes that leads aren't just leads, but real people who have real problems and need real solutions.
They are an inbound lead generation agency that analyzes your marketing and sales initiatives. They offer a Business Growth Strategy program that helps you refine your audience, brand, CRM, customer service, and more. 
They also offer a website plugin called "WP Pillers" to ensure your site is SEO ready with compelling content marketing, a proper website structure, demand generation and a killer user experience. Ensuring your website is built properly, Striventa asserts, will help you be found online and generate those organic leads.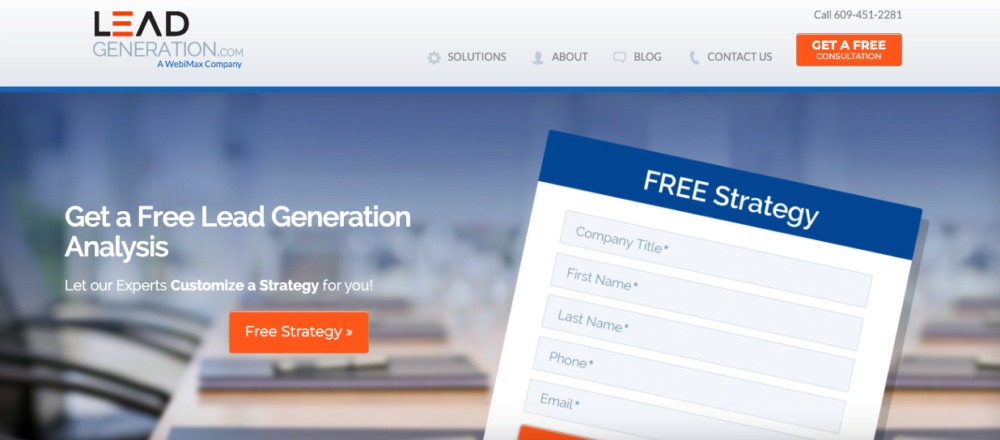 It wouldn't really be a list without a lead generation company of the same name. Lead Generation focuses on customizing your unique business to help you bring customers into your pipeline. 
They work in partnership with you to develop campaigns that will generate qualified leads through the most efficient means available to maximize your ROI. They leverage a broad spectrum of online marketing strategies and bring them together to create a cohesive program that brings opportunities from multiple channels.
Their process is straightforward: they strategize around your business needs, they create a target prospectus, and then you watch the leads flow. Refine and repeat the process. 
Lead Generation also provides a free consultation and custom strategy recommendation to get you started.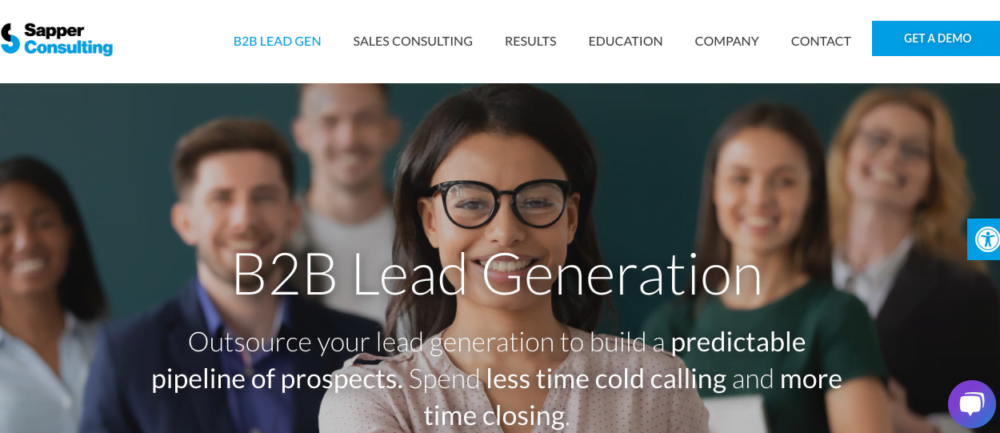 Sapper Consulting is an Inc. 5000 company that has a reliable and trusted process for B2B lead generation. According to Sapper, their process results in quality meetings with your ideal prospects. Ultimately, their goal is to help your business spend less time cold calling and more time closing deals. 
One of their case studies boasted a 400% ROI with their targeted prospecting emails. 
Their process starts with getting to know the depths of your organization, researching your target audience inside and out, developing robust messaging that connects with your audience, and finally A/B testing to narrow down their messaging and timing to the perfect approach for your target audience.
Sapper has been featured in some of the leading business publications including Salesforce, Glassdoor, and Harvard Business Review.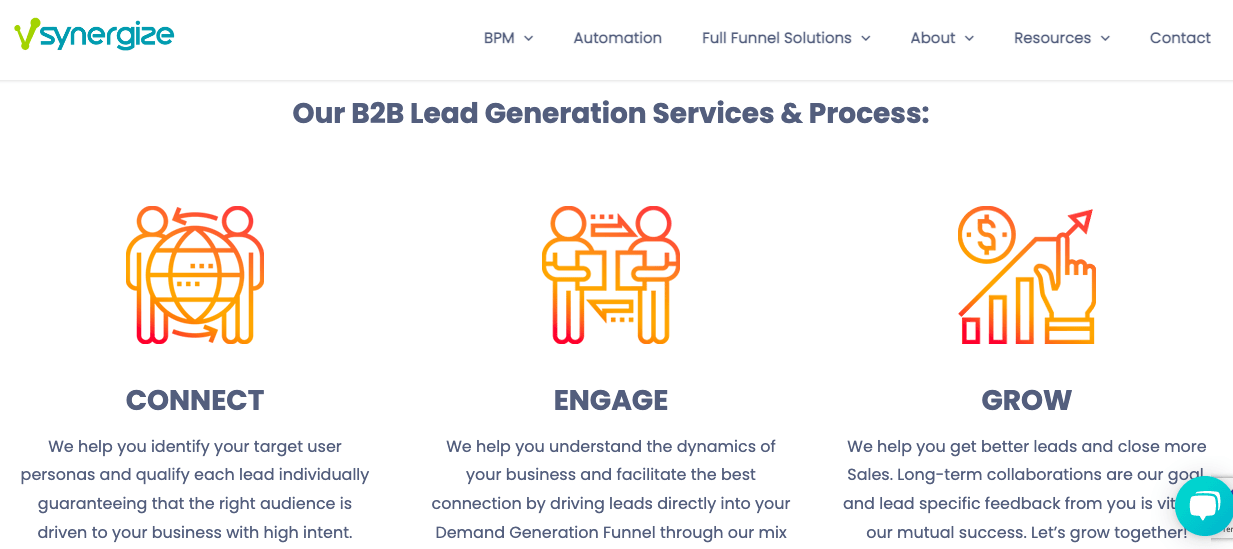 VSynergize is a one-stop shop for your business. It's a lead generation agency and an IT firm built into one. 
When it comes to lead generation, they help you connect with user personas and qualify each lead individually. They help you understand the dynamics of your business to facilitate the best connections. Finally, they help you grow better leads to close more sales, focusing on long-term collaborations. 
VSynergize applies "intent data" to accelerate results. This means they adopt a smart marketing technology that fits in line with the latest trends. They promise results that come from a proven prospecting process and guaranteed scalability and growth on your end.
Wrapping It Up
Whether you're a startup founder who is still taking business courses or an established company, generating well-qualified leads is the lifeblood of your company. 
Without it, your sales pipeline runs dry and, eventually, you'd run out of revenue. The success of your lead generation strategy will make or break your business.  
Thankfully, the B2B lead generation services we've outlined can help. There's no need to create a system from scratch, develop your own software, or train team members.
Every one of the agencies we mentioned offers a free demo or consultation. So there's no harm in contacting a few to see what works best for you. Of course, remember that here at FindThatLead, we can get you started for free to see if our service fits your needs.