With over 104 million users active daily, 260 million users engaging on a monthly basis, and a chart-topping 760 million registered members, LinkedIn has cemented its place as the largest and most relevant social media network for those looking to establish and promote business connections.
According to research published by Kinsta, web search queries for the term "Linkedin" have more than doubled in recent years, with the tech channel garnering a steady increase in popularity over the last decade.
Perhaps more importantly, LinkedIn has also been pinpointed as generating 277% more leads than other top-tier social media networks, including Facebook and Twitter.
In addition, according to this report by Hubspot, LinkedIn's visit-to-conversion rate is as high as 2.74%, with Facebook posting a paltry score of 0.77% and Twitter coming up last with 0.69%.
LinkedIn's standard-setting stats get even better when you zoom in on the field of B2B interactions.
You can reach a lot of people, are you planning to do it manually? The best way to do this is through many tools, and I'm here to show you the most popular LinkedIn automation tools.
LinkedIn reports that upwards of 80% of marketers who specialize in the B2B segment source their leads from their channel, making it the most coveted and influential interface for business-to-business interactions in the world.
The Current Marketing Landscape and Lead Automation 
The current digital marketing and recruitment landscape has only helped confirm LinkedIn's standing as the top player in the professional recruitment segment.
The COVID-19 pandemic has led to steady growth in e-commerce and remote working, with lead generation cycles now increasingly hinging on three main players: LinkedIn campaigns, email campaigns, and Zoom meetings.
However, with over 20 million companies and 20 million jobs listed on LinkedIn, the task of finding the right hire or client for your company can be daunting – much like looking for a needle in a haystack.
Needless to say, the prospect engagement process has accordingly become more streamlined than ever before, with companies applying new technological solutions to find the perfect hire or business partner.
Luckily, there are an array of lead generation technologies out there designed to help you tap into LinkedIn's database quickly and effectively.
Automation tools are specifically built to wade into the talent pool and generate leads that match your ideal profile.
If you're not sure what value LinkedIn prospecting software can provide for your next sales or hiring campaign, consider some of the following benefits provided by lead-generation tech:
LinkedIn Automation tools are designed to help recruiters, sales teams, and online marketing specialists sort and select candidates or future clients from LinkedIn's user base.
Careful segmentation of data results in higher open and response rates in email campaigns, along with a higher probability of successful connections and follow-ups.
For example, your online marketing campaign may be geared to target specific demographic parameters, such as professional background, skills, achievements, age, interests, aspirations, or networking potential.
Lead software filters millions of candidates and selects different profiles, clients, or business opportunities based on factors you can set and adjust according to your company's needs.
Users with succinct and engaging profiles who post valuable content are more likely to be picked up and selected by prospecting software.
In turn, top-tier users are also more likely to respond positively to customized messages, another essential feature of LinkedIn automation software.
Remember, the higher the quality of the client or profile that you approach, the greater the need to produce an interaction that is memorable, on point, quick, and above all – professional.
With active users reportedly only spending an average of 17 minutes per month on LinkedIn, it goes without saying that making a good first impression is paramount.
LinkedIn automation tools can help streamline your workflow by eliminating an array of repetitive and time-consuming tasks.
Outbound email campaigns, prospecting, and messaging can all be run on a completely automated basis without causing a drop in customer or client satisfaction.
Sending off a bunch of emails to prospects can be very time-consuming, especially if you factor the sorting and selecting phases into the process.
Using automation software, your staff can concentrate on other areas or tasks, such as content building, inbound strategies, or marketing development.
In addition to sorting, selecting, and contacting leads, LinkedIn automation tools can also be used to promote brand visibility, develop networks, drive traffic to your profile, or get feedback on new ideas.
So how do LinkedIn automation tools work, and how can they help you navigate LinkedIn's platform more effectively? And secondly, which automation tools are best suited to your individual needs? 
As other LinkedIn Automation tools do, perform tasks that are usually carried out manually, effectively leveraging LinkedIn's media network and using the potential locked in its database to power your business objectives.
Using this tool as a growth hack is not only a great way to save time and money, but it is also both reliable and safe, with automation technology incorporating mechanisms to avoid LinkedIn account bans, such as strict visits and messaging limits.
With LinkedIn lead generation software under greater scrutiny than ever before (both due to LinkedIn's recent crackdown on free automation tools and the surge in competitive lead-generation solutions), it has become increasingly difficult to separate the great programs from the not-so-great.
Best Linkedin Automation Tools to Supercharge your Lead Generation
Here we take a look at some of the most powerful prospecting programs out there, from Scrab.in and Dux-Soup to LeadFuze and MeetAlfred, and dissect them to find out what areas they excel in and what makes them unique.
Scrab.in: Revolutionizing LinkedIn Automation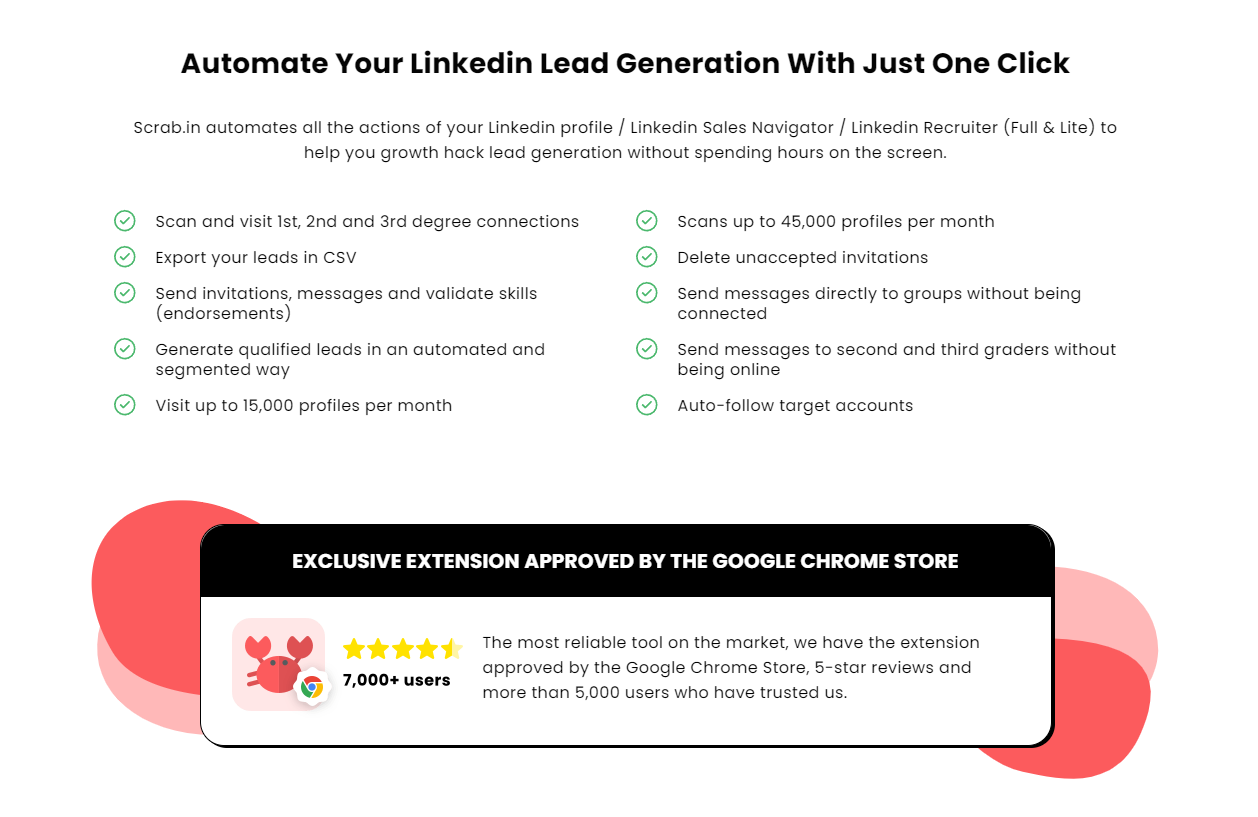 One of the fastest-growing automation tools on this list, Scrab.in is a Chrome-based extension tool designed to perform data extraction, generate leads, develop new audiences and networks, and drive growth.
Scrab.in is part of a new trend of automation tools that are custom-built to mimic human behavior, effectively sidestepping LinkedIn's efforts to dissuade and limit automation through algorithmic detection.
Scrab.in studied the technical aspects behind LinkedIn's banning process and discovered that by avoiding HTML tags, reducing user interface interference, and limiting interactions to levels similar to those of a normal user, they could provide a platform that ensures prospectors can visit 15,000 profiles per month and scan up to 45,000.
But Scrabin's technical achievements are only half the reason they made it onto this list. Let's take a look at some of the software's standout aspects.
Best Features
Safe, reliable, and perpetually up-to-date, Scrab.in excels in the growth-hacking art of leveraging high-quality data and transforming it into leads for your sales team or marketing experts.
This Google-certified extension automates all features of your LinkedIn profile, including both Linkedin Sales Navigator and Linkedin Recruiter (Full & Lite).
After prospecting and contacting new clients, this all-encompassing automation software will help you get your product out to your target audience – and ultimately boost your company's revenues.
In addition, Scrab.in offers you the possibility of filtering and contacting third-degree profiles.
Remember, the more qualified your audience, the more responsive it will be to the content you share and the products you offer.
Scrab.in also provides further interaction with other users through its endorsement and referral program, fostering mutually beneficial interactions for both businesses and individuals.
Other standout features include data management tools that segment your audience profile according to various criteria – all of which can be downloaded and reused for new campaigns further down the line.
Finally, Scrab.in offers a very competitive pricing package, with 1 plus license starting at just $12/mo and ultimate licenses going for $59/mo.
With the number of positive reviews it's received over the last 3 years, it's a wonder this lead generation software is still so well priced.
Pros
Second-to-none lead generation capabilities
The segmented user base is downloadable
All-in-one functionality
Integration with other tools, such as FindthatLead
Secure and easy to use
Cons
Advanced features (such as downloading CSV files) are only available via a premium subscription
Still not widely used across different social media platforms
Dux-Soup – Easily Automate Your LinkedIn Messages
Dux-Soup is another Chrome extension automation tool that is making a name for itself.
With a host of built-in automated features, including automated data extraction, one-click CSV downloading capabilities, and substantial anti-spam restrictions.
Dux-Soup is a strong candidate for one of the best all-around LinkedIn message automation tools available on the net today.
Best Features
Like Scrabin, Dux-Soup allows you to view and collect new prospects, make endorsements, interact with users and send off customized messages to choice profiles.
Where Dux-Soup really excels is in the messaging department.
Available in nine languages and full of actionable features such as profile tagging and annotating, Dux-Soup funnels 1rst, 2nd and 3rd-tier LinkedIn connection automation into its highly accurate automated messaging service – turning prospects into firm propositions in the process.
With so much riding nowadays on customer experience, Dux-Soup backs up its standout personalized messaging service with a highly efficient customer support team that is ready to assist you at all times.
Born in 2016, this streamlined automation tool is built with simplicity in mind.
It combines a no-nonsense dashboard with easy-to-use features and straightforward setting options, making it an excellent alternative for those who are less tech-inclined.
Finally, Dux-Soup also offers a free lifetime subscription, which puts it up there with some of the best free popular LinkedIn automation tools.
At just $11.25/mo, its professional version is also very competitively priced and provides the auto-engage functionality that is Dux-Soup's standout feature.
Pros
Free access to a wonderful range of automation tools
User-configurable auto engage functionality
Easy-to-use dashboard
Cons
Follow-up function only available on Turbo subscriptions
The free version does not support Recruiter Lite prospecting
Workflow integration is lacking on the lower-tier subscriptions
LeadFuze as a Linkedin Automation Tool
While all tools that run cold email campaigns and other outbound strategies are fully automated, not all tools are specifically fine-tuned to convert leads into sales.
With its standard-setting marketing and sales features, LeadFuze stands out among its competitors as the number one automated LinkedIn sales navigator on the web.
Best Features
This software's three-pronged approach revolves around helping salespeople find and close deals with new clients, discover new profiles for hiring managers and suggest advertisement targets for marketing specialists.
Employing A.I., market-based search options that allow you to run hyper-specific parameters, and integrated CRM and workflow tools, LeadFuze helps you pull in the right profiles, virtually eliminating the inaccuracies and duplications that can bloat your customer list and put a stopper in the sales process.
It works seamlessly with other software and sales-oriented applications, such as SalesForce, FreshSales, and Salesflare, and is straightforward to use.
LeadFuze prides itself on the quality of its user database, which consists solely of verified email addresses.
LeadFuze also encourages B2B interactions and profile targeting using AdWords.
This bonus feature helps HR managers or sales teams approach candidates or clients that are actively producing digital marketing content and are therefore more likely to engage with profile-specific proposals.
Finally, LeadFuze also packs a special "technology used" filter that allows prospectors to optimize their outbound strategy for different content management systems.
All these features come at a cost. LeadFuze is one of the more expensive automation prospecting programs available, so be prepared to pay a pretty penny.
Pros
Hyper-specific filtering options help create great leads
Fully validated user database
Easy and straightforward interface
Great sales and marketing support
Dovetails well with your CRM and other workflow tools
Cons
At an initial $132.30/mo, its starter plan is twice as expensive as that of Scrab.in
Cloning and copy/pasting restrictions
Advanced filtering options mean slower search times
24/7 customer support is lacking
Educational videos on marketing and campaign building have been scrapped
Linked Helper – Ease of Use and All-Around Functionality
Sometimes it just makes sense to play it safe and go for the most straightforward option available.
Maybe you aren't experienced using automation tools or are just starting to get a grip on workflow integration or automated messaging campaigns.
Best Features 
If it sounds like you fit the description above, then Linked Helper may be the wisest way to go.
Famed for being good at everything – whether it's selecting filters, breaking down data into bite-sized parts, or automating messaging campaigns – Linked Helper is recognized by over 477 applications, allowing perfect integration across a host of content management systems and platforms.
Linked Helper's massive reach and integration capabilities also make it a fantastic tool for those looking to drive profile traffic or promote brand visibility.
In addition, as Expandio points out, Linked Helper also boasts an array of perks, including an autoresponder function, group messaging capabilities, and the possibility of importing and exporting contacts in CSV format.
Having fallen foul to LinkedIn's recent crackdown on automation tools, Linked Helper has gone through a renaissance of late and is blooming once again.
With starter plans on offer for as little as $12/mo, we predict that this application will enjoy a long and healthy life.
Pros
User-friendly interface
Unparalleled integration with other applications
Group messaging capabilities
Great for those looking to boost traffic and brand visibility
Easy to set up drip campaigns
Over 90,000 registered users
Cons
Linked Helper license does not work on two LinkedIn accounts simultaneously
The prospecting tool can be glitchy
LinkedIn Sales Navigator – Most Professional Automation Tool
According to Expandio, Sales Navigator is an excellent automation tool for experienced users looking to access advanced search and funneling options.
Presented as the premium version of LinkedIn, this program offers unparalleled sales preference filtering options.
Best Features
LinkedIn's Sales Navigator allows you to run searches according to area, industry, function, decision-making capabilities, and other factors, such as client revenue or budget size, headquarters location, recent leadership changes, and more.
LinkedIn Sales Navigator also gives its users unique access to InMail, LinkedIn's direct-messaging solution.
This added perk gives your profile a professional vibe while also posting higher open and response rates than traditional email approaches.
Although not recommendable for sales teams or marketers who are unfamiliar with the ins-and-outs of LinkedIn, it can be a powerful piece of software – especially when combined with other tools, like Expandi's LinkedIn automation tool.
Complete with tagging options, group filtering, boolean search capabilities, and lead saving facilities, LinkedIn Sales Navigator is a powerhouse of a program but can be slow and cumbersome due to its manual-only policy.
By using it with automation tools like Expandi or Scrabin, you can get the best of both worlds, simultaneously optimizing search and sales capabilities while also saving time and other resources.
Pros
Free thirty-day trial
Great profile navigation and segmenting features
Group messaging capabilities
Official LinkedIn tool
Comes with the Sales Navigator Mobile App
Built to produce business deals and promote growth
Cons
Does not provide automation services
The starter subscription service offers only 20 InMail messages per month
MeetAlfred – Your LinkedIn Butler
Following with this article, here comes the MeetAlfred review. Billed as an all-in-one LinkedIn, email, and Twitter automation platform, MeetAlfred is an automation program that helps create high-quality profile searches and LinkedIn connections.
Competitively priced, with an elemental plan on offer for $29/mo, Meet Alfred provides users with a range of different features, including LinkedIn campaigns and team management, data analytics, integration capabilities with other platforms and applications, as well as inbuilt safety limits to avoid bans.
Best Features
In addition to being a great all-around option, Meet Alfred also offers online marketing services that are ideal for bolstering B2B interactions.
Increase your page traffic and success rates with your target audience by getting a profile makeover, ask for suggestions and tips to improve your communication and messaging skills, get expert help on how to optimize your LinkedIn Sales Navigator account, using it to leverage quality leads, or outsource your lead generation campaign altogether – all for just $1246.
Meet Alfred's campaign manager function works around the clock but can be scheduled to operate at certain hours or intervals.
Campaign sequences can be customized to detect when conversations are established with users, allowing you to redirect your prospecting efforts towards new targets.
Pros
Only one LinkedIn profile account can be managed per account
Great for high-performing users
Cons
Only one LinkedIn profile account can be managed per account
The starter subscription service offers only 20 InMail messages per month
Best Free LinkedIn Automation Tools
LinkedIn is a powerhouse for lead generation and professional networking. While there are many paid automation tools offering advanced features, there are some free tools that can be quite beneficial for those looking to maximize their LinkedIn presence without spending a dime. Here are some of the best completely free LinkedIn automation tools:
Scrab.in: This tool stands out for its simplicity and effectiveness. With Scrab.in, you can extract LinkedIn profiles' data. It's a browser extension, making it easy to use and integrate into your daily LinkedIn activities.
Dux-Soup: Although it offers a premium version, Dux-Soup also has a free version that allows users to automatically visit LinkedIn profiles, potentially increasing visibility and connections.
Linked Helper: This tool has a free version offering basic automation features, such as sending automatic invitations and follow-up messages.
Phantombuster: An automation platform offering multiple "phantoms" or scripts for various tasks, including LinkedIn automation. Its free plan has certain limitations but is still useful for basic tasks.
Meet Leonard (now MeetAlfred): While MeetAlfred is primarily a paid tool, it used to offer free features under the "Meet Leonard" name. It's worth checking if they still provide any free functionality.
Zopto: Known for its premium features, Zopto also offers a free version with basic LinkedIn automation features.
Conclusion – The best Linkedin Automation tool of 2023
LinkedIn automation tools represent one of the most significant developments in the networking and marketing landscape.
By leveraging LinkedIn's huge pool of talent and businesses, you can drive traffic to your profile, bring visibility to your brand, create target-specific user lists, and build social networks to bring in revenues and grow your company.
Scrab.in is a great tool for prospecting and funneling users from primary channels.
Easy to use, reliable, and well-priced, this software is streamlined to pull in high-quality, growth-stimulating leads.
LeadFuze and LinkedIn Sales Navigator both provide advanced segmenting and filtering options.
LeadFuze takes the prize for the best sales and marketing automation program, while LinkedIn Sales Navigator offers outstanding features in terms of security and professionalism.
Dux-Soup excels at providing great customized messages and auto-engage responses to leads, while Linked Helper is the best option for those who are inexperienced in using lead generation technology.
Last but not least, Meet Alfred offers all-encompassing services for those who want to outsource their online marketing demands.
Finally, remember that no tool is an adequate replacement for meticulous and careful planning.
As long as you provide, exchange, and interact with high-value content, your digital marketing campaigns are destined to be a success.