Once upon a time, there was an entrepreneur who didn't plan to become one of the best growth hackers, but when she launched an online clothing store, she had no choice but to adopt her new identity. 🙋🏽‍♀️.
It all started when she began asking herself the question, "Oops, how do I get customers?"
To drive traffic to her e-commerce site, she started running small tests with paid search ads, paid social media ads and organic search.
She made incremental changes, paying special attention to the channels that got the most traction and the variables that offered the most bang for her money.
He also ran A/B tests on his website's product pages, adjusting description text and photos to see which variations converted visitors into customers most effectively.
Then she repeated the winning combinations over and over again 😎.
She sums up what she was doing as "data-driven testing in order to grow a business", also known as the profession of the growth hacker! 🤯
So, what is a Growth Hacker
A growth hacker is someone who iteratively tests and optimizes a variety of user activation, marketing or product strategies to grow a business, often a fast-growing technology startup.
Unlike traditional marketers, who focus primarily on generating brand or product awareness, growth hackers use data-driven tactics to improve metrics tied to the growth of the business 📈.
Before diving into the professional profile of the growth hacker, it's important to understand growth hacking.
Growth Hacking is a field focused exclusively on growth, based on a data-driven process that relies on experimentation.
The origin of growth hacking dates back to 2010, when Sean Ellis coined the term and has been popular mostly among startups, due to limited budgets and resources.
Since then, more people rose up and started calling themselves growth hackers, growth marketers, technical marketeers, data-driven marketers or head of growth (sounds very trendy, doesn't it? 😎)
Since then, their popularity has increased tremendously among scale-ups and larger, more traditional companies. Companies like Uber, TikTok or Shopify, have their own VP/Chief Growth Officer and a team of growth hackers!
What is the objective of Growth Hacking in Marketing?
The concept of growth hacking appeared in the era of the first start-ups. These companies needed to expand their customer base, market share and revenue as quickly as possible.
Meanwhile, startups had extremely low budgets, so they could not afford traditional promotion and customer acquisition tactics 💔.
This situation has been the main objective of growth hacking in marketing: to acquire the maximum number of customers at the minimum cost and as quickly as possible.
Why is it important
Growth Hacking is essential for startups and other companies running on a tight budget.
⭐ Tip: This concept allows brands to expand their audience and increase their revenue even if they can't afford expensive marketing tactics. Growth hackers are constantly looking for inexpensive ways to promote a business and, thus, eliminate a lot of expenses! 😎
Even better, growth hacking has a positive effect on large enterprises as well.
By employing some basic growth hacking methods, brands can reach new audiences, improve ROI and increase customer loyalty 💙.
What makes someone a Pro in Growth Hacking?
The concept of Growth Hacker has its roots in programming engineers. But they are much more than that. They are also marketing creatives, product managers and data analysts. They focus on a single goal: finding the most effective and efficient way to grow a business.
⭐ Tip: This usually means a rapid experimentation in marketing channels, constant attention to product (re)development, and a relentless focus on building and engaging a company's user base.
Most importantly, every decision growth hackers make is based on data! Growth hackers know how and what to measure. They use analytics, landing pages and A/B testing to understand the habits and behavior of their target customers.
They don't make assumptions, but obsess over the data, until they find the most effective solutions with the highest growth potential 🤓.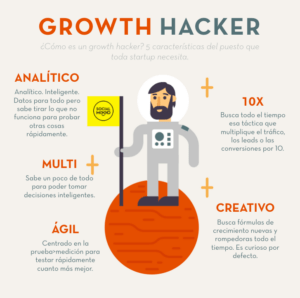 The Growth Hacking world is constantly changing as new hacks are discovered and methodologies are developed. Many larger companies have begun experimenting with the same techniques. And no, growth hacking is not just for startups anymore! 🤯
The 5 pillars of a Growth Hacker
So much of growth hacking comes down to systems and processes. It's about finding the weak point in a system and exploiting it – it's about the processes of continuous ideation, prioritization, testing and analysis! 📈
⭐ Tip: For the growth hacker, however, failures mean progress 😎. Failure is part of the experimentation and learning process, just like life itself 💙.
1. Gaining a growth mindset
The growth hacker starts with the right mindset. It involves focusing all your efforts on achieving your single metric that matters (OMTM).
⭐ Tip:

This is usually an ambitious and specific growth target, for example, "achieve 10 million in revenue by 2020". It is very important that your OMTM is measurable, achievable and straightforward, so that you can always keep it in mind and let it guide your team's every move.

As the person or team in charge of growth, all your activities should be geared towards achieving your OMTM 🧐.
The growth mindset is also about challenging yourself and realizing that you are capable of much more than you think you are 💙.
Growth hackers think big, take risks and constantly ask themselves "what if?".
⭐ Tip:To relentlessly pursue a goal, even when it takes you beyond your comfort zone, is what makes growth hackers effective. "Impossible" is not part of a growth hacker's vocabulary 😉.
2. Building a growth team
No one can be an expert in all areas, right? That's why it's so important to have a strong team! 🤩
It's necessary to build a team of growth hackers with the following combination of skills
1) Creative marketing
2) Software programming and automation
3) Data analysis and testing.
⭐ Tip: It's essential that they can understand and leverage each other's strengths. 💙.
3. How and what to measure?
As you and your amazing growth team pursue your OMTM, everything you do to accelerate growth must be measurable. If you get results, great! If you don't, stop and move on to the next idea.
⭐ Tip:As the saying goes, "When you assume, you do…", the quote that growth hackers live by! Since there is no room for assumptions, all decisions must be based on data. And to have that data, you have to start measuring! 🧐
Many traditional marketers or small business owners would not be able to say what the ROI of their most recent advertising campaign was, probably because they don't know what to measure or simply don't have the right measurement tools to do so. Knowing what and how to measure can be challenging, but it is essential!🤓
⭐ Tip:Think about this: If you manage to achieve some goal, but you have not measured everything you have done, you will not know what led to your success. Conversely, if you fail at something, without measuring you won't be able to avoid the same mistake next time.
Data collection and analysis is the optimal way to know what exactly correlates with success. It gives you a baseline against which to compare your results as you experiment.
4. How to listen to your market
The number #1 reason why startups fail is that they try to sell a product that no one wants 💔.
⭐ Tip:Just because you think you have an amazing product doesn't mean there is a market for it. Accepting this reality from the beginning will save you a lot of trouble, time, money and energy 😉.
How to avoid it then? The only way is to listen carefully to your market by first doing a market study and adapt your product to what is needed there.
⭐ Tip: Create your buyer personas and customer desire map. Research your potential customers as thoroughly as you can until you know what makes them tick.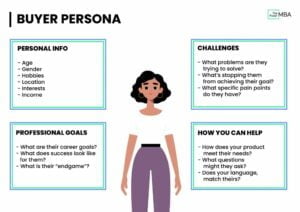 The goal of all this is to get to know your customers better than they know themselves (I swear it's possible 👀).
⭐ Tip:Of course, you can use surveys, focus groups, interviews and other traditional market research tactics to find this information, but consider other options as well.
5. Use appropriate traction channels
If you're handing out bags of money for Google and Facebook ads with no idea of your ROI, it's time to rethink your approach. It's not that Google Ads and Facebook advertising aren't useful – on the contrary! But they're not the only channels for traction. And they may not be the best channels for your situation right now.
So how can you best reach your (potential) customers and interact with them?
⭐ Tip:Remember, it's not about the size of your reach, it's about its effectiveness. In the end, it doesn't matter how many people have heard of you. What matters is that the right people know about you: the people with the greatest potential to become loyal customers.
To find the most appropriate traction channels for you, spend some time reflecting with your team. Remember, it's not about the size of your reach, it's about its effectiveness. Find the three best options, start optimizing them and repeat this process regularly, as they are likely to change over time!
Before using any channel, it's important to have a good customer base – Scrab.in is an ultra-simple tool for this!
While you can use Scrab.in in many ways, for B2B customer prospecting you should follow the directions:
Sign up for scrab.in and log in from the Google Chrome extension. You will get a configuration that is very easy to manage. Here are the steps 😉 :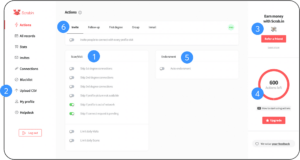 Connect to your Linkedin
Select the profile you are interested in prospecting: For example: marketing director in Spain.
You must fill in the field in the search box with the profile "marketing director", click on "people" and then in "locations" select Spain (or the place of interest you have).
⭐ Tip:Be as specific as possible, always thinking about your buyer persona.
Now, simply:
Select the "second level contacts" option:
Click on the extension and press the play button inside the "visit profile" tab.
Try letting it run for a few hours, i.e. you must have your computer on and not close the Google Chrome window during your working day.
You just have to relax and continue with your usual work, the bot is responsible for doing the job automatically, in addition to visiting the profiles, also collects data from them, such as name, surname, company, location, domain, email, etc. Enjoy!🥳
Don't forget the most important thing: Download the CSV file at the end of the tracking! Here you will have all your leads 😏.
And if, along with your team, you think email marketing is one of the best channels (which in most cases it is), check out our Email Sender tool and create email marketing automations specific to your campaigns in minutes 💙.
Now… What is the salary of a Growth Hacker?
The question of the century, how much does a Growth Hacker earn?
The average salary of a Growth Hacker in Spain is around 32,000 euros per year gross, just over 2,500 euros gross per month. Not bad, right?
Apart from the salary, the techniques used by the Growth Hacker figure are fully compatible with entrepreneurship and freelance services. I would say that it can be considered a fully scalable profession, don't you think?