To make a business grow, it's critical for entrepreneurs to market their products effectively.
There are many challenges along the way, but scalability is possible with these growth hacking techniques.
To reach a mass audience, entrepreneurs must adopt what I call the Growth hacker mindset, with different growth hacking strategies.
Although some of these techniques have only been around for a few years, they have proven to play a pivotal role in the growth of modern businesses.
⭐ Tip: Many entrepreneurs have made them an integral part of their business growth as they have seen fruitful results. It's time you do too!
Entrepreneurs are looking for various growth hacking tactics and want to grow rapidly by gathering millions of customers that increase their revenue.
Growth hacking techniques for businesses are a proven success story.
But not all businesses can execute these growth hacks in the best way, how about yours? 😉
What do we mean when we talk about Growth Hacking?
Growth Hacking is a strategy based on experimentation to determine the most effective growth hacker techniques to grow a business.
The growth hacking process involves a mix of marketing, development, design, engineering, data and analysis, sounds good right? (Designing a logo with a logo maker is also a growth hacking strategy, that's what it's all about, using tools and techniques that cost little time and money to launch a great return.)  😎
And do you know why it's called growth hacking?
The reason is that a hacker finds a quick, profitable yet innovative method to achieve growth instead of following conventional processes.
What is a growth hacker?
I like to say that those who have the growth hacking mindset are the ones that are smart, original and innovative.
Its main objective is to implement creative and cost-effective growth hacking techniques to ensure that companies are able to acquire and retain customers for as long as possible.
⭐ Tip: A growth hacker may use a combination of methods to achieve their goals, such as content marketing, viral marketing, email marketing, SEO, A/B testing or reverse engineering.
But it should also be remembered that a growth hacking team can have growth marketers, however, growth hackers can never be defined only as marketers.
A formula that growth hackers rigorously focus is Product + Growth = Impact 📈.
The Best Growth Hacking Strategies
Let's dive a little deeper into the most popular techniques experts use to get a startup off the ground and turn it into a successful growth hacking story.
You should choose at least one of the following growth hacking strategies, jump into action and take your business to the next level.
1. Backlink prospecting or linkbuilding
If your company has a website, which is very likely, you should be concerned about getting links from other websites! 🤯
This is crucial for several reasons:
Branding: the more your product or service is talked about, the more you are building your brand's authority in the marketplace. After all, no one wants to buy "ducky" brands.
SEO: Inbound links help to increase the pagerank of your website. I know have told you in a very technical way, but the important thing is that you know that the more and better links you have, the more and better Google will recognize your website and will place it in better positions in the search engine.
Synergies: When you run a link prospecting campaign, you're also connecting with people and companies in your industry, which is excellent for creating synergies and collaborations of all kinds.
How to prospect for links
This all sounds great, but how do I do it, does it cost a lot of money?
The answer is NO, a linkbuilding campaign does not have to cost a lot of money or time.
You can also automate the prospecting process by using the FindThatLead tool, which does the hard work for you and is very affordable.
Step 1: Get a list of websites where you can ask for a review or a link, there are several ways to do this, for example: Explore external linking of your competitors to get a list of websites that have linked them, or make a list with the website of different similar industries (Obviously, that are not your direct competitors… 🙄), or simply, use a SE Ranking backlink tool.
Step 2: Import the list into FindThatLead and use the Lead Search tool to find the email address of each of the websites in the list.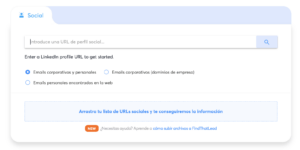 Step 3: Write a concise and powerful message, a message written with love, this is the philosophy we promote at FindThatLead and the one that has always worked for us.
Step 4: Automate the sending of emails with FindThatLead's Email Sender module and manage the responses 💙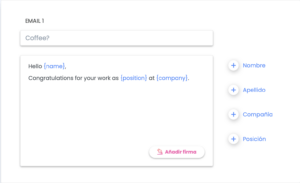 More than growth hacking focuses, outbound marketing is a prospecting strategy in which you take control of the people or companies you want to contact, sending a personalized but automated email to a list of people or potential customers. This is the most efficient B2B marketing growth hack.
Contrary to what most traditional marketers think, outbound is one of the growth hacking techniques where the best opportunities to find customers, suppliers or partners are found 📈.
⭐ Tip: Being a rather uncommon strategy, we can say that there is no saturated market or a predisposition of people to reject it, as can happen with the intrusive ads on YouTube that we see very often nowadays.
Sending direct mail through automation is ideal for several reasons:
People are more likely to read a message in their Gmail inbox than click on a Facebook ad.
It's completely legal.
There's less competition.
It's cheaper, you can check out the price of our tool or even try the freemium version.
3. Free trials or freemium versions
The best way to attract potential customers is to let them try how great your product is for free.
⭐ Tip: Of course it will depend a lot on the type of product or service you offer, the main objective is that they get to know your value proposition better and clarify any doubts they may have.
With these "free" or freemium growth hacking techniques only two things can happen:
➡️That they end up buying your products/services.
➡️That they realize it's not really what they need.
Neither scenario is a bad thing, because if the user needs a feature that you don't offer, making them pay to find out would be a mistake that would affect your reputation and you would end up having a lot of problems with returns.
On the other hand, giving users the option to try it out increases the chances that they will buy from you! Keep in mind that there is a profile of people who do not buy until they are completely sure of their decision.
Depending on your value proposition, I recommend that you always make a free and limited version of what you want to sell, for example:
Freemium version of a tool with limited benefits.
Free trial from 3 to 10 days (the time you consider ideal).
Free sample of a product
FindThatLead also has a very cool free version with which you can start growing right now! 😎
4. Referral or affiliate marketing
Affiliate marketing is one of the newest growth hacking techniques that generate the best results in the growth and expansion of your business. Referral Marketing consists of offering your users the option of earning money for recommending your product.
⭐ Tip: It's the ideal strategy for digital products, e-commerce or online tools.
You may not realize it, but there are many brands that have opted for this system and it has worked very well.
With this system, we all win, both your company and the people who recommend your product, and also the new users who, thanks to the advertising done by the collaborators, can now enjoy your wonderful product of value 💙.
5. API integration strategies
API integration strategies are also growth hacking techniques.
⭐ Tip: Especially important if you are in software or SaaS, an API (application programming interface) allows you to incorporate the interface of your software into another digital tool.
We explained it previously in the post: what is a growth hacker, in which we explored the success case of Spotify, which created an API to integrate the songs you listened to with Facebook to share them easily.
This is not feasible in all cases, but we can extrapolate the idea to something simpler like a blog, the least you can do to create integrations is to place social buttons on your website 😉.
6. Working with influencers
Undoubtedly, one of my favorites growth hacking strategies for e-commerce.
When it comes to building a brand, there's a reason brands pay influencers to endorse their products.
Collaborating with reputable influencers is one of the best Growth Hacks, they are a powerful way to reach a wider audience.
It's worth noting that influencers with more than 50,000 followers are the most impactful! Here's another of many Growth Hacking tips
⭐ Tip: Entrepreneurs should collaborate with influencers to promote their products and services by sharing the latest news. Influencer marketing, if done right, can help any business get noticed and achieve massive reach.
7. Create an aggressive content marketing strategy
For your business, customer feedback is critical. It will help you resolve complaints and queries faster. It will also help you handle customer objections effectively.
The best growth hacks consist of an aggressive content marketing strategy that helps you focus on customer feedback and market your product with ease.
⭐ Tip:  With a modest budget, create a content marketing strategy for your business that allows your audience to understand the value of your product.
Regardless of the type of business you have, your growth hacks and content marketing strategies should always focus on attracting the right audience.
When planning content marketing campaigns, always focus on creating shareable content.
Video content, for example, has become the central pillar of many content marketing campaigns. Serious entrepreneurs are redoubling their efforts to create engaging online courses and explainer videos. Mainly because a lot of information can be conveyed in a concise package.
8. Social Media Growth Hacks: Build a Community Around Your Brand
Social media platforms are essential parts of the marketing mix for businesses.
You can leverage social media communities to promote yourself, receive market feedback and interact with industry influencers.
⭐ Tip: It takes time to develop content and build an audience. To do this, you should strive to align your social media activities with the overall direction of your growth.
9. Retargeting y remarketing
One of the most recent growth hacking techniques used by all growth hackers or marketers specialized in sales funnels, I will give you a very simple example so you understand what I'm talking about:
Hasn't it ever happened to you that you have left the shopping cart half full and in the following days or weeks you only see the ad of that product everywhere?
Retargeting consists of setting up a series of ads, usually Facebook or Google ads.
But it is not just any ad, but an ad that is shown only to those people who have already visited your website.
For example:
You can specify exactly the URL of your website to which you want to do a retargeting, for example, if yours is an aesthetic center you will be interested in advertising rhinoplasty only to those people who visited the URLs in which you offer that service.
In this way, the person who enters your website looking for lip augmentation will not have to eat the rhinoplasty ads, but only those related to lip treatments.
This is a very powerful strategy! 😎
10. Lead magnet
Lead Magnet techniques are incredible growth hacking techniques in their own right.
If you have downloaded an e-book or the definitive guide to achieving X thing, then let me tell you that you have been a happy victim of the Lead Magnet, the star strategy of Inbound Marketing.
I guess you've already grasped the idea, but to make it a little clearer let's define what a Lead Magnet is: It's the strategy by which Leads are obtained, i.e. emails, names or any personal data, in exchange for valuable content such as a free e-book or access to a webinar.
All with the intention of subscribing the user to a sales funnel, a subscription list or simply collecting contacts for a future marketing action that requires it.
When it comes to creating Lead Magnets growth hackers get very creative, here are just a few examples of traditional lead magnets that you can start applying right now on your website:
Free E-book on a topic of interest
Free webinar
Download PDF with a valuable guide
Download a design template or a spreadsheet that brings value to the user.
Unlock a discount coupon
Access to a private Facebook or Telegram group.
As you have managed to observe in these examples, the magic words are FREE and OF VALUE, so before setting up your Lead Magnet think very well about what you can bring to your community.
11. 

Skyscraper technique

Or what is also known as content healing and content Gap.

They are two growth hacking techniques that when done together and consistently can be very powerful, especially if you want to take off the visits to your website once and for all.

Many times we focus on creating a lot of content, we write every day and we don't know the reason why nobody finds us in Google.

And the fact is that, even if your content is of value and good quality, there are factors in SEO that weigh a little more. As sad as it is sometimes we have to say goodbye to some blog posts, and other times we will have to tweak the post a bit, add more content, and update or improve what we already have.

✔ Content Healing: Improve the URLs that receive very few visits, add more updated content and outperform your competitors' content.

✔Content Gap: Spying on the content published by your competitors and attacking the same search intentions or keywords, is an ideal strategy when you have a mental block and don't know what to write about.
12.

Game strategy:

Creating a gamification system that rewards the user for their permanence is an excellent way to retain your users.

A very classic example of gamification is found in web forums, where users with more seniority and who have made X number of interactions, have a better level and unlock some features of the blog, such as placing a badge on the profile or the option to moderate comments.

Gamification has many benefits as it increases engagement and builds user loyalty. Growth hacking techniques ideal for e-learning platforms, communities, forums or SaaS.
✔ Types of gamification:
Accumulation of points to spend on products, etc.
Improve the benefits of recurring customers.
Create different levels and the option to unlock a better level as interactions or sales increase.
Reward system when reaching interaction goals within the platform.
13. 

A Linkedin Growth Hack with Scrab.in?

Linkedin is the ideal tool for a business or B2B growth hacking strategies. Many are satisfied with creating a profile and placing ads, but growth hackers go beyond the obvious, I will tell you all the possibilities you have if you use the Linkedin + Scrab.in technique.

It consists of generating connections and interactions in an automated way, so you will connect with many people and you will make your product known more easily to the right segment.

You just need a couple of little things:

✔ Install the Scrab.In extension

✔ Configuring your buyer persona in the Linkedin search engine

✔ Configure Scrab.in to visit profiles, send invitations and personalized messages

It's one of the growth hacking techniques that we use the most and we know from our own experience and from our users that it really works.
14. 

Webinars and live sessions:

Webinars or live sessions are excellent growth hacking techniques as you bring a lot of value to the user in a novel and popular format: video.

The purpose should always be to generate value to the user, it is not an info-commercial of the type "the first 100 calls will receive a discount".

You can format interviews with important people in the industry, live classes on a topic useful to your target audience, a question and answer session or a mastermind.

✔ The best tools to broadcast a live webinar are Zoom and Streamyard.
15. 

Crowdfunding strategy

The crowdfunding campaign consists of making your value proposition known through a specific crowdfunding platform or your own landing page, the ideal is to generate a minimum user base to validate the idea.

To get the most out of these growth hacking techniques you have to define your product or service well, the minimum number of users for your business to be profitable, and set up a pre-payment or contact gateway to count and collect data.

For example:

In the case of a tangible product, the goal would be to get the mail of people willing to buy it and who plan to purchase your product once it is available.

A technique recommended for business ideas or start-ups that have not yet gone to market, a crowdfunding campaign helps you connect with the early user, those users more predisposed to use new solutions to common problems.

Now you know what is the true growth hacking strategy meaning

Don't be afraid to reject channels or marketing strategies that don't work for you and don't bring you surprising results.

Remember that to achieve success with these growth hacking techniques you must test and find ways to get better results with less effort.

Oh, and most importantly, know your customer in-depth, make your buyer persona and start growing by testing our tools 😉