It's 2023, and let's be real: our inboxes are more crowded than a Starbucks at lunchtime, but yours don't have to be part of the noise.
Email personalization tools are crucial, especially for cold emailing, because they enable you to craft messages that recipients will notice and engage with.
In this post, we're diving into how these tools work and why they're essential for anyone looking to make their email outreach resonate and get results. So, let's start this journey towards more meaningful email conversations.
The Importance of Personalization in Today's Email Landscape
Personalization is what separates your emails from the avalanche of generic pitches filling up inboxes. It's about making a real connection with each person you contact.
This isn't just sending a template with a first name slot filled in. It's more like sending the right message, to the right person, at the right time. And that's exactly why understanding the role of personalization is crucial.
We're looking at how personalized emails are not just seen but felt and acted upon by their recipients.
What is an Email Personalization Tool?
An Email Personalization Tool helps you tailor your cold emails to each recipient. These tools use information like location, job title, and previous email interactions. With this data, you can make sure your emails address what each person cares about, increasing the chances they will read and respond.
Evaluating the Best Email Personalization Software
To identify the best email personalization software, we set criteria based on features, user experience, and effectiveness. We signed up for trials, tested each tool hands-on, and analyzed their unique features.
We paid attention to how each software handles data, customization, and automation capabilities. Finally, we compared them to establish a ranking that reflects their value in real-world emailing scenarios.
Evaluation Methodology
Evaluating email personalization software requires a strategic approach. Use this methodology to assess the options and find the best fit for your organization.
Trial Sign-ups and Testing
Get hands-on, start by signing up for trials of the email personalization tools you're considering. Test each tool with the same set of tasks to compare how they handle your specific needs.
Unique Core Features Analysis
Determine which unique features are most important for your campaigns. Look for capabilities like dynamic content, segmentation, and behavioral triggers that can enhance personalization.
Final Rankings and Comparisons
After testing, compare the tools based on the list of your key features. Rank them in order of how well they meet your criteria, including ease of use, level of support, and overall value for money.
Why Personalized Email Outreach Matters
Personalized email outreach is vital because it directly impacts the success of your email campaigns. By tailoring content to the recipient, you improve the chances of your emails being delivered and opened.
Increasing Email Deliverability
Using personalization tools can help you avoid spam filters and ensure your emails reach the recipient's inbox. This is because personalized emails are more likely to be engaged with, signaling email providers that your messages are welcome.
Standing Out in a Crowded Inbox
Personalization makes your email more relevant to the recipient, which can make your message stand out among the mass of other emails. A relevant, well-timed email is more likely to be noticed and acted upon.
Top Email Personalization Tools in 2023 (Some with AI)
Let's see our Top Email personalization tools.
1# Smartwriter.ai
Smartwriter.ai is an AI outreach software that enhances the creation of hyper-personalized messages to improve reply rates and relationship building.
Key Features:
Personalized Icebreaker Generator
LinkedIn Outreach Personalization
Google Review Icebreaker Generator
Instagram Comment Generator
Cold Email Outreach.
Pricing:
The Basic plan starts at $59/month
2# FindThatLead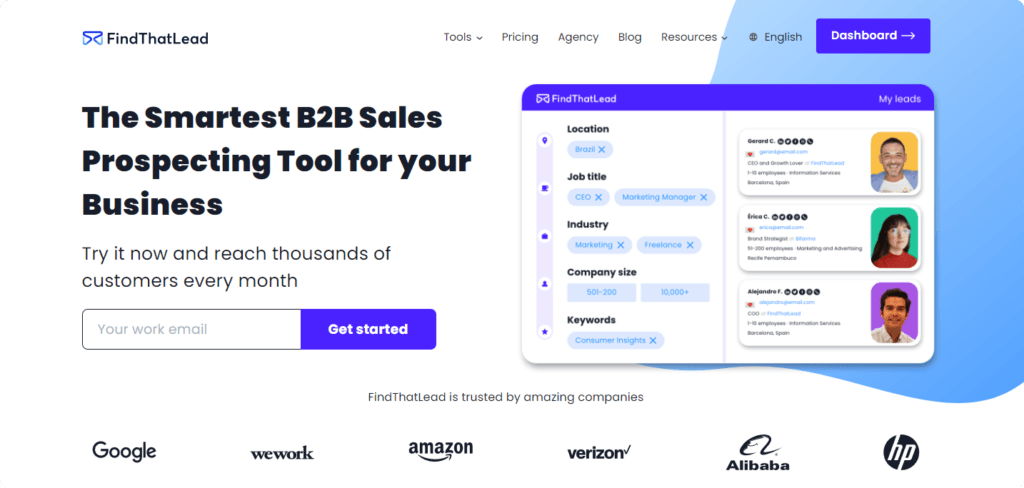 FindThatLead is an all-in-one lead generation platform that offers prospecting for professional contacts, email verification, CRM functionalities, and mass email communication, this tool also has AI included to help you set up and write your entire cold emailing campaign.
Key Features:
Lead Builder and Segmentation
Prospecting Tools
Reporting & Statistics
Personalization Features (AI Included)
Import/Export and Customizable Lists.
Pricing:
Free Plan available
Growth Plan: $49/month
Startup Plan: $150/month
25% Discount if Billed Yearly
3# Warmer.ai
Warmer.ai leverages a powerful AI engine to rapidly personalize emails, aiming to improve engagement and response rates by analyzing prospects' LinkedIn profiles and websites.
Key Features:
AI Personalizations in Seconds
Processes Lists of Multiple People Efficiently
Real-time Response Rate Tracking
Easy Integration with CRM and Email Platforms.
Pricing:
Warmer.ai plans start at $97/mo for 325 credits, or 30 cents per contact (with five lines per person).
4# Snov.io
Snov.io is praised for its simplicity and its ability to create massive lead lists, especially when integrated with Sales Navigator. It's recognized for its ease of use and the convenience it brings to email finding and list-building tasks.
Key Features:
Integration with Sales Navigator for lead list creation.
Simple and user-friendly interface.
Effective drip campaign functionalities.
Automation of the lead generation process.
Quick and friendly customer support.
Pricing:
They have a free trial
Starter plan starts at $30/month
5# Lyne.ai
Lyne.ai leverages AI to help you craft and track email campaigns with personalization based on recipient data, which leads to higher engagement and conversion rates.
Key Features:
AI-powered email marketing with high customization.
Can write up to 1000 personalized email intros per hour.
Personalized learning capabilities for unique user experiences.
Chrome extension for scraping professional emails from LinkedIn.
Easy management of email lists and tracking results.
Pricing:
They have a free trial available
Their custom plan starts at $120/month
6# Outbound Flow
Outbound Flow offers AI-powered personalization for cold emails, promising to scale your outreach and enhance your sales pipeline effectively.
Key Features:
AI that personalizes and automates cold email outreach.
Supports a wide range of languages, including English, French, Spanish, and more.
Helps in building new relationships with prospects through personalized emails.
Eliminates the need for manual work in personalizing cold outreach.
Offers features to inspire recipients to reply and engage.
Pricing:
Premium Monthly: $49.00, includes 100 monthly AI-powered cold emails, unlimited AI generations, access to all tools, and normal support.
Annual: $299.00, includes unlimited AI-powered cold emails and premium support.
7# Lemlist
Lemlist is a marketing tool that uses AI to help teams craft personalized email and SMS campaigns. It's aimed at improving sales outreach by allowing customization across various channels, making it a strong candidate if you're in the market for such a tool​1​.
Key Features:
Customizable email and SMS content.
Personalized landing pages with CTAs and calendar integration.
Custom intro lines, pitches, and CTAs for SMS marketing.
Creation of personalized images with company/lead names and logos.
AI features to optimize campaign creation and response rates.
Pricing:
Email Outreach: $50/month for email campaigns.
Sales Engagement: $83/month for multi-channel outreach.
Enterprise: Custom pricing (contact sales for a quote).
8# Customer.io
Customer.io is a robust marketing automation platform that enhances customer communication with personalized messages based on their behavior. It is versatile, supporting email, push notifications, and SMS, and offers features that can lead to better engagement and conversion rates.
Key Features:
A/B testing and campaign management.
Contact management with customizable branding and CTAs.
Data import/export and real-time analytics.
Email marketing with drip campaigns and email tracking.
Comprehensive workflow management with additional features like API access, customer journey mapping, and customizable templates.
Pricing:
Essentials Plan: $100/month.
Premium and Enterprise Plans: Fully customizable (contact sales for detailed pricing).
Free trial and version available.
9# ChatGPT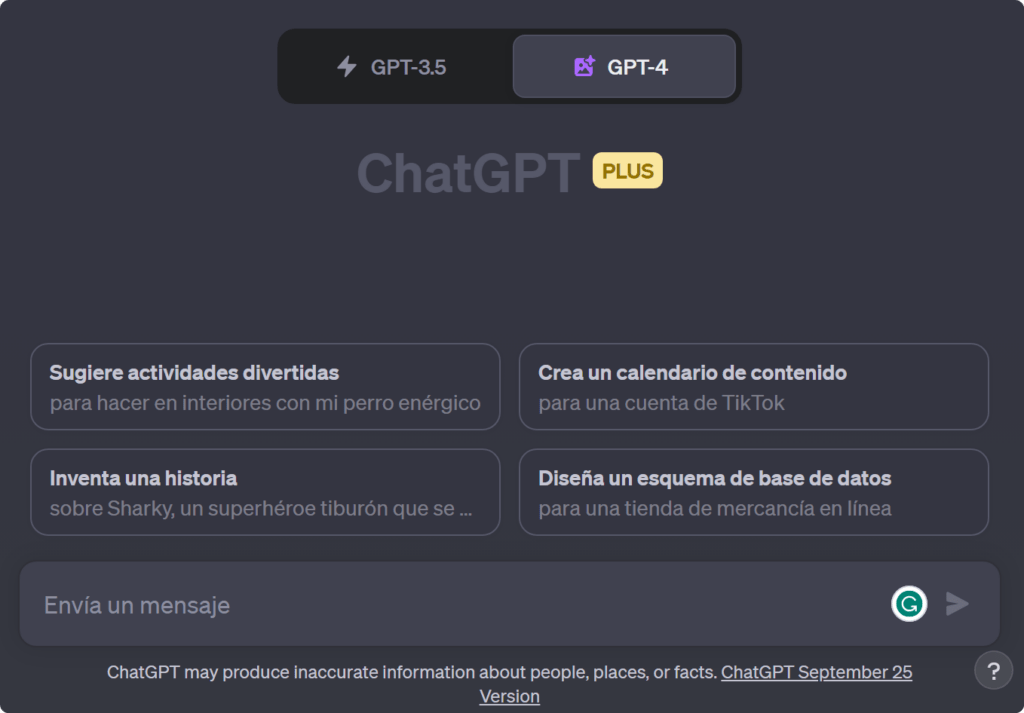 ChatGPT is an AI-powered language model developed by OpenAI that can assist in generating human-like text, including personalized email content. It's designed to understand context and generate responses that can be tailored to individual recipients, making it a valuable asset for crafting personalized emails at scale.
Key Features:
Generates conversational and contextually relevant email text.
Can create personalized email drafts based on user prompts.
Supports a wide variety of languages for global outreach.
Integrates with existing tools and workflows via API.
Continuously learns from interactions to improve responses.
Pricing:
OpenAI offers API access to ChatGPT, which is typically priced based on usage. This means you pay as you go, depending on the number of tokens (words/characters) generated.
They also have a paid subscription of 20$/month which allows you to use plugins, ChatGPT 4.0, Dall-E 3, and many other variants.
Leveraging Personalization AI for Effective Outreach
Harnessing AI for email personalization tools is about relevance at scale. AI tools analyze vast amounts of data, learn from user interactions, and help you create content that feels individualized for each recipient.
The Role of AI in Email Personalization Tools
AI plays a pivotal role in email personalization by providing insights into individual preferences and behaviors. It can suggest content adjustments, optimal send times, and even predict the likelihood of user engagement, allowing for more targeted and effective email campaigns.
Getting Started with AI Personalization
To begin with AI personalization, you'll want to choose the right tool that integrates with your existing platforms. Start by setting clear goals, like increasing open rates or click-through rates, and then feed your AI tool with quality data so it can begin learning and providing personalized suggestions.
Tips for Creating Personalized Content with AI Tools
Use AI to segment your audience based on behavior and engagement.
Employ natural language processing to craft messages that resonate on a personal level.
Test different personalization strategies with A/B testing features in AI tools.
Continuously refine your approach by analyzing AI-generated insights and metrics.
Keep your messages human, and ensure AI suggestions align with your brand voice and values.