Growth hacking is one of the biggest buzzwords in recent years, and 2022 is no exception, which is why many people are asking, and you probably are too, "What do we mean when we talk about growth hacking?" 🧐
Consultants, marketers and entrepreneurs call growth hacking the best way to grow a business, and some even call it "the future of marketing", but what does it really mean?
In this article, I'll give you a clear definition and explain what growth hacking is and how it works, so… get ready to improve your sales! 💙📈.
What does Growth Hacking means?
Growth Hacking is a field focused exclusively on growth, based on a data-driven process based on experimentation 🤓.
The origin of growth hacking goes back to 2010, when Sean Ellis first coined the term which has been popular mostly among startups, mainly due to limited budgets and resources.
Since then, more people have risen up and started calling themselves growth hacker, growth marketer, technical marketeer, data-driven marketer or head of growth (sounds pretty cool, doesn't it? 😎)
Since then, its popularity has increased tremendously among scale-ups and larger, more traditional companies. Companies like Uber, TikTok or Shopify, have their own vice president/chief growth officer and a team of growth hacking!
And its objective in Marketing?
The concept of growth hacking appeared in the first start-ups era. These companies were in need of expanding their customer base, market share and revenue as quickly as possible.
In the meantime, they had extremely low budgets, so they couldn't afford traditional promotion and customer acquisition tactics 💔.
This situation has been the main objective of growth hacking in marketing: to acquire the maximum number of customers at the minimum cost and as quickly as possible.
Here you can see our top 15 best growth hacking strategies
What is the main difference between Growth Hacking & Marketing?
But isn't that just the modern way of marketing? Isn't Growth Hacking merely 'marketing done right'? 🤯
I must confess that the difference is not that big sometimes. In my opinion, there are several differences in the job description between growth hackers versus traditional marketers that you can't put both in the same basket, and that makes growth hacking deserve its own term.
For this reason, many people and particularly in entrepreneurial business use the term 'Growth Marketing' to keep it simple (and because of the bad associations with the word 'hacking' 🙄).
There are six main differences you need to know about
A growth hacker focuses on the next growth opportunities, while marketers are often already too busy with day-to-day marketing and branding.
A growth hacker uses the entire funnel, including retention and referrals, while most marketers focus on awareness and acquisition.
A growth hacker conducts small experiments; tests which directions work best or show the most potential, while a marketer usually works on larger, long-term projects.
A growth hacker works based on data modeling, whereas most marketing departments do not.
A growth hacker has more technical knowledge, such as programming, tools and automation.
A growth hacker is involved in the product, because, among other things, he or she has to pay attention to the retention of active customers.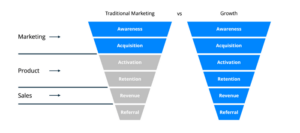 Why is it Growth Hacking important?
Growth Hacking is vital for startups and other companies on a tight budget.
⭐ Tip: This concept allows brands to expand their audience and increase their revenue even if they can't afford expensive marketing tactics. Growth hackers are constantly looking for inexpensive ways to promote a business and, thus, eliminate a lot of expenses!😎
Better yet, growth hacking has a positive effect on large enterprises as well.
By employing some basic growth hacking methods, brands can reach new audiences, improve ROI and increase customer loyalty 💙.
Some Growth Hacking benefits
There are many ways in which growth hacking can affect a business, apart from its low cost and impressive results.
Measurable results
Growth hacking is based on data, so companies that use it run experiments and measure their performance. In this way, they have a complete picture of the effectiveness of each technique employed.
Better yet, they have concrete measurements that allow them to judge and test the results of the strategies they use 📈.
Product improvement
Growth hackers constantly test different options and learn more about the audience: their demands, preferences, interests and so on.
This drives a deeper understanding of how to improve the product or service a company offers.
Adjustable strategies
Modern marketing is a complicated thing: strategies that worked well half a year ago can suddenly stop giving the desired results.
Growth hacking keeps an eye on performance and allows you to ditch less effective methods for new ones.
It also works the other way round: you can scale bulletproof tactics and apply them to other marketing channels.
⭐ Tip:  Growth hacking can be a game changer for your business; it works out of the box and allows you to get incredible results by changing small details and investing almost nothing in it 😉.

For example, replacing a traditional lead magnet with free access to paid content can lead to a 400% increase in opt-ins.
What does a Growth Hacker do?
Some Growth Hacker abilities
As a growth hacker (I know, it actually sounds a little bit weird, but no, it has nothing to do with being a hacker 🙄),
you have to be able to work quickly and, therefore, you have to be as independent as possible.
That's why it's important for a growth hacker to know how to program, handle data and design.
You don't have to be an expert in everything, but in any case, you really need to understand the basics to be able to execute most of it by yourself (basically, be a pro 😎).
⭐ Tip: It needs a broad set of skills: knowledge of data is necessary because it's the only way to find the core problem and its cause.

Then comes creativity to come up with solutions to this problem and finally, a growth hacker needs technical skills to bring these solutions to reality.
A growth hacker must have 20% of all the knowledge needed to execute 80% of the work.
⭐ Tip: Therefore, it's much more efficient to master at least the basics of fundamental and generalist growth hacking skills and a large arsenal of growth hacking tools, while learning specialized skills on the job.
What Technical Skills should a Growth Hacker have?
Build landing pages
Build websites
Design and understand colors, fonts, branding, etc.
Run ads on channels such as AdWords, Facebook, LinkedIn, etc.
Basic HTML and CSS
Implement tracking tools such as Google Tag Manager, Google Analytics…
And many more concepts/techniques, such as conversion rate optimization, Artificial Intelligence in marketing, web scraping, chatbots, APIs….
Growth Hacking Examples
AirBnB and Craigslist
AirBnB is a good illustration of using someone else's platform. AirBnB first used Craigslist in its early years. Craigslist was at that time the largest forum where people could rent a house.
Therefore, it was the place where their target group was most active 💙.
AirBnB started posting their own offers on Craigslist with a link to their own platform for potential renters looking for more information.
This way they managed to attract their launch customers from Craigslist and people kept hanging on AirBnB.
As an experiment, they first did it manually and later made a bot that could automatically place it on Craigslist and attract people to their app.
How to start in the Growth Hacking world
The change of direction requires resources and a plan of action.
1. Check your product's market fit
Product-market fit is the degree to which a product satisfies market demand.
In short, if your product-market fit is excellent, it means that your audience needs your product. Therefore, you should have little difficulty selling it 😉.
⭐ Tip: To find out whether you have a good product-market fit or not, you can employ several tactics. First, for example, consider creating a landing page and measuring the number of leads it brings in. This will help you get an idea of the demand for your product.
If you already have a customer base, you can rely on customer retention and satisfaction rates, as well as the number of brand advocates you have. Surveys and conversations with customers can also be useful.
If you're looking to have a better customer base, Scrab.in is an ultra-simple tool for this!
While you can use Scrab.in in many ways, for B2B customer prospecting you should follow the directions:
Sign up for scrab.in and log in from the Google Chrome extension. You will get a configuration that is very easy to manage. Here are the steps 😉 :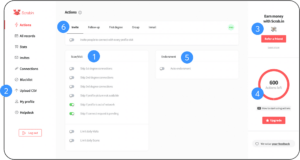 Connect to your Linkedin
Select the profile you are interested in prospecting: For example: marketing director in Spain.
You must fill in the field in the search box with the profile "marketing director", click on "people" and then in "locations" select Spain (or the place of interest you have).
⭐ Tip:Be as specific as possible, always thinking about your buyer persona.
Now, just:
Select the "second level contacts" option:
Click on the extension and press the play button inside the "visit profile" tab.
Try letting it run for a few hours, i.e. you must have your computer on and not close the Google Chrome window during your working day.
You just have to relax and continue with your usual work, the bot is responsible for doing the job automatically, in addition to visiting the profiles, also collects data from them, such as name, surname, company, location, domain, email, etc. Enjoy! 🥳
Don't forget the most important thing: Download the CSV file at the end of the tracking! Here you will find all your leads😏.
2. Create a data lake
Since growth hacking is a data-driven approach, you have to build your data lake, a large set of raw data. In this step, your task is to collect as much data as you can without worrying about the purpose.
3. Choose your "North Star" Metric
This term refers to the single metric that a company uses as a focus for its growth.
Each company chooses its own "North Star" metric based on its growth model and the value it brings to customers. For example, Facebook aims to increase the number of daily active users.
For companies working with a subscription model, the metric could be the number of premium subscribers, or customer lifetime value.
⭐ Tip: To find your metrics, think about what will help you achieve long-term growth. So, if you develop an eCommerce business, you can grow by the number of purchases per month. This would be your north star metric 😍.
4.Improve your Pirate Metrics
To successfully grow your North Star metrics, you'll need to keep an eye on pirate metrics as well.
Pirate metrics, or AARRR, is a framework devised to help startups understand the customer journey and optimize a sales funnel. AARRR stands for acquisition, activation, retention, referral and revenue.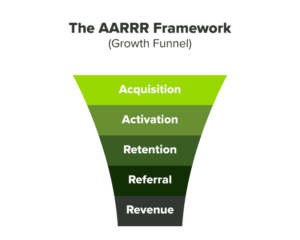 5. Build an Idea Portfolio
With large data sets and metrics defined, you can start thinking of ways to grow your business.
⭐ Tip: The more ideas you have, the more regular experiments you can run. Consistency is the key to successful testing, so you should have a portfolio of hypotheses and creative ideas 💙.
Once you have completed these five steps, you are ready to start testing.
Remember to carefully track your results and replenish your portfolio of ideas based on the new data you get.
You also need to automate the processes that lead to the desired results. To accomplish all these tasks, I recommend you take a look at FindThatLead's tools! 😎