Let's remember! Growth hacking is a term that encompasses strategies focused exclusively on growth.
It is often used in connection with early-stage startups that need massive growth in a short time with small budgets 😎.
The goal of growth hacking strategies and tools is generally to get as many users or customers as possible while spending as little as possible💙.
And who said that technology is not a good partner to improve growth hacking tactics? Not to say that nowadays it's a MUST-HAVE! 🤯
That's why I'm going to show you the best Growth Hacking tools that with little budget and little time, will help you increase your sales. 😎
Growth Hacking is vital for startups and other companies on a tight budget.
⭐ Tip: This concept empowers brands to expand their audience and increase their revenue even if they can't afford expensive marketing tactics. Growth hackers are constantly looking for inexpensive ways to promote a business and, thus, eliminate a lot of expenses! 😎
Better yet, growth hacking has a positive effect on large enterprises as well. By employing some basic methods and growth hacking tools, brands can reach new audiences, improve ROI and increase customer loyalty 💙.
Benefits of Growth Hacking
There are many ways in which growth hacking can affect a business, apart from its low cost and impressive results.
Verifiable results
Growth hacking is data-driven, so companies that use it conduct experiments and measure their performance. Thus, they have a complete picture of the effectiveness of each technique employed. Better yet, they have concrete measurements that allow them to judge and test the results of the strategies they use 📈.
Product improvement
Growth hackers constantly test different options and learn more about the audience: their demands, preferences, interests and so on. This leads to a deeper understanding of how to improve the product or service a company offers.
Adjustable strategies
Modern marketing is a complicated thing: strategies that worked well half a year ago can suddenly stop delivering desirable results. Growth hacking monitors performance and allows you to discard less effective methods for new ones. It also works the other way around: you can scale bulletproof tactics and apply them to other marketing channels.
⭐ Tip: Growth hacking can be a game changer for your business; it works out of the box and allows you to get incredible results by changing small details and investing almost nothing in it.😉.
For example, replacing a traditional lead magnet with free access to paid content can lead to a 400% increase in opt-ins.
Essential Growth Hacking Tools
Let's think about a scenario in which you set up a startup: Your team is great, your idea is unprecedented and your business model fits everything a startup needs 😎.
However, you also have another vital need that can help you increase your product adoption rate, lead acquisition, customer experience and brand awareness.
For these newly established startups, finding relevant growth hacking tools to drive sales is an especially important process!  🤓
Don't worry. I'm here to help you. I've prepared a list to help you find your next growth hacking tools.  😉.
Artboard Studio – Product mock-ups without installation
Let's start with the first of the must-have growth hacking tools to increase your sales, this is none other than Artboard Studio, which comes with a lot of templates so you can showcase your products and services.
But the most important thing is that it falls into the category of growth hacking tools that work in your browser, so you don't have to download any other software or use Sketch, Photoshop, etc.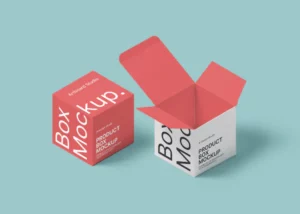 With all product reviews being positive, Artboard Studio deserves to be one of the best layout growth hacking tools.
⭐ Tip: Oh, it also integrates easily with Dropbox, Google Drive, Mail Chimp and also with social media sharing tools to make everything even easier for your users.
Create amazing social media posts for your products and services.
Boost your social media marketing with more engagement.
Don't waste your designer's time creating visuals for social media.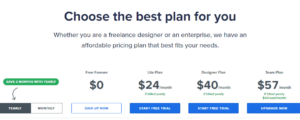 Krisp – Noise canceling application
It's one of the newest and most innovative growth hacking tools, a noise cancellation application that eliminates background noise during calls on both ends, so neither you nor others will hear a single drop of noise.
⭐ Tip: Krisp is the ultimate app for professionals and remote teams, as well as for streamers, podcasters and remote teachers.
The app supports all conferencing apps, microphones, speakers and headsets, so you'll have no problem setting it up.
Krisp also has an add-on called Krisp for Teams, which allows team administrators to centrally manage team members by adding/removing seats through an easy-to-use control panel.
Feedier -Collect valuable feedback the right way
This amazing feedback tool helps you collect valuable feedback, giving a reward to your customers, providing a unique gaming experience! 😎
All plans include unlimited comments (replies), custom branding (your logo, cover and, color), full reporting and API access.
And the feedback collection tool has a free forever plan with limited features. (Growth hackers of early stage startups, you'll love it 😉)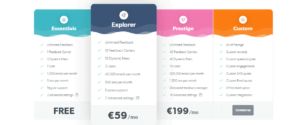 What are the main features of Feedier?
Allows you to contact your customers directly through your email and your own CRM.
Powerful analytics suite for each feedback: device used, browser, time graph, responses, satisfaction.
A complete report is built for any feedback so you can understand any customer in one click.
Email Sender FindThatLead- Start ultra-personalized and automated email campaigns that convert
One of the quintessential growth hacking tools, create targeted email marketing automations for your campaigns in minutes, and improve your cold email conversion by 67% with our drip campaigns 🤯.
Say goodbye to robotic, impersonal emails that don't convert! Contact your prospects instantly by sending personalized emails.
Email Sender lets you launch ultra-personalized and automated email campaigns that convert. Design a personalized campaign with all the sales funnels and analytics you need. Want to try it? 😉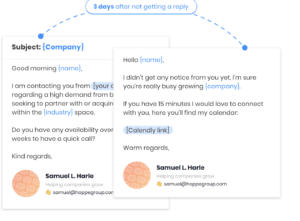 Lead search FindThatLead- Find the best Leads!
Search for specific leads, without detours and in a few seconds. Get real corporate emails of new leads from any company using only first name, last name and website (domain search). Ideal for recruiting new talent or to get emails from important people who can help you boost your business.
⭐ Tip: If you want to communicate with Adidas, for example, the lead search will provide you with all the necessary emails. In this way, you will be able to establish direct communication with those people who occupy important positions within the company.

This is undoubtedly one of the most important features of FindThatLead 😎.

Popupsmart – A better popup builder
Popupsmart creates more interactive popups that provide more conversion. The smart design and visibility features of popup templates are quite simple.
With its segmentation, integrations and easy to use dashboard, Popupsmart is one of the best ways to make something appear on your homepage.
Create engaging and interactive popups.
Segment your visitors based on user experience and behavior.
Integrate with popular marketing automation tools.
Canva online logo maker: design your business logo for free
Canva is another essential and most popular Growth Hacking tool, used to create social media posts, business cards, certificates and even restaurant menus online.
There are plenty of templates and elements you can choose from for your design, and the free options are great for startups.
Canva's ultimate resource for startups is a logo builder. It can help teams build their brand identity quickly and easily, thanks to its intuitive and easy-to-use drag-and-drop design platform.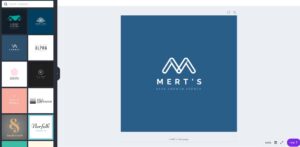 What are the main features of Canva Logo Maker?
Easy to use with drag and drop design.
Millions of icons, illustrations and images.
Professionally crafted font combinations.
Custom logo templates generated by AI.
FindThatLead Prospector
Prospector will help you find those prospects you need. This FindThatLead wonder will segment your audience by location or keywords so you can easily access qualified leads.
⭐ Tip: You've probably noticed that FindThatLead has everything you need to grow your business. If you want to get to the next level and send really useful emails, this tool could be the great help you were looking for. You can rest assured!

We will do our best to solve any doubt you may have, and we will be attentive to make your FindThatLead experience full of love 💙.
Social Search FindThatLead
Find a person's email on Instagram, Twitter, Linkedin or any social network.😎.
Take advantage of the social media universe to grow your business by turning LinkedIn and Instagram profiles into verified emails.
If you ever come across an account and would like to communicate with that person, FindThatLead's Social Search will take care of everything.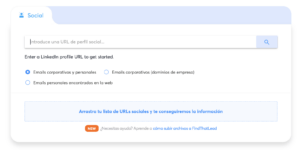 Do you have more growth hacking tools in mind? Remember that you can register at FindThatLead for free and start enjoying all the Growth Hacking tools. 😎.