Data/lead scraping is prospecting technique that gets a machine to do all the heavy lifting for you.
Basically, a program extracts data from many websites —or apps or databases— and presents it to you in a human, readable form. The most common method is data being delivered directly to you in a spreadsheet, preferably a CSV file.
Website pages are built in HTML, XML or any other language not designed for automated uses. Here's where some of the best database scraping tools will save you. They automate the whole process and can go looking in places you wouldn't normally have access to.
Web pages are fetched during the scraping process. This is when data extraction happens. Data is either parsed (broken into small chunks of data so that it can be recombined to the same form all over again) or reformatted, and later saved in a readable form.
Here you will see my list of best scraping tools to automate your lead generation.
What Does All This Scraping Solve for You?
You'll save a lot of time and major headaches getting big lumps of data.
You can use the data for different things in your business. Lead generation, prospecting, price comparisons, Sending bulk emails, and market research.
No matter what's your end goal, the best scraping tools will save you hours of manually building these massive spreadsheets on your own.
Entrepreneurs around the world are scraping data from websites and social media. This is no longer something that only coders or programmers do.
These entrepreneurs have different requirements around what kind of data they need and how they want it.
These best Scraping tools are learning about this and many are coming up with friendlier interfaces and customizable dashboards, ready to scrape what you require.
Once you scraped the web using any of these tools, there are many things that you can do with all the data available.
Since this blog focuses on prospecting, lead generation and sales, we'll focus more on the best scraping tools to automate your lead-gen. Or leadscrape
Without further ado, here is a list of the 10 best scraping tools and lead generation software that will help your business prospect, sell and grow.
The 10 Best Scraping Tools to Automate Your Prospecting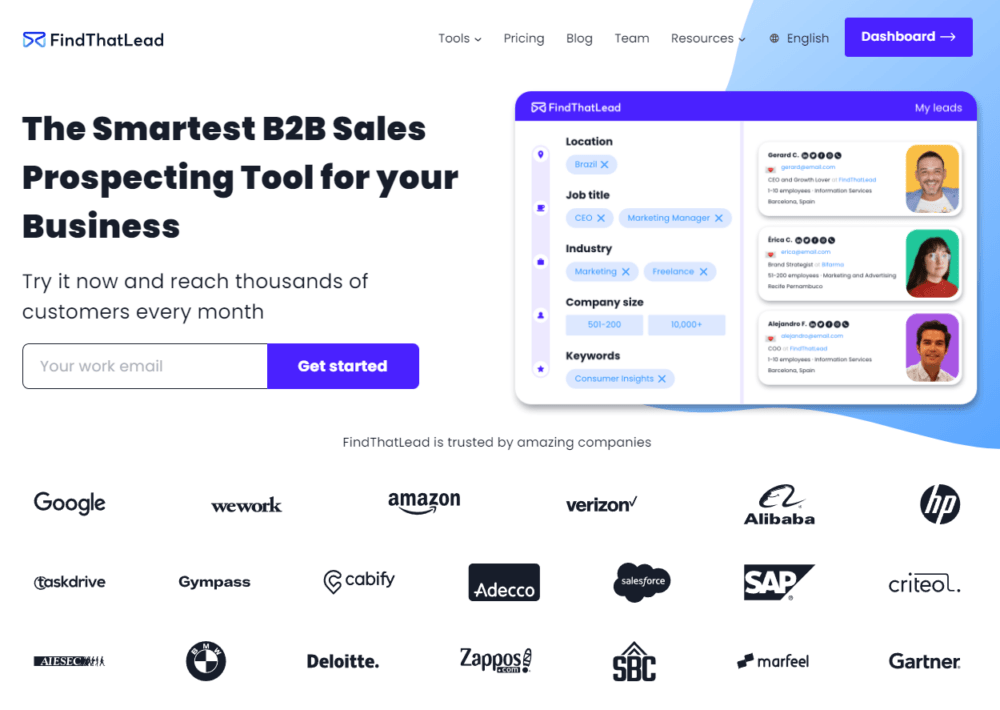 FindThatLead is what you're probably looking for, an all-in-one lead-generation tool that allows you to fully automate your prospecting.
This tool allows you to contact people, local businesses and companies in a given industry.
With FindThatLead, just giving a few parameters, the lead scraper tool, "Prospector", provides you with contact information from public sources with its search and prospecting tools.
To automate your prospecting, FindThatLead has a tool that helps you run and set up cold email campaigns and sequences to those contacts you've scraped with "Prospector".
FindThatLead is another lead scraper, this time is focused on email scraping. Our nice little tool will get you emails in many different ways, that you can use to automate your prospecting and building lists of leads. Most of FindThatLead's customers use it for cold email and creating custom Facebook and Google audiences.
In addition to the browser dashboard, you can download FindThatLead's Chrome extension and get emails directly from Twitter, LinkedIn or any domain while you are surfing the web.
Top Features
Prospector tool — Build highly targeted lists of leads in seconds
Lead Search — Find any professional email within a URL with this web crawler tool
Chrome Extension — Find emails on any website or LinkedIn profile directly from a Chrome Extension
Email Verifier — Verify the veracity of any email and reduce the bounce rate of your campaigns
Email Sender — Automate and customize your email campaigns with sequences
Social Search — Find any email with just a social URL
Local Business — Create a targeted list of contacts from any city
FindThatLead has a free plan available with 50 credits/Mo.
From there, you have a range of payment plans available from $9 per month up to $399 for the most premium plan.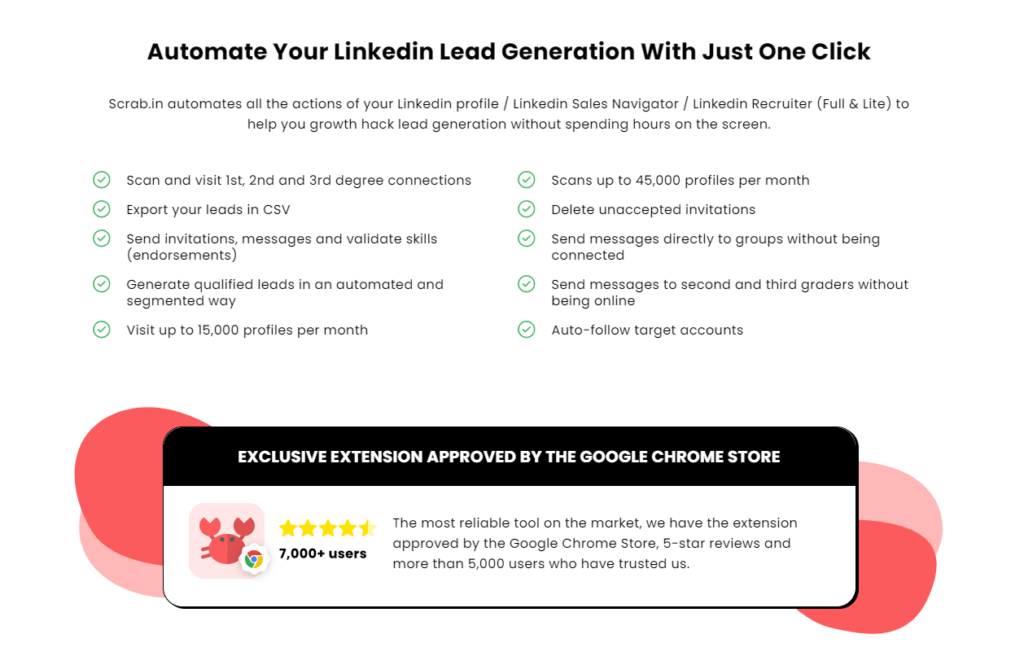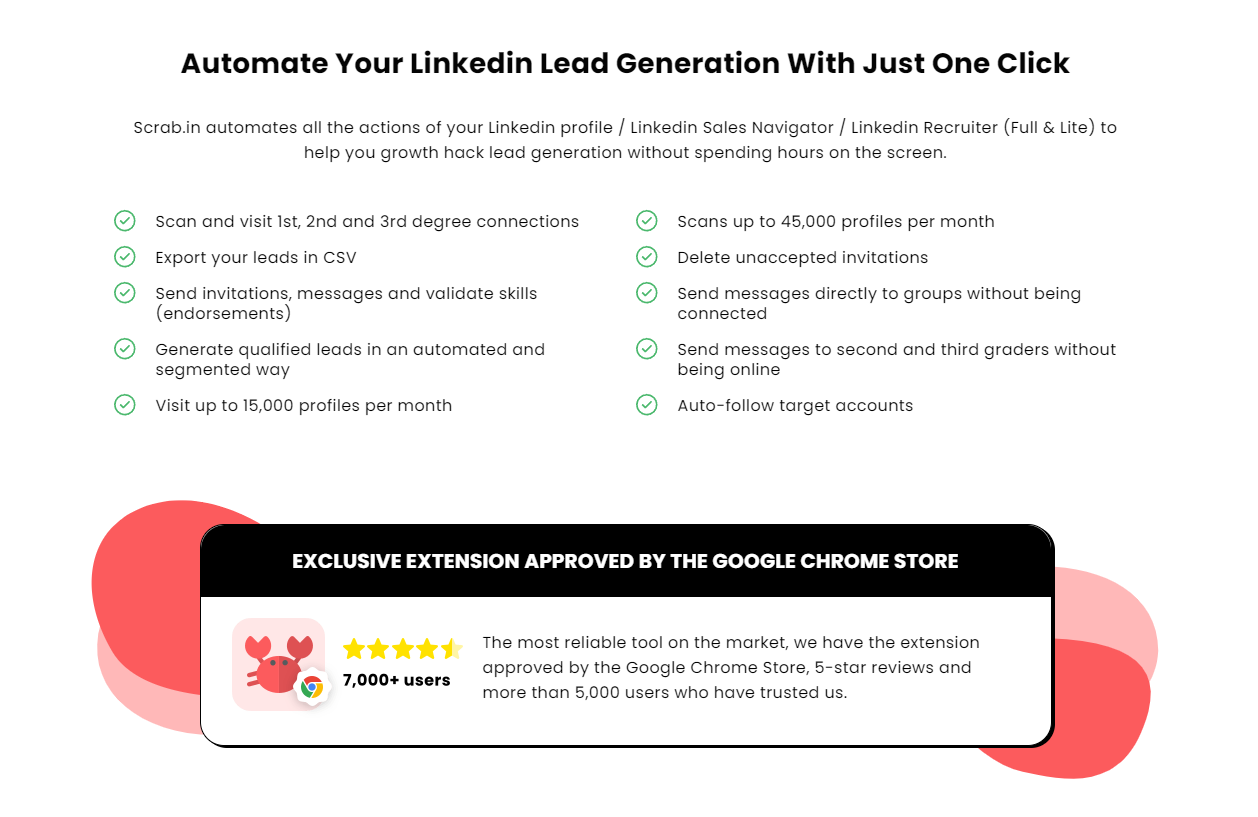 This is true gem, a powerful LinkedIn automation tool for lead generation from LinkedIn. It will help you automate all your Linkedin activities and interact with all the profiles it visits as if visited by you.
Top Features
Automate your social media activities
Auto-visit, Auto-endorse and send Direct Messages profiles it visits
Use with Linkedin Sales Navigator to do even more targeted searches
Export all the leads generated in the CSV
Pricing
Scrab.in also has free version, but you can unleash the full potential with their paid versions, that goes from 12$ to 59$ monthly
3. Octoparse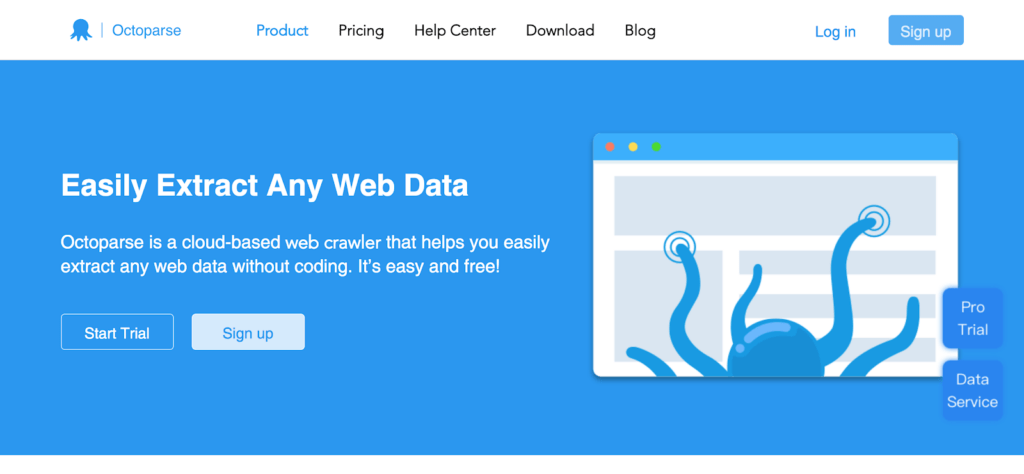 This website scraping tool mimics human behavior while scraping. It allows it to extract data from interactive sites, as well. Be it ecommerce or any other website, you can use the data crawler software for analysis, prospecting and revenue modeling. Yes, this tool can be your ecommerce scraping tool
Top features
Extract authenticated data using login/password
Extract competitors pricing and data in real time
Extract text, links, image URLs, or HTML code
Sign in to accounts to scrape behind a login
Data is stored it in the cloud
Uses multiple IPs for extraction (no risk of getting blocked)
Supports extraction scheduling
Pricing
Free version with up to 10,000 records per export. Paid plans go from $75/mo to $249$/mo.
4. Import.io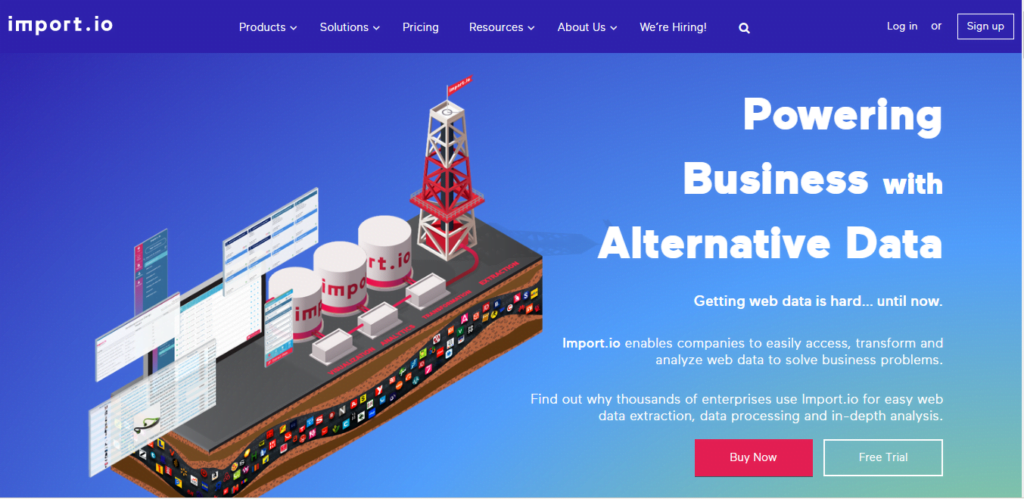 One of the best web crawlers out there, it extracts the data from URLs and arranges it on CSV files, excel-sheets and APIs. Data can be used via third-party integrations such as a CRM, ERP system, analytics programs, reporting tools, or even custom applications.
Data extracted can be used for price comparisons, prospecting, and risk assessment. It is a great choice if you have a medium sized business or a small business all ready to scale up.
Top features
Customizable extractors with point-and-click ability to build extractors
Train and schedule extractors to your requirements
Authenticated data can be extracted from login credentials
Store all the scraped data using online data store
Get reports on changes happening on the websites you are scraping
Pricing
There are three plans: essential, enterprise and premium ranging from $199 to $9999
Free trial available with discounts for charities and students.
5. Webscraper.io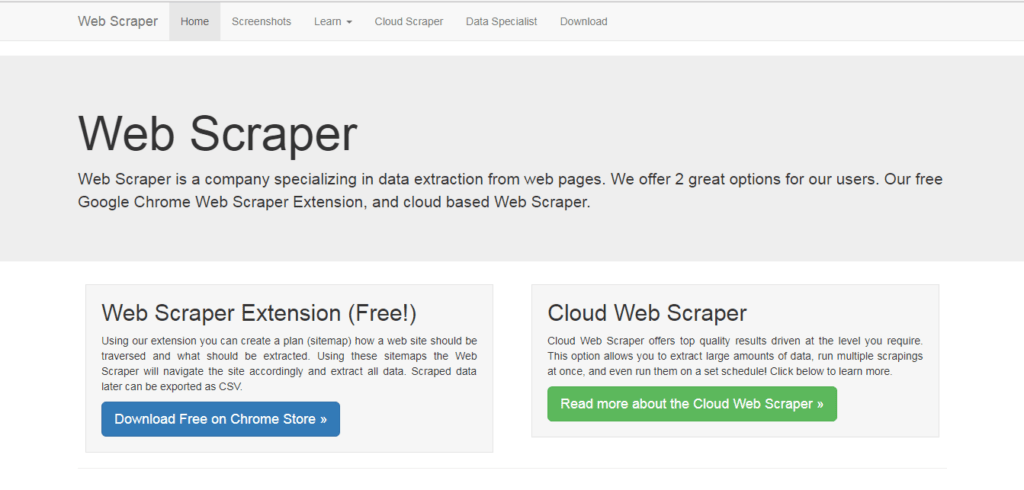 Web Scraper offers both a Chrome extension and a cloud-based web scraper. This tool specializes in web page data extraction. You can extract multiple types of data like texts, links, and files.
The chrome extension allows you to create a flow to follow and plan the way you extract data.
Ok, maybe you're asking where to use these data extraction tools? Here is a great LinkedIn lead generation strategy that demonstrates how to use to generate customers
Top features
You can create sitemaps to navigate sites
Extracts data from Javascript
Can wait for dynamic data to be loaded
Unlike Import.io and Octoparse, it can't extract data behind a login.
Pricing
Prices range from $50 for 100,000 page credits to $250 for 2,000,000 credits.
6. 80legs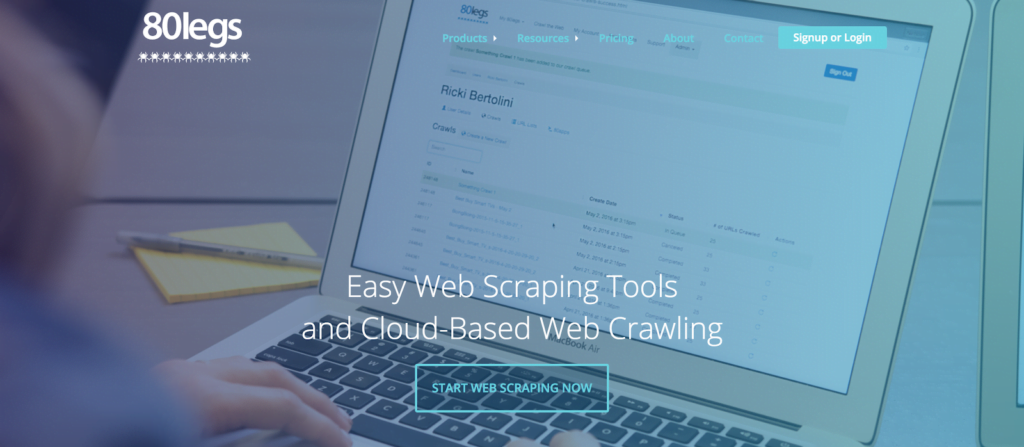 80legs claims to have a network of 50,000 computers working together at the same time to scrape the web. They have huge amounts of data already scraped that you can get immediate access to.
Top features
Switches IPs during crawling
Customized sitemap/crawl logic
It crawls over 15 million websites
Consistently crawls the web and does data sanitization
Pricing
You can try their free plan. It runs 1 crawl at a time, allowing 10,000 URLs per crawl and unlimited crawls/month.
The paid plans range from $29/mo to $299/mo, with an Enterprise deal for up to 10,000,000 URLs/crawl.
7. Leadworx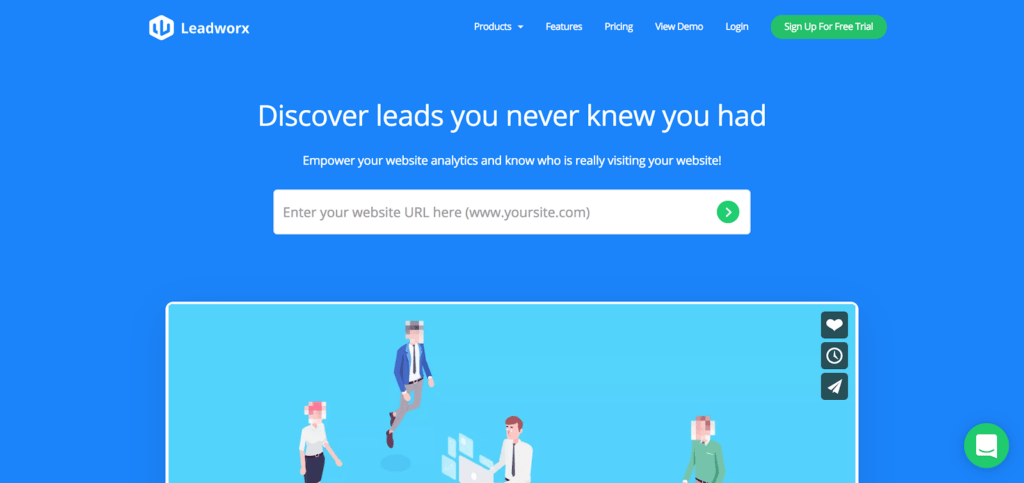 Did you know that 98% of your website visitors don't end up contacting you after seeing your site?
Leadworx created a SaaS tool with this piece of insight in mind. This is a great software that helps you identify and reach people who visited your website. You just have to integrate Leadworx's code on your website.
Top features
Identify and track who's visiting your website
Unlock email addresses and LinkedIn profiles of your visitors
Know which pages your prospects interact most with
Pricing
Free trial available without credit card upfront. Their paid plans are: Basic ($19/mo), Startup ($49/mo), Team ($129/mo), and Premium ($249/mo).
8. Gramdominator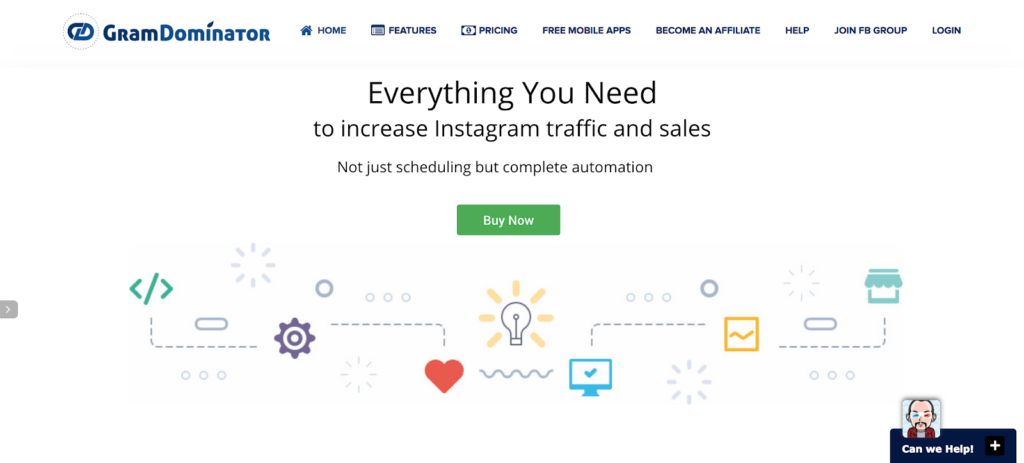 Instagram is becoming a huge part of social media campaigns, thanks to its large audience. Gramdominator can help you scrape users, filter them out, and grow your Instagram account by auto following users.
Top features
Scrape followers and followings
Scrape using hashtags
Scrape images from hashtag or keywords or usernames
Scrape images URLs from users
Search high quality images and automatically like them
Unfollow users that didn't follow you back
Pricing
GramDominator offers 2 plans: Plan 1 and Plan 2 —looks like they didn't spend a lot of time naming their plans. Plan 1 is $9.95/mo and Plan 2 is $79.95/yearly.
9. Agenty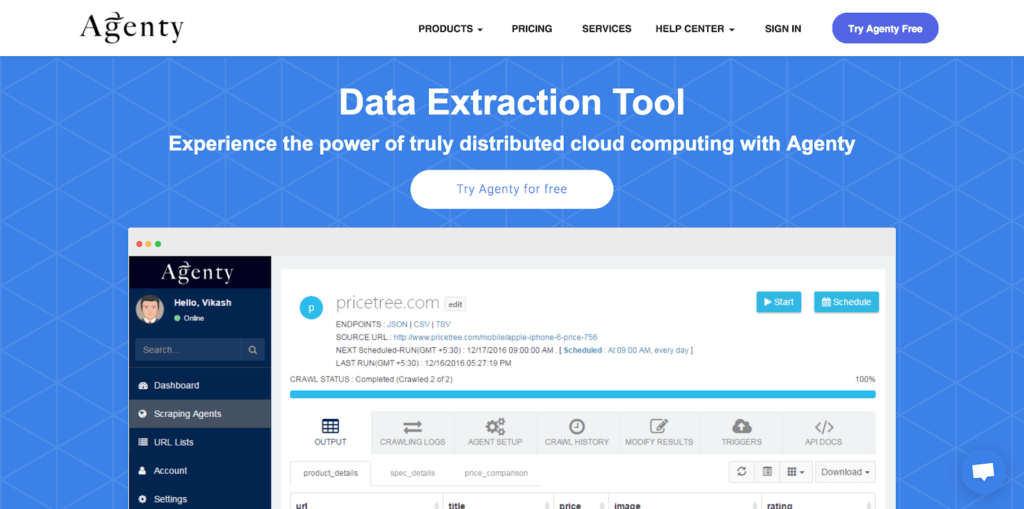 Agenty is a SaaS platform that helps you extract data from static and AJAX websites, list pages, password protected sites, and JSON and XML web APIs.
You can use any of Agenty's available versions:
Hosted Scraping App: they have a cloud-hosted crawling app to extract data
Data Scraping Studio: a web and desktop data crawler software for faster extraction
Advanced Web Scraper: create scraping agents using point and click interface
Top features
Create scraping agents tailored to your requirements
Use webhooks to post data on your server or upload to FTP
Automatic email alerts when your web scraping job completes
View logs of all your runs and any failed URL
Pricing
They have a free trial with 100 pages credit and 3 paid plans: Starter ($29/mo), Basic ($49/mo), and Professional ($99/mo).
Clever Ads is a free software that provides tools to create, manage and optimize Google Ads campaigns easily. It's a Google Premier Partner and has already helped more than 100,000 businesses boost their Google Ads performance. 
Top Tools:
A Google Ads Creator that automatically creates Search and Display Google Ads campaigns for any type of business.
A Google Ads Audit that analyzes the performance of your campaigns, giving insights on how to optimize them in order to reduce your investment and increase your visibility with ready-to-use tips.

 

The Keyword Planner helps you find keywords that actually convert and allows you manage them and upload them to your Google Ads campaigns directly.
A Banner Ads creator for your Display campaigns.
Top Integrations:
Clever Ads has a mobile app that helps you track your performance and measure success on your Google, Facebook and Bing Ads, directly from your phone. It also integrates with Slack and Microsoft Teams to deliver you with reports, graphics and alerts. 
Ok, I Got the Data… Now What?
Already using some of the best scraping tools out there? Feeling overwhelmed with all that data? Here are a few things you can do with it.
If you are a blogger, then you can use all the scraped content for analysis of demographics for research and content creation.
If you are an online e-commerce owner, you can monitor your competitors' customer sentiments and you can scrape prices from competitors' websites.
You can extract alternative data from social media, websites to perform risk statistics and other alternative operations to strategize profit.
If you are doing sales, lead-gen or are in charge of growth, you can use all this information to create lists of prospects, enrich their profiles, and reach out to them with smarter, more precise marketing.
Possibilities are endless. Get to work with the best scraping tools we could find for you.