When you put your time, effort, and energy into creating quality content, you'd want to ensure that it's getting you the results you want. That is –
Increase in traffic

Greater audience trust

More brand awareness
And most important of all – a good number of quality leads.
Lead generation is probably the most important factor for the growth of a business. It makes the foundation on which you can grow your revenue. And it should also be at the heart of all your content creation efforts.
In this article, we'll take a look at some tips and tools for creating content that gets you more marketing leads. So, let's get started.
How to create lead generation content?
You can generate leads from your predefined marketing personas by creating relevant, engaging, and interesting content. But what's the secret sauce for creating this kind of content? How can you nail it with your content every time and get more leads?
Here are some basic steps that go into creating lead generation content –
1. Understand your audience
To create relevant and useful content, you need to develop a deeper understanding of your target audience. For this, you have to reach out to your prospects and ask them questions about their needs, motivations, and pain points. Thereafter, supplement this information with your online research. You can also get a sense of your audience by looking at what your competitors are doing, and what kind of content they are delivering.
Tools to help you: There is no shortcut to this process. You have to put in the effort to reach out to your prospects. But it doesn't have to be very complicated either. Thanks to a tool like FindThatLead, you can easily obtain the contact information and email addresses of your prospects in a matter of seconds. All that's left then is reaching out to them, and that's something you can also do from FindThatLead's cold emailing campaign sending tool.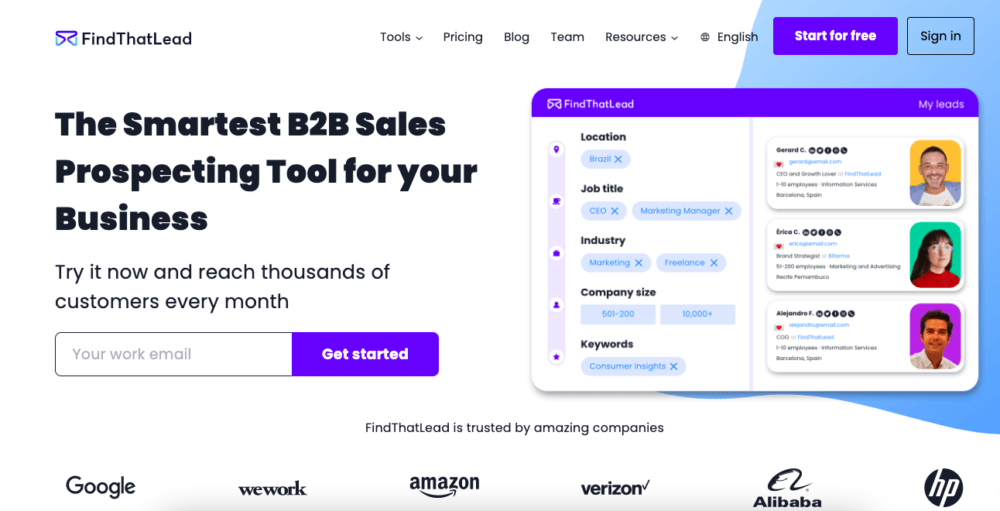 2. Define your keywords first
More often than not, we think of keyword research strictly in the context of search engine optimization (SEO) campaigns. To create effective lead-generating content though, you need to go beyond that. Think of it as a part of market research, where the goal is not just limited to finding out what people are searching for in the search engines. You want to know what they care about, their pains, motivations, and aspirations. By approaching keyword research this way, you'll find that there are many prospects who are looking for exactly what you're offering.
After you've researched and collected some target keywords, you can separate them into three groups, which will decide their place in the marketing funnel –
Informational keywords with high-medium traffic: Top of the Funnel (TOFU)

Long-tail keywords: Middle of the Funnel (MOFU)

Long-tail keywords with mid-low traffic: Bottom of the Funnel (BOFU)
TOFU keywords are best for your company blog, homepage and other main pages. MOFU keywords are what you're looking for when it comes lead generation content, since these help you uncover the solutions your audience is looking for. For your promotional pages and landing pages, BOFU keywords are most appropriate.
Tools to help you: There are a number of keyword research tools in the market today that can help you with this. For researching primary keywords, it's a good idea to start with a tool like Google Keywords Planner, which gives you search volume and competition level for each keyword you're planning to target.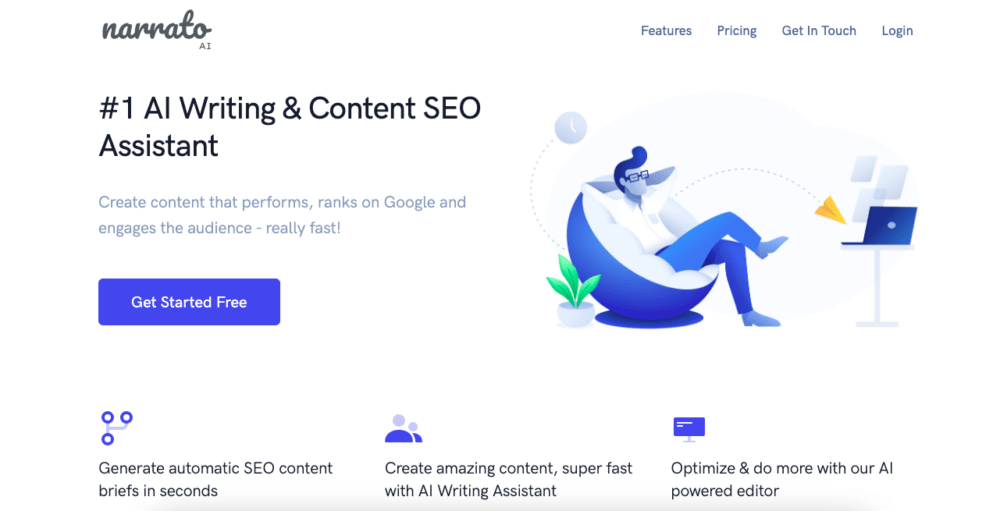 Another great tool to use is Narrato, which comes with an AI Writer and SEO Assistant. This tool allows you to create automatic SEO content briefs in seconds, complete with a list of useful keywords, target word count, questions to include, competitor links, and more. What's better is that you can view keywords and keyword counts on the content editor itself, which are automatically updated as you write. This helps avoid keyword stuffing in the content while ensuring optimization.
3. Come up with powerful headlines
Headlines are often not given their due. After deciding on a topic, most content creators and marketers spend only a fraction of the time deciding what their headline will say. But what if we told you that your headline could determine the success of your content? It could be just the thing that persuades the reader to click and gets you more leads.
If you want to differentiate your content from the crowd and generate more leads, give adequate time to brainstorm some headline ideas. You can study some headlines used by successful businesses to find out what works with the audience. Go through online publications, like newspapers and magazines, and note down some headlines that catch your interest. Take inspiration from that to come up with your own headline.
Tools to help you: To ensure that you come up with the perfect headline every time, use CoSchedule's Headline Analyzer tool, which gives you data-backed suggestions regarding your headline's –
Word balance

Sentiment

Word and character count

Skimmability

Clarity

Reading grade level

OptinMonster's Headline Analyzer is another great tool for creating SEO-friendly headlines that work every time.
4. Gather valuable data and statistics
Before you get started with the content creation process, it's a good idea to gather all the useful data and statistics around a topic. Your ultimate goal is to gain the audience's trust, and what better way to do that than by showing that your content is backed by facts and statistics? When your content is supported by valuable data, it will get you more high-quality leads and also build your credibility in the industry.
There are several ways you can gather data and statistics for your content –
Go through some reports, studies, and research papers on a topic to pick some useful statistics and facts.

Gather your own statistics through surveys, online polls, etc.

Include inputs from industry leaders in your content. Since they already have credibility and authority in the industry, they can lend the same to your content too.
5. Create gated content to capture leads
Before we tell you about the types of content you can leverage for lead generation, it's important to understand what content length you should aim for. For effective lead generation, always aim for long-form content (1000 words and more). According to recent observations, experiments and studies, long-form content tends to rank higher on Google as compared to short-form content. According to a recent study by Backlinko, in which they analyzed 11.8 million search results on Google, the average first page results usually contained around 1,447 words.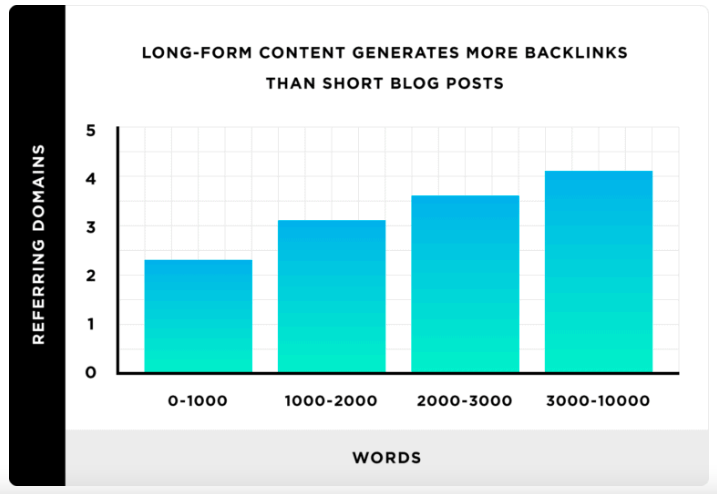 Source: Backlinko
So, now that you've selected your keywords, gathered your data/statistics, and decided on some headlines, it's time to get started with the content. The content you create should be built around what the audience is looking for. In the second step, you've already classified your keywords on the basis of marketing funnels. 
Now, you would usually plan your content around these funnels in the following way –
Articles, videos,

infographics

and podcasts will go into TOFU content.

Case studies, reports, whitepapers, ebooks, cheat sheets, checklists and online courses will be MOFU content.

Sales materials, product demos/trials and webinars will form BOFU content.
When building your content marketing strategy, you have to identify which types of content will get you the most leads. To build effective content plans including diverse content types, you can use any content planning software. Your lead-generation content usually lives in the middle of the funnel. This content can be provided to the prospects when they fill out an opt-in form along with their personal details, including their name and email address. So, you understand why gated content like this is most useful for capturing leads.
Here are some tips on creating effective gated content –
For Case Study: When you think lead magnets, a case study is usually not the first thing that comes to mind. But case studies are in fact quite effective in

content marketing

lead generation. They are useful for building yourself as an authoritative information source, thereby increasing the audience's trust in your brand. When writing case studies, take the time to study the problem and come up with actionable solutions. Don't just provide your opinions, but support them with data and facts. Also include plenty of visual elements like

infographics

, images, videos and memes in your case study to encourage more social shares.

For Whitepapers: These are also quite effective as lead baits if done correctly. Whitepapers are quite effective in warming up your prospects before launching or recommending a product to them. When creating these, use a logical approach and make sure that they're packed with information that will attract your audience. You should also use visuals like screenshots, images, and charts to increase its appeal. Just remember – don't make your whitepaper into a sales pitch. The aim is to guide and educate rather than sell.

For Online courses: Online courses are excellent for generating more targeted leads. The great thing about online courses is that your prospects can access them anywhere – on their laptops, smartphones or tablets. But creating an online course is not that simple. It's both a science and an art. You need to figure out what will make your course stand out from the rest. You'll have to study your target audience and give them a reason to choose your course. Make sure that your landing page for the online course is designed well, with a copy that's effective in capturing leads.
Tools to help you: To create lead-generation content, you need an all-in-one solution where you can plan, create and optimize your content. Narrato does exactly that. This content workflow platform can help you manage your content creation workflow from start to finish, no matter whether you're creating a simple blog post or an elaborate whitepaper.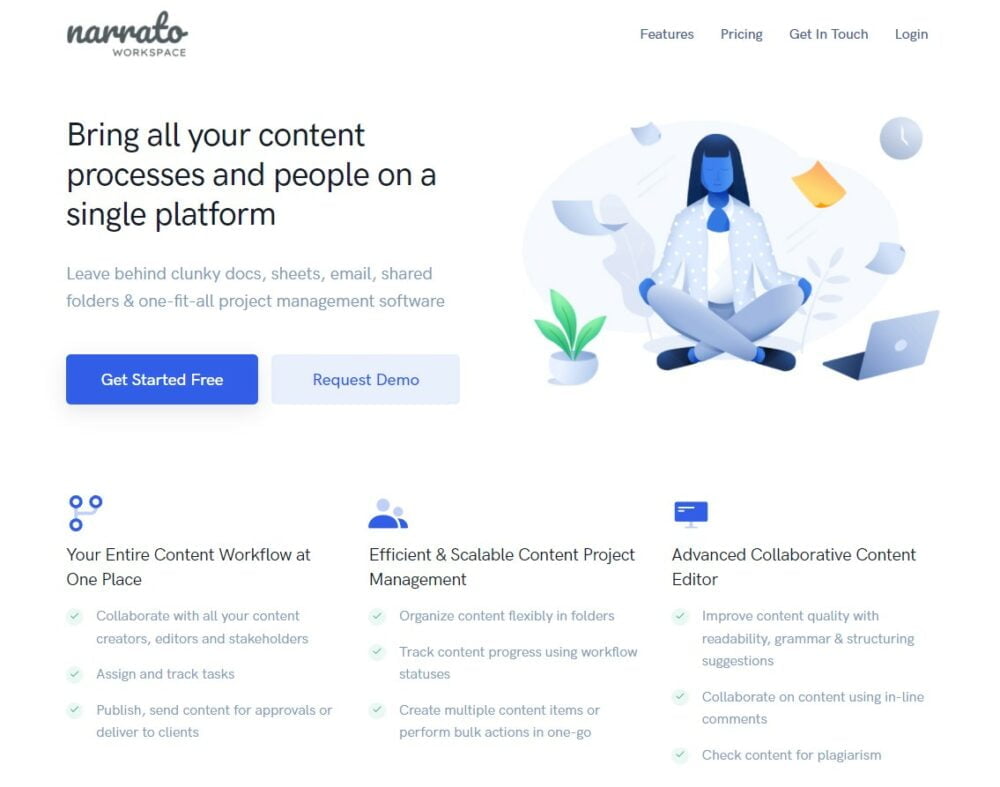 Here are some of the key features of this tool –
Powerful content editor with SEO, grammar, and readability optimization.

SEO brief generator for keyword research, word count suggestions, questions to include, and competitor references.

Free image search and Canva integration for adding visual elements.

AI writer for automatically generating content for blogs, copy, email, SEO, video, etc.

AI topic generator for headline and topic suggestions when you are stuck.

@mentions, comments and messages make content collaboration easier.

Better content planning with content calendar, kanban boards, style guides, custom content templates and more.
Wrapping Up
The tools and tips provided in this article will help you build powerful content that garners attention and keeps your sales funnel filled. Creating content for lead generation may seem like an uphill battle in the beginning. Just remember to always align your content strategy with the needs of your target audience and get your ROI skyrocketing.