Good business development tools are hard to come by. Some are clunky, some are outright bad. But is there a legit tool out there that can help you grow your reach?
Essentially, yes. In fact, there are quite a few, and here you'll hear about some of the best.
What is a Business Development Tool?
A business development tool is any software that enables different departments to do their tasks efficiently, make strategic decisions, achieve business goals, and improve the bottom line.
There are different types of tools that can help develop your business better over time. 
Prospecting tool

: Sales reps need this software to find potential customers. It allows them to automate sales workflow to boost productivity while saving time. 

CRM tool

: Sales, marketing, and customer support teams benefit from this software because it gives them easy access to customer data. It also makes it easy to search for customer information, track customer interactions, and manage all important documents in a single platform. 

Email outreach tool

: Anyone in the company who sends a lot of emails can take advantage of this software. It's useful for email personalization, sending bulk emails, automating recurring emails, and scheduling emails.

Cold calling tool

: Sales reps can increase their number of cold calls and reach more leads with this software. It has features like click-to-call, auto-dialers, and call recording to ensure that all customer conversations flow smoothly. 

Marketing automation tool

: Marketing teams can use this software to manage their campaigns better, build landing pages and other marketing assets, and automate repetitive tasks. 

Project management tool: With this software, project managers or team leaders can oversee every stage of the project and communicate with stakeholders efficiently. It improves team collaboration with features like time tracking, shared team calendars, file sharing, and customizable reports. 
Time Tracking Tool:  Time is currency to businesses of all sizes, sorts, and functionalities. You back out of the competition if you deliberately lose it behind your less prioritized jobs instead of the most emphasized ones. That's why time-tracking tools are necessary to track employee hours and get ahead of the competition.
How To Choose The Best Business Development Tool
Ease of Use: The first thing you have to consider is whether team members of every department can navigate the tool seamlessly. Not everyone is tech-savvy, so it's better to pick a platform with a simple user interface. This way, team members won't waste too much time trying to figure out how to use the tool, and they can focus on using the features to accomplish their tasks instead.  
Features: There are multiple vendors offering plans with different numbers of features. So make sure that you compare different products and see which one has all of the capabilities you need. This is to avoid having to purchase different tools just for specific features. Explore all-in-one platforms to make the most of your money. 
Price: Of course, different products have different pricing plans. Some are cheap, while others are expensive. Set a budget so that you can narrow down your options, and find the tool that's within your budget.   
24/7 customer support: Technical issues are inevitable, especially if you've only started using the tool. That's why your service provider should be accessible whenever you need help. Choose a service provider that offers 24/7 customer support. With this, you can resolve issues faster and avoid disrupting day-to-day operations. 
Free trial: Before you purchase a tool, make sure to test it out first. Free trials can help you assess whether the software meets your criteria. Many vendors offer a trial period, so take advantage of it to explore all of the features relevant to your business. 
Business development tools cut across every business department—talk of sales, marketing, outreach, accounting, and even operations.
With this in mind, choosing the right tool is entirely dependent on the functionality and your goals.
Most of all, business tools need to be secure to avoid compromising your company's and your client's confidential data.
It's also crucial for business tools to provide consistency. If the tool's working one day and shows zero results the day after, what's the point? The sales workflow shouldn't be interrupted by that, and everybody knows it. A list-building software needs to be reliable and consistent.
Therefore, you will need to have a reliable set of tools that serve you and help your team to increase sales.
Well, here are some of the best that we agreed upon: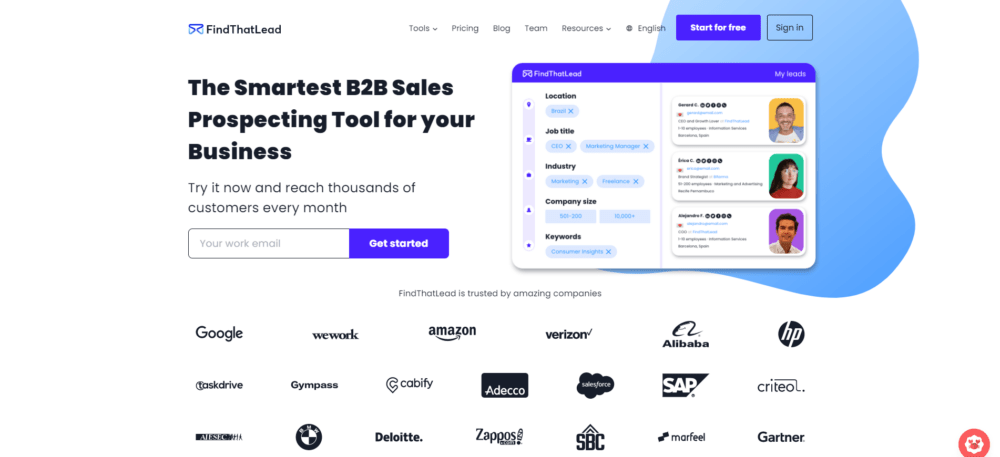 FindThatLead is an all-in-one sales prospecting and outreach tool that can be an invaluable addition to your sales process, but you need to know how to use it to make it work in your favor. Professional networking isn't built in a day, so you have to give every program some time.
A business development team needs an app that they can rely on, and for some people, FindThatLead is that one app. The business development process is complex and acquiring new customers is a long way to go, that is why you need a helpful tool to guide you through it.
The ease of use with this email finder is what sells it, and it's a part of sales intelligence to use as simple tools as possible to focus more on building customer relationships instead of wasting your time on learning how to use a tool. In said business development campaigns, it's essential to have a tool that's based on consistency, and that's what FindThatLead is.
Here's what a satisfied user said about FindThatLead,
"FindThatLead is great and fast with email finding and verification. I particularly like the simplicity of personalized cold emails. FindThatLead is a key tool in our outbound prospecting. The Prospector feature is great for finding a list of people from a specific location and persona. It helped me in building a great list of prospects within a few minutes".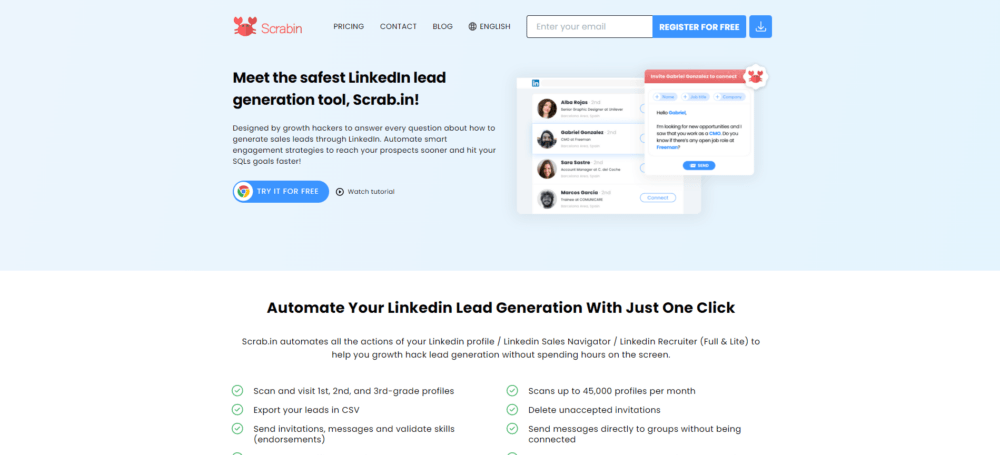 LinkedIn is a powerful tool for business development and networking. However, manually connecting with each prospect can be time-consuming. 
Scrab.in makes it easy to connect with prospects by automatically inviting and sending custom messages to those who match your search criteria. 
Simply set up the criteria you're looking for, sit back, and let Scrab.in do the work for you.
For example, if there is a certain job title and location that matches your ideal prospects, you can set Scrab.in to automatically invite and send custom messages to each person who matches the search criteria.
Another helpful feature is its ability to mass message your 1st connections with a templated message. 
The flow of the setup is quick, simple, and intuitive. Once the message template is done, set Scrab.in search criteria on who to message, then you can leave the Chrome window open and let the tool handle the rest.
In addition to automating LinkedIn outreach, Scrab.in also has helpful import and export features that make it easy to integrate with your current CRM software. This allows you to quickly add your current leads into Scrab.in for automated profile visits or messaging.
Here's what power-user Rodrigo Lasanta from Digivate said about Scrab.In,
"This is a great tool for lead generation on LinkedIn. It requires a bit of patience to optimize your search results and get uploaded to the email marketing automation system, but overall, this extension paired with FindThatLead has proved to be useful. Now my team and I can focus on other things while LinkedIn prospecting goes automatic."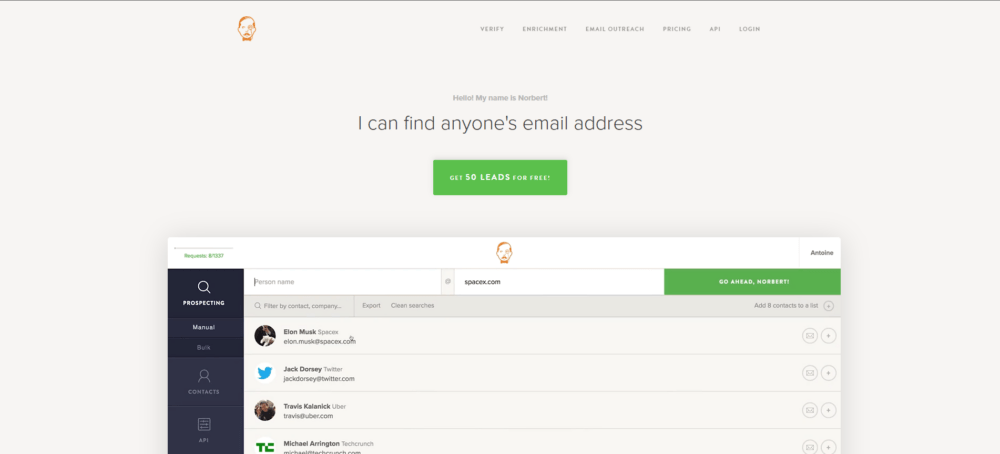 If you're trying to expand your client list, you've probably heard about the famous Norbert. It's one of the most well-known and most used tools in business development, and it's an essential feature on almost any list. It's also one of the leading tools in this field, and with a good reason. It's an easy-to-use platform that'll get you the cold calls and emails that you're looking for pretty easily.
The overall score for this tool is somewhere in the neighborhood of 4.5/5, which is quite impressive since many people use this tool regularly. Sales teams all around the world pride themselves on amazing cold-calling campaigns using Norbert. The good thing is that you'll get 50 leads for free.
Here's what power-user Chris London from Pixel Productions said about Norbert, "I find VoilaNorbert to be an effective platform, especially with the LinkedIn integration. The accuracy of the scraped emails is great, and I haven't had any issues with customer support. I like that you can purchase exactly the amount of emails you want, without having to subscribe to a plan. While the accuracy is good, I have found that sometimes there are no emails available for certain companies. Overall, I think this is a great tool and would recommend it to others."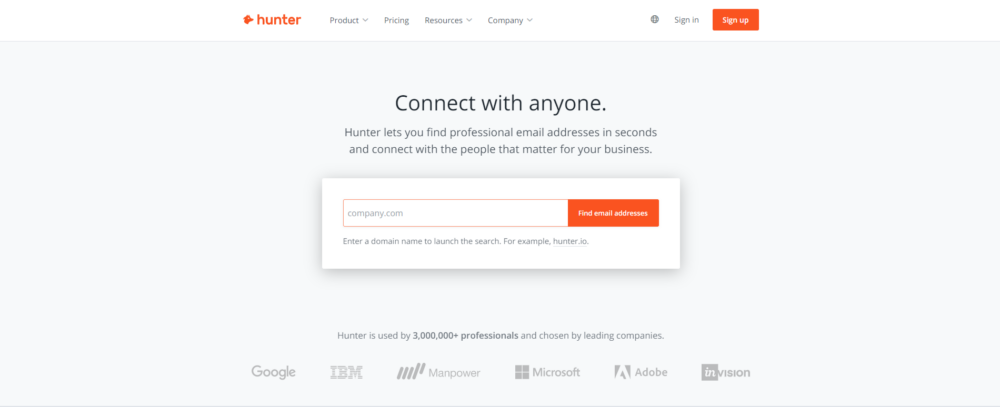 When we talk about crème de la crème in business development tools, we can't stay silent about Hunter.io. It's a reliable software that's used by countless people (they claim over 3 million).
Hunter.io will let you get to the professional emails of your targeted potential customers, and it'll do that with ease most of the time making your workflow automation a much more enjoyable process. According to Trustpilot, it is one of the best-scored tools out there. Averaging a score of 4.7/5, this may seem like software that you can trust.
Sales professionals also say that Hunter.io is one of those tools that you need to be familiar with. Prospecting tools are widely used, and the business intelligence of today's world insists that your sales teams have access to business development tools and even mobile apps that make your project management a much more pleasurable experience for your workers.
Hunter.io provides you with a simple answer to your needs, and that's why it's popular. No bologna, no unneeded flashy promotions – just a tool that's easy to use.
If you're looking to build successful businesses and catch all business opportunities that are coming your way while building and maintaining customer interactions on a decent level, Hunter.io is the tool to consider.
Here's what power-user Tarun Gehani of Pure Visibility said about Hunter.io, "Hunter.io is a great tool for sales professionals. The search function is quick and accurate, and the ability to import leads in CSV format is very helpful. I also like the email verification feature. The only downside is that you need a domain-based email account to log in, which excludes people who are not working professionals. Additionally, Hunter.io''s plans are more expensive than some of its competitors. Overall, though, Hunter.io is a great sales tool."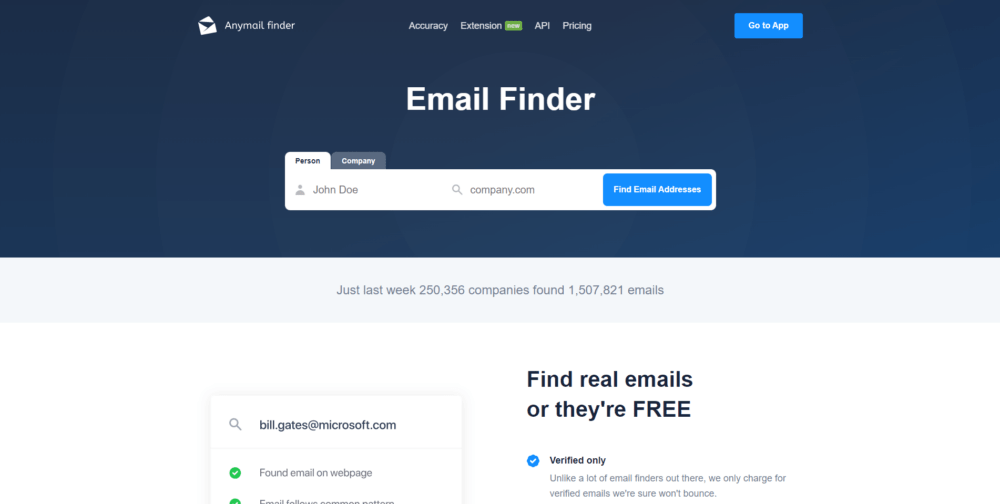 Let's say you've just come back from a professional networking event. You've met the client of your dreams, but didn't manage to catch their contact information. Enter the AnyMail Finder. This is another clean-looking email finder that the majority of you will find easy to use and navigate. The good thing is that there's an extension that'll probably make your job even easier.
There's also a free trial that you can use to try out their services. Another amazing feature with this business development tool is that you can dedicate the search to a person or a company which makes your cold calling research phase much easier in theory.
If you're looking for detailed reports from this tool, you might be a tad disappointed since it doesn't have any robust features that some more premium tools may have. Just so we're on the same page – this doesn't mean AnyMail is bad for creating back-and-forth email communication with your clients and potential clients, it's just that you won't have that sturdy premium feel that's available with some of the other options.
They also have parameters that they give you access to in which you can see where the email is found, what is the probability that it's the right mail, whether the server accepts emails, etc. Overall, you can use it even with less experience than you'd think you need, which is an awesome thing for someone who just recently started using a cold calling tool.
Here's what power-user MIke Frahm of Frahm Digital said about AnyMail Finder, "I am working with webinar/event planning groups who look to bring in "butts in the seats" and this service has been super. On the consulting side, we have developed voice-of-customer surveys to send out that have returned results in line with expectations both in deliverable rates, open rates, and completions. I researched several email append options and happily landed on this one.
The software delivers what it promises and is easy to utilize. The simplicity makes figuring it out quick. The "unlimited" unverifiable emails are a godsend and truly work. I have found an >80% deliverable rate when combining the verifiable and unverifiable emails, and the response rate is consistent with industry expectations/ norms. I liked everything so far. They worked as described and on par with other competitors".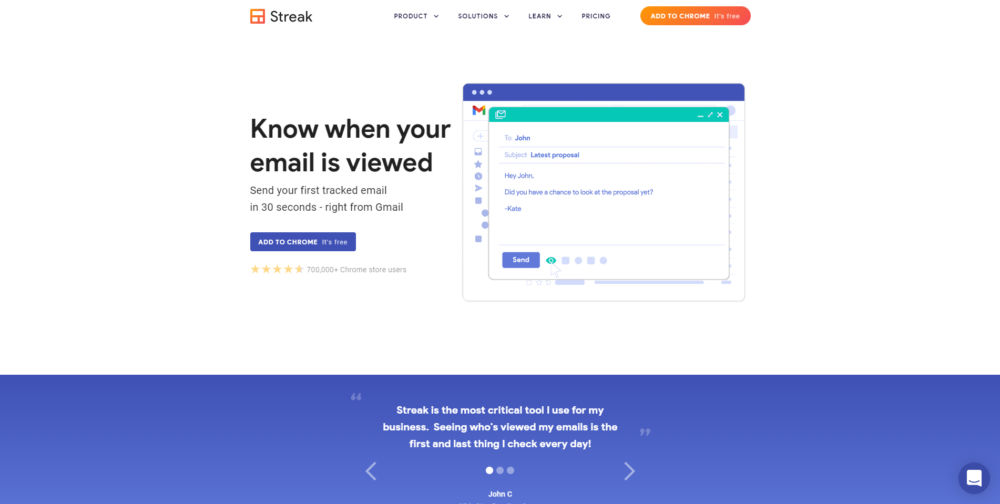 Streak positions itself as a multifaceted tool that works best with teams who use Gmail and G-Suite workflow. It's helpful for hiring, customer support, project development management and fundraising, but here I'll focus on their business development features.
Streak's up-to-date information and precision in finding business email addresses make it easier for a new business to do what a new business does best – grow.
Technically speaking, what does Streak offer? Are there any advanced features?
Well, it's a good software that allows your entire team to use a helpful tool in collecting data for email campaigns and other business endeavors. Your business development team will have a free extension for their Google Chrome that will serve as a marketing automation tool.
Here's what power-user Keith Hunn of Austin Bryant Consulting said about Streak, "With Streak, I can now see when clients are opening my emails, so I can give quick and effective feedback. I'll never be in the dark again on where I stand with a prospect."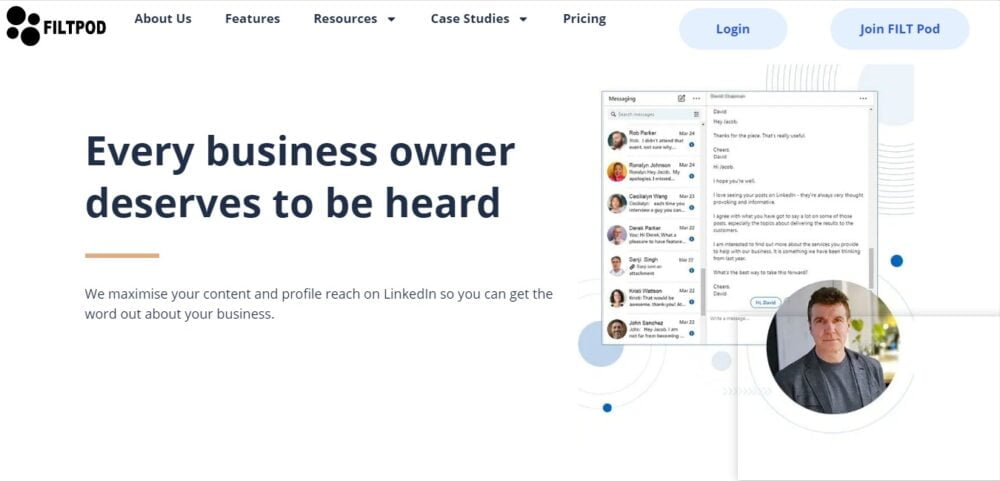 What's business development without networking and reliable partnerships with real experts in your industry? Snooping around on LinkedIn, you see it's all about creating engaging posts and using clever inmail strategies. We see some salespeople getting all the business inquiries on their LinkedIn posts; others, not so much.
A side-by-side comparison tells us that there's no difference in the quality of content and their offers. Yet, some get all the views and inquiries. What's their secret?
The answer lies in the people that interact with their posts. They have a large, engaged network on LinkedIn that readily adds value to their content as soon as they publish a post. As we dig deeper, it's clear that LinkedIn networks aren't created equal.
Some cause more harm than good by leaving spammy or automated messages. Others show thought leadership and inject credibility, giving leads reason to stop scrolling and start reading.
When it comes to maximizing your visibility and engagement on LinkedIn, FILT Pod is one of the best solutions. It opens new business opportunities by connecting you with its active circle of B2B business owners, marketers and salespeople. This invite-only networking space will guarantee the engagement you'll need to boost your visibility and reach on LinkedIn. FILT Pod also provides interesting features like Lead Nurturing within its platform so you can build rapport with potential clients at scale.
Paying members of FILT Pod can track unlimited leads with their personal account, but you can claim a free trial version to speed up engagement with 10 leads at a time after the first month.
Here's what a satisfied use says about FiltPod, "Overall, I love the community. I love the engagement and the earned respect that comes with being accountable to the system, and the process."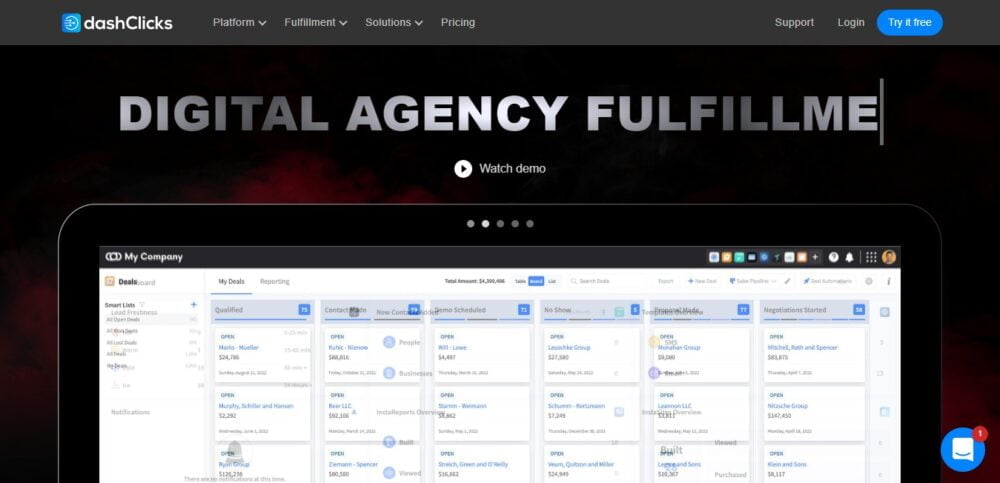 If you're in digital marketing, DashClicks has an interesting marketing agency software and ecosystem that can help you in growing and scaling your business. You can mix and match the apps to create structure and automations in your everyday operations. 
When it comes to business development tool, you can manage your contacts within their ecosystem and use their sales pipeline automation workflows to save time and data entry headaches.
It's easy to integrate inbound leads across different third-party platforms and distribute them to your business development teams for instant follow-ups. It's also easy to build detailed reports about how various sales staff are performing or to stay on top of warm leads.
There is definitely a learning curve with this platform considering the scope of it. Besides the sales features, you can also create custom sites quickly, manage projects and reputation and send emails and texts. It sounds like the ultimate combination of sales and marketing automation if you can take the time to master it. 
Here's what Aristide Basque from K6 Agency said in his Google review about DashClicks, "DashClicks makes everything a complete breeze to set up and optimize your marketing agency so you can focus all of your time on income-generating activities. Their system is very effective – the Dashclicks team definitely delivered a lot of useful information to help scale my agency.
I have improved our prospecting and I'm confident we will get even better clients as we go along. Overall, I love the community, engagement and earned respect from showing up and improving our system with the process."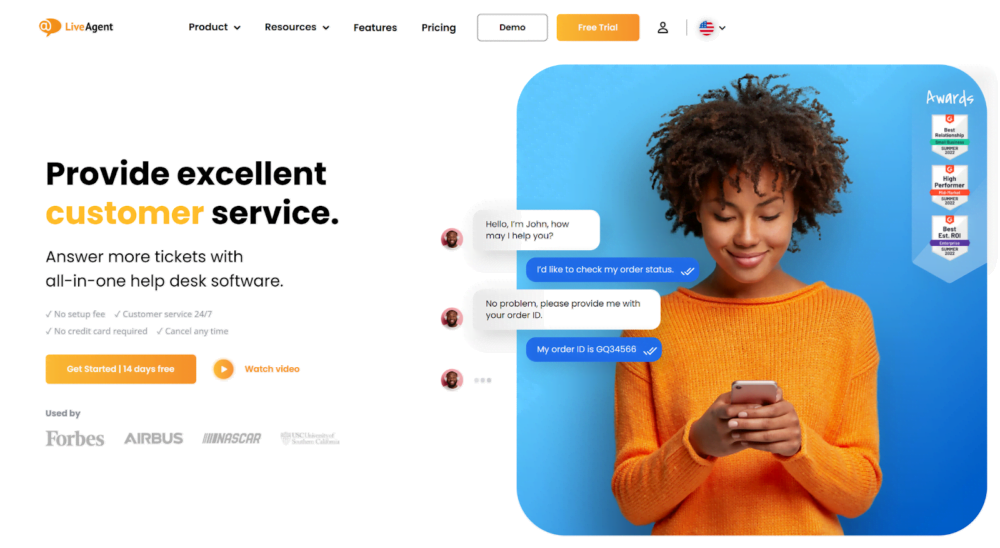 Another well-rounded tool adjacent to business development is LiveAgent. Although this multi-channel is positioned as a help desk software, it can be incredibly valuable for handling all types of customer communications including the routing of inbound sales inquiries. 
In fact, LiveAgent is heavily used by many B2B Lead Generation agencies, among others for their own business development because of how easy it is to answer proposal requests. 
Every inbound sales team needs proper communication software, especially when it puts extra focus on helping customers who are deep into the sales funnel. LiveAgent is able to handle various types of communication – email, live chat, calls, social media, messenger apps, and a customer portal with a knowledge base for customer self-service.
What makes LiveAgent good is its all-rounder nature, reliable ticketing system, very fast live chat widget, ease of use, and easy integration into popular sales CRMs. Most of these factors are all a necessity for efficient communication. LiveAgent is regularly updated, and new features are added on a non-regular basis, which makes it a good future-proof solution
LiveAgent is used by a large number of companies worldwide, and their clients include companies like Yamaha, BMW, and Slido. 
Here's what Pen of AMG Website Designer said about LiveAgent, "The functionality is awesome: contact forms, live chat, databases, integration with social networks all in one service and all these modules are well thought out and competently interact with each other. I liked that the service works stably even on mobile platforms."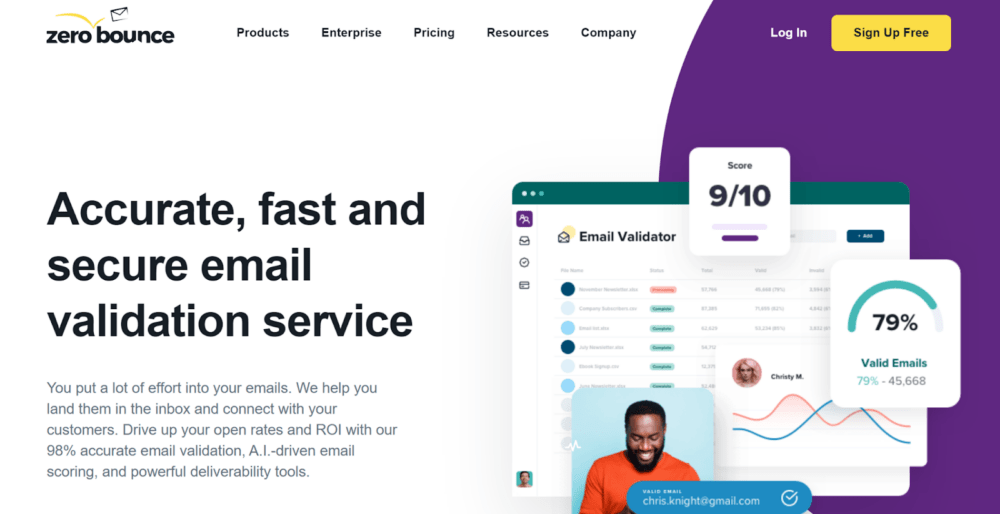 It's exciting to see your list of clients expand, but making sure that the email leads you're gathering are real is a must. ZeroBounce helps with that – and much more. Whether you send personalized cold emails, email marketing campaigns or just want to ensure your transactional emails land in the inbox, ZeroBounce is one of those essential business development tools.
The email verifier checks your list with a money-back guaranteed accuracy of 98%. It removes invalid addresses, spam traps, and other types of contacts that can send your emails to spam. If you want to check emails in real-time, before adding contact details to your database, you can do that as well, via the email verification API.
ZeroBounce also gives you access to an email deliverability toolkit. For instance, you can test your emails – before hitting send – to make sure they have the highest chance to land in your customers' inboxes. 
ZeroBounce is the go-to email deliverability tool for many individual sales reps in companies like Amazon, Netflix and Sephora. The accuracy of the software and the 24/7 live customer support got ZeroBounce an average score of 4.8 on Trustpilot. 
A satisfied user said, "ZeroBounce is an easy-to-use email validator and scoring system. It has worked great for me whether I upload multiple contacts or just one. Love this tool and use it to validate every email address. I'd definitely recommend it for anyone trying to build an email list."
Extra: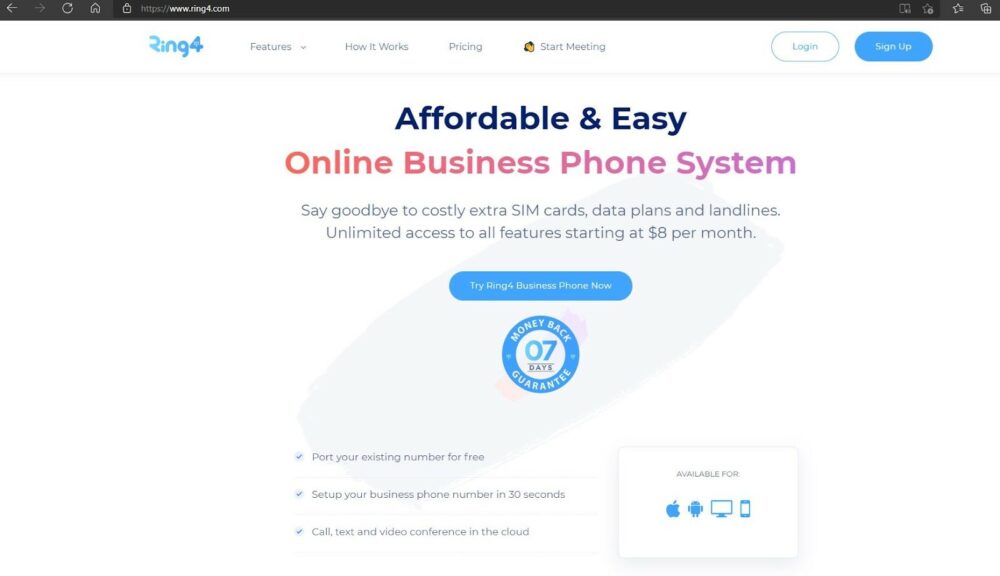 A highly versatile tool at an affordable price, Ring4 solves the problem that customers face when trying to conduct business remotely.
A VoIP phone system whose mobile numbers let you call, text & receive voicemails via the app, working over data or WiFi, Ring4 lets you activate the unlimited plan to start talking and texting with no limit. All these capabilities together make it a go-to solution for those looking for high performance at a low cost.
While one might argue that Ring4 is not as popular as some of its competitors when it comes to value for money and affordability, it is the very best there is.
Ring4 offers recording, voicemail, video, and a lot more features than a traditional phone line. It comes with call recording and video conference.
Key features include labeling, number porting, local/international calling, caller identification, and spam call blocking. It also helps businesses of all sizes generate a second phone line for calling and texting.
Ring4's call quality is just excellent, which helps conduct business meetings with total efficiency.
But its focus is not limited just to making a great product, but ultimately delivering value for the customers and helping them thrive.
Here's what Zeke C., CEO of a small business said on G2, "Ring4 is Google Voice on steroids. If you know how to use email, you know how to use Ring4."
Summing Up
We know how hard it is to choose, pick, and stick with your chosen tool. But in reality, nobody's telling you to stick with one! The beauty of the internet is that you can go around trying out new tools every week and deciding which one suits you the best.
That decision should be based on your personal experiences and preferences, so don't blindly listen to high-rating reviews and selling pitches. When we're talking about cold calling tools, the best tool is the one that suits you (and the one that gets you the emails).
We wish you luck in your tool-hunting adventure, and remember – tools work for you so don't be afraid to push them to their limits!