If you're reading this, you've probably realized how easy it's to have restrictions or even have your LinkedIn profile blocked if you use it as a sales channel… I know the drill! 😅
The truth is LinkedIn limits have increased over the last year… Does this poster ring a bell?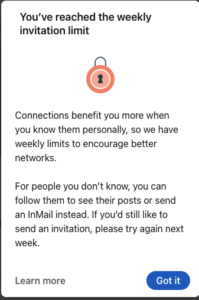 Perhaps you're sick and tired of this notification popping up week in and week out. It turns out that the platform has been pretty heavy-handed about it.
Especially since March 2021, more or less, which was when LinkedIn limits and restrictions were increased about 7 times due to a massive wave of spammers abusing the platform looking for quick money (not a surprise). 🙄
Yes, we've all paid for the sins of others, and that's a game changer.
Still and even more so in 2022, when it comes to B2B sales prospecting we think of LinkedIn as one of the best platforms, in competition and collaborating with cold emailing for the top position.
And if you're reading this, it's because you want to optimize this channel and distinguish yourself from the competition, am I wrong? 😏 .
Along this post, you'll discover tricks that your competitors haven't even thought of (unless they have read this before you) 🤭.
Some questions may be going around in your head right now, such as:
How many messages can I send per day on LinkedIn?
How many new invitations can I spend each week on LinkedIn?
How do I warm-up my LinkedIn profile?
I'm not only going to answer all these questions, but I'm also going to show you easy super-hacks for "getting by" LinkedIn's limits.
What are LinkedIn limits in terms of restrictions?
As I already told you in the above introduction, there has been a substantial change in LinkedIn's limits in terms of restrictions.
What is LinkedIn weekly invitation limit?
Before March 2021 you could send up to 100 invitations DAILY on LinkedIn. From that date this limit has been reduced up to 7 times, the current limit is around 100 invitations WEEKLY on LinkedIn.
Pretty impressive, isn't it? 😣
However, it's not possible to give an exact figure because it doesn't happen in all cases… Who knows? Maybe it's a non-universal test or it depends on several factors to avoid Spammers (honestly, I believe more in this second option)
Without going any further, all the profiles I manage can reach 35 invitations DAILY, we are talking about 250 WEEKLY. I'll explain you how!
What about messaging LinkedIn limits?
Another of the LinkedIn limits are the messages to contacts. We can find three different ranges or steps:
Newly created accounts (or without warm-up) can send up to 30 messages per day with little or no risk of the account being blocked.
For hot accounts (or with warm-up done) you can send up to 70 messages per day.
With Sales Navigator and warm-up, profiles can send up to 100 messages per day.
And the search limit on LinkedIn?
The last (but not least) of big LinkedIn limits, the search limit, also has three distinct ranges:
For new or unwarm-up profiles you can safely perform 30 searches per day.
For already warm-up accounts, up to 200 searches per day can also be performed safely.
And if your account is warm-up and already has Sales Navigator (paid) we don't have to worry about the limit, it doesn't even exist!
So, how to avoid your account being blocked and exceeding LinkedIn limits
If you are wondering how to increase the limit of invitations, the limit of messages and/or even the limit of searches… Here I'll show you some tips to bypass the LinkedIn Limits.
There are several factors to avoid these restrictions. But mainly, I would name these five.
These factors have always been key to having a healthy LinkedIn profile and optimized for sales.
Warm-up your profile
Even if our profiles are newly created we can increase the limit of daily and weekly invitations on LinkedIn by warming up them.
This is done by completing the steps in your profile and increasing your network of contacts. Don't worry, I got you: I already explain it ALL in this article!
The more and the better contacts you have, the more invitations you will be able to send.
  🔥Tip: It's proven that if your account has Sales Navigator some of these LinkedIn limits are reduced, besides being a very powerful tool. Let me tell you I consider it a must!
Restriction of pending invitations
Actually, you can be surprised with one more restriction. A little sign like this can pop up in our face when you continue with your task of inviting people: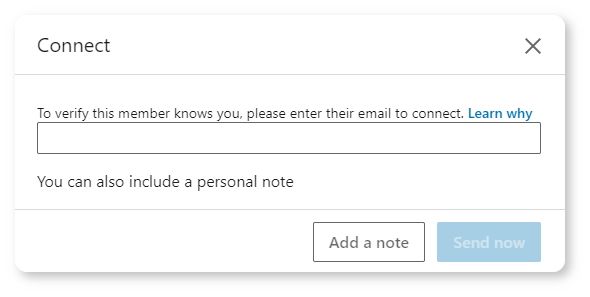 To connect, LinkedIn asks us to verify that we really know the person to whom we have sent the invitation by entering their email address. But what's the point of asking us this? 😣
LinkedIn gives us three possible reasons:
The recipient has specified in their settings that they can only receive invitations from people who know their email.
An invitation has already been sent to this user.
You have sent too many invitations where the recipient has indicated that they don't know you.
The latter is usually the main reason why we are asked for this confirmation (this is one of the most shocking LinkedIn limits). Once 5 people have clicked on "I don't know you" it can be enough for us to get the sign.
But I have a little tip to solve this, do you want to know my little secret? 😎
🔥 Tip: Track your pending invitations and cancel those that haven't been accepted for some time. It's a very easy little trick that can save us on many occasions, just keep it in mind!
I've already mentioned several times in other articles the importance of personalization in Outbound Marketing campaigns (Massive or not), and, of course, LinkedIn is no exception at all!
Personalizing invitation messages will dramatically reduce the number of unaccepted invitations. You'll get many more people to accept you, trust me. In LinkedIn, prospecting isn't only necessary because you convert more, but also to avoid reaching the LinkedIn limits and keep your profile healthy and optimized for sales.
It doesn't mean that you have to do manual prospecting, you can segment your target audience and mention some common characteristic or pain point, that's what I do with Scrab.in!
Automation API's with no or little reputation
Let's be clear: LinkedIn isn't very friendly with automation API's and this is part of another of the LinkedIn limits. Still, these tools are indispensable for those of us who dedicate to prospecting and lead generation on LinkedIn.
Try to stay away from automation API's with little reputation, I recommend you use one of this LinkedIn Automation Tool, specially these three (remember moderation is the key here) 🙄:
Expandi
LinkedIn Helper
These tools camouflage themselves well as automation software and allow you to set up a good automation pattern so that LinkedIn doesn't detect you as a bot and close your profile. And I'll say it again, these are tools to be used wisely!
Little time on each profile
This may sound like Greek to you but is also related to the part of low reputation APIs. Spending little time visiting many profiles is an action that bots and bad automation APIs would do.
If you do manual prospecting, take advantage of that time to get to know their profile and build your invitation message around the pain point of the target you've found.
If you automate your prospecting, make sure you use a good API that takes its time to prospect to avoid getting your account closed.
Create, create and create content
Have I already told you the importance of creating content?
LinkedIn is nourished by specialists like you and me who share their experiences and knowledge through articles. The algorithm itself favors content creators giving them more visibility and reducing the restrictions and LinkedIn limits.
Publish tops, tips, experiences, and infographics with copies and emojis that attract attention and make your contacts spend time viewing your posts.
As in other social networks, LinkedIn's algorithm prioritizes and promotes those contents that have a quick engagement, which usually has interactions during the first 60 minutes after being published.
How to continue generating leads once LinkedIn limits have been reached
Once the restriction banner appears, you have two options: wait a week for it to be removed or take action against LinkedIn limits 😜
If we go for this second option, the one for the real lions of Outbound Marketing, we'll not only optimize our lead generation strategy on LinkedIn and but open one more contact channel too. 🦁
Basically, it's using Scrab.in to automatically prospect your first, second and even third-degree contacts' emails and then send them a cold mailing campaign using  FindThatLead. As simple as that!