Where to find clients for digital marketing
Customers are to a company what sand is to the desert, do you agree? Without them, we are doomed to failure!
But getting a customer isn't easy, and gaining their trust is more difficult and much more important. In this article we're going to see how we can get new clients if we are in digital marketing and what we must do to gain their trust with our work.
Remember that before going out into the street to look for customers, it's advisable to define what our objectives are as a company, what our differential value is, what product or service we offer and what customer profile we want to attract. Otherwise, we would be sailing aimlessly!
Are you in? Let's do it!
First of all: Segment your audience like the gods!
As we have already mentioned on other occasions, segmenting your target audience well is key to the success of your actions. If you know your potential customer very well, you will be able to launch much more personalized campaigns and achieve results a thousand times better. You can do it for example creating a buyer persona! Here is an example:
He is Carlos and he owns a small tech startup. He has just launched his business and his only obsession is to find customers that make his company sustainable. What little he has he invests in advertising in digital media, but for the moment he doesn't see results in his actions. Carlos is very active on Linkedin and has a website where he uses automation software and a CRM to streamline his startup's processes.
Once you have clearly identified who your buyer personas are, it's time to play "detective" and find them! 
How to find clients for digital marketing
To know Where to find clients for digital marketing we must first know how to do it. There are many different customer acquisition strategies to suit all types of businesses and audiences. But the most important thing is that you can choose the ones that best suit your budget and your contacts. Here are some of our favorites that you should know, but remember: you need to know your potential clientele and set your objectives well!
Blogging
Blogging is one of the most used strategies by brands as well as marketing agencies. The secret to finding clients with your blog isn't to write as if you were addressing professionals who work in the same field as you, as they aren't going to hire your services; think about your ideal client, that is, write for companies that want to improve their digital marketing.
The blog articles should talk about the problems and needs of your ideal clients; they will feel identified and they will capture the hiring of your services as their best result!
Tip: The blog or website should be optimized to get clients; in addition to presenting your company in a visible and understandable way, you have to transform those visits into subscribers to your mailing list.
Networking
Networking is not only a cost-effective way to find customers, it's also the best way to acquire customers with high retention rates. In addition to consuming more, referred customers often become another source of referrals.
Tip: Attend events and take the risk of asking questions from the audience. If not, make a valuable comment on Twitter or blog about what you learned from the event. Don't be afraid to ask your satisfied customers for referrals.
Advertise
Like any business, your digital marketing agency should invest in paid advertising. While other businesses may still think that traditional advertising is just as fruitful as digital, that's not the case for a digital marketing agency; you need to put into action what you're supposed to be selling. In addition, online advertising allows you to target better results!
Tip: Involve calls to action, they must be attractive and drive traffic to your Landing Page.
Partnerships
Strategic alliances are becoming more and more fashionable; try to reach agreements with other companies in your sector to refer clients who may want or need your services. These types of alliances can last for several years and create a lot more referral business! 😉
Here are some tips to know where to find clients for digital marketing!
Consider what stage your agency is at, as the least consolidated agency is the one that should contribute the most to the alliance.

Detail your objectives in order to know what type of alliance you need, what market you should target and what actions you should carry out. Make the conditions of the alliance clear; it's very important to generate trust! 

Partner with companies in the same area and with a similar target, but don't promise the same service; it doesn't make sense to use references between the competition and your business.
Advanced tools for find clients for digital marketing
The digital environment offers you new, more effective and faster ways to find customers, although they require a small investment. This tool will offer you good results, as it's straightforward and doesn't waste your time!
So, If you have your buyer personas well defined, you'll fall in love with this method! With Scrab.in you will be able to get in touch with thousands of leads 100% automatically.
As you probably already know, Linkedin is a social network that allows you to filter its users according to job, location, company, work sector, languages, etc.  These super-filters allow you to find your target in a very simple way. And what happens when we put together a well-filtered audience on Linkedin with Scrab.in?
Easy: we get thousands of ultra-qualified leads automatically!
To know Where to find clients for digital marketing we recommend you to follow this process:
Register in Scrab.in

Log in to Linkedin and filter your target following these tips

Enter the Scrab.in dashboard and activate the visits.

Turn on Scrab.in and relax (yes, it will do all the hard work for you)

😉

Download a list with thousands of leads to use for the next step!
And then, what? If you have a SaaS, this method to find potential customers is going to be your favorite from today. It consists in getting a list of websites that use a similar software to yours, and through Findthatlead get their emails to get high quality leads.
1-Let's go to BuildWith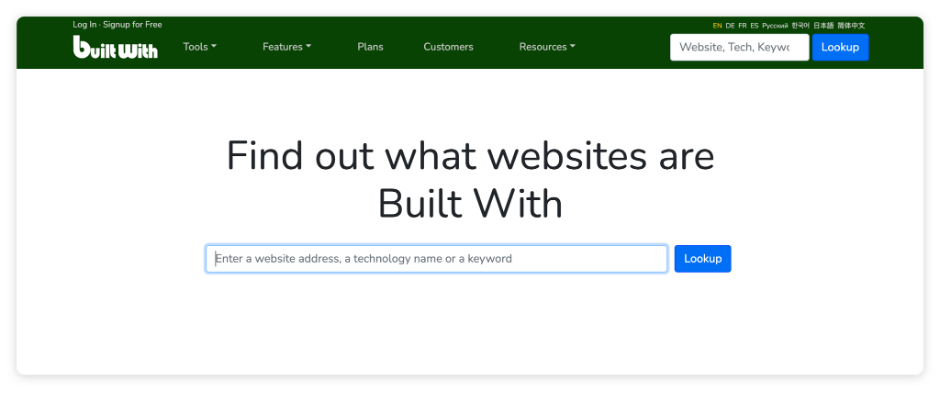 2-Look for websites that use similar software to yours. In this case, we searched for hubspot.
3-Download the list of domains

4-Upload this list of domains to Findthatlead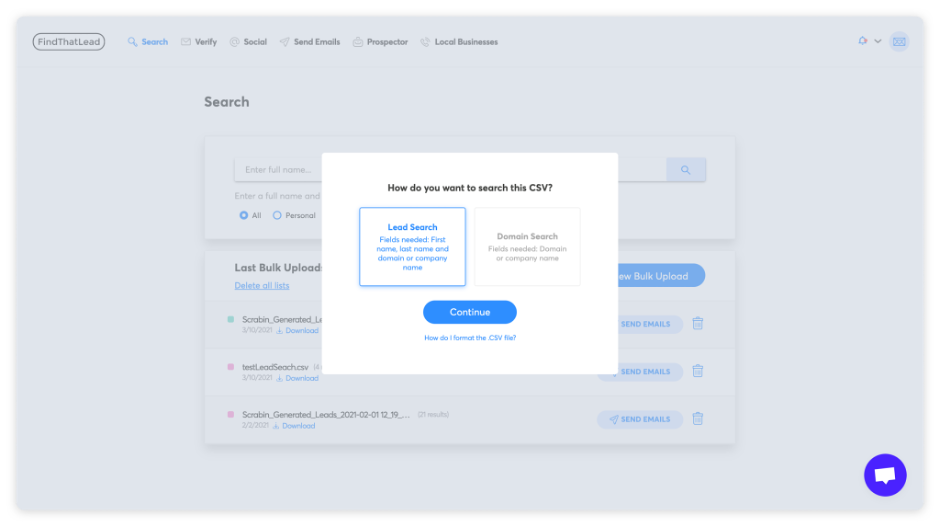 5-Download a list with thousands of leads
And now, what do I do with this data? 
At this point, you'll have two lists with thousands of potential customers who are waiting for your message to buy your product!  
Will we get them to buy from us? The short answer is: yes. The long answer is: yes, if you apply the best cold mailing and growth hacking techniques to your email marketing 😉. 
How to convert prospects into customers with cold mailing
When you are going to send a cold mailing, there are two essential points:
To have an ultra-qualified list of potential customers (we already have one!).

Have the recipient of the email open the email and reply to it.
Where to find clients for digital marketing Tip: Be creative and write a message that connects with your buyer persona.
These are the basic points that you must include in your email:
Write a subject that intrigues the recipient and compels them to open the email.

Write short emails: nobody wants to read a long email (especially from a stranger).

Send a clear message with a value proposition that helps to solve a problem for the recipient of the email.

Personalize the subject and body of the message with the recipient's name.
Strategies to know where to find clients for digital marketing
Strengthen your social media strategy
Are you already on social media? If the answer is no, no problem, you can still do something about it.
First, you should assess whether it's relevant for your brand to have a social media presence.
Second, you should check which ones are the most appropriate for interacting with your current and future customers. Some of the most popular social networks to consider are:
There are many opportunities to know Where to find clients for digital marketing so we must start and maintain ongoing communication with your audiences by responding to people's social media queries. This way you can get valuable feedback from your customers. Listening to your audience will allow you to understand their pain points and formulate strategies to meet their buying needs.
Use this information to formulate your social media strategies and share content of high value to them. This way, you'll increase engagement with your brand and become a reference in the market 😉. 
Plan your content strategy
Without a doubt, content marketing is a term that is used a lot in digital marketing. But what is it? Well, through this strategy you can get more people to gradually get to know your brand. Turn your brand into the authority to solve users' doubts. This way, you'll be able to position your company among them and finally get them to know your product or service.
Moreover, content marketing goes hand in hand with SEO. By creating quality content, you'll have a better chance to position your pages in the first results of Google, this will allow you to be found more easily by your customers.
Some of the most commonly used content formats are:
Blog articles

Downloadable guides

Videos

Templates

Infographics, etc.
Invest in digital advertising to strengthen your strategies
Another strategy for finding out Where to find clients for digital marketing is investing in advertising. Digital advertising is the fuel your digital marketing strategies need to accelerate results. Do you need to generate leads through an ebook download? Do you have a promotion that your customers need to see? Online advertising will allow you to have a great reach to reach those people who will eventually buy your products or services. 
Prepare your email marketing strategy
As we said earlier, through this channel you can be in constant contact with potential customers, current customers and retain those who have more affinity to your product or service.
One of the benefits of email marketing is that it allows you to segment your communications efficiently. This way, you can get the right message to the right person at the right time! 
Invite your audience to webinars
Webinars are a format within content marketing that will allow you to gain authority on the main topics in your industry.
Think of the potential you could have by being able to reach many people from different places and help them solve doubts and questions in real time.
There are several platforms that will allow you to enter the world of webinars. The advantage is that users can watch the webinars from the comfort of their homes or offices at no cost to them.
Where to find clients for digital marketing Tip: With a webinar you can strengthen your recruitment strategy to build a solid contact base and nurture them with other strategies such as content marketing and marketing automation to finally convert them into your customers.
How to gain a customer's trust?
Another trick to know Where to find clients for digital marketing is the trust. Now that you know how to get potential contacts and customers, you have to take into account a number of things to be able to retain them, otherwise, what's the point? Let's get to it!
The contract
Once the budget has been approved, draw up the agreement in writing. That is, prepare a contract and sign it by both parties. It should clearly and unequivocally explain what the contracted work consists of and the terms under which it's to be performed. What isn't reflected in it isn't presupposed. 
Make a schedule
Make a tentative timing of the deadlines for the execution of the work of the campaign. This way the client will feel more relaxed and won't be constantly asking you how the project is going.
Meet deadlines
Punctuality is highly valued by clients. This will be a sign of your interest in the project.
Don't give away your work
Everything that isn't included in the budget is budgeted separately. It's common for clients to ask you for work outside the budget or contract. And it's also common for some of them to assume that you aren't going to charge them for it.  
Where to find clients for digital marketing tip: Before you start to do it, tell them what the budget is. If they don't accept it, nothing happens, it isn't done. Remember this saying: "What is given as a gift is neither appreciated nor paid for" 😉. 
Exceed expectations
Always do more than what the client expects in terms of quality of work and results, not in terms of tasks. Always strive for excellence!
The results report
It's more important to show what you achieve than to achieve it. And for this, it's absolutely necessary that every week you send the status where the most significant KPI's are analyzed and, once a month, the results report and proposal for improvement.
Be honest
Maintain a good relationship with the client. Be interested in him and his company. You don't have to be a better service provider. You have to be a collaborator, someone who is part of their project and who is willing to help them grow.
Learn to say no!
You don't have to know how to do everything and you don't have to do everything. Clients, believe it or not, will appreciate that you respect yourself and know how to set your limits as a professional 😉. 
Don't forget about cold emails!
Yes, these emails won't only help you retain your best customers but also convert leads into sales easily. 
Cold emails allow you to reach your potential customers by sending them an email in which you present how you can help them. It's a letter of introduction that will be followed by other emails that are part of a funnel and well, you know what happens at the end of that funnel: the sale! 
Do you remember the list you were able to get thanks to the tool Scrab.in ? You just have to create a cold email to send it to these contacts! We will explain it to you all in this post! 
Where to find clients for digital marketing tip: And if you want to have a real signature that makes you look professional, it's as easy as using Signature Maker! There is an example: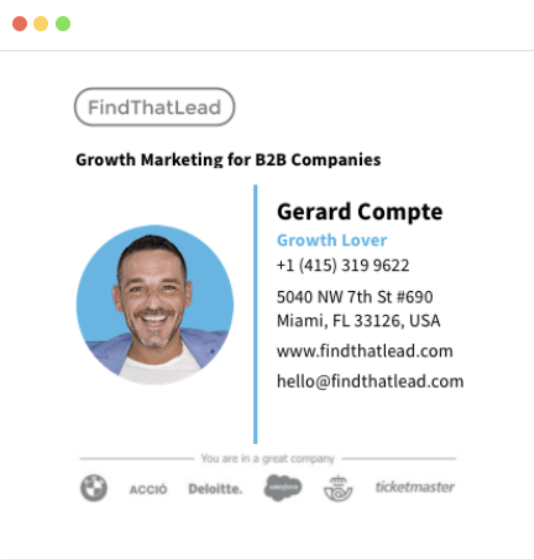 ¡Now that you know Where to find clients for digital marketing, you can start increasing your turnover!