If you're in the B2B sector, you're likely familiar with the struggle of managing sales leads effectively. The solution? A robust Sales CRM system. We're meaning a tool that can genuinely elevate your sales and revenue.
But with a myriad of options out there, how do you know which Sales CRM is the right fit for your specific needs? In this post, we'll demystify what a Sales CRM is, explain its impact on your sales process, and help you understand the key features to consider.
So, if you're aiming to optimize your sales operations and make data-driven decisions, keep reading. We've got some valuable insights to share.
Shall we start?
What is a Sales CRM?
Sales CRM, short for Customer Relationship Management, is essentially a software that helps you manage interactions with current and potential customers.
It's a system that allows you to track sales activities, forecast revenue, and even automate tasks. With a Sales CRM, you can focus on what truly matters: building strong relationships and closing deals.
Differences in CRM Applications Across Departments
CRM systems are often associated with sales, but they are not exclusive to this department. Marketing and customer service teams also benefit from specialized CRM platforms. Still, a Sales CRM is tailored to meet the unique challenges and objectives of a sales team.
It's equipped with features like lead scoring, pipeline management, and sales analytics, which are not necessarily present in other types of CRM systems. This specialization ensures that your sales team has the right tools to meet and exceed their targets.
The Primary Role of CRM in Sales and Revenue Generation
The core function of a Sales CRM is to streamline the sales process, making it easier for your team to move leads through the sales funnel and finally close deals. A well-implemented Sales CRM can be an absolute game-changer in revenue generation.
It offers data-driven insights that help you identify high-value leads, focus on profitable opportunities, and even cross-sell or upsell to existing customers.
By automating repetitive tasks, it frees up your sales team to engage in more meaningful interactions, allowing them to build trust and establish long-term relationships.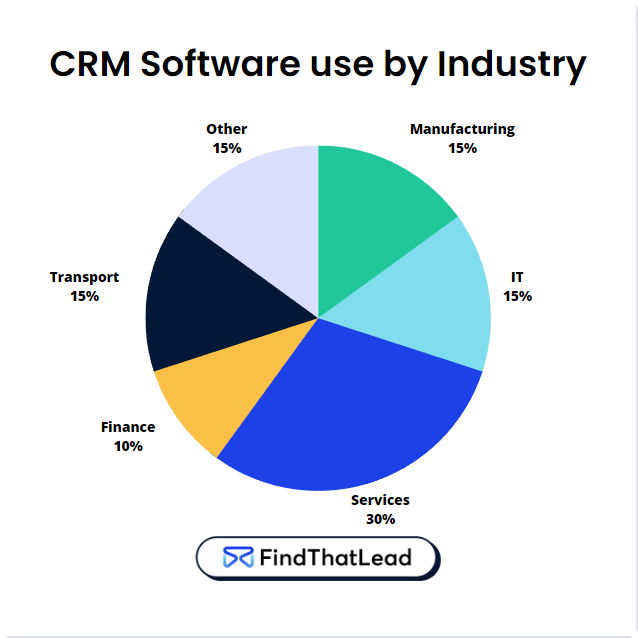 How a Sales CRM Impacts the Sales Process
When it comes to the sales process, a Sales CRM it's a necessity. The software plays a pivotal role in each stage of the sales funnel, from lead generation to customer retention.
Let's think about a sales process and how a sales CRM influences each of the stages:
The Prospecting Stage: From Lead Discovery to Alignment
In the initial stage of prospecting, a Sales CRM helps you identify and align leads that fit your target customer profile. It can automatically score leads based on predefined criteria, ensuring that your sales team focuses on the most promising prospects.
Once we have identified our target customer profile, we use a tool like FindThatLead's Prospector to introduce parameters like Industry, Location, Job title… And extract those valuable emails to our sales CRM software.

Mastering Lead Management with CRM for Sales
After the Prospecting Stage, the next crucial step is lead management. This is where your Sales CRM really shines. It not only stores the leads but also categorizes and prioritizes them.
You can set up automated workflows to nurture these leads through cold email campaigns or other touchpoints, ensuring no opportunity slips through the cracks. This makes it easier for your sales team to focus on what they do best: closing deals.
Modern Contact Management: Beyond the Rolodex
Forget the old-school Rolodex; we're in the digital age now. Your Sales CRM serves as a dynamic contact management system. It also keeps a record of past interactions, deals, and even social media activity.
A sales CRM can tell you which leads have been contacted, by whom, when, by what strategies and whether they are "hot" enough or not to buy.
This new view enables your sales team to approach each client or lead with a personalized strategy, enhancing the chances of a successful deal.
Enhancing Presentations and Pitches with CRM Software for Sales
When it's time to present to a potential client, your Sales CRM can store presentation templates, track which slides are most effective, and even integrate with tools like FindThatLead to provide real-time analytics.
Within your CRM you can have a customized "sales script" on which you can base your sales approach to your leads.
This means your sales pitches aren't just based on gut feeling; they're data-driven, increasing the likelihood of hitting the mark.
The Closing Stage: Sealing the Deal Efficiently
The final stretch of the sales process is closing the deal, and here, too, your Sales CRM plays a vital role. It can automate the documentation process, send reminders for crucial closing activities, and even generate contracts.
This streamlines the entire closing process, allowing your sales team to finalize deals faster and with less hassle.
Reporting and Analytics: Translating Data into Actionable Insights
Last but not least, a Sales CRM isn't just for storing data; it's for making sense of it. The software offers robust reporting and analytics features, helping you understand sales trends, team performance, and customer behavior.
This data is gold when it comes to making informed, strategic decisions for your business.
Types of CRMs: Finding the Best CRM for Sales
When it comes to Sales CRM, one size doesn't fit all. Your business has unique needs, and the CRM system you choose should align with those. There are a few types of Sales CRM software available, each with its own set of features designed to cater to specific business requirements.
The Flexibility of Cloud-Based CRM
In today's fast-paced business environment, the ability to access your sales data and customer interactions from anywhere is not just a luxury; it's a necessity. Cloud-based CRM systems offer this flexibility, enabling your sales team to be truly mobile.
Imagine being able to update a client's information or even close a deal while waiting for a flight. The cloud ensures that your data is always synced and up-to-date across all devices.
This is particularly beneficial for businesses with multiple locations or remote teams. It eliminates the need for manual data syncing and offers real-time analytics, allowing for quicker decision-making and a more agile sales process.
For those leaning towards cloud-based solutions, Freshsales is a strong contender. It offers robust features along with the flexibility of cloud storage.

Another option is Nimble, which is excellent for small businesses and integrates seamlessly with Office 365 and Google Workspace.
Advantages of Mobile CRM: Business on the Go
Let's face it, sales don't just happen from 9 to 5 at your desk. That's where mobile CRM comes into play. A mobile CRM app is like carrying your office right in your pocket.
It allows your sales team to access crucial data, manage leads, and even perform advanced functions like sending quotes or contracts directly from their smartphones or tablets. This level of accessibility can dramatically increase productivity.
For instance, if a sales rep is at a client meeting and needs to pull up the latest sales figures or product specs, they can do so instantly without having to 'get back to the client.' This immediacy not only impresses clients but also speeds up the sales cycle.
Moreover, mobile CRMs often come with features like geolocation, enabling more efficient route planning for sales reps in the field.
When it comes to Mobile CRM, Salesforce's mobile app stands out. It offers almost all the functionalities of its desktop version, allowing sales reps to work from anywhere.

Another noteworthy mention is HubSpot's mobile CRM, which is user-friendly and offers essential features like contact and deal management on the go.
Customizable vs. Custom CRM: Which is Right for You?
When it comes to Sales CRM, you've got options. Some systems let you tweak features to fit your specific needs, while others are built from scratch just for you.
Customizable CRMs offer the freedom to pick and choose features, making it easier to adapt as your business grows. On the flip side, custom CRMs are tailor-made, fitting like a glove from day one.
However, they can be pricier and take longer to set up. So, you've got to weigh the pros and cons to figure out what's best for your business.
For customizable CRMs, Zoho CRM offers a wide range of features that you can tailor to fit your business needs.

On the custom CRM front, SuiteCRM is an open-source platform that allows for extensive customization, albeit with a steeper learning curve.
Prioritizing Intuitive Interfaces in Sales CRM Software
Let's be real, if a CRM is hard to use, your team will avoid it like the plague. That's why an easy-to-use interface is key. A straightforward CRM means less time spent on training and a shorter learning curve.
Plus, it makes for a smoother day-to-day experience. Your team can focus on selling instead of wrestling with complicated software.
If an intuitive interface is a top priority, Pipedrive is designed with user-friendliness in mind. It's straightforward to set up and offers a visually appealing pipeline view.

Another option is obiusly, Hubspot, known for its clean and intuitive interface, making it easy for teams to adopt.
The Power of Integratable CRMs: Streamlining Business Processes
Being able to connect your Sales CRM with other tools you use is a big win. Think about linking it up with your email platform, social media, or even specialized tools like FindThatLead.
This creates a one-stop shop for all your sales activities, making life a whole lot easier. No more jumping between different platforms; everything you need is in one place.
This not only saves time but also makes sure that all your data is consistent across the board.
For CRMs that play well with other software, Salesforce is again a leader. Its extensive AppExchange marketplace allows for integration with a multitude of other tools.
Tips on Choosing the Right Sales CRM Software for Your Needs
Implementing a Sales CRM is a long-term commitment to improving your sales process and, ultimately, your bottom line. Here's how to make sure you're getting the most out of your CRM investment.
Training and Onboarding: The First Step to CRM Success
Before your team can make the most of a new CRM, they've got to know how to use it. A solid training program is essential. But don't just focus on the basics; make sure your team understands how to use advanced features that can really make a difference.
This investment in training pays off by speeding up adoption and ensuring you're getting the full value from your CRM.
Data Quality: Garbage In, Garbage Out
Your CRM is only as good as the data you put into it. Sloppy data entry can lead to missed opportunities and skewed analytics. Make it a habit to regularly clean and update your CRM data.
This ensures that your sales team has accurate info at their fingertips, which is crucial for making informed decisions.
Regular Updates and Maintenance: Keeping Your CRM in Top Shape
Don't let your CRM become outdated. Regular updates not only give you access to new features but also keep your system secure. Schedule regular check-ins to review how well the CRM is meeting your business needs and make any necessary adjustments.
This proactive approach helps you adapt to changes in your business environment and keeps your CRM a valuable asset.
Measuring ROI: The Ultimate Test of CRM Effectiveness
At the end of the day, the real measure of your CRM's worth is the return on investment it provides. Keep an eye on key metrics like customer acquisition cost, customer lifetime value, and the length of the sales cycle. These numbers will tell you if your CRM is pulling its weight or if you need to make some tweaks.
By focusing on these areas, you're setting yourself up for long-term success with your Sales CRM. It's not just about making your life easier today; it's about building a scalable, efficient sales process for the future.