In the fast-paced world of sales and customer relationship building, you'll need great technology to support your day-to-day needs. Fortunately, there are tools like Pipedrive CRM and FindThatLead to help you manage your customer relationships with efficiency and care.😉.
But what exactly does Pipedrive do? What is even a CRM as a concept? What is the best integration for Pipedrive?
⭐ Tip: If you're looking for ways to build new customer relationships and serve your customers, it's time to consider a leading CRM. However, as always, it pays to do your homework before jumping into a particular tool. 👀
Let's take a closer look at the concept!
What is a CRM?
CRM stands for Customer Relationship Management. A CRM platform acts as a central hub where multiple accounts and projects can be managed.
A CRM helps you keep track of customers, know where they are in the sales process and move them through a systematic sales process.
More importantly, it can also be a useful place to make sure your team members are all on the same page 😎. 
Modern companies require careful streamlining.
This applies to all departments. Companies use CRMs to obtain useful information on the current progress of projects, as well as what they are doing to reach customers 📈.
Why is CRM necessary and how does it help with sales?
Effective sales strategies naturally revolve around building relationships, not just acquiring leads.
A CRM is the perfect asset to help sales manage its customers.
It gives customers and clients the peace of mind and confidence that a company is constantly in touch through the stages of service.
For sales staff, a CRM is a fantastic asset to help follow up on leads.
⭐ Tip: A CRM platform will allow you to monitor customer records, track multiple conversations and process follow-ups.

A good CRM will allow sales teams to follow up on leads through a simple user interface quickly. This, of course, will also be beneficial to repeat customers and clients.
A sales CRM is a measure of productivity and success.
All sales data is collated in one place, and it is easy to track the history of conversations.
This way, sales professionals can continue to ensure that they are on message with their brand and on target with their prospects💙.
More importantly, the best CRMs will enable sales teams to carefully refine and target their sales strategies.
There is no need for guesswork. All parts of the sales chain will be aware of what's going on.
Plus, it will likely save you time and money by streamlining the entire process!  ⏰
What is a PipeDrive CRM?
There are different types of CRM services. PipeDrive, for example, is one that carefully maps out each stage of your sales pipeline.
⭐ Tip: A PipeDrive CRM helps you create different stages of the sales process and move prospects through each of them – you will receive notifications and helpful reminders about what to do at each stage of the process!
So, it's a system that is designed specifically for sales pipelines.
Since sales pipelines differ from company to company – and from prospect to prospect – the best tools will be flexible, versatile and infinitely manageable according to your own needs.
The goal of a PipeDrive CRM is to keep your customers engaged. It's a system with which you can make sure your leads don't get left on the second or third rung of the sales funnel.
Essentially, it's a useful organizer that you can turn to if things start to get a little murky or difficult to follow up 😎.
Pipedrive CRM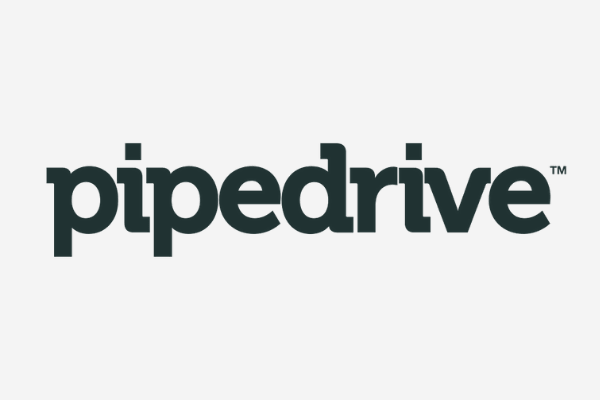 Pipedrive CRM is a leading Pipedrive CRM service that aims to make the sales and relationship building process more efficient than ever.
Pipedrive helps you easily import your leads, assign them to your salespeople and move them through the different stages of the sales cycle. 
Pipedrive is a fully customizable tool. This means you can set up your own sales processes and patterns without having to resort to any default standards – one of the main advantages of using Pipedrive is its incredible flexibility!
Pipedrive exists not only to remind and inform users about stages in the pipeline, but to correlate it cleanly with data. Many sales experts turn to Pipedrive with clusters of spreadsheets and confusing data patterns and convert them into usable information 🤓.
Ultimately, Pipedrive strives to help keep your sales drivers and processes in a clear order.
Some CRMs are better for collaboration and long-term goals. Pipedrive, on the other hand, is perfect for managing sales from start to finish 🤩.
Pipedrive CRM Features
Pipedrive has a number of great features that sales teams are likely to find useful:
Build, tag and manage your custom process stages.
Track all contact history from start to finish
Get leads from chatbots and email forms and through integrations (e.g., Salespanel)
Track communications and have total visibility
Gain complete control of your business data and sales pipeline
Automate tasks with Pipedrive and its integrations
Automate lead nurturing and build relationships
Most importantly, Pipedrive provides the above features and more with efficiency, thanks to an easy-to-use user interface! 😏
Pipedrive Features
Pipedrive has a wide variety of elements that facilitate and optimize a company's sales management. Below are some of its main functions:
Activities and contacts
This function allows you to control and assign the type of action or activity to be performed. Some of the activities that can be performed are
Calls to
Meeting
Task
Deadline
Reminder
The latter can vary, as they are fully customizable!
Within the contacts area, it's possible to manage the people and organizations you do business with, collecting basic data such as full name, email and contact numbers 😎.
Reports and statistics
This function provides access to information on sales, development and results, in order to evaluate the situation and make the right decisions.
The information is presented within the following options:
Company: Displays in summary form the agents included, deals won and lost and the number of activities completed.
Staff: Displays own performance.
Live Dashboard: Displays a concise report of the information recorded in real time.
LeadBooster
LeadBooster is a chatbot that allows you to initiate and maintain conversations with people visiting a company's website, while analyzing and collecting information from potential customers over a 24-hour period per day 😏.
To make use of the chatbot is necessary to create a question and an answer path to acquire the information a potential customer needs.
LeadBooster performs four main actions:
Qualify visitors.
Respond instantly.
Set up meetings.
Guide leads to the right representatives.
Sales funnel
The sales funnel is a clear and simple way to visualize the status of the sales process and the actions needed to sell the product.
It also allows you to highlight which element needs more attention and the probability of reaching the desired goal.
The sales funnel has four stages:
Awareness
Interest
Decision
Action
Thanks to Pipedrive, it's possible to forecast results with greater certainty, as it allows you to track and focus on the areas that need it most 💙.
⭐ Tip: If you want to know how to create a sales funnel, read this article.
However, you have to remember that one of the most important strategies to drive the customer to action is through a Cold Email campaign. 
Target your prospects through email by providing them with the best content you can. Do this regularly, but not too often.
One or two emails per week should be enough.
One of the best tools for generating personalized cold emails to help you move up your sales funnel is our Email Sender option.
Top companies already use it as their main email marketing tool: You will be able to automate and personalize your email campaigns, getting access to all sales funnels and analytics to evaluate the performance of your campaigns and optimize them for higher conversions.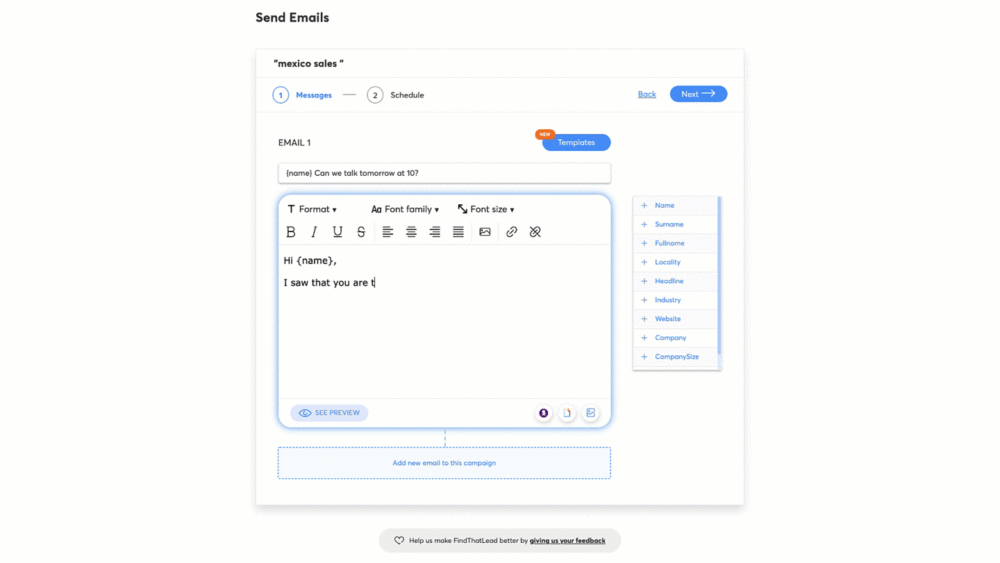 ⭐ Tip: At the end of your drip campaign, make an amazing offer. That's the piece of content that will inspire your prospects to act. 😎.
Email
The main purpose of Pipedrive's email feature is to be able to track conversations easily and above all: quicker.
The platform manages to connect emails with deals automatically, allowing you to view all aspects around a customer in one place 🤯.
The best integration for Pipedrive
Pipedrive is compatible with several email providers, such as our Email Sender tool. This allows you to fully synchronize your CRM inbox and send emails directly from the platform.
What about the first step, how do I get an email I'm interested in? Simple answer: FindThatLead!😏
Yes, FindThatLead has a built-in "Email Search" tool. This is a tool created for the purpose of finding emails that are just what you were looking for!
"Search by name"
Very simple and intuitive, the first section consists only of entering the name of the target person (if we know him/her) and the domain of the company where he/she works. We click on the magnifying glass and?
That's it! This tool is just what you need to find someone's email, if you haven't tried it yet, don't wait to give the best integration for Pipedrive a try.Try it for Free!
You simply need to..:
Create a free account
Fill in the first and last name fields
The application will generate the emails for you.
Pipedrive CRM: how is it different from others on the market?
Pipedrive competes with other specialized pipeline CRMs with a variety of unique features and cost-effective plans.
Here are some positive reasons why the platform stands out from the competition:
Pipedrive is a truly easy-to-use pipeline CRM.
The service integrates with more than 350 third-party programs, platforms and services.
Pipedrive offers a variety of apps, across Android, iOS and via the web
Pipedrive remains one of the most customizable CRMs available.
Unlike some CRMs and platforms, Pipedrive is built to scale and grow with your business
The platform is easy to use and requires minimal training to adapt to it
Data, such as spreadsheets, is always easy to import and export
Customer support is available via a helpline, email and live chat
The same support channels are available to your customers
And now that you know the best integration for Pipedrive, some sales funnel tricks and how to get interesting emails, you have no excuse not to use FindThatLead with Pipedrive!