Few situations are as frustrating as entering a website and not finding a direct communication channel with the brand to solve all your doubts.
The latest customer service statistics reveal that, for this purpose, 42% of consumers prefer the live chat.
This compares to 32% whose first choice is telephone customer service and 23% who prefer email contact.
It is also the channel with the highest customer satisfaction, at 85%. Only behind telephone support with 91%. Although it should be considered that the telephone is usually used for complaints, claims and other purposes.
The reason why the web chat is above other channels is because it provides immediate answers, which is key if you move in the online sales environment, because the waiting time cools the potential customer's purchase decision.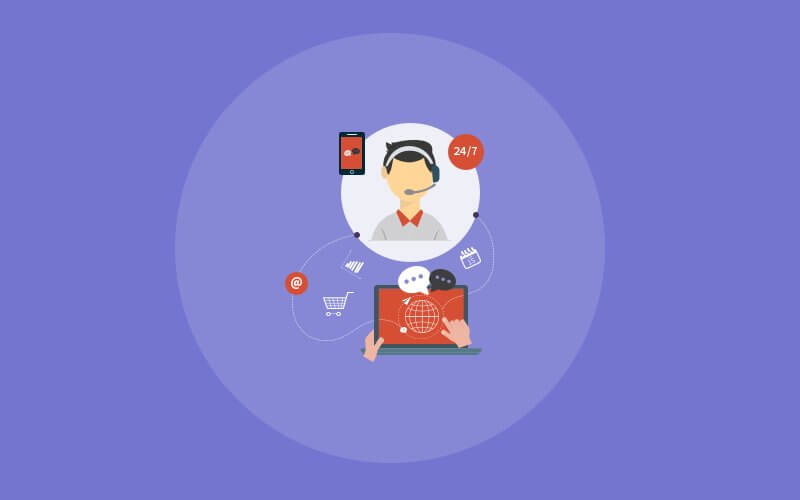 With that in mind, we have prepared this guide with seven strategies to sell more using web chat:
1. Be proactive
Proactivity is a highly valued attitude in the business world. However, it is given more importance internally in the company than in its relationship with customers.
The most common use of chat is simply to wait for the customer to make contact, although it is usually preceded by a greeting to let them know that there is a web chat.
However, you can be the one to make the first contact by offering to help your customer find what they are looking for.
These messages are some examples with various contexts:
  "Hi! I see you're looking for shoes can I help you find one?"
  "Maybe you'd like to match that blouse with one of the pants from our new collection,"
 "Would you like to speak to an agent to answer all your questions? Leave your number and we'll call you back in seconds."
"You might also be interested in reading [insert name of a blog post]."
As you may notice, there are many ways to do this.
The best web chat tools have proactive invitations or proactive chats, which you can program to automatically send to visitors once certain conditions you set yourself are met.
Whether within a product category or on a specific product page, you can use this strategy to improve your up-selling and cross-selling and sell more.
You can even use this proactive approach to speed the consumer through the marketing funnel by suggesting content that moves them closer to buying, as in the last example. It's not a sale per se, but this action helps you nurture your leads and get closer to selling.
You can play with this in many ways, the ideal is that you define very well the action you want to achieve and the "trigger" of the invitation. This way the proactivity in your web chat will pay off.
2. Pay special attention to checkout pages
Although they are inevitable, abandoned shopping carts are one of the saddest metrics for an Ecommerce.
According to statistics published by Sleeknote, the main reasons for this to happen are:
55% very high extra costs,
 34% an account is needed,
26% checkout process is too long,
  21% confusing prices,
17% distrust in the website.
One way to facilitate this process and close more sales successfully is to use your web chat to provide assistance and answer any questions about costs, shipping and payment methods.
Consider that only the best web chat allows you to know exactly what page your customer is on, that way your agents can always be available to assist those who are in a decisive phase of their purchase.
3. Turn it into a marketing tool
Since chat is a direct communication channel between your brand or company and your audience, it is an excellent way to disseminate marketing actions that help you sell.
There is a whole range of possibilities, here are some of the most common examples:
Promotional Strategies
Use your web chat to publicize your promotions, offers and discount coupons and you will surely see an increase in sales. This option can be especially useful for you if you have your own online store.
If you want to know its impact compared to other channels, you can distribute a special code in your chat and offer an exclusive offer in it.
Dissemination of lead magnets
If you know your audience very well, you can use the web chat to broadcast your lead magnet to capture more leads that can lead to sales.
Landing pages can become restrictive, while a pop-up can be perceived as invasive. Therefore, you can send a message from your web chat to spread the word about your offer without hindering visitors' navigation.
Advertise new products or services
It can be much easier for your visitors to find the new products or services in your catalog if you announce them from your web chat.
And these are just some examples, basically you can use your web chat to spread any marketing strategy that will help you sell more.
4. Use a chatbot (Live Chat)
Although according to figures released by Forbes, 86% of consumers prefer to talk to human agents rather than AI, a chatbot can be an excellent support for sales and customer service workers in general who attend virtually.
Sound counterintuitive? A little, but you need to know that it's not one or the other, but working in tandem.
You can use a chatbot as the first line of communication with visitors; program it to answer the simplest queries about your products or services so that sales agents can focus on closings or more complex questions.
In addition, you can add a button that allows visitors to talk to an agent if they want to, so that you are always ready to give visitors what they are looking for.
5. It's available during peak visiting hours
Live chat is a crowd favorite because of the low response time it provides.
However, for this to be effective, you need your agents to be available during peak traffic times on your website.
While it's safe to acknowledge that every audience, every industry and even every store has its own traffic peak, SalesCycle's most recent Ecommer Stats Report reveals some interesting information in this regard.
It shows that the highest peak Ecommerce traffic is seen Monday through Thursday, and that especially between 8 PM and 9 PM is where the most sales occur.
As for the specific day of the month, the highest peak occurs on the 29th, and sales are sustained for a few days after that. It is worth noting that this is a date close to payday in many countries.
Although this data does not apply specifically to your business, you can determine them in order to know when you need your live chat to be operational to solve doubts and facilitate sales.
6. Train your team
If you really want to sell, special training is necessary.
Sales agents must not only be trained for this purpose, they must also know the basics of marketing and have mastery over the tools they use to get the most out of them, as well as a deep knowledge of products and services, or at least quick access to their features or datasheets.
Let's talk more about live chat training, which is what brings us together today.
Here are some of the most basic functions that sales workers or customer service agents with access to chat should know how to handle:
Quick responses,
Proactive invitations,
CRM functions,
 Callback,
Criteria for when to replace a chatbot.
Some of these features are only offered by the best web chat services. However, you can only get the most out of your chat if you know what can be done with it.
7. Make personalized offers
One of the most important elements of the customer experience is personalization. The more personalized a conversation or offer feels, the better it will be received by the visitor.
Your relationship with each prospect is unique, to personalize your web chat communication with each one and thus improve your chances of selling by making personalized offers, you need to be able to recognize them.
A CRM is one of the best alternatives for this, in them you can record the data of each customer, as well as the most relevant interactions with the brand: purchase history, marketing actions that have impacted them, among others.
With this information and the magic of cookies or login (in case you have a store or subscription service) you will be able to personalize your communication.
You can even enrich your CRM data to have even more information, which will not only help you for micro-segmentation purposes, but also to personalize communication with each contact.
Sell more with the live chat!
Web chat is a powerful customer service tool. But, if you don't use it to sell more, then you're not taking full advantage of it.
Adapt these strategies to your own website, do a sustained follow-up and you will see that the impact will surely be positive and more than interesting.
Finally, consider that only the best live chat tools offer these features that will boost your sales such as proactive invitations, the ability to use chatbots and even your own CRM.