There is a strategy in the wide range of digital marketing that very few people talk about: LinkedIn Prospecting.
We assume that if you are here it is because you already know the social network for professionals LinkedIn, you probably already have a personal profile and also a company one.
But it is very common that after setting up our LinkedIn profiles and sending a couple of invitations to connect, we do not know what else to do within the application, and is that although we are not aware, Linkedin is the perfect bridge to reach our audience.
In this article I will explain how to use prospecting on Linkedin to get the most out of it, especially if you have a company, freelance or just looking to get b2b clients.
Prepare paper and pen and what I'm going to explain you about prospecting on LinkedIn is really interesting, let's do it.
What is LinkedIn prospecting for a B2B?
Surely you have already come to the conclusion that the target audience of most B2B companies is on LinkedIn, the only thing you have to do is to reach them, connect and make them see your product, in short, prospecting on LinkedIn.
I didn't say offer your product or service, I simply said that you must make it accessible for them to see you, how do we do it?
The prospecting strategy in Linkedin with Scrab.in, consists of creating connections and contacts with your buyer persona in an automated way, and in a very subtle way to show your value proposition. The key to this growth hack is automation, reaching more people in less time and investing fewer resources.
If you still don't have it clear, don't worry. I'll explain step by step below, but first….
Why automate my B2B Linkedin Prospecting campaign?
You can achieve amazing results such as:
Generate thousands of leads (potential customers) in an automated way.
Get your message to your target segment (did I mention it's also automated?)
Potentially increase your online visibility in a matter of a couple of clicks.
Interact with your contacts in an automated way, either by visiting their profiles or sending personalized LinkedIn messages.
Convert 2nd degree contacts into first degree contacts, that is, become friends with your friends' friends (I don't know if I've made you more confused, but you get the idea, don't you?)
Advantages of Automating LinkedIn:
Let's talk about how to give your LinkedIn game a major boost, automation. You've got contacts to make, people to reach, and, let's face it, not enough hours in the day. So, what's the solution? Let's dive into some of the killer benefits of automating LinkedIn:
You get contacts in record time.
You can reach thousands of people in just a few days, something that would be impossible to achieve even if you had a team of Oompa Loompas looking for contacts and sending emails all day long, not to mention the cost that would entail.
No sense in reinventing the wheel, right? These Linkedin automation tools are there, waiting for you to use them and take advantage of them, for a few euros a month you will have all the power of a tool that has been constantly evolving for more than 5 years.
We have already done the dirty work for you ✨
A point closely related to the previous two, the difference between a successful project and a failed one is the speed at which the idea is validated, this can be assured by any entrepreneur.
So jump into the outbound marketing pool as soon as possible.
How to Prospect on LinkedIn using Scrab.in and FindThatLead
You will find a lot of information about it, but the strategies we share with you are the ones we use and we can assure you that they are the best alternative if what your company needs is to get B2B customers.
Here we will teach you how to use Scrab.in as a prospecting tool on LinkedIn and sales with 4 simple steps:
Step 1: Optimizing your profile for prospecting on Linkedin
Let's put everything in order before we start sending messages or contact requests. In the same way that we dress up and put on cologne before a meeting with a client, so we are going to leave our LinkedIn profile looking presentable and good.
1. Make sure you have a good profile picture.
2. Design a banner that mentions something about your company, a message that is striking and descriptive in a few lines, and be sure to change this banner every week for a different one, so you give a little life and variety to your profile.
3. Publish articles and posts every week: It must be content of value and related to your sector, if you do not know what to publish or do not have time to write, a good idea is to share all the Marketing actions that you are already doing: webinars, videos, post on Instagram or other social networks, etc.
Step 2: Configure the Scrab.in extension
Pay attention that now we are going to configure the tool that will do the magic.
Although you can use Scrabin in many ways, to prospect on LinkedIn B2B customers you need to follow the directions:
Sign up at scrab.in and log in from the Google Chrome extension.
Click Dashboard and a window will open with the settings.
✔ Skip if profile is out of network: skips connections that are not connected
✔ Invite people to connect: Send an invitation to connect with profiles that are second or third degree. 
Step 3: Visit profiles with Scrab.in
Log in to your Linkedin
Select the profile you are interested in prospecting:
For example: marketing director in Spain.
You must fill in the field in the search box with the profile "marketing director", click on "people" and then in "locations" select Spain.
Be as specific as possible, always thinking about your buyer persona.
Select the option "second level contacts".
Click on the extension and hit the play button inside the "visit profile" tab.
Let it run for one or two weeks, that is, you must have the computer on and do not close the Google Chrome window during your workday.
You just have to relax and continue with your usual work, the bot is responsible for performing the work in an automated way, in addition to visiting the profiles, also collects data from them, such as name, surname, company, location, domain, email, etc..
Download the CSV file at the end of the crawl.
Step 4: Re-connect
Just like that, we have already invited 4,000 or 5,000 people to connect, which translates into many new first level contacts, now let's take a next step: LinkedIn prospecting!
Depending on your preference you can choose between these two options:
☝Option 1: 

S

c

rab.in

 in Linkedin
– Go to Linkedin, select only first degree contacts, always with the same person profile: marketing director in Madrid.
Set up a message: it should be a very short invitation to talk, make sure that your product will help him/her.
The message can be: Hi Gerard (name of the person always) , is it good for you to talk tomorrow at 10?
Linkedin messages should be less than 300 characters.
You don't need to introduce yourself, make a long introduction of your brand or say anything else, he is already your contact and he can see who you are by gossiping your amazing profile you have already set up.
✌Option 2: FindThatLead
Login or register on FindThatLead
Go to the FindThatLead "Search" tool, click on Lead Search Bulk Upload to generate your database.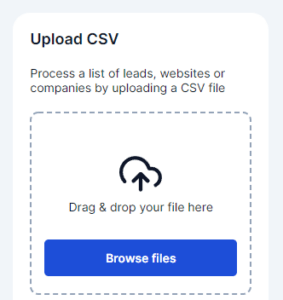 This option allows us to upload the database we have collected with Scrab.in.
You can take advantage of the same Lead Seach tool to generate leads by searching for contacts by company name, the application will generate the list of emails in CSV file.
Send a first email to these people, remember, we want it to be direct and friendly, an invitation to talk and tell them how your product can help them.
What are the best messages to sell on LinkedIn? [Tested and Working]
Well, we know the whole procedure on how to Prospect on LinkedIn, but there is one of the most important things left.
It is essential to choose well what is your target market and how to attack it.
Keep in mind who to contact, if your target is large, medium or small companies. If you are only going to attack companies of a different sector, etc.
We are going to send a lot of messages, so the best recommendation I can give you is to personalize it as much as possible.
Yes, it's an automatic process and you're going to lose a little bit of the personalization factor because of that, but it's something that we have to optimize with the way we send messages.
🔥Suuuper tip: Create many niches within your potential market by segmenting them by something they have in common: pain points, a common theme that you can talk to them about, if they have studied at the same university as you, etc. Basically put a common point in common and trace your message from this.

🔥🔥Suuuper super tip: DO NOT TRY TO SELL IN YOUR FIRST MESSAGE, this message should always be aimed at creating a relationship with the prospect and from there propose to help them with their professional problems through your services or products. LISTEN before you speak.
I'm going to share with you here the template we have when it comes to making our prospecting messages on LinkedIn:
Template for creating messages that sell on LinkedIn
First message
[Greetings] Name…
Simple, calling you by name builds trust and trust is key when we want to create a relationship, because remember, we want to sell without selling.
[Context / Rapport] Something that introduces you and connects you with the person.
What I said before, creating niches will help you to have a personalized message that makes sense for each one and I guarantee you that response rates go up in an incredible way.
If you don't find a common pain point between your niches try something simpler and listen to them: do you see any common interests with yourself? Cryptos, Sales, Video Games, SEO, it's up to you!
One technique that has worked for me is to look for potential leads that have studied at my university to get an introduction (try this).
The first message can end here, what you are mainly looking for with this message is that he accepts you and answers you.
Second message
[Problem] = How are you dealing with your problem (put yourself in the moment)?
Great for the second message, ask how are you dealing with your problem, how are you trying to solve it, ask questions and, above all listen before stating.
Third message
[Focus on a negative point about the pain your lead is in to make him feel even more strongly the need to solve it]
Once he explains his problem, put yourself in his shoes and understand him, you would also be overwhelmed if you didn't have a way to solve it.
[Benefit] = Present a solution, generate value for the lead and increase their interest in talking to you.
Show sincerity and tell them how you would be able to solve the problem your lead has, thus increasing the lead's interest.
Support with what is called a "Social proof", mention other companies you have helped, how you have helped them and the results you have had.
[Question] = CTA with a defined next step. Can we talk? Is it of interest to you? etc.
Every marketing or sales action has to end with a good CTA. Here's a post so you can learn how to create a perfect CTA.
Real example of messages to sell on Linkedin.
"Hi, [Name]!

Congrats on your almost one year doing Affiliate Marketing.

Looks like we work in the same industry. I'd love to connect with you!"
We can use this first message along with the invitation, we want you to connect with us.
"Thanks for having me!

I've been curious how you're working with lead generation in your Affiliate Marketing strategy – do you work selling anything B2B?"
We've already asked you a question and we are NOT selling you anything yet, our encouragement is to build a professional relationship and from there, listen, once you've answered us….
"Yes, it seems that the market is mutating and traditional strategies are not only valid anymore, by the way, have you tried contacting companies and generating new leads through LinkedIn and/or email?
I am helping professionals like you to get more leads just by this way and it is certainly the one that works best for me and my clients. I recently worked with "Example Company" and they have increased their sales by 50% through this strategy on LinkedIn, which seems to work best for them.
Do you have 15 minutes tomorrow for an online meet and greet? I'd be happy to explain how we've helped them!"
This is a real example of a campaign, but like all markets, products and customers, the approach is different and can vary. I encourage you to try writing your message!
Does prospecting on LinkedIn work?
The answer is a resounding YES. By the way, if you still have doubts about how to use Scrab.in, Gerard Compte teaches you first hand in this video.
If you are still not sure, here are a couple more reasons to go for LinkedIn B2B
✅ In addition to finding jobs or employees, it is the social network where your potential customers are found
✅ You can position yourself as an expert in your sector with a good professional profile.

✅ You can generate engagement
✅You can also take advantage of the FindThatLead tool to share your value proposition with all LinkedIn contacts and automate lead generation.
With these tools and the growth hacks, we tell you about, you can forget about paying for ads on LinkedIn or any other social network. Prospecting on LinkedIn is more than alive in 2023 and we are going to exploit it.
While it is impossible to say which is the best marketing strategy for companies, what I can tell you is that it is essential to put focus and effort into the strategy you decide to develop, whether it is an advertising funnel, SEO, email marketing, LinkedIn marketing, etc.
Now that you know how to prospect on LinkedIn, are you up for it?