Ever found yourself squinting at an email address, trying to figure out who it belongs to? Or maybe you've got a name, but no email address in sight. Sounds like a headache, right?
Picture this: you're trying to reach out to a potential client, but all you have is a name. You've scoured the internet, but no luck.
That's where a nifty little tool comes in. Say hello to reverse email lookup.
What Is Reverse Email Lookup?
So, what's the deal with this reverse email lookup thing? Well, in plain English, it's a trick that helps you figure out who owns an email address, or find someone's email address using just their name.
Pretty cool, huh? That's the email lookup and with the explosion of internet use and social media, it's become an even more valuable tool. It's not just about finding an email address; it's about finding the right email address.
Why Use Reverse Email Lookup Tools?
You might be thinking, why should I care about reverse email lookup tools? Well, they're not just for playing detective. These tools can be a total game-changer for stuff like networking, finding sales leads, and even online dating. It's all about making connections, and who doesn't want more of those?
Imagine you're at a networking event. You meet someone who could be a great contact, but you forget to ask for their email address. No problem, just use a reverse email lookup tool. Or maybe you're in sales and you're trying to find the right person to pitch your product to at a big company. A reverse email lookup tool can help you find their email address in no time.
You meet an interesting profile, but you want to do a little background check before you meet in person. A reverse email lookup tool can help you verify their identity. So, as you can see, these tools are about much more than just finding an email address. They're about making the right connections.
How Does Reverse Email Lookup Work?
You might be wondering how this whole reverse email lookup thing works. It's not as complicated as it sounds. In fact, once you get the hang of it, you'll probably wonder how you ever managed without it. Let's break it down.
The Underlying Mechanics of Reverse Email Lookup
Reverse email lookup is a technique that lets you search outside the usual channels. It uses databases and search engines to find out who an email address belongs to or discover someone's email address using their name. The real magic of reverse email lookup is how it reveals information that you might not typically see.
Unveiling the Process Behind Email Search
Email search isn't exclusive to reverse email lookup. It's been around since the early days of the internet. But when you pair it with reverse email lookup, you can add precision to your search. By using simple techniques, you can refine your search to get more precise results. But don't worry, we'll dive deeper into these techniques in a bit. For now, just know that email search and reverse email lookup are two sides of the same coin. They work together to help you find the information you need.
6 Key Points when Choosing a Reverse Email Lookup Tool
Choosing the right reverse email lookup tool can be a game-changer for your business or personal needs. But with so many options out there, how do you know which one to pick? Here are six key points to consider when making your choice:
Accuracy of Data
The accuracy of the data provided by the tool is paramount. After all, the whole point of using a reverse email lookup tool is to find correct and useful information. The best tools have sophisticated algorithms and large, regularly updated databases to ensure the information they provide is as accurate as possible. They should be able to correctly identify the owner of an email address and provide relevant additional information, such as social media profiles or professional details.
Some tools also offer verification features, which can help you avoid wasting time on invalid or outdated email addresses.
Speed and Efficiency
In today's fast-paced world, speed and efficiency are crucial. A good reverse email lookup tool should be able to provide results quickly, without making you wait around. This is particularly important if you're using the tool for business purposes, where time is often of the essence. The tool should also be efficient in its operations, meaning it should use minimal resources and not slow down your other tasks. Look for tools that offer quick search and results delivery, as well as efficient use of system resources.
Data Privacy
Data privacy is a major concern in the digital age, and rightly so. When using a reverse email lookup tool, you're dealing with potentially sensitive information, so it's important to choose a tool that takes data privacy seriously. The tool should have clear privacy policies in place and comply with all relevant data protection laws. It should also use secure connections (HTTPS) to protect your data from being intercepted. Additionally, the tool should not store your search history or the results unless you explicitly allow it to do so.
User-Friendliness
Even the most powerful tool won't be much use if it's difficult to navigate or understand. A good reverse email lookup tool should be user-friendly, with a clean, intuitive interface that makes it easy to enter your search terms and understand the results. It should also offer helpful features like filters and sorting options to help you manage and organize the results. Look for tools that offer clear instructions and support, as well as a design that's easy on the eyes.
Cost of the Tool
While there are free reverse email lookup tools available, they often have limitations or offer less accurate results. Paid tools generally offer more comprehensive and reliable results, but the costs can vary widely. When considering the cost of a tool, it's important to weigh it against the value it provides. Consider factors like the accuracy of the data, the speed of the results, and the additional features offered. Remember, the cheapest tool isn't necessarily the best value if it doesn't meet your needs.
Customer Support
Even with the most user-friendly tool, you may run into issues or have questions. That's where customer support comes in. A good reverse email lookup tool should offer robust customer support, with multiple channels (like email, phone, or live chat) and quick response times. The support team should be knowledgeable and able to help you resolve any issues you encounter.
Look for tools that offer 24/7 support, or at least support during your business hours. Also, check out reviews or testimonials to see what other users have to say about their support experiences.
The Top 5 Email Lookup Tools
Now that you know what to look for, let's check out some of the top dogs in the email lookup game. We've got a mix of free and paid options here, so there's something for everyone.
FindThatLead
This one's a real gem. FindThatLead is all about making email lookup as easy as pie. Just plug in a domain, and it'll give you a list of email addresses associated with it.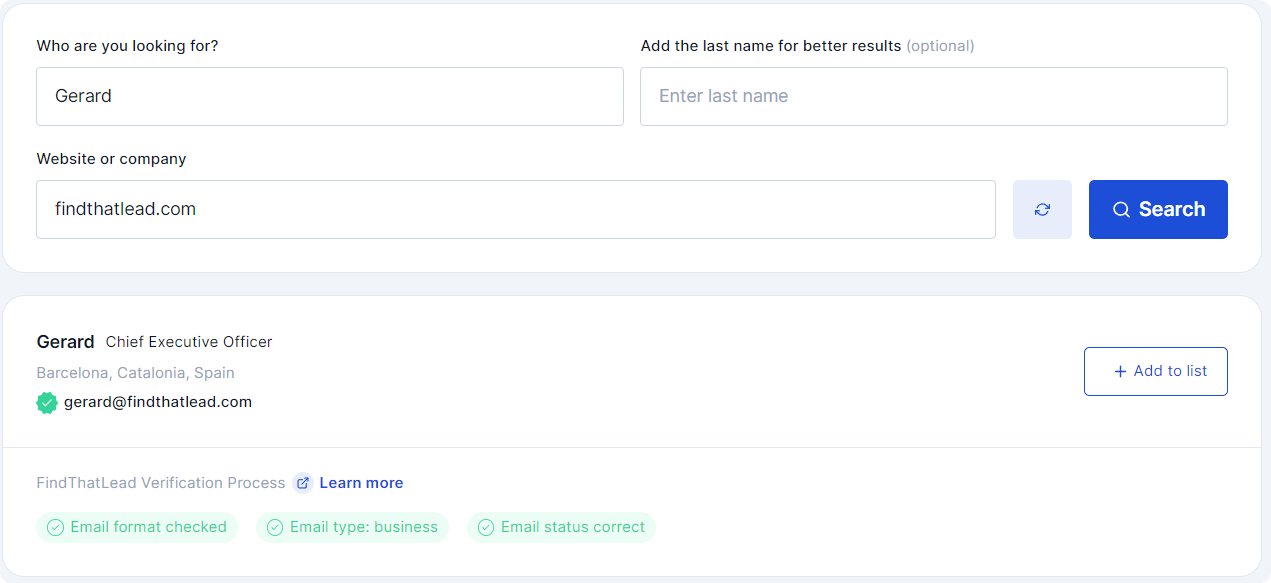 FindThatLead is a powerful tool that specializes in finding, verifying, and managing leads. It's designed to simplify the process of finding the right people and reaching out to them. The tool offers a simple interface where you just need to enter the domain name to get the list of all the email addresses associated with that domain. It also provides a 'Prospector' feature that helps you find potential leads based on industry, location, job position, and more. The tool also offers a Chrome extension for easy access while browsing.
And yes, you can use it for free!
Hunter
Hunter, formerly known as Email Hunter, is a popular tool for finding and verifying professional email addresses. It offers a 'Domain Search' feature where you can find the best person to contact from a company name or website. It also has an 'Email Finder' feature where you just need to type a name to get a verified email address. Hunter also provides an 'Email Verifier' feature to avoid bounces and protect your sender reputation. It's trusted by leading companies and offers a high match rate to help you get the most from your lists.
Voila Norbert
Voila Norbert is an email finder tool that uses a combination of highly effective methods to find the freshest and best email to contact someone. All you need is your prospect's name and the company URL they're working for, and Norbert will fetch you a valid email address in a breeze. It also runs the found email address through an email verification process to validate its accuracy. Each email is then equipped with a "certainty score" that tells you how sure Norbert is that he found the right email address for you.
Snov.io
Snov.io is a sales automation and acceleration tool that offers a range of features including an email finder, verifier, and sender. It's designed to help businesses generate leads, connect with potential clients, and automate their email marketing. The platform also offers a Chrome extension for finding email addresses while browsing websites or LinkedIn profiles. Snov.io is a comprehensive tool for lead generation and email outreach, providing a range of features to streamline these processes.
Clearbit
Clearbit provides go-to-market teams with a comprehensive B2B dataset across company, contact, and IP intelligence. It offers real-time intelligence that helps you identify and act on signals from best-fit customers. Clearbit's proprietary dataset gives you full context on the buyers you care about, with 100+ attributes on more than 44 million companies and 350 million contacts. It also offers native integrations and modern webhooks to work with all the go-to-market tools your team already uses.
So there you have it, five top-notch email lookup tools to add to your arsenal. Whether you're a seasoned pro or a total newbie, these tools will make your email lookup tasks a walk in the park.
What Is the Best Email Lookup Tool?
When it comes to email lookup, one tool stands out from the crowd: FindThatLead. It's a comprehensive platform that offers a range of features designed to make your email lookup tasks a breeze.
The Leader Among Email Lookup Tools: An Analysis
FindThatLead offers a suite of tools that make email lookup a breeze. Let's break down some of the key features:
Lead Search: This tool helps you stop spending hours trying to find a contact email address. Enter the name of your prospect, their company name, or domain, and FindThatLead will get you their email address.
Email Verifier: This tool ensures that you're not wasting time on addresses that don't exist. It checks email addresses in seconds, improving the effectiveness of your email campaigns by eliminating duplicates and verifying syntax and spelling. It also includes catch-all email checking, MX record testing, and SMTP authentication testing.
Prospector: This tool is a game-changer for finding leads. Enter information about location, job title, industry, company size, company name, or keywords, and Prospector will generate a list of contacts who may be interested in your products or services. It can search for both corporate and personal email addresses, allowing you to get in direct contact with potential customers.
Social Search: This tool allows you to find verified email addresses from profiles on LinkedIn, Facebook, Instagram, and other social media platforms. All you need is a URL.
Local Businesses: This tool helps you find and reach your prospects faster, both on email and on phone. Just enter your location and search for prospects based on keywords.
Chrome Extension: This tool makes it super easy to find a person's email straight from their LinkedIn account. It's a great way to find the right person in a company that can potentially be a great customer for you.
Why This Tool Stands Out in the Email Lookup Domain
FindThatLead stands out in the email lookup domain for its comprehensive features, user-friendly interface, and high accuracy rate. It offers a wide range of features, including bulk verification, and integrates seamlessly with various CRMs, such as Salesforce, Pipedrive, and HubSpot, as well as other tools, via Zapier.

Moreover, FindThatLead complies with all GDPR norms and takes the necessary measures to protect user data. It offers a free plan with up to 50 monthly verifications and a paid plan with additional features and a higher search limit. The cost of using FindThatLead's B2B prospecting tool varies depending on the plan selected, with the most popular plan priced at $49 per month.
So, whether you're a small business owner, a sales rep, or a marketing professional, FindThatLead is a tool that can help you find the email addresses you need to boost your outreach and conversion efforts.
How to Perform an Email Lookup: Multiple Methods
Alright, let's roll up our sleeves and get to it. There's more than one way to perform an email lookup, and we're going to walk you through some of the most effective methods. Whether you're a seasoned pro or a total newbie, there's something here for you.
Using an Email Lookup Tool
Email lookup tools are purpose-built applications designed to help you find email addresses. These tools typically have large databases of email addresses that they've collected and verified over time. When you use an email lookup tool, you typically enter the name of the person you're trying to find an email for, and the tool will search its database for matches. Some tools also allow you to enter a company name or domain to find all email addresses associated with that entity.
These tools can be incredibly powerful and efficient, saving you time and effort in your search.
Utilizing Twitter for Email Lookup
Twitter can be a surprisingly effective tool for email lookup. Many people list their email addresses in their Twitter bios or tweet them out as a way of offering a point of contact. You can search a person's tweets for mentions of "email" or "contact," or look in their bio for an email address. Additionally, if the person uses the same handle on Twitter as they do on other platforms, you can use that handle in an email lookup tool to find associated email addresses.
Subscribing to Prospects' Email List for Email Lookup
If the person you're trying to find an email for has a blog, newsletter, or other form of email list, subscribing can be a great way to find their email address. When you subscribe to an email list, you'll typically receive a welcome email or regular updates from the list owner's email address. While this method requires a bit more patience and subtlety than others, it can be a great way to find an email address while also learning more about the person or company you're interested in.
Inquiring via Generic Email Address or Contact Form
If you can't find a specific email address for the person you're trying to contact, you can try reaching out through a generic email address or contact form on their website. Many websites have a "Contact Us" page with a form that sends messages directly to an email inbox. While this method might not give you the person's email address directly, it can be a good way to establish contact and express your interest in obtaining their email address.
Performing a WHOIS Lookup for Email Search
A WHOIS lookup allows you to see the publicly available information associated with a domain name, including the email address of the person who registered the domain. This can be a particularly effective method if the person you're trying to contact owns a personal or business website. However, privacy protections can sometimes limit the availability of this information.
Using Google and Its Search Operators for Email Lookup
Google's powerful search capabilities can be harnessed for email lookup. By using specific search operators, you can narrow down your search to find the information you need. For example, you could use the "site:" operator to search only a specific website, or the "inurl:" operator to search within URLs. While this method can require some trial and error, it can also turn up results that other methods miss.
Checking Out Facebook for Email Lookup
Many people list their contact information, including their email address, in their Facebook profile. By checking the "About" section of a person's Facebook profile, you may be able to find their email address. However, privacy settings can sometimes restrict the visibility of this information.
Utilizing Your Own Email List for Email Search
If you've been in business for a while or have a substantial network, you might already have the email address you're looking for in your own contact list or email history. It's always worth checking your existing resources before embarking on a new search. This can save you time and effort, and you might be surprised at the information you already have at your fingertips.
Exporting LinkedIn Connections for Email Lookup
LinkedIn is a goldmine for professional contact information. If you're connected with the person you're trying to find an email for, you can export your LinkedIn connections to a CSV file. This file will include the contact information that your connections have chosen to share with their network, potentially including their email address.
Exploring Contact & About Us Pages for Email Lookup
Many businesses and professionals list their contact information on their website, often on a Contact or About Us page. This can be a quick and easy way to find an email address. However, keep in mind that the email address listed might be a generic or customer service email address rather than a direct line to the person you're trying to reach.
Checking Author Pages for Email Lookup
If the person you're trying to find an email for is a writer or contributor to a blog or publication, check their author page. These pages often include a bio and contact information for the author. This can be a particularly effective method for finding the email addresses of journalists, bloggers, or industry experts.
Performing a Reverse Email Lookup on DuckDuckGo
DuckDuckGo is a privacy-focused search engine that doesn't track its users. This means that while it might not have as much personalized data to draw on as Google, it can still be a useful tool for email lookup. Try using the same search operators you would use on Google to find the information you need.
Frequently Asked Questions About Reverse Email Lookup
We've covered a lot of ground, but you might still have some questions. Don't worry, we've got you covered. Here are some of the most common questions about reverse email lookup, and our best answers.
Q: Can I use reverse email lookup for any email address?

A: Yes, you can use reverse email lookup for any professional email address. However, the success rate may vary depending on the email provider, the privacy settings of the email owner, and the tool you're using. For instance, if the email owner has opted for privacy settings that hide their email from public view, or if the email provider has strict security measures in place, you might not be able to find the email address you're looking for. It's always a good idea to try multiple methods and tools if you're having trouble finding a particular email address.

Q: How accurate are reverse email lookup tools?

A: The accuracy of reverse email lookup tools can vary. Some tools have a higher accuracy rate than others. It's important to choose a tool that verifies the deliverability of each email address to ensure you're getting accurate results.

Q: Can I use reverse email lookup to find old email addresses?

A: Yes, you can use reverse email lookup to find old email addresses. However, if the email address is no longer in use or has been deleted, it might not show up in the search results.

Q: Is it possible to do a reverse email lookup for free?

A: Yes, there are free reverse email lookup tools available. However, they may have limitations in terms of the number of searches you can perform or the amount of information they provide. Paid tools often offer more comprehensive results.

Q: Can reverse email lookup help me find social media profiles?

A: Yes, some reverse email lookup tools like FindThatLead can help you find social media profiles associated with an email address. This can be a great way to learn more about a contact or verify their identity.

Q: What should I do if I can't find the email address I'm looking for?

A: If you can't find the email address you're looking for, don't worry. There are other methods you can try, such as reaching out through social media or using a different email lookup tool. Remember, persistence is key!

Q: Is Reverse Email Lookup legal?

A: Yes, reverse email lookup is generally legal. However, it's important to note that how you use the information you obtain can have legal implications. For instance, sending unsolicited emails (spam) can violate laws in many countries. Also, privacy laws vary by country, so it's important to understand and respect these laws when using reverse email lookup. Always use these tools responsibly and for legitimate purposes.
And there you have it! A comprehensive guide to reverse email lookup. So go ahead, give it a shot. Start exploring these methods, and see what works for you. Remember, it's not about finding a needle in a haystack. It's about knowing how to use the magnet.
And that's precisely what reverse email lookup is all about. So don't get discouraged if you can't find the email address you're looking for right away. Keep trying different methods and tools, and before you know it, you'll become a pro at email lookup. Until next time!