Best Lead Generation Books
We recently explained to you what a lead was in marketing and the types there were… Now that you understand them (and if you don't, read the post again ), we are going to reveal the best channel for lead generation and the Best Lead Generation Books that will help you generate the best lead strategies for your business, ready?
What is the most effective lead generation?
As we said before, and as the Best Lead Generation Books says, lead capture is an important factor in a company because this process helps us to segment and personalize better the type of target that accesses our brand. The more information we get, the easier it is to personalize content and attract the audience!
In addition, leads provide content and conversion in order to maintain a two-way relationship between company and customer. It's an opportunity for loyalty. So, before we remember you the best channel for lead generation (that you should already know…), we want to help you with targeting a lead!
How do you target a lead?
The best part of targeting your leads, is that you can send them personalized offers and messages! So, obviously, knowing your leads helps you to have a better relationship with your current customers.
Following up with existing customers and leads is an effective way of showing interest in the consumer and generates a positive image of the company. It allows you to detect when they are dissatisfied with the service and when they are ready to move forward in the buying process.
But remember, not all your leads and customers are of equal value to your company. By segmenting them and identifying the most suitable prospects (who are willing to spend more, who are repeat buyers, etc.) it will be easier to personalize your ads, offers and messages!
Sounds easy and interesting, we know that, but we're sure you're wondering the best way to do it, right? No, it's not done with magic! The best way is to make your business buyers personas .
What is a buyer persona?
Buyer Persona is the fictitious representation of your ideal customer. It's based on real data about the behavior and demographic characteristics of your customers, as well as a creation of their personal stories, motivations, goals, challenges and concerns.
A good Buyer Persona definition is based on contact with your target audience, so that in a quick analysis you can identify common characteristics among potential buyers.
If you have a customer base, that will be the perfect place to start your research. Even if you have different profiles of individuals or companies that consume your product, some of them tend to be examples of your Buyer Persona.
Tip: focus on both satisfied and dissatisfied customers. In both cases, you will surely learn something about the perception of your product and what challenges your customers are facing!
Some characteristics we use to define Buyer Personas are the following:
Buyer Persona Name (Fictitious)
Demographics
Gender
Age
Position/Occupation
Segment of activity
Level of schooling
Means of communication used
Buyer Persona objectives
Challenges of the Buyer Persona
Which is the best tool for lead generation?
Okay, this is all very nice, isn't it? If you are asking yourself: but how do I get these leads? Don't panic, you'll find that information in the Best Lead Generation Books. But, let's remind you, in a nutshell, how to use the best tool to create leads!
So, now that you have your buyer personas well defined, the next step is to use Scrab.in! With this tool you will be able to get in touch with thousands of leads 100% automatically.
Linkedin is a social network that allows you to filter its users according to job, location, company, work sector, languages, etc.  It's, undoubtedly, the best channel to generate leads.
These super-filters allow you to find your target in a very simple way. And what happens when we put together a well-filtered audience on Linkedin with Scrab.in?
Easy: we get thousands of ultra-qualified leads automatically! (Maybe yes, this could be called magic).
Follow this process:
Register in Scrab.in
Log in to Linkedin and filter your target following these tips
Enter the Scrab.in dashboard and activate the visits.
Turn on Scrab.in and relax (yes, it will do all the hard work for you)
Download a list with thousands of leads to use for the next step!
And then, if you want to get high quality leads, it's too easy: use FindThatLead!
1-Let's go to BuildWith
2-Look for websites that use similar software to yours. In this case, we searched for hubspot.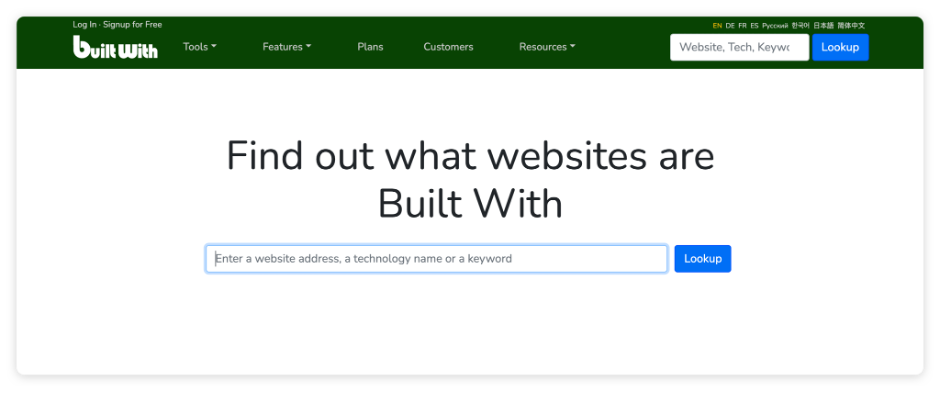 3-Download the list of domains

4-Upload this list of domains to Findthatlead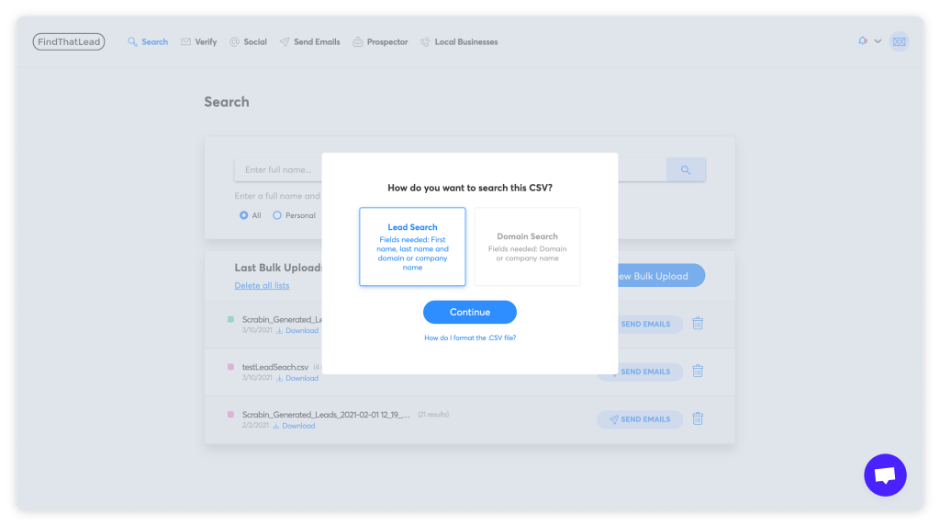 5-Download a list with thousands of leads! (you're welcome)
What content converts the most leads?
And now, before we talk about the Best Lead Generation Books, let's summarize the best content you should make in order to convert these leads into potential customers!
1. Place forms to capture subscribers on your website.
When we talk about capturing Leads, it's useless to have 1000 daily visits in your Blog if you don't have strategic forms to convert those visits into leads.
So, in a visible place on your website, you should place a form to capture the Lead's data.
Tip: it's recommended to place it in the sidebar of the articles of your Blog.
When you offer content in exchange for user data, these contents are called "Lead Magnet".
Tip: Make it clear what the user is going to receive and what are the steps to follow. In such a fast-paced world, hardly anyone wants to fill out long forms to download content. If you ask for too much information, you could generate the user's flight instead of getting their contact.
2. Offer Quality Content
One of the most effective ways to convert a visit into a lead is to offer content in exchange for an email. Good quality content can simply make a positive mark on a Lead's level of trust with the brand!
Think that the consumer is more and more informed, more and more influenced, as well as saturated. So, we must offer them content that they really want to see. Engage your customers with good content!
Tip: Create and disseminate customized content for each channel (Blog and Social Networks) and suitable for each stage of the Sales Funnel.
What formats can these contents have?
Blog articles
Case studies
Cheat sheets
Checklists
Email
Infographics
Guides
Podcasts
Slideshows
Surveys
Templates
Visual Content
Webinars
3. Create very attractive Landing Pages
Another key to converting leads is the creation of Landing Pages. It doesn't matter how much money you spend on a campaign or content generation. If you don't have a Landing Page that meets the right characteristics, then you probably won't see a return on your investment (Learned on lead books, legit)!
Tip: Let's see the best characteristics of a successful Landing Page:
It should have an attractive design, including your logo, titles with keywords and eye-catching calls to action.
Remember to make the navigation as easy as possible for the user, to do so, eliminate distracting elements such as sidebars and the main menu.
Write in the first section the 3 main benefits of the product or service you are promoting.
Don't reveal all the information in the first section. This way you keep your Lead interested and not saturated.
Be transparent. Your leads are going to leave you valuable contact information, it's important to guarantee that their data is safe.
Include testimonials.
4. As we have already mentioned, it's important to create personalized content for each stage of the Sales Funnel
You must keep in mind that not every lead is ready to make a purchase decision. It's necessary to "take them by the hand" and show them how you can help them solve their needs or problems.
Tip: Take into account every stage of the Sales Funnel!
Top of the Funnel: First Contact Stage. This is the attraction and awareness stage. You must disseminate content that awakens the person's need (ebooks, templates, guides, checklists). This is the stage where your content must shine, among all the others. Don't skimp on creativity and design because this is the time to convert visits from strangers into Leads.
Middle of the Funnel: Consideration Stage. In this stage, you must offer content that is irresistible. These should be more detailed, of the "how-to" type and delivered through Webinars, Case Studies, Videos with testimonials or a series of scheduled emails.
End of Funnel: Decisive conversion stage. At this stage your Lead has shown interest more than once in your Product or service and it's time to give them some extra help to make a decision. You can offer discount coupons, free demos, consulting, etc.
Surely all this has helped you, now if you want to get a new list of leads, you know what steps you have to do with FindThatLead
Now we're ready to talk about the Best Lead Generation Books.
Best Lead Generation Books
Okay, now it's time to introduce you to the Best Lead Generation Books. Of course, don't forget that we are the best advisors, don't forget to keep visiting our blog and fill yourself with knowledge. may sound too specific, but some of them I would even put in the category of best marketing books. Highly recommended for all marketers
1. Lead Generation: How to Generate Leads and Sales to Grow Your Business Without Spending Tons of Money
This is one of Best Lead Generation Books that teaches you: How to Generate Leads and Sales to Grow Your Business Without Spending Tons of Money was written by Larry Billson. The author is an expert in marketing and lead generation and has worked many years in the industry, helping large companies generate and prospect leads. In this book, Larry Billson shares his practical experiences throughout his projects.
The book contains the most effective and popular lead generation tips and tricks, but that's not all. This book will help you understand the true value of a well-planned lead generation strategy and the implications for marketing and sales. You will understand why today's business cannot succeed without a well thought out lead generation strategy.
Larry Billson also includes practical advice on what you can do right away to optimize your lead generation strategy so you can maximize profits and ensure long-term success. The book also contains information on the most critical factors you should consider when designing a lead generation plan.
Finally, the author shares his knowledge on the most common lead generation mistakes. More importantly, he explains how to avoid them and make a mistake-free lead generation plan. Overall, this is a great book to learn, whether you are a newbie or an expert in lead generation.
2. Change And Transition: Through Skill Acquisition For Sales, Lead Generation, And Marketing
The second of the best lead generation Books is Change and Transition. If you want a book that can help you improve your lead generation strategies and, at the same time, transform your life, then this is the book you've been looking for. The book's author, Andrew Ledford, offers a unique perspective on lead generation, sales and marketing. He combines his knowledge of the industry with his experience as a dog trainer to offer a fresh approach to lead generation.
Andrew Ledford brings a unique perspective on two completely separate fields of field marketing, as well as a change of narrative. He successfully builds a bridge between the two fields and helps readers learn how to leverage behavioral change information to generate leads that are in the field.
The book is about teaching how to recognize the unique state of transformation. As the author says, transformation encompasses both danger and opportunity. This creates a window to inspire change in people and turn them into high quality leads.
It's best suited for lead generators and field marketers, especially if they are beginners. Let's assume we're talking about the lead generation segment only – in that case, the information is intended to help companies trying to design and launch a field marketing lead generation strategy in the most efficient way.
3. Modern Appointment Setting Prospecting and Phoning for Financial Professionals
Another of the best lead generation Books is Modern Appointment Setting Prospecting and Phoning for Financial Professionals by Gail B. Goodman is an excellent book for those who want to create lead generation strategies relevant to our times. The author is an established marketing specialist and her book sheds new light on the challenges facing today's lead generators and marketers. More importantly, she offers several ways to circumvent the obstacles and efficiently convert prospects into leads.
Today's prospects are bombarded with calls, emails, SMS and ads. Getting prospects interested in a conversation is extremely difficult. Gail B. Goodman shares her experience and offers readers tips and tricks on how to get people to pick up the phone.
With this book, you can learn how to customize your approach to reflect the changes introduced by technology. The author also shares her secrets for making your networking more effective, as well as learning how to appear more confident in your target market.
The book may be of benefit if you have difficulty making in-person appointments with your prospects. While the book addresses the needs of sales and financial professionals, it can also help lead generators. You will be able to learn new rules of communication and how to engage prospects in communication to get them to really listen to you.
4. Anti-Sell Marketing, Lead Generation & Networking Tips for Freelancers Who Hate Sales
The fourht of the Best Lead Generation Books is Anti-Sell Marketing, Lead Generation & Networking Tips for Freelancers Who Hate Sale by Steve Morgan is one of the best books on lead generation! The author is an experienced freelance blogger and SEO consultant who has a lot of experience in online marketing and lead generation. In this book, he shares his experiences in the industry from his perspective.
The book starts with some generic and more traditional lead generation strategies, but the author also offers a new approach to generating leads. The author shares some tips and tricks for thinking differently and leveraging your talents and passions to personalize the sales process.
Steve Morgan did an excellent job showing fellow freelancers how to make lead generation part of everyday life. He shares several ways to position yourself in each community and market like an expert to get prospects to reach out to you instead of communicating with them yourself.
While the book may seem like perfect lead generation material for freelancers, it can also be useful for marketers and lead generators in all industries. You will be able to learn efficient lead generation tactics to capture as many leads as possible. The book offers a fresh perspective on the challenges of lead generation and offers new ways to succeed in today's marketplace.
5. Lead Generate: 61 Days to Double Your Pay
This is the last one of the Best Lead Generation Books of this post. While the title of this book may sound too appealing to be true, the book is legitimate. It was written by Scott Groves, a lead generation guru with over two decades of experience in the field. If you like books that serve as inspiration to embark on a journey, this book will definitely be for you.
"Lead Generate: 61 Days to Double Your Pay" is a unique gem in the category of lead generation books. It isn't classic learning material, but a blueprint for success. It's a step-by-step guide disguised as a book. If you follow the steps outlined by Scott Groves, you can learn strategies and tactics and get better at lead generation without any problems.
While the author writes about his experience in the mortgage industry, the tips he selflessly shares can be applied in all areas. If you work in sales, marketing or have to chase leads on a daily basis, this book can help you structure your efforts and make smarter decisions. The book offers an easy-to-follow plan. You don't need to read it all at once. A couple of pages a day will be more than enough to get you on the right track.
Now that you know the Best Lead Generation Books You can now create new strategies to win customers. Find tools for this at FindThatLead.