Are you able to summarise your project in a brief email?
Writing a sales pitch email is one of the main tasks that we must make a priority once we want to launch a project.
Our prospective clients may spend their entire working day opening emails and try not only to open them but also to answer them and check the viability of each proposal.
But the reality is much more likely to be that your prospective client spends only a fraction of their time in their inbox, and by the time they get to their inbox they are likely to have been bombarded with many emails from, also probably, your competitors.
With this turbulent tide of probabilities, how do I get my customer to see my email, open it and finally respond to me?
There is a whole science behind it and the more you know, the more advantage you will get over your competitors.
After reading this article you will be able to differentiate if what you are using is a good email sales pitch or not and you will also be able to maximize the chances that your email does not reach the SPAM folder is opened and finally answered.
What's a Sales Pitch?
In the business world, a sales pitch is a quick presentation by a salesperson that attempts to explain in generally less than 1 minute the essence and benefits of a project.
The theory is that it is essential to have the basis for a brief introduction to your project because you never know when you will meet a key investor or client.
If you are able to describe your project or company in a period between 45 seconds and 1 minute, it means that you really have a plan, a structure and key skills to lead a project such as creativity, commercial empathy, assertiveness and adaptability.
The Sales Pitch is also known as "Elevator Pitch", this term is related to the time it used to take the investor Warren Buffet to go up from the ground floor to the floor where he had his office, which is the time he used to give to potential clients to give them a credit.
Now, it is a term that started around the 1980s and has been adapted until now. To have contact with your client it is not necessary to meet him in a lift, and one of the key channels that have appeared to show a sales pitch is via email.
Yes, it is a channel that is more accessible to everyone and that increases competition, which is exactly why you are reading this article, to compete like you are a demigod so that your email sales pitch is as competitive as possible and successful.
Types of Email Sales Pitch
All email sales pitches have one thing in common, they are created to present a project, but there are different types of email sales pitches that can be classified depending on several factors:
Depending on the previous relationship with the person to whom the email sales pitch is addressed, it can be divided into warm sales pitches and cold sales pitches.
Warm Email Sales Pitch
Warm emails are those you send to people you have already had first contact with previously, so it is not the first time you talk to them.
To increase the chances of response in a warm email, it is key that the target knows who you are, so it is not a bad idea to use the first space of the email saying who you are and where you met.
"Hello [Name]
We met last Tuesday at the FindThatLead booth at MWC and we were talking about the possibilities of the [Industry] in the future."
Cold Email Sales Pitch
In most cases, it will be a cold sales pitch email that we send, as we have never had a first contact or presentation with our target.
In these types of pitches, it is essential to gather information about the target, find out their name, email address, company, role within the company…
Since they probably do not know who we are, you have to build trust in the email and for that you need a good touch of personalization using the target information that we have researched.
Apart from cold or warm emails, these sales pitches can also be classified into other types of pitches depending on the purpose of the email itself.
Lead Generation
Yes, generating leads through emails. The purpose of this type of approach is to inform your target about your project and company, create a professional relationship and discuss how your company could help this target in the near or distant future.
Remember that with this type of email pitch you want to generate interest in your company or product, gaining a lead. You do not want to close an immediate sale.
Collaboration
With this type of email pitch, the main purpose, apart from informing about your project, is to create some kind of collaboration to carry out joint actions with your target.
This type of email pitch is usually quite extensive as it has to contain not only information about your project and how the collaboration would benefit theirs but also key information about the collaboration itself and leave it ready to close it.
Closing the sale
The purpose of this email sales pitch is to close a sale. You are ready to sell and all that is left is for both parties to say yes.
This email pitch, unlike the previous ones, must have a strong Call To Action (CTA) either a link, phone number, or a meeting to close the sale.
How to Write a Sales Pitch Subject
Before starting to write our Email Sales Pitch, we must do some research on our target, name, contact details, events attended, job role, company…
From there we can begin to develop the first contact and for this, we will focus on the subject line before the body text.
Once our email sales pitch reaches the inbox of our target, he will be the one to decide if our subject line provides enough value to determine whether or not to open the email and get more information.
Working on an optimized sales pitch email subject line will exponentially improve the open rate and is the first thing to work on when creating any type of email.
The keys to creating a good email sales pitch subject line are
Concise and specific
If we want to optimize our open rate in email sales pitches, counting all devices (PC, mobile, tablets), we cannot create subject lines that exceed 41 characters, the equivalent in many cases of 7 words.
Creativity
It is not enough to be short and specific, if your subject line is short but is too generic and does not say anything relevant be sure that your email will remain unread in the inbox of your target.
Personalization
Not only the body text of your email sales pitch should be personalized, but it is also a job for your subject line if you want the target to open the email and read it.
Specific questions about your target, the sector they work in, an event you know they have just attended.
Tip: If you have a contact in common, ask them if they can give you permission to name them in the subject line and send them a referral message for your target. The more trust that the target has in your contact, the more powerful the email will be.
Proven Examples of Subjects
✔️ [Common contact] recommended that I should contact you, so here I am!
✔️ I need to tell you something important
✔️ [Our Company] & [Their Company] 🤝
✔️ Am I speaking to [Role] in [Company]?
✔️ This email is to offer you something
How to start a Sales Pitch Email
Once we make sure we have a good subject line for our email and we make sure it is interesting enough for our target to open it, we have accomplished this objective.
Our next objective is to create the email, depending on the type of sales pitch email, what we want to convey will change, but the structure is similar.
Once the email is opened, our target will most likely start reading from top to bottom, and if they see that our email is not interesting enough from the beginning or is not readable, this email will never be read, let alone responded to.
For this email to be effective from the beginning, we must work on a good opening line. Put your name, your company, also asking how X project you know you are developing is always a good idea.
The next part of the email is the part that will talk about our idea, product or project, our body text.
Although it is very important to inform about us, we should not fall into the trap of being too selfish, do not say how good you are, it is much better to focus on the advantages that you would have if you reach an agreement.
When writing your sales pitch email, it is crucial to provide as much information as possible to help your target to make a decision while being as brief as possible.
In order to do this you should avoid incorporating random data and filler text, in short, get to the point.
How to Close an Email Sales Pitch
Whatever type of email sales pitch they are, they must have a CTA (Call To Action) incorporated at the end of the email.
We can say that a CTA is an invitation to our target to do the specific action we are looking for.
In many cases, as they are sales emails, the objective of the CTA is usually to get them to respond and then arrange a meeting or call (it does not necessarily have to be to close a deal, creating a professional relationship is a very valid objective).
If the tone of our email is not strictly formal, we can add a postscript (PS) to clarify something or add any type of relevant information with a greater emphasis.
At the end of the email, a signature can help you show who you are and what you do.
A good signature is crucial for building trust, especially if it is well crafted and well prepared. Showing your photo is essential, your targets want to put a face to the person they are talking to, this photo builds trust, and trust can translate into more success for your email sales pitch.
A good signature should incorporate:
Photo
Your name and role
Contact channels
Social Media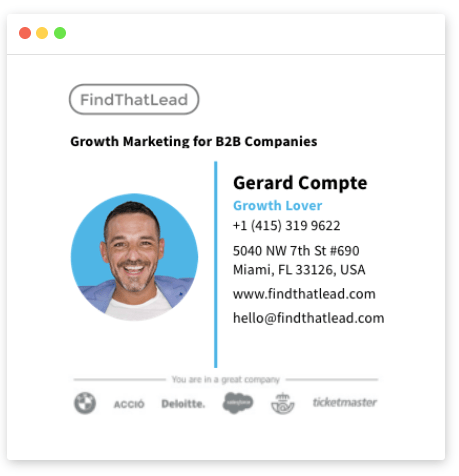 Examples of Closures
✔️ Could we have a call tomorrow at 10?
✔️ Would you like to have a meeting tomorrow to give you more information about the topic?
✔️ If you have 15 minutes I would love to connect with you, here you will find my calendar
✔️ This email is to offer you something
Written Email Sales Pitch Examples
Here are some sales pitch email templates you can inspire your email pitches. Remember that copying word for word, line for line each template is a huge mistake.
Every target is different and two of the keys to a successful email sales pitch are creativity and personalization, don't forget to apply them to every email.
Nice to meet you [Name].
I work at [Our company] and thought it would be a great idea to get in touch with you to discuss how [Our Product] can benefit [Their Company].
I would like to speak to a sales operator or simply the person responsible for this area.
Could you please put me in touch with that person?
Thank you!
[Signature]
Hello [Name]

I am the [Department] manager of [Our company]. We think that our product could be very suitable for [Your company] as it solves several [Problems] in your customers.

I would be happy to have a meeting during this week with you or the head of this area to explain in more detail how our product can benefit [Your company].

Thank you

[Signature]

Hello again [Name]

I'm [Our Name], we met last Friday at the World Mobile Conference, at the [Our Company] stand and we were talking about the advantages that [X] could provide in the future for companies in our sector.

Without going any further, I have been talking to several members of my team and we would like you to try [Our product] first hand because, as we were talking about on Friday, it would be an investment for the immediate future.

How about a coffee tomorrow at 10 o'clock and we'll talk about it?

Best Regards

[Signature]
In addition, once you have a good email sales pitch, you can automate a cold mailing campaign with specialized cold mailing tools such as FindThatLead.
From prospecting your targets to sending mass mailings with built-in follow up emails.