Web development is a huge sector of the global IT industry. Today every company needs to have a strong online performance and the demand for such services grows accordingly.
It is incredibly important to have a well-performing, robust website to attract new customers, build long-term relationships, and achieve business success.
Specifically, it is crucial for startups as they do not have the same reach as established companies.
Why is hiring a startup website coder so important? Here are some statistics on this subject to consider:
In the majority of cases, it is the first impression you can make on a potential partner or customer. Startups do not have an established reputation or high brand awareness. So this becomes increasingly important to make your website stand out from the competition.
Startup programmers help build robust, performing, and fast websites to present a company in the best light. It is a more creative process because the branding, message, and ambition need to be taken into account.
A startup is not just a new business. It is a new and innovative idea you are working on. For instance, if you are opening a cafe, the website design can be pretty straightforward and classic. There are best practices to use and a lot of case studies to rely on.
But if your startup offers a new service that has not existed before, it is a completely different story.
Uber is a perfect example of that. When it was launched, the service was a breakthrough in the industry.

Source: https://mobilunity.com/blog/3-ways-to-hire-developers-for-startup/ 
The process of website development for a startup usually includes:
From developing a simple single page of plain text to large and complex web applications.
UX refers to ''user experience'. It relates to what a user experiences whenever they interact with an application. UI stands for 'user interface'. It refers to the touchpoints a user engages with when using a digital product.
Digital marketing strategy
Performing actions at the right time through the most suitable online channels to improve revenue and enhance relationships with an audience. 
Search engine optimization services are intended to improve visibility and, ultimately, organic traffic to websites.
Also, it is quite beneficial to use R&D consulting for conceptualization, implementation, and evaluation. R&D service is necessary to introduce new products or services to a market backed with valuable data.
The advantages of hiring professional developers for a startup are
Hiring a dedicated team of developers is the ideal solution for businesses looking to complete projects in a certain amount of time and with a specific budget.
This is why so many companies across the globe opt for this hiring model. Let's take a look at some of the most prominent advantages of hiring professional developers: 
Opportunity to create a unique, responsive, and well-performing platform;

Authentic business presence and aesthetically pleasing design;

Data protection and cyber security; to do so, a site should have an SSL certificate as a primary security parameter. It is necessary to buy an SSL certificate for data protection.

Nailing the competition with advanced features and better UX;

It is often faster and much more efficient than doing it yourself;

Application of the industry best practices when it comes to website development;

Easy scalability;

Outstanding mobile performance.
There are no limitations – your startup can develop any fresh idea with the help of a professional website coder.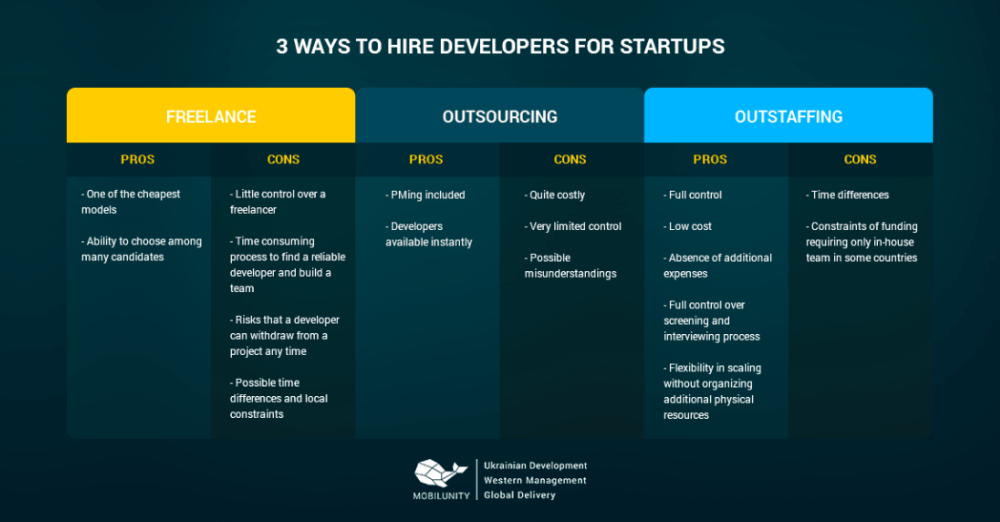 Source: https://mobilunity.com/blog/3-ways-to-hire-developers-for-startup/ 
What to Look For in a Startup Website Coder for Hire
If you want to hire a website coder for a startup, it is reasonable to start with your requirements, business needs, and expectations.
A lot of project specifications depend on what type of startup you are establishing and what is the current objective.
For example, a cyber security company and an eCommerce retailer will have different goals. So they might benefit from different technologies and types of expertise as well.
Overall, a website developer's responsibilities are:
Draft and develop pages and applications for a platform;

Application of the best practices;

Implementation of advanced cyber security measures and data protection policies;

Collaboration with graphic designers on interface elements;

Development of custom and user-friendly UI/UX;

Testing and troubleshooting errors, bugs, and problems;

Provision of robust and fast performance of a site;

Regular updates and maintenance.
Developers not only create a platform but take responsibility for shaping the user's experience. It starts with the page layout and style to particular interactive features. For instance, if you want to sell products or services via the platform, you'll need a secure payment integration.
As for skills and education, the majority of professionals have at least a BA in Computer Science. It is also important to look for a specialist with relevant experience in the field. Expert coders possess such skills as problem-solving, attention to detail, and analytical thinking.
If your startup has technology at its core, you might benefit from hiring a team of highly-skilled programmers.
It can consist of:
The architect – senior level developer responsible for the project's stack, development, and performance. Architects design the most complex solutions and lead the team;

A back-end developer is a professional that works on the server side of the platform. It includes establishing a connection between a site and databases, scripts, and overall architecture;

Front-end developers work on the client side of the project. This covers visuals, interface, aesthetics, and engagement.

Full-stack developers have experience and knowledge to work on both sides of the platform (server and client)

Mobile coders program mobile-based solutions.
The Most Important Experts for Cybersecurity Startups
Cyber security is a separate sector as it requires particular technical expertise. When it comes to data protection and possible risks, it is important to find experts, such as:
These developers identify threats to cloud systems, develop features to meet security requirements, and build, maintain and continuously enhance cloud-based systems.
IoT security specialist (if you are working in the IoT industry)
These specialists design security processes, detect threats and incidents, and are responsible for response and restoration management in case of security incidents, specifically to IoT solutions.
Application security coder
These coders are responsible for the manual review of source code and identify source code-level issues that may have an attacker compromise an application or business system.
These specialists are responsible for the effective procurement, set up and maintenance of hardware and software designed to ensure network security. 
Critical infrastructure security engineer
These engineers are skilled in guarding infrastructure against cyber threats by working with data acquisition systems and supervisory control. 
Each one of these programmers focuses on one of the major aspects of data protection. Overall, they perform system evaluations, run tests, create scripts, and implement advanced protocols.