Last Friday, September 27, we were meeting in the office to enjoy the live interview with Grant Cardone. During the event, people were very active in the chat asking all kind of questions to this sales and business guru. In addition, Gerard, Cristian and Alfonso quickly established a connection with Grant and the people who created an atmosphere of empathy throughout the conversation.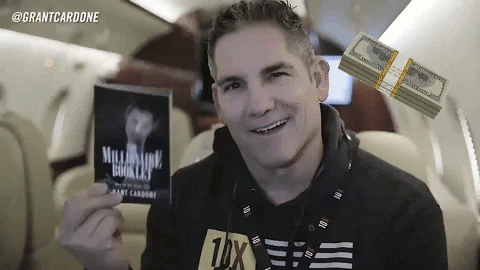 The 10x event your life of Grant Cardone was a success, more than 1500 people participated due to the work we did in FindThatLead to achieve the objective. Undoubtedly, the words of this American entrepreneur served as a great inspiration for the one who is starting a business, or simply looking for a way to grow personally and economically.
For this reason, we will summarize what was the best of Grant Cardone's interview. And if you want to see it and not read it, you can also enjoy the full video below ? We know it will be useful! ?
Here you will find the best parts of this interview with Grant Cardone
 Are you ready?
"We can't make transformations when you're just learning, it doesn't matter if it's true for everyone else because it won't be. Nothing will be true for other people. "
"Not only do you need to know what is true for you, but you also need to know what works for you."
"I have written, eight books, 13 best-selling business programs. But I think the only thing that excites people the most is that many people don't understand until they get involved with it. Yes. It's not about me. It's about my material and what we are teaching people. "
"Nor do I tell people what they should or should not do. I tell people specifically if it is real estate or sales, follow up or close the negotiation, because all things are different. "
"You know, there are no tricks, so people can learn the material and work in real business as I have worked with companies that earn thousands and billions of dollars."
"We give them the exact strategies, be it books, audio programs or the agreement at the university. We give exact strategies so that we can meet with people and help them."
"I am an ordinary type, an ordinary person, I am not special, not a genius."
"You have to know that what you are doing is right for you."
"You are not going anywhere alone, nobody will. Jesus did nothing alone. "
WOW! Learning from this Grant Cardone's interview sure is amazing. But wait, because there's more…
"When I had a wife and two children, I really took responsibility. I lost my dad when I was 10 years old, lost my mom about two years ago, lost an older brother when I was 25 years old. "
"The business owner must learn to sell so that all other members of the organization can learn."
"If I started over, I would invest much more in marketing."
"I know what I know what it is not to have money. I know what it is to start with zero, how difficult life is. And some of these things are just because we have the wrong information."
"People need to change. How little I can do, and how small I can be, how can we multiply?"
"If you have less than ten thousand dollars. You just have to invest in yourself. "
"To learn how to become a sales man, I tried to be a salesman without knowing anything. Yes, I was terrible at it and hated it because I didn't know what I was doing. So, if you don't like cooking, it's because you don't know how to cook. "
"If you don't like dancing, it's because you don't know how to dance. But you can take a class to learn. "
"Once you're making some money, then it's fine. But if you still have trouble making money, you don't need to worry about investing, you must learn how to reap what. And then, when there are leftovers, start making investments in it. And the only thing I would personally invest in at that time is in real assets. Such as properties that produce cash flow. Then you would be investing in your own business or in a property that can provide me with cash."
We will be applying all this knowledge at FindThatLead FOR SURE ?
Each of the secrets Grant Cardone reveals in this interview has allowed this business crack to achieve so many successes over time. The road is not easy, but if you go as a team and apply the techniques of this guru in the sales universe, we are sure that your business will grow rapidly.
At FindThatLead we are very grateful to Grant for taking some of his time to pass on his knowledge to an audience interested in economic and personal growth. Who has seen the interview, knows how valuable it can be if the advice given by this amazing entrepreneur is put into practice.
And you, what did you like most about the interview?