If you're in the B2B world, you've probably heard a thing or two about Account-Based Marketing (ABM). It's a popular strategy these days and for a good reason.
ABM focuses on building strong relationships with your top-tier accounts, aligning your sales and marketing efforts, and enhancing your overall business performance.
But how do you make it work for you? That's the question we're here to answer with a few Account-Based Marketing tactics. So, let's get started!
Understanding the Importance of Account-Based Marketing in B2B
First things first, let's get a handle on what ABM is and why it's a game-changer in the B2B landscape.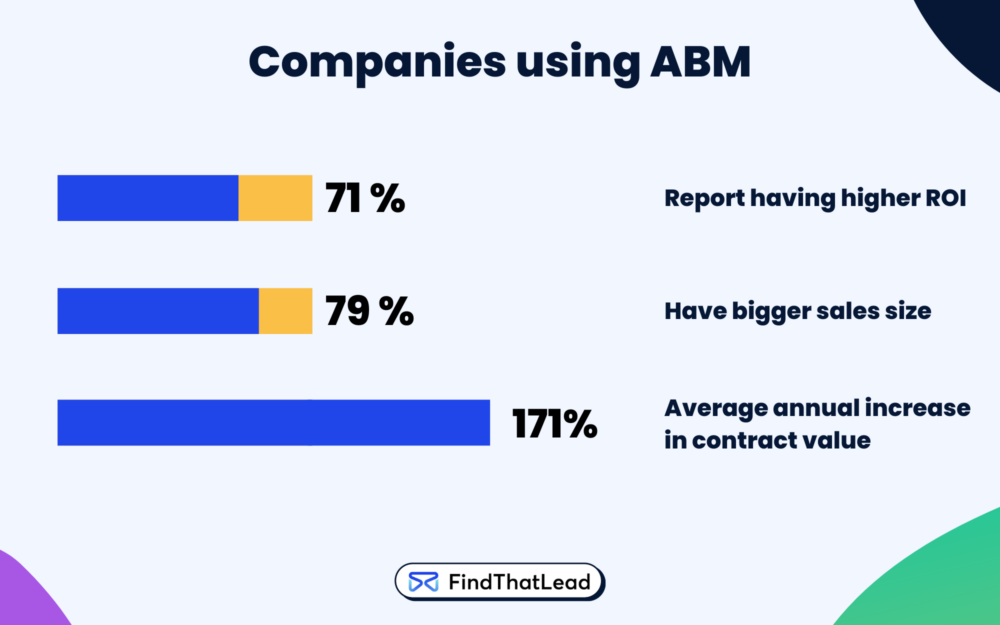 What is Account-Based Marketing (ABM)?
Account-Based Marketing (ABM) is a strategy where your sales and marketing teams collaborate to focus on a select group of high-value accounts. The emphasis here is on quality over quantity. Instead of casting a wide net and hoping for the best, ABM is about zeroing in on those key accounts that have the highest potential for conversion and revenue generation.
It's about understanding these accounts on a deep level, tailoring your marketing efforts to their specific needs and challenges, and building meaningful relationships that lead to long-term business success.
Benefits of ABM in B2B Businesses
Now that we understand what ABM is, let's look at the benefits it offers to B2B businesses.
ABM is highly beneficial for B2B businesses. It allows you to focus your resources on the accounts that are most likely to yield results. This targeted approach not only increases efficiency but also improves the effectiveness of your marketing efforts.
Moreover, ABM aligns your sales and marketing teams, leading to more effective campaigns and superior customer experiences. When sales and marketing work together, they can create a unified message and strategy that resonates with your target accounts. This alignment can lead to improved communication, better lead qualification, and a more streamlined sales process.
And let's not forget the potential for high ROI. Because ABM is so targeted, it often results in higher conversion rates and larger deal sizes, which can significantly boost your return on investment.
The Fundamentals of Account-Based Marketing Strategies
We've covered the 'what' and 'why' of ABM. Now, let's delve into the core strategies that make ABM effective.
The Core of ABM: Sales and Marketing Alignment
At the center of ABM, you'll find a strong alignment between sales and marketing. They work together, identifying target accounts, creating personalized campaigns, and monitoring progress. This collaboration is crucial because it ensures that everyone is on the same page and working towards the same goals.
It also allows for a more cohesive and effective strategy, as sales and marketing can share insights and feedback, fine-tune their efforts, and ensure that they're delivering a consistent and compelling message to their target accounts.
Significance of Account Planning and Mapping
Account planning and mapping are essential components of ABM. They involve understanding your target accounts, identifying key decision-makers, and developing strategies to engage them.
This process allows you to gain a deep understanding of your target accounts, their needs, challenges, goals, and decision-making processes. With this knowledge, you can create highly personalized and relevant marketing campaigns that resonate with your target accounts and drive engagement.
11 Effective ABM Tactics to Optimize Your Strategy
Account-Based Marketing (ABM) is not a one-size-fits-all strategy. It requires a deep understanding of your target accounts, a personalized approach, and the right tactics to make an impact. Here are 11 effective ABM tactics that can help optimize your strategy and drive growth:
1. Developing Prospect-Specific Offers
One of the most effective Account-Based Marketing tactics is to develop offers that are specific to each prospect. This involves understanding the unique needs and challenges of each target account and crafting an offer that addresses these needs.
Personalization: A Key to High Conversion Rates
For example, if you're targeting a company that's struggling with lead generation, you might offer a free consultation or a demo of your lead generation software. Personalization is key here.
The more tailored your offer is to the specific needs of your prospect, the higher your conversion rates will be. A good first step can be to get to known How to Write Sales Emails that Convert.
2. Creating Offers Aimed at Securing Meetings
Another effective Account-Based Marketing tactic is to create offers that are aimed at securing meetings with decision-makers.
Webinars and White Papers: Your Lead Generation Allies
This could be an invitation to a webinar, a white paper, or a case study that provides valuable insights into a problem that the decision-maker is trying to solve. These types of content not only provide value to your prospects but also position your company as a thought leader in your industry.
3. Leveraging Retargeting for Persistent Brand Presence
Retargeting is a powerful ABM tactic that allows you to stay top of mind with your target accounts.
B2B Retargeting Innovations: A Focus on Demandbase and Retargeter
By serving ads to individuals who have already interacted with your brand, you can increase brand recall and improve conversion rates. Tools like Demandbase and Retargeter can help you implement a successful B2B retargeting strategy.
4. Personalizing Website Experience for Target Accounts
Personalization is key in ABM. ⬇️
Customized Landing Pages: Converting Targets into Leads
By personalizing the website experience for your target accounts, you can increase engagement and conversion rates. This could involve creating customized landing pages or offering personalized content based on the visitor's industry, role, or stage in the buyer's journey.
5. Designing Sales Territories for Maximum Conversion
Sales territory design is another important ABM tactic.
Social Proximity Territory Planning: A Novel Approach
By aligning your sales territories with your target accounts, you can ensure that your sales team is focusing their efforts on the most promising prospects. A novel approach to this is social proximity territory planning, which involves designing sales territories based on social connections rather than geographical location.
6. Revisiting Direct Mail Strategy for Reaching Executives
While digital tactics are often at the forefront of ABM, don't underestimate the power of traditional direct mail. A well-crafted, personalized direct mail piece can be a highly effective way to reach executives and decision-makers.
7. Utilizing Social Intelligence to Understand Prospects
Social intelligence can provide valuable insights into your target accounts. By monitoring social media activity, you can gain a better understanding of your prospects' interests, challenges, and needs.
8. Compiling Role-Based Contacts List
A role-based contacts list can help you reach the right people within your target accounts.
Vendor Support for Building Active Contact Lists: A Look at FindThatLead
FindThatLead is a powerful tool designed to help you find, verify, and organize leads. It's particularly useful for Account-Based Marketing tactics, as it allows you to build a list of contacts based on roles within your target accounts. Here's how it works:
First, FindThatLead uses its advanced search capabilities to scour the web for potential leads. You can specify the role you're targeting, and FindThatLead will provide a list of contacts that fit the bill. This means you're not wasting time and resources reaching out to people who aren't decision-makers within their organizations.
But FindThatLead doesn't stop there. Once you have your list of potential leads, FindThatLead verifies each contact. This ensures that the contact information is accurate and up-to-date, increasing the effectiveness of your outreach efforts.
FindThatLead also offers a suite of other features that can support your ABM strategy. For example, it provides a Prospector tool that allows you to find leads based on industry, location, job title, and more. This can be particularly useful when you're targeting specific accounts and need to find the right people within those organizations.

Additionally, FindThatLead offers a Chrome extension that allows you to find and verify emails directly from LinkedIn profiles. This can be a game-changer when you're trying to connect with specific individuals within your target accounts. Huge, isn't it?
9. Purchasing Targeted Leads for ABM Support
Purchasing targeted leads can be a cost-effective way to supplement your Account-Based Marketing tactics. By focusing on high-quality, targeted leads, you can increase the efficiency of your sales process. If you're interested in exploring some B2B lead generation agencies that can help with this
10. Building One-to-One C-Level Campaigns
One-to-one C-level campaigns can be highly effective in ABM. By crafting personalized campaigns for C-level executives, you can build relationships with the decision-makers within your target accounts.
11. Expanding Connections via Non-Sales Employees
Finally, consider leveraging your non-sales employees to expand your connections within your target accounts. Employees in roles such as customer success, product management, or engineering may have valuable connections that can be leveraged for ABM.
Real-World Examples of Account-Based Marketing Tactics
Now that we've covered the tactics, let's look at some real-world examples of how companies have successfully implemented account-based marketing tactics. These examples will help you understand how these tactics can be applied in practice.
1. GumGum: Personalization and Tailored Content
GumGum, a computer vision technology company, set a gold standard for personalized account-based marketing in their efforts to land T-Mobile as a client.
They discovered that T-Mobile's CEO, John Legere, is a big Batman fan. So, GumGum commissioned and published a comic book in which Legere stars as the superhero T-Man, who saves his city from poor mobile service with the help of his sidekick, Gums.
This creative and personalized approach not only landed them the account but also provided them with significant free and positive exposure.
2. Snowflake: Large-Scale Account-Based Marketing Campaigns
Snowflake, a data storage company, is running 500 simultaneous account-based marketing campaigns, each designed to reach a specific target customer. To achieve this, Snowflake has six dedicated marketing specialists working closely with their sales team. Unlike many other companies, Snowflake publishes their personalized content on the open web, which builds credibility by demonstrating their long-term commitment and deep understanding of their customers.
3. Invoca: Memorable Gifts to Secure Meetings
Invoca, a call tracking and analytics company, used gifts to secure meetings with potential clients at the 2015 Dreamforce conference. They offered Apple Watches to everyone who booked a meeting with them. This gift was not only valuable but also served as a tactile reminder to remember the appointment and follow up. As a result, Invoca significantly exceeded the lead generation and pipeline goals they had set.
Conclusion: Crafting Your Own Account-Based Marketing Tactics
Account-Based Marketing is a powerful strategy for B2B companies. It allows you to focus your resources on a specific set of target accounts, personalize your communications, and build strong relationships with your prospects. However, ABM is not a one-size-fits-all strategy. It requires careful planning, execution, and continuous testing and improvement.
The tactics we've discussed in this article are a great starting point for crafting your own ABM strategy. But remember, the most effective Account-Based Marketing tactics are those that are tailored to your company's unique needs and goals. So, don't be afraid to experiment, iterate, and find what works best for you.
Remember, the key to a successful ABM strategy is alignment between sales and marketing, personalization, and continuous improvement. With these principles in mind, you're well on your way to mastering account-based marketing tactics for B2B success. Why don't you start now? 😉