If you're in the B2B sector, you know how crucial quality data is for effective marketing. You've got spreadsheets full of leads, but how much do you really know about them? Do you have a way to contact them to begin with? Data Enrichment Tools are here to fill in the gaps.
We'll discuss its critical role in cold emailing strategies and why it's indispensable for effective B2B. You'll learn about the top tools in the market, how to choose the right one for your business, and how to implement them for maximum impact.
If you're looking to make data-driven decisions that yield real results, this guide is for you.
Shall we start?
Understanding the Importance of Data Enrichment
Okay okay, we've talked about data enrichment tools. But what is Data Enrichment really?
What is Data Enrichment?
Data Enrichment is the process of taking the basic information you have and adding more details to it. It's about enhancing the data to make it more useful for your sales or marketing campaigns.
It's not just about having more information; it's about having the right information. Or use your current information to get more information.
Benefits of Data Enrichment in B2B Marketing
Understanding the benefits of data enrichment is key to leveraging its full potential. Here's why it matters, specially in B2B:
Customer Relationships: Personalize your LinkedIn/Cold email messages to connect with your customers.
Sales Growth: Target your campaigns effectively to reach the right audience.
Customer Experience: Understand your customers' needs and meet them efficiently.
Lead Enrichment Tools and Their Role in Business Growth
Don't underestimate the power of lead enrichment tools; million-dollar strategies like Lead Generation hinge on them.
Why? Because it's all about transforming your existing data into a treasure trove of valuable insights. These insights don't just sit there; they actively fuel your sales and enhance the customer experience. Isn't that enough for you?
What is Lead Enrichment and Why is it Crucial?
Lead Enrichment is the process of taking a basic lead and adding more information to it.
Imagine having a name and an email address; lead enrichment tools can help you find out more about that person's job title, company, interests, and more. It's like filling in the blanks to get what is missing.
Or better yet, imagine you have a list of 500 companies that might be interested in your product, but how do I contact them?
This complete picture helps you to target your efforts more precisely, ensuring that you reach the right people with the right message, and obviously, make sure that your message will reach the addressee.
There are Data Enrichment tools like FindThatLead that take care of finding the contact emails of decision-makers so that you can contact them… In bulk!
How Lead Enrichment Tools Boost Sales and Improve Customer Experience
Sales and customer experience are the twin pillars of data enrichment. Here's how lead enrichment tools fortify these crucial aspects of your business:
Boost Sales: With enriched data, your sales team can go beyond generic pitches. They can get super-valuable contact data and craft messages that resonate with each lead, increasing the likelihood of closing deals.
Improve Customer Experience: Enriched data provides a nuanced understanding of your customer's needs and preferences. This enables you to tailor your services and products in a way that not only meets but exceeds customer expectations.
A Comprehensive Review of B2B Data Enrichment Tools
I've already told you about some of the wonders of Data Enrichment, but without tools, there's no data enrichment. Let's get to the real heart of the matter:
Exploring the Top B2B Data Enrichment Tools
So, you've got some basic data on your leads. That's cute, but let's be real, you need more than just names to make magic happen.
That's where B2B Data Enrichment Tools come in. These tools take your basic data and turn it into a goldmine of useful insights. We're talking job titles, company info, social media profiles, email addresses…
And why does that matter? Because the more you know, the better you can tailor your marketing strategies. It's not just about blasting emails; it's about hitting the right notes with the right people.
Benefits of Using B2B Data Enrichment Tools
Using B2B Data Enrichment Tools can have a significant impact on your business. Here's why:

Better Targeting: Understand your leads and customers better, allowing you to target your marketing efforts more precisely.
Increased Efficiency: Save time and resources by having all the information you need at your fingertips.
Decision Making: Make informed decisions based on accurate and comprehensive data.
Comparative Analysis of Best Data Enrichment Tools
Choosing the right data enrichment tool for your business is crucial. It's essential to consider factors such as features, pricing, ease of use, and customer support. Here's a comparative analysis of the top tools that can help you find the one that fits your specific needs and goals.
Whether you're looking for a tool that specializes in lead enrichment or customer data enrichment, there's something out there for every business.
B2B Data Enrichment Tools are a vital part of modern sales strategies.
The Best Data Enrichment Tools
Data enrichment tools are essential for any business looking to grow and succeed. Let's take a closer look at some of the best tools available.
FindThatLead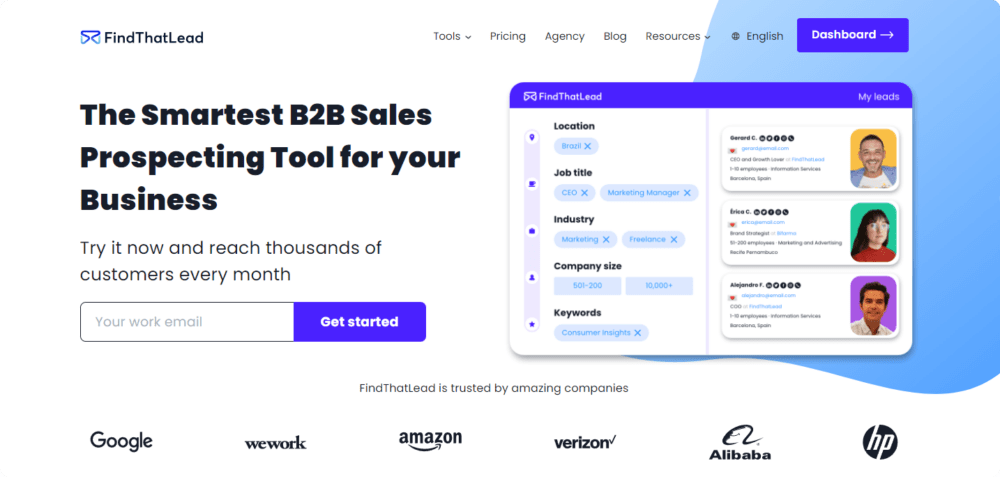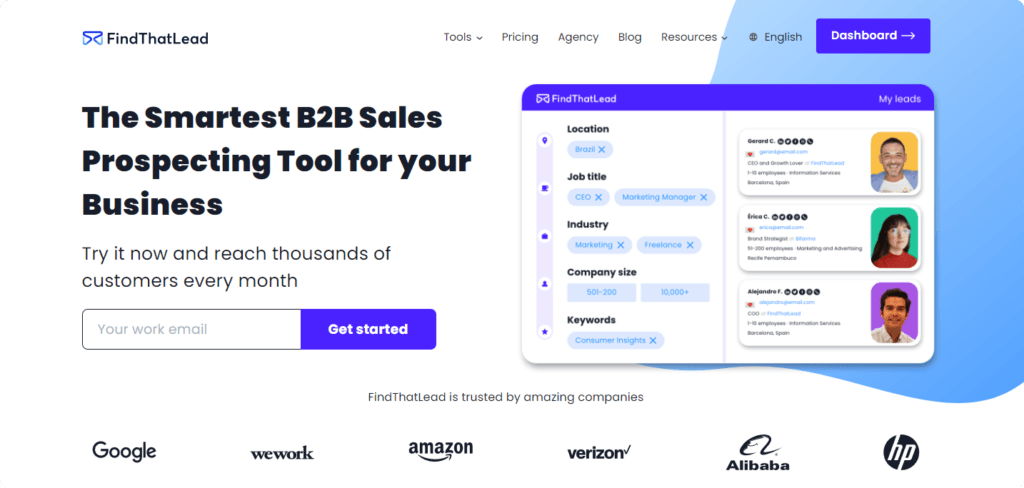 FindThatLead is more than just a data enrichment tool; it's a complete solution for lead generation and engagement. With features like prospecting, lead scoring, and email verification, it offers a comprehensive approach to finding and connecting with potential customers. What sets FindThatLead apart is its focus on simplicity and effectiveness.
Whether you're a small business or a large enterprise, FindThatLead provides the tools you need to reach the right people with the right message. Its user-friendly interface, robust analytics, and dedicated support make it a standout choice for businesses looking to grow.
Key Features
Lead Search: Search for potential leads using specific criteria like job title, location, and industry.
Email Verifier: Validates email addresses to ensure they are active and belong to the domain they claim to.
Email Sender: This allows you to send bulk emails with personalized templates directly from the platform.
Prospector: Automates the process of finding and reaching out to new leads based on your set criteria.
Social Search: Scans social media platforms to find potential leads based on your target audience.
Chrome Extension: Adds a browser extension for quick lead capture and data enrichment without leaving your current webpage.
Pricing
FindThatLead offers a range of pricing plans to suit different needs, from just $9/month with their most basic plan and $49/month their most popular plan.
Strong Points
Versatility: The tool is designed to cater to a wide range of professionals, from freelancers to large corporations.
Comprehensive Lead Generation: Offers a complete suite of tools for lead generation, verification, and engagement.
Ease of Use: The platform is user-friendly, making it easy for anyone to start generating leads.
Affordable Pricing: Compared to other tools in the market, FindThatLead offers cost-effective pricing options.
ZoomInfo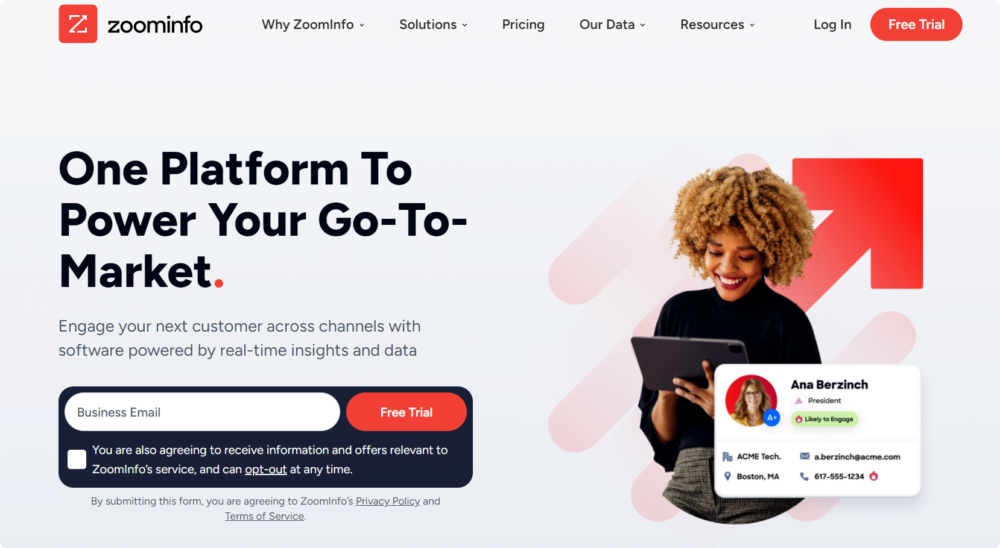 ZoomInfo is a B2B data provider with a massive database of over 150 million contacts. It's designed to help businesses find and connect with their ideal customers. The platform offers a range of features, including advanced search filters, AI-powered tools for automated prospecting, and real-time alerts. It also integrates with popular CRM and marketing automation platforms. Whether you're in sales, marketing, or recruiting, ZoomInfo aims to provide the data and insights you need for success.
Key Features
Database: Over 150 million active business professionals and 14 million companies.
Advanced Search Filters: Target high-quality leads based on job titles, company size, industry, location, and more.
AI-Powered Tools: Automated prospecting and enrichment tools to improve database accuracy.
Real-Time Alerts: Stay informed about important changes or developments within target accounts.
Pricing
ZoomInfo doesn't publicly disclose its pricing. They offer multiple plans based on the features, number of licenses, and number of credits you need. You'll have to get in touch with their sales team for a customized quote. but we already said, it is not cheap, its most basic plan can cost more than $14,000 per year.
Strong Points
Comprehensive Data: With such a large database, you're likely to find accurate and up-to-date information about your target audience.
Integration Capabilities: Seamlessly integrates with popular CRM and marketing automation platforms.
Clearbit

Clearbit is a data enrichment solution that specializes in real-time API-based services. It's designed to help businesses understand their customers better by providing enriched data right within their existing workflows. Clearbit offers a suite of products that focus on marketing, sales, and risk assessment. It's known for its seamless integration with popular platforms like Salesforce, Marketo, and Slack.
Key Features
Real-Time Enrichment: Instantly enrich leads and customer profiles with over 85 data points.
API-Based Services: Easily integrate Clearbit into your existing tech stack.
Marketing and Sales Alignment: Tools for both marketing and sales teams to collaborate more effectively.
Risk Assessment: Features for assessing and verifying the credibility of potential leads.
Pricing
Clearbit operates on a subscription-based model, and pricing is not publicly disclosed. Their most basic plan cost around $99/month.
Strong Points
Real-Time Data: Provides instant enrichment, which is crucial for timely and relevant engagement.
Ease of Integration: Its API-first approach makes it incredibly easy to integrate with existing systems.
LinkedIn Sales Navigator

LinkedIn Sales Navigator is a specialized version of LinkedIn designed for sales professionals. The tool leverages LinkedIn's extensive network to provide detailed insights into potential leads and customers. It offers features like advanced search filters, lead recommendations, and the ability to send InMail messages directly to LinkedIn users who aren't in your network. If you're looking to tap into professional networks and build meaningful connections, Sales Navigator is a solid choice.
Key Features
Advanced Search Filters: Customize your search to find the right prospects based on industry, job role, company size, and more.
Lead Recommendations: Get personalized suggestions for potential leads based on your search criteria.
InMail Messaging: Reach out directly to LinkedIn users who aren't in your network, increasing your outreach capabilities.
Pricing
LinkedIn Sales Navigator offers three main plans: Professional, Team, and Enterprise. The Professional plan starts at $79.99 per month, billed annually. Each plan offers different features tailored to individual salespeople or sales teams.
Strong Points
Network Access: Leverage LinkedIn's vast professional network to find and connect with potential leads.
CRM Integration: The tool integrates well with most CRM systems, making it easier to manage your leads and customer data.
Apollo.io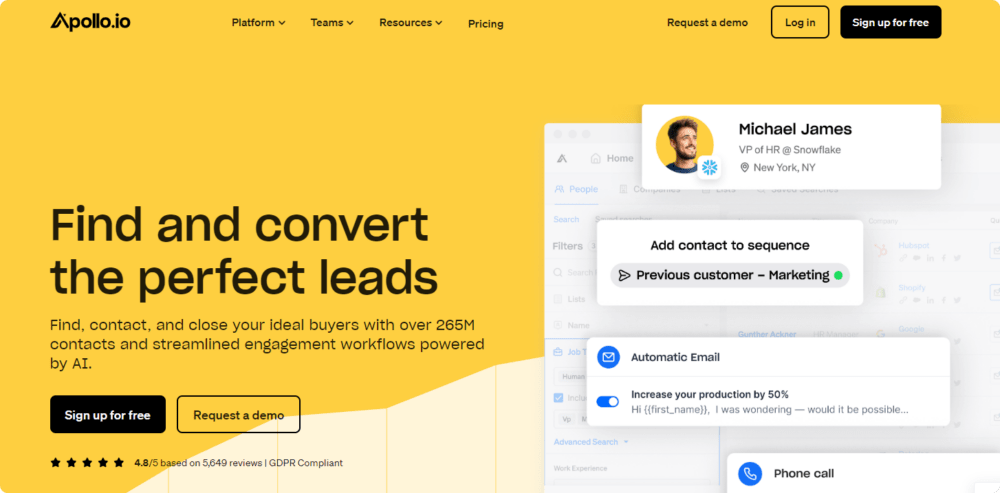 Apollo.io is a sales intelligence and engagement platform that boasts a living database of over 265 million contacts. The platform is designed to streamline the process of finding, contacting, and closing deals with ideal buyers. It offers a range of features, from advanced search filters to AI-powered engagement workflows. Apollo.io aims to be a one-stop-shop for everything you need to connect with your target audience, whether it's for sales, marketing, or recruiting.
Key Features
Database: A living database of 265M+ contacts.
Sales Intelligence: Accurate and rich buyer data for targeted campaigns.
Lead Scoring: Prioritize high-value leads and companies using AI.
Sales Engagement: Email, call, and connect on LinkedIn through one platform.
Pricing
Their basic plan starts at $49 per month, providing essential features for lead generation and engagement. For more advanced features, the intermediate plan is priced at $99 per month.
Strong Points
Comprehensive Database: With a database of over 265 million contacts, Apollo.io offers a wealth of information for targeted marketing.
AI-Powered Tools: The platform uses AI to automate prospecting and engagement, making the process more efficient.
Demandbase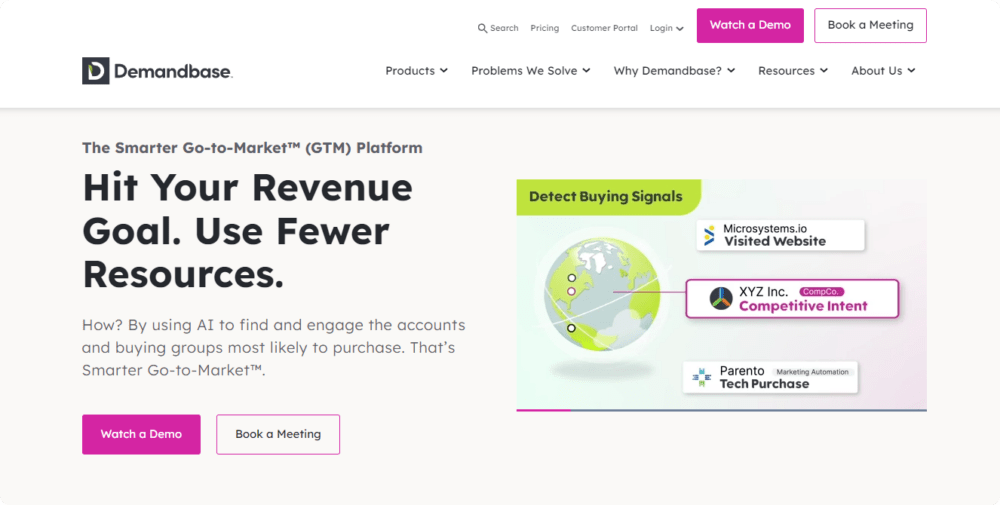 Demandbase is a comprehensive account-based marketing (ABM) platform that focuses on helping B2B companies identify, target, and engage high-value accounts. The platform offers a suite of ABM solutions, including real-time data enrichment, segmentation, and personalized engagement. With its AI-driven capabilities, Demandbase aims to align sales and marketing efforts for maximum impact.
Key Features
Account-Based Marketing: Specializes in ABM strategies to target high-value accounts.
Real-Time Data Enrichment: Provides up-to-date information for better targeting.
Segmentation and Personalization: Allows for customized marketing campaigns.
AI-Driven Capabilities: Uses artificial intelligence to offer insights and automate tasks.
Pricing
Demandbase operates on a subscription-based pricing model, their most basic plan would cost around $99/month.
Strong Points
ABM Focus: If account-based marketing is central to your strategy, Demandbase is designed with you in mind.
AI Capabilities: The platform's AI-driven features offer valuable insights and automation, making your campaigns more efficient
Datanyze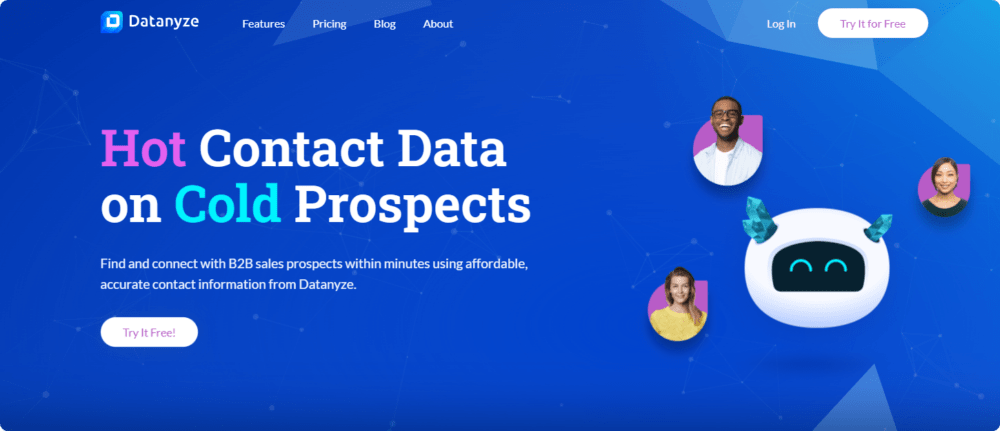 Datanyze specializes in technology tracking and predictive analytics. It's a tool that helps businesses understand the technology stack of their leads and customers. This is particularly useful for tech-savvy marketers who want to tailor their campaigns based on the technology their prospects are using. Datanyze offers features like technology tracking, predictive analytics, and CRM integration, making it a valuable asset for businesses looking to get a leg up on the competition.
Key Features
Technology Tracking: Identifies the technology stack of your leads and customers.
Predictive Analytics: Uses machine learning to predict which leads are most likely to convert.
CRM Integration: Seamlessly integrates with popular CRM systems like Salesforce.
Pricing
The basic plan, known as Nyze Lite, is free and comes with a 90-day free trial. For more extensive features, Nyze Pro 1 is priced at $21 per month when billed yearly, and Nyze Pro 2 is priced at $39 per month when billed yearly.
Strong Points
In-Depth Tech Insights: Provides comprehensive information on the technology stack used by your target audience.
Predictive Capabilities: The predictive analytics feature helps you prioritize your leads effectively.
Data Enrichment Best Practices for Your Business
So, you've got the tools, and you're ready to dive into the data pool. But hold on a sec! Before you jump in, let's talk about some best practices to make sure you're swimming and not sinking.
How to Effectively Implement Data Enrichment
First things first, you need a game plan. You wouldn't go on a road trip without a map, right? Same goes for data enrichment. Start by defining your goals and KPIs. Know what data you need and why you need it.
Then, choose the right tool that aligns with these goals. And hey, don't forget to clean your existing data before enriching it. No one likes a messy workspace.
Continual Enrichment: An Ongoing Process for Maximum Success
Think of data enrichment as a gym membership for your business. You can't just go once and expect to be fit forever. It's an ongoing process. Regularly update your data, keep an eye on analytics, and adjust your strategies as needed.
The market changes, and so should your data. Keep it fresh, keep it relevant.
Conclusion: The Future of B2B Marketing with Data Enrichment Tools
Alright, folks, we've covered a lot of ground here. From understanding what Data Enrichment is to diving deep into the best tools out there, we've got you covered. But let's be real, the world of B2B is ever-changing, and data is its driving force.
Data Enrichment Tools are not just a trend; they're the future. They're the secret sauce that can turn your cold emails into warm handshakes and your leads into loyal customers. So, if you're serious about stepping up your B2B game, it's time to invest in the right tools and practices.
Don't just sit there; the future is enriched, and it's waiting for you. Go get it!