FindThatLead has turned 6 years old now and we have grown fast, all thanks to our customers.
I have been speaking at many great events since then and growth story of FTL has inspired many aspiring entrepreneurs around the world.
In this list I have described everything I did in the first days of FindThatLead and how it led into the rapid growth from 0 to 100,000 customers in less than 2 years and that too, without spending a penny on advertising and inbound marketing.
This worked for me quite well.
I am pretty confident at this point that this list can be used in any kind of business- online or offline.
Do this homework today and you will see improvement in your business growth.
Build a list 10 Competitors:
We sometimes forget to check out who is in the same business. For me, my competitors are helping me to grow my business.  
Many of their customers became mine because they were looking for a better option than them.

Always talk to your competitors and let them know that you share the same vision and that your aim is to give better service to the users.

Learn from them and feel free to give suggestions to improve them; the user will get more benefit.  The chances are that you already know your competitors.

This piece of homework is super easy; you can find their emails efficiently using FindThatLead or any other same method.

Make a list of 10 Competitors and send them an email to speak via Skype for 10 minutes. Share with them your experiences and offer yourself to grow and learn together.  
List 100 Possible Customers:
Well, what is more critical?….the egg or the chicken?

The audience is always the most important in a company. I want to tell you a few ways to generate 100 possible customers.

1. Go to your Gsuite / Gmail >  contacts > Export > then you will get a list of contact. Then you can send them an email, presenting your company or your product and show them why you need them.'
You can also go to the Prospector from FindThatLead: Search by Location, job title, and company size…and boom you will get a full list of 100 possible customers.
Choose any show and trade show: You can go to Portalferia.com and type your main keywords. Then go to the speaker or exhibitors. You can hire someone from Fiverr or Upwork and ask them to help you to make this list. Remember to

verify

the emails before you send the email.
List 10 Top Influencers of your niche:
Well, influencers…..I would say are the kings of your industry. People follow them and that's what you have to leverage. If you get their hands on your product and manage to have them recommend your product, your business will grow even faster than your web.
For me, it will be Steli Efti from Close.io, Eric Siu from GrowthEverywhere or Aaron Ross from The Predictable Revenue.
I had the pleasure to interview Steli Efti from close.io and Aaron Ross from The predictable revenue.
My recommendation will be to speak with the influencers of your niche and let them know you exist. Keep your approach personal and full of respect, and you will achieve everything you ever wanted to.
I connected with Vin Clancy and I growth hacked the king of growth hackers.
This is the email I sent to him.
It is super important to do so. FTL has grown fast, thanks to our users and we also owe Vin Clancy a big time.
Read Influencer Marketing: What Is It and How Can It Help You Grow Your Business?
Make an account at Fiverr and Upwork
I have met the most amazing people around the world. I literally could not have if it were not for the power of the experience I have had on Fiverr and Upwork.
Open an account and test how amazing people can change your life. I would recommend you to read "The 4 Hours Work Week " you will learn how to run VA teams properly.

This book can change the way you think about money, job, and financial freedom. I want to interview Tim Ferris once in my life, and I am pretty confident, I will do soon.

I remember the first time I used a Virtual Asistant six years ago, to make a small customers list.

It´s time you experience it!
Create a Facebook Group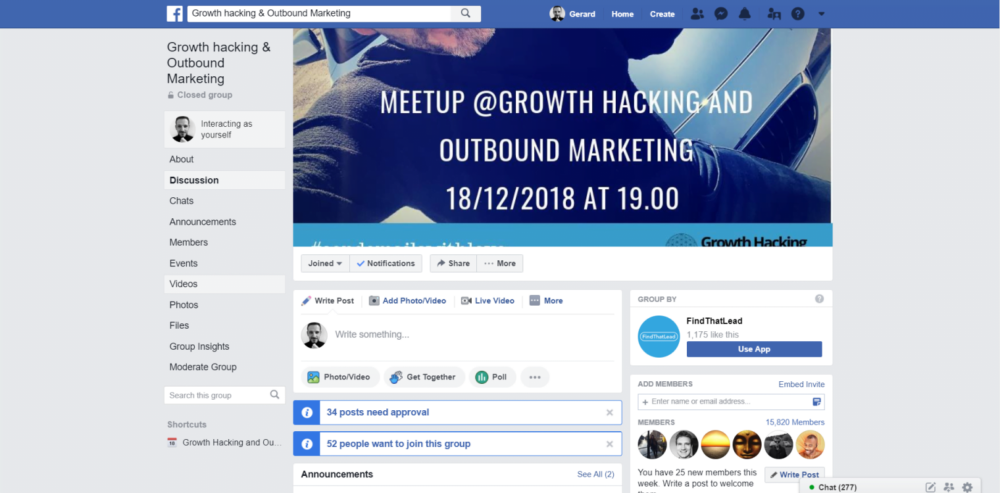 Take the keywords of your business and create a group.

The most critical step in your company is creating a community.

Facebook Groups are probably the best place where everyone you would want to connect with hangouts.

I started a Facebook group more than a year ago.

We are 15,000+ strong community of entrepreneurs, marketers, and people who are interested in growing their business via outbound marketing and growth hacking. I started it with a purpose to provide value, but as it grew over the months, it turned in to something I never expected.

The best growth hackers in the world Neil Patel, Eric Siu, Josh Fetcher, Sujan Patel and many others have noticed my group.

Facebook groups are of immense importance in many aspects.

If you are a growth hacker, you can create a facebook group around it and share more of your tips and tricks. This helps you to build stronger authority as a growth hacker.  More value you give, more people will know you and trust me. If you are good at what you do, you will never run out of projects and deals, coming out of the group and by referrals of people who value you.

If you own a company like mine, you should create facebook and add more people who are also the target audience, to the group.

Many of the FTL customers are also members of our group.

Facebook group can also help you out with personal branding.

The following you develop by providing value, you can leverage it to increase your audience at other social media as well.  

People recognize you, in and out of the facebook.

All my social media profiles have seen a massive increase in the numbers of followers.
How to grow a Facebook Group?
Go to similar groups and add people like your friends. Add people to your group, ( via mobile is always faster )

Post fantastic content on a daily basis

Try to have 1000 people in the group initially. You can do it organically. Communicate with people and ask them to add more like-minded people to the group.

When you share great content, group members will go out and share the word about you and your group and this, in turn, will get more people to your group. Your group will go organically and authentically.
For more tips on how to grow a facebook group, you can read this blog by Neil Patel.
Recently Josh also got featured in Forbes where BAMF (perhaps the best group on growth hacking) has been praised, and all the secrets to growing a facebook group have also been shared.
Outreach new prospects- send 1000 emails
It is easy to upload a list of prospects on FindThatlead and send them a personalized link.
You can use FTL to send all those emails and all your emails will land in the primary tab of the inboxes.

Remember the three fundamental rules of sending an email

Subject Line: Short/specific/ Be creative, not spammy

Two important things are going on here(in the screenshot up) :

We're using the lead's real name

We're telling them a little bit about how we know who they are in the first place.

Body: Maximum 4 sentences and 1 Call to action Personalize it with " "
Signature: Make it long, show your customers, phone numbers :
Social Profiles
It's important to know, but also to share the love around the world. Growth Hacking is probably the cheapest way to grow your business.

There are so many hacks for growing businesses around social media.
Here is the minimum presence you should have on social media these days-
Facebook:, Linkedin Page Profile:, Facebook profile:, Instagram: Twitter
A loom video of around 10 minutes!
Video marketing at FTL!
We tried everything to speed up our sales.
We tried salespeople doing a sales call, at different call centers.
We tried a few more things- but nothing did work out.
Some customers didn't like being cold called.
They called cold calls intrusions. I have been a "not bad at all salesperson" and I understand that.
What we have been doing recently, has changed the way we make sales.
Here is how you can do it too-
✔Get Use loom today (I am not promoting it at all).
✔Get going with the latest trend of video marketing.
✔Make user specific videos. Make it more like demo videos, like; you are solving problems for them.
✔Using video demos alone, we have got a 20%-30% increase in our sales.
✔Many customers consider it intrusive. The salesperson is there to sell, and at the end of the day, customers will know they will know what they want to know at the end.
This part- this "intrusive part" has to be fun.
Video demos have to be fun.
✔They have to be more personalized, and they have to have everything a customer wants to see in your product.
Don't do a pre-recorded video.
So think from a user's point of view. Walk in their shoes.
Feel right about your tool.
Your confidence coupled with personalization will disarm them.
✔I make my videos sound like phone calls. I put on my heart shaped cap, and I do everything to make it as natural as a phone call.
✔That keeps the conversation going on.
✔I show them why my product can solve their problem.
✔While I am making videos, I keep in mind what my customers might look for in the tool and focus on those parts more.
✔Like I mentioned above- I never do a pre-recorded video. I keep them customer specific.
This saves a lot of time.
✔Sometimes your customers share those videos with others.
✔Sometimes you can send the same videos to them.
✔I do 4-5 video calls in the morning, and I keep them fun too!
I recommend you to do the same.
Make customer specific videos. It will change the way you make your sales.
Now we have an awesomeYoutube Channel
Conclusion
In totality, all that I have described in this list is the minimum that you should do to grow your business.
As your business grows, and things go more advanced, you would need an entirely new arsenal of business growth tactics.
Every marketing tactic lasts for a short time, so it is important to keep yourself updated about what is changing and what is outdated. But there is one thing I am pretty sure about- a badass product will never let you run out of money and being a customer-centric company never goes out of season.
So before you go out for marketing, make sure that your product is much better and different.
Is your product badass?