Emails have always been one of the most used features of the internet. Having grown over the years, people are touted to send 4.3 billion emails in 2022 emphasizing how much we as humans depend on it. If you've just initialized an email strategy or are planning to do so, you need to understand the many nuances behind it. With so many players in the market, email marketing has evolved over the years. Now, various strategies can be implemented with email marketing to get the maximum ROI.
Customers, too, can be overwhelmed by the number of emails they receive. A study has shown that the average person receives more than 121 marketing emails per day. So, finding the right spot and messaging plays a critical role in getting people to open your emails.
What Is Email Spam and Why Is It Important to Avoid It? 
Email spam is a folder that exists on email services to filter unwanted messages. Since plenty of messages are generally automated, it becomes a real pain for people to keep track of the genuine ones. The spam folder is designated for mainly promotional emails, which the customer feels has no value.
Timing plays an integral part in how you send your mails. Whether there's a festive season round the corner or a flash sale, you must plan to prepare better. Remember – Getting marked as spam is like losing a lead – the chances of you to reach out to that customer is lost. So you're one who's faced the brunt of this or are looking on how to avoid this scenario, the next section is for you. Keep reading!
Why Your Emails Are Going to Spam? (And How to Avoid It?)
If you're a brand looking to establish themselves on digital, you need to start on the right note. If you falter at the first hurdle of email marketing, you stand a risk of having a lot of emails being sent to spam, even before you begin.
Digging straight into shooting numerous emails will land you straight to spam even before you begin!
Here are a few techniques which will help you get better at it, and improve your revenues:
Use a genuine sender name: Sending emails from a recognizable email address is one of the first things you need to set up when you're starting your emailer strategy. Preferably, either your name or a brand name can be used so that the recipients at least recognize who they're receiving emails from.
This is because out of all the emails they receive, they need to choose which ones to open. A study showed that 43% of email recipients send their mails to spam based solely on who the recipient is. A lot of ESPs also pay attention to the name on the "from" field. The advanced tech used in detecting spam gathers info based on the message source, among other things.
💡 Begin a template of using your first name and last name, followed by the domain is an excellent way to introduce yourself.
Gradually increase the number of emails being sent: Before starting your cold emails, the last thing you want to do is – bombard your recipients with too many emails at the same time. If you've done it, then that's a straight ticket to the spam folder before you even get off the ground! The trick here, my friend, is to slowly warm your customers up to the idea of your company or brand while you build your email list.
💡 Start by sending out a tester email to a few of your close friends and family. Once they receive the same, you'll know that at least the ones who trust you open your emails. Then, begin sending it to the first 100 and scale up eventually from there.
Poor copy in the email body: Surprising that you'd find this here, but in reality, a lot of emails get sent to spam because of one simple reason – poor grammar. Many phishers tend not to be native English speakers. And it's their poor grasp over the language which works against them, as spam filters have learned to weed them out as spam.
💡 If you're sending an email, it's always better to double or even triple-check the authenticity of the content being uploaded. Get an excellent proof-reader to go through your emails before sending them out.
You're sending emails to inactive addresses: This could be a reason why your open or clickthrough rates are low. Sometimes, email marketers forget to upgrade or update their emailer lists for a long time, and this works against them. Customers tend to create newer IDs sometimes and abandon previous ones.
💡 Every time you're sending out an email, do a basic check of the inactive IDs and get them removed from your list ASAP!
Too much image, too little text: We are the pinnacle of digital creativity, and there hasn't been a better time to incorporate the best images onto an emailer, until now! The facts back this up too – with 55% of B2C companies placing visual content as their priority.
However, smart spammers have realized that placing a large email within an email doesn't get picked up by the filters which generally sift only through text. Now, spam filters have been upgraded to be wary of emails. This could result in sending your email straight to spam box if the email looks suspicious.
💡 Look for the balance! A perfect blend of text + image could do the trick and land you right into your customer's inbox rather than a junk folder.
No embedding forms: Forms are seen as a security risk, and they aren't usually supported across plenty of email clients as well.
💡 These embedding forms are flagged red by filters, so you could attach a link, similar to the point above to avoid getting into trouble or marked as spam.
Don't go overboard with colours and fonts: A study by Radicati Group Studyreveals that close to 60% of people found an emailer unacceptable if variable fonts were being used. 
💡 Different font types, sizes, and colours shouldn't be experimented with on an emailer, so keep it simple and focus more on the messaging.
No physical address included: This may come as a surprise, but if your email address doesn't have a physical address included, filters can mark it as spam. You must have a legitimate address because the FTC mandates, "Your message must include your valid physical postal address. This can be your current street address, a post office box you've registered with the U.S. Postal Service, or a private mailbox you've registered with a commercial mail receiving agency established under Postal Service regulations."
💡 It all boils down to having a degree of traceability, so don't forget this critical step when you're sending out the emailer.
Avoid trigger words: Certain email spam filters look at the contents of the email and decide whether it goes into the spam folder or not. Stuff like "Double your money," "Guaranteed winnings," etc. will send you straight to the spam bin, without even a second thought.
💡 If these "trigger" words are present in your email, the filter raises a red flag. This can signal the end of your emailing efforts with regards to that one email ID. So, avoid them at all cost.
Cut out the images: There are certain email services like Microsoft Outlook, which do not recognize background images, so such emails tend to get spammed immediately.
💡 If you include these images, the emailer could get stuck in spam, so try to keep it more text-heavy wherever possible.
Make it simpler to subscribe or unsubscribe: Opting-out of the emailer shouldn't be a hassle for the customer, and you must make this as easy as possible. Include an unsubscribe button within your emailer and protect your credibility and reputation with the clients to avoid being blackballed.
💡 Giving an option to unsubscribe from your emails is an excellent professional practice, in addition to actually being a law. So play by the rules on this one,  and you're good to go.
Missing subject lines: Such a basic error, but one that could prove to be costly. If you ever forget to add the subject line to your emailer, you will be directed straight to the spam folder, no questions asked.
💡 Though many email marketing softwares do not ask you about the subject line, it's imperative that you always, ALWAYS check everything before deploying an emailer online.
Using JavaScript Within Your Email HTML: If you are planning on doing anything smart with your email, like using JavaScript, then it could be unsafe. Firewalls always block out such emails with code written within, and despite your intentions, these emails are sent straight to the spam folder.
💡 Research and always conduct a trial before hitting blast emails as that can surely be the death knell for your marketing campaign.
Get certified: Sender accreditation by third party members act as a sort of guarantee that you aren't a spammer. ReturnPath is one such company that assesses email practices and certifies you or your company as a trusted sender. These certificates guarantee that emails reach the majority of inboxes and signals ISPs to bypass your emails.
💡 While these certificates aren't free, they are a sound investment to make in the early stages. This is because the money spent can be recovered quickly with better conversions, due to the certificate.
Check if you're blacklisted: If you've been blacklisted, you need to be aware of it because all your efforts are not just going in vain. Instead, they're compounding to more misery by getting sent to spam.
💡 Take help of tools such as Multirbl.Valli as well as MxToolbox that allow you to check if you've been blacklisted or not.

To Sum Up: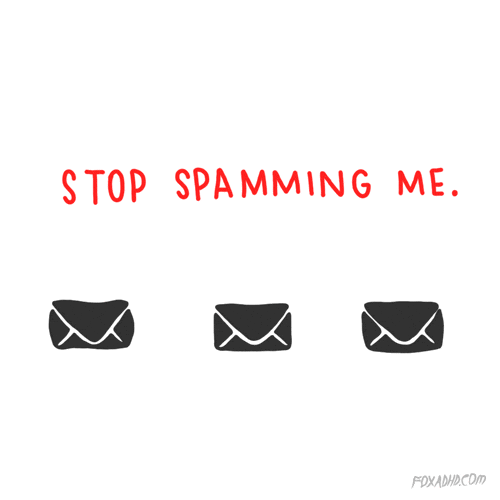 You'll be able to weed out all the inconsistencies in your email campaigns once you go through the tips provided here. If you're planning on starting, take a look at the top Mailchimp Alternatives to help you do the same. Start on the right note, and you'll discover that people begin to respond positively to your efforts.
Always remain updated on the various changes and innovative ways to create emails that pop in your 'customer's inbox. With time, you'll be able to formulate your custom strategies that break the norm and urge the user to open your mail and go through the same.
Be bold and try to mix it up every once in a while, and you'll begin seeing the results that make a difference!
All the best!